The kitchen area is one room in the house that you are guaranteed to use a few times every day and it needs to serve a range of purposes. Obviously the main function of a kitchen is to cook and feed your family, but with a bit of attention it can also serve as the main entertaining space in your home. There are many great ways of transforming your kitchen space which do not include ripping the whole thing out and starting again. Take a look at some of these wonderful ideas that will completely change the look of your kitchen without breaking the bank.
Flooring – The colour and the style of the flooring that you use in any room is important but when it comes to the kitchen it needs to be stylish as well as practical. Whoever uses your kitchen space you want it to be safe and easy to clean. We all have spillages from time to time so make sure you select suitable flooring that will help you to maintain that fresh look even after you've dropped your dinner all over the floor. Laminate flooring is an ideal choice as it comes in many stylish designs and patterns from wood to tile effect and is easy to maintain.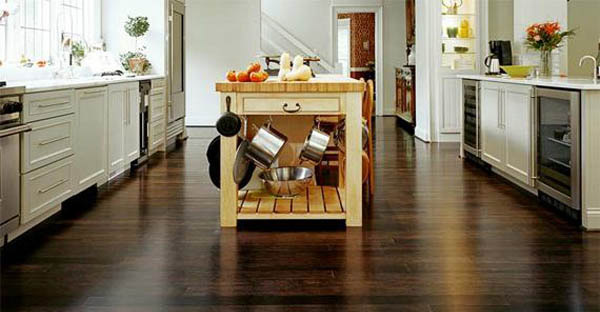 Cupboard doors – If money is no option then invest in completely new kitchen cabinet doors and handles or alternatively try updating your cupboard doors by painting, fitting decorative molding inserts or changing the handles. Get the sander out and rub down the cabinet doors. Select a fresh colour and get painting. You could even use chalk board paint on your doors so you can leave messages around your kitchen. Add a bit of life to your room by adding bold, bright patterns to the centre of your doors by inserting attractive prints or wallpaper. Use detailed designs or tin ceiling tiles, which make your doors completely unique. Give it a little bit extra and paint over the top to make the patterns really stand out.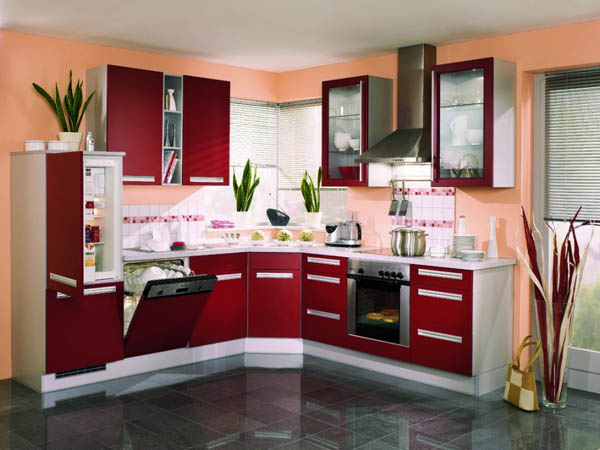 Lighting – Depending on the feel of your kitchen and the style that you wish to adopt then lighting is a great way to adjust the mood and atmosphere of your room. Make a feature of your lighting by adding a giant chandelier to the centre of your room as a huge focal point, which will add a touch of class to the room. You could have recessed lighting or even lighting underneath your kitchen cabinets to make lighting a real feature of your room. There are a huge range of lighting types to use, so explore the world of kitchen lighting and see what effects you can create.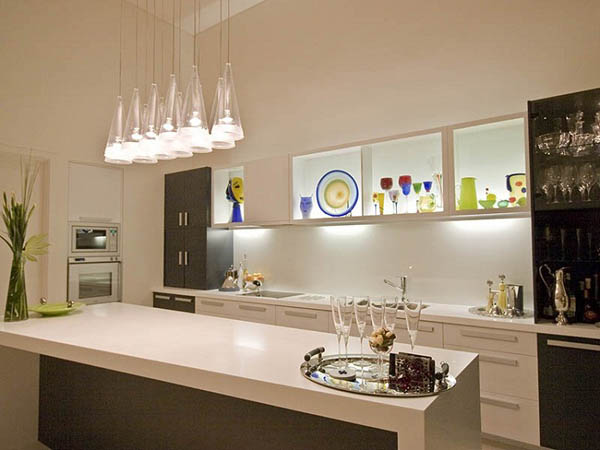 Coloured tiles – Picking out colours in the kitchen is always important especially if you have matching cabinets and walls. There are dozens of colours or patterns to choose from so experiment with this. You don't have to tile the whole kitchen – maybe it is only a small area of your splashback that needs tiling.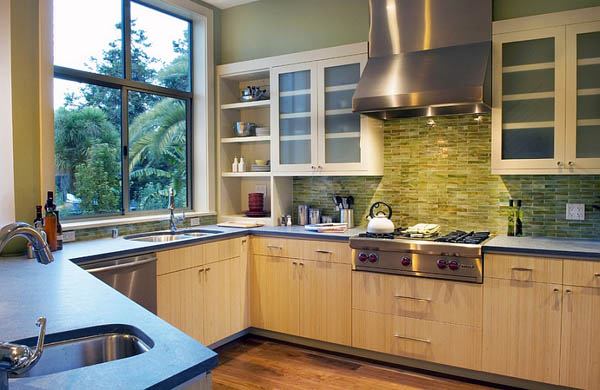 Bold 'feature' wall – Choose one wall in your kitchen to either paint or wallpaper a bold design onto. This could be the main wall with the window to the garden on or a full blank wall in your room but be bold and brave. Pick a colour or pattern that takes inspiration from your utensils or fittings and makes a bold statement from it. Just one wall can make your kitchen stand out from the crowd and give your room that extra something that will be the envy of all your friends.