After a long laborious day, you enter your living room and bury yourself in a cozy couch. In the air, an embracing aura seduces your senses. The enthralling aroma of sweet orange essential oil encompasses your mind and body. With an invigorated spirit, recollections of your arduous day slowly disperse. This is the allure of aromatherapy.
Essential oils have a host of other applications from Spring cleaning to beauty and health. To fully tap into the edifying value of aromatherapy, you must disseminate essential oils efficaciously. At the same time, you need something that can complement and decorate your personal space. You need the best diffuser you can find. There is more to an aromatherapy diffuser than meets the eye. In addition to getting something that really works, go a step further and explore artful diffusers.
Luckily for us, the Organic Aromas Nebulizing Diffuser is a practical and pleasing device that can also revamp your decor. This chic diffuser is the solution you have been looking for. It employs a unique technology to deliver the raw goodness of essential oils into your space and looks very good doing it. The device requires no heat or water; it is completely safe and soothingly quiet, not to mention both gorgeous and unique.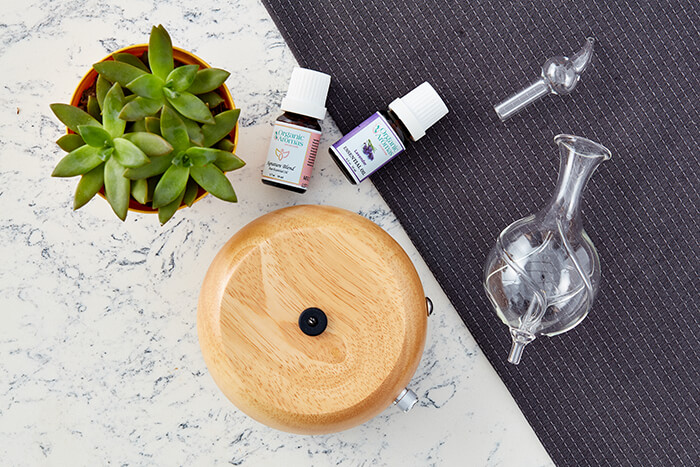 More reasons to choose the Organic Aromas Nebulizing Diffuser
This device is a beautifully designed masterpiece that adds style to any space. It is carefully made by hand adding that personalized detail and quality. It features a handsome plantation hardwood base sewn together with a towering, hand-blown pyrex glass top. This exquisite aromatherapy tool is free of plastic. The sensuous centerpiece is wittily made for display; delivering refined functionality. To suit personal preference, the Organic Aromas Nebulizing Diffuser comes in a cluster of types, shapes, colors and sizes. In addition to bold dazzling designs, this device works to deliver 100% pure essential oils in your environs; the best way to savor aromatic scents.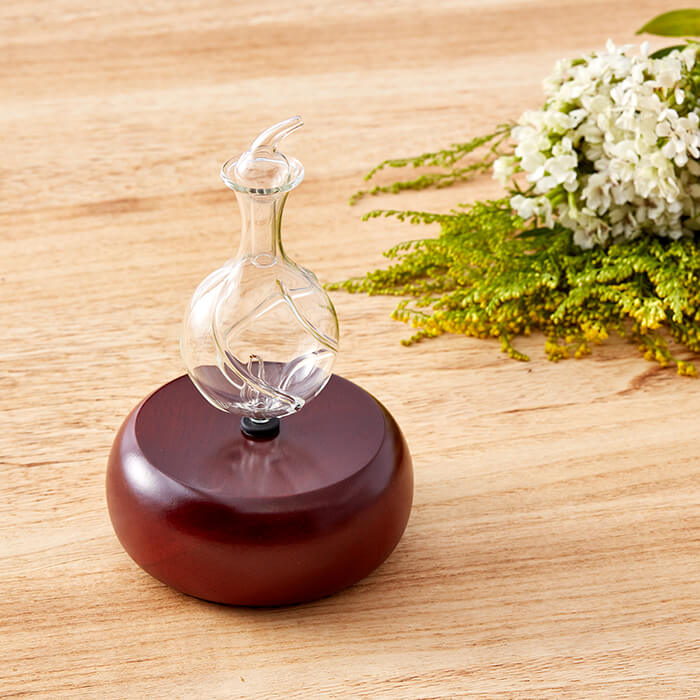 How does this aromatherapy tool work?
The Organic Aromas Nebulizing Aromatherapy Diffuser works in a superior way compared to other diffusers on the market. This is because of the impressive efficacy in both dispersal and rendering of natural aromas. Healthful benefits of essential oils can only be realized when oil purity is not compromised. This device works by utilizing the Bernoulli principle. This is a fluid dynamics precept that borrows from the principle of energy conservation. In summary, this technology allows pure essential oil to be atomized into millions of micro-particles which can then be emitted over a large area in a short period of time. This way also avoids diluting the essential oils with water; and heat is not needed either.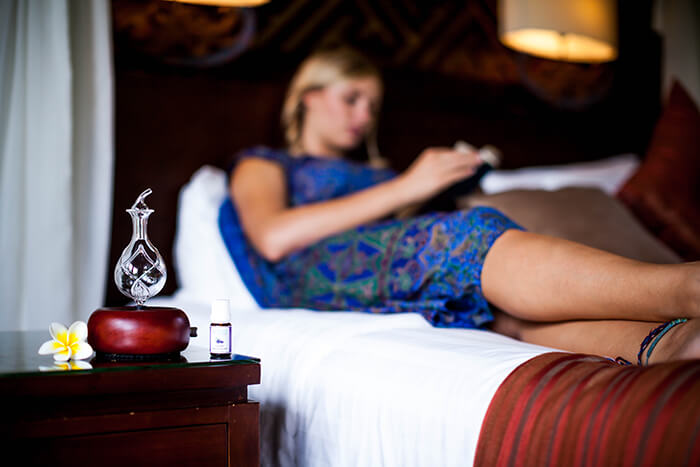 Ultimately, pure essential oil retains its organic chemical integrity and is dispersed. This way, the device gives you the best outcome by diffusing pristine essential oil only. There are many components that make this diffuser functional including; a hand-blown glass reservoir with delicate micro tubes, silencing foam, heavy duty air pump, circuit board and more. The tool has control features like; a light switch, volume control and an optional power input capable of controlling the diffuser remotely via an app on your smartphone using Wi-Fi.
An assortment of nebulizing aromatherapy diffusers by Organic Aromas
Organic Aromas aromatherapy devices are grouped into four main categories that include; standard diffusers, hand carved diffusers, laser engraved diffusers and color printed diffusers. In each category, you have options for varying color, shape and size which ensures the ability to express your own personality. These nebulizing diffusers are all handmade in top notch quality.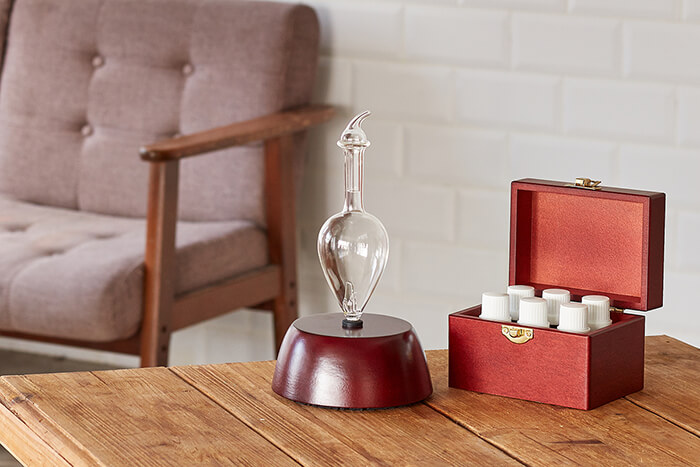 Standard diffusers
These are tasteful Organic Aromas nebulizing diffusers in a variety of shapes and sizes that can work for virtually any space. The design varieties capture your imagination; there is something for everyone. Including both wooden and ceramic units, your options include Elegance, Radiance, Raindrop, Magnificent, Exquisite, Opulence, Redolence models and more. A host of diffuser kits with handsome wooden essential oil boxes are also available to complete the package.
Nebulizing Diffusers can deliver the best aromatherapy experience by far. It is a versatile tool that can be used almost anywhere, including in homes, spas, and offices. With iconic hourglass, swirled and raindrop shaped glass reservoirs, they are stunning to look at. And the classy LED mood lighting can be switched on or off just by swiping a finger. This polished item refines your space as it renews your spirit. The flagship Raindrop diffuser is one of the most highly rated products by customers in the collection.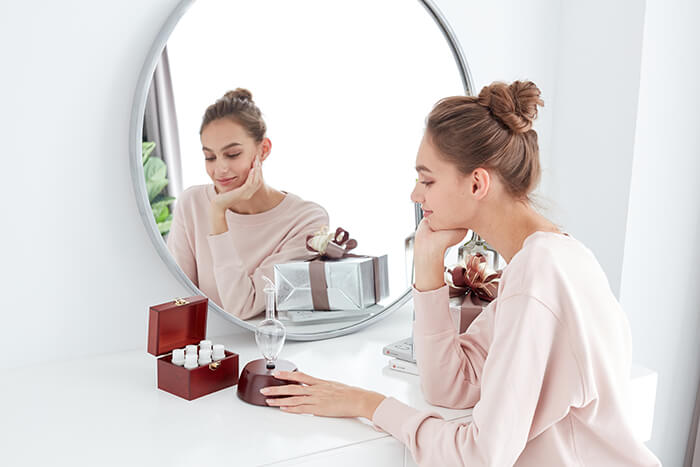 Hand carved diffusers
Injecting outstanding artistry, hand carved diffusers by Organic Aromas are extremely personalized. These rare gems are expressive and inspired. In addition to being functional and effective nebulizing diffusers, their hardwood bases are hand-chiseled skillfully to etch graphical presentations that entertain. These engraved graphics feature among others; dragon, butterfly, unicorn, buddha and more. You can also choose from carved themes such as under the sea, floral and tropical forest. These unparalleled pieces of art are crafted by seasoned artisans in the ornate, sultry hills of Ubud, Bali, Indonesia. These practicable souvenirs are a dream for any collector.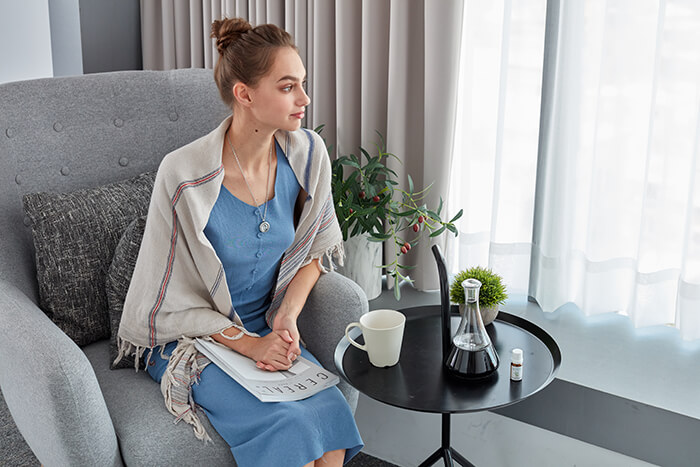 Laser engraved diffusers
These diffusers take personalization to a new height. They allow for a variety of themes and the good news is that you can create your very own custom design. From branding to anniversaries and holidays, get a custom laser engraved diffuser that reinforces your mission and style. This is the perfect gift item to deliver a heartfelt and caring message. Keep in mind that anything can be engraved; from messages to images, designs, graphics and photos. Therefore, it is easy to give life to your own inspiring creation. This nebulizing diffuser fuses creativity and aromatherapy for utmost pleasure.
Color printed diffusers
These are fun Redolence diffusers that you can customize. By employing a direct-to-substrate printing method, you can design your diffuser base with your own custom images. You can also select ready themes including starry night, African safari, the last supper and more. Remember, as you get carried away with tailored options, these devices are functional aromatherapy diffusers that can transform your space with the wonderful scents of natural mint, citrus, flowers and more.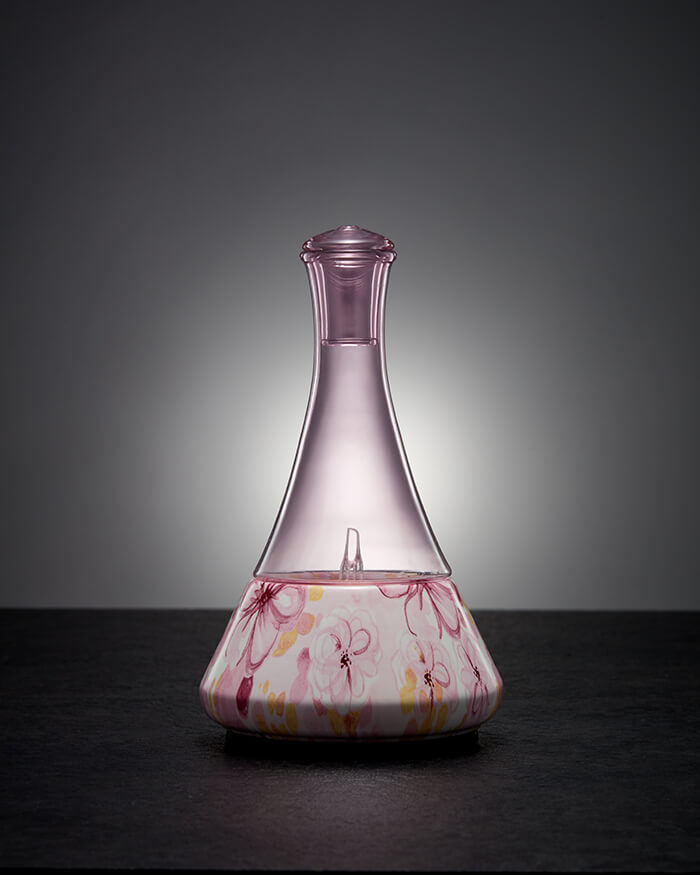 Conclusion
Traditional essential oil diffusers come with serious drawbacks. For example, ultrasonic diffusers use water; adding humidity to the air and diluting the essential oils. Aroma heaters can be dirty and destroy vital elements in the oils; degrading their composition. Candle diffusers can be extremely dangerous to use. Oil lamps are even worse because they denature oils while being highly flammable. Organic Aromas Nebulizing Aromatherapy Diffusers are effective, safe, non-toxic, plastic free, quiet, reliable and they look great. Pure oils are dispersed across a wide area very quickly and while preserving the therapeutic value therein. You do not have to worry about excess air moisture and electricity usage is minimal. These diffusers are also made elegantly in superb designs. They are beautifying devices that exhale healing aromas; transforming your space, mind and body.