Gold Plated Chair Made from Six AK-47 Rifles
Less than a year ago, we once featured an unique chair crafted from AK-47 Rifles which imagined the heavy artillery in Chrome by Rainer Weber. But now, Weber went even further and his famous chair takes on a gold avatar. The same guns as on original chair are used as front chair legs and arm rests, but chair frameworks and disassembled guns were gold-plated and then assembled back together. To make it more luxurious looking, the chair upholstery are covered in red, gold and black hand woven fabrics imported from London and Venice. The chair is pictured alongside a couple of accessories including an AK47 Falcon seat in gold, an original Russian steel helmet and even a cartridge belt with original AK47 cartridges.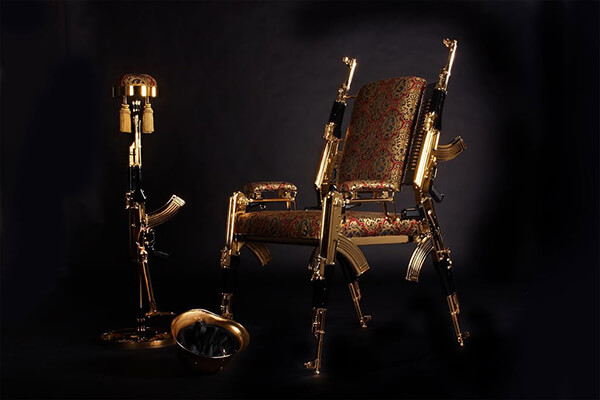 Still under the name of "Art not War", this unique piece art will cost you €120,000 ($128,000). And the original Chrome version is a bit cheaper – priced €80,000 ($85,000). Do you really want to spend that much money to buy the chair? Even yes, my guess is not because the aim of the project "Art not War". Of course, that is just my assumption and it is still a really cool piece of furniture by its own.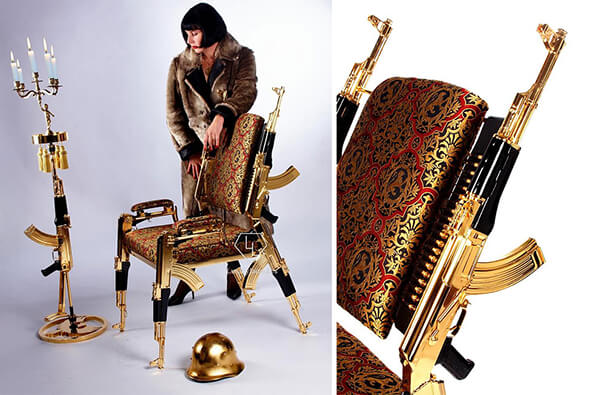 via: luxurytrump