An Advent calendar is a special calendar used to count the days of Advent in anticipation of Christmas. They come in a multitude of forms, from a simple paper calendar with flaps covering each of the days to fabric pockets on a background scene to painted wooden boxes with cubby holes for small items. With December quickly approaching, the countdown to Christmas is about to officially begin, in the other word, Advent calendar season is nigh.
Recently, companies have been introducing contemporary advent calendars filled with their own products, like sample size skin care/make ups, tea bags, accessories, coffee, or most traditional chocolate and candy. However, these advent calendars are pricey and can't be reused in most times. There is nothing wrong about that, but I really like below reusable advent calendars which allows you to put your very own surprise for whoever opens it everyday. The things in each draw can be totally different which is something those branded advent calendars can offer.
Scroll down for some reusable advent calendars that buck tradition for some holiday fun. And these beautiful advent calendars will look great besides your other Christmas decoration. Click here to see other cool calendars.
This post may contain affiliate links. If you make a purchase, Design Swan may earn an affiliate commission. Please read our disclosure for more info.
Woodland Advent Calendar [buy here]
Create a beautiful woodland scene with this remarkable advent calendar set. Featuring a suitcase with numbered trays which reveal small wooden pieces, designed to together make something really special to look at and enjoy.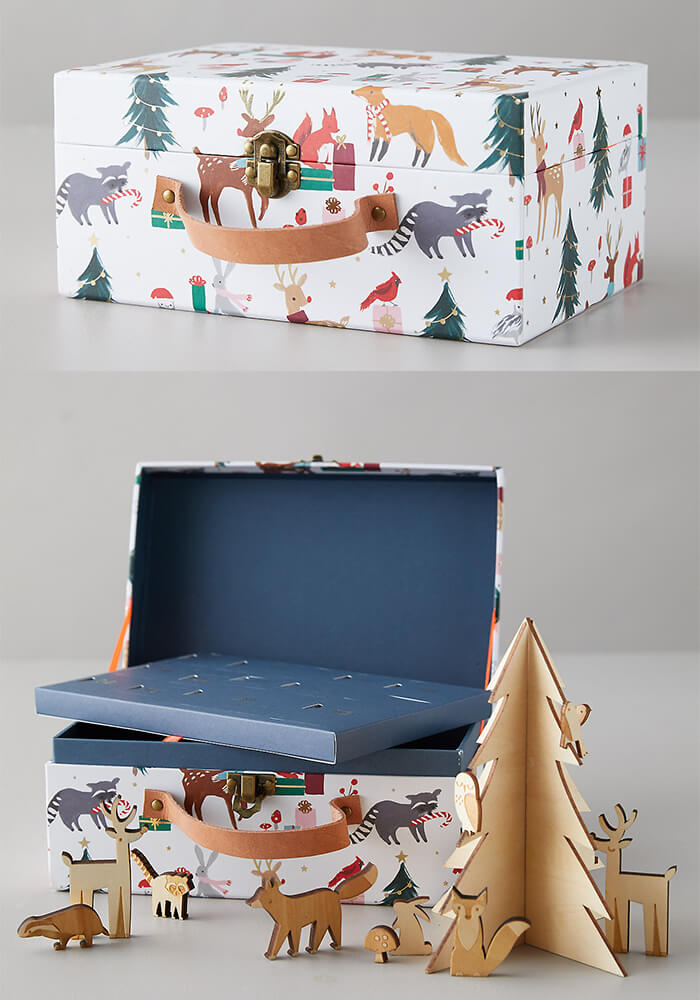 Juegoal Countdown to Christmas Calendar [buy here]
Juegoal Advent calendar is a special calendar used to count the days of Advent in anticipation of Christmas. Both kids and adults will enjoy getting ready for Christmas with this festive countdown calendar. 24 numbered drawers are perfect for placing candy or miniature gifts for kids, add some holiday cheer and more fun to your home. Not defective, this retro advent calendars was using hand make carbonize craft, every advent calendar has unique grain.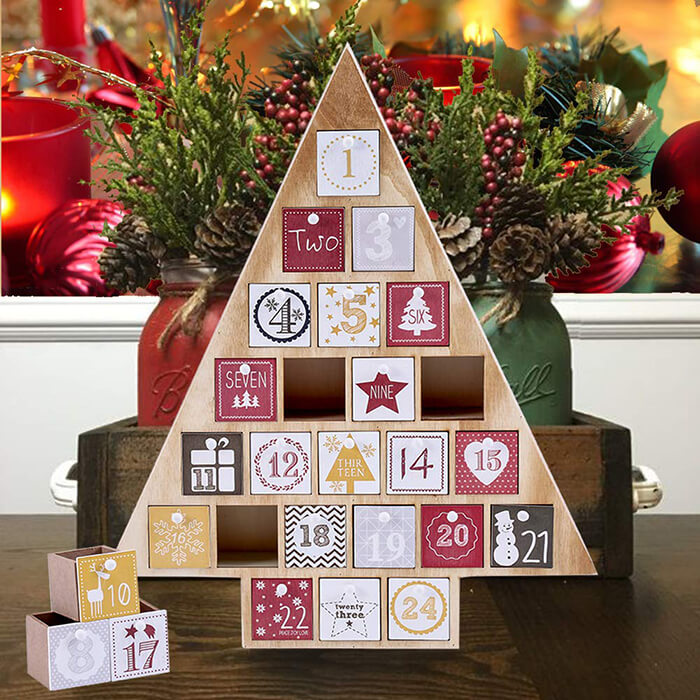 Gingerbread House Countdown to Christmas Advent Calendar [buy here]
The tactically-engaging house includes 24 interchangeable wooden drawers for hiding tempting treats, notes, or teeny toys that your kids can look forward to opening until the day Santa arrives! A money-saving alternative to buying new, paper-based advent calendars every year, this 10½" x 8″ x 9½"H wooden calendar will last for years and years to come.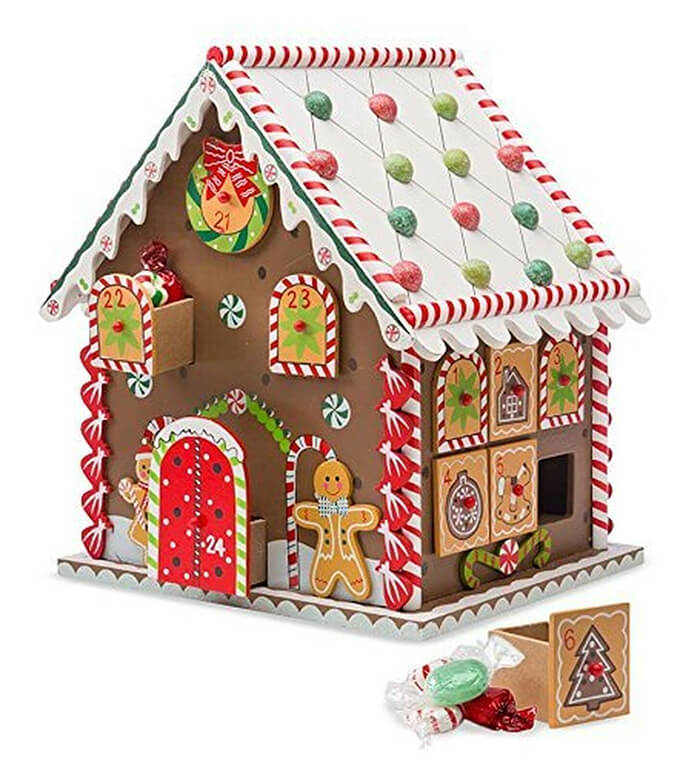 Christmas Wooden Advent Calendar for Kids with 25 Toys Stuffers [buy here]
Unique Christmas countdown advent calendar designs with house theme. There are green roof, grey house body, Christmas trees and red house door. The design brings traditional Christmas cheer and spirit into your home. It has 25 drawers. 25 mochi squishy toys are inside the drawers. Mochi squishy are so cute. They are made of non-toxic soft silicone and safe for children.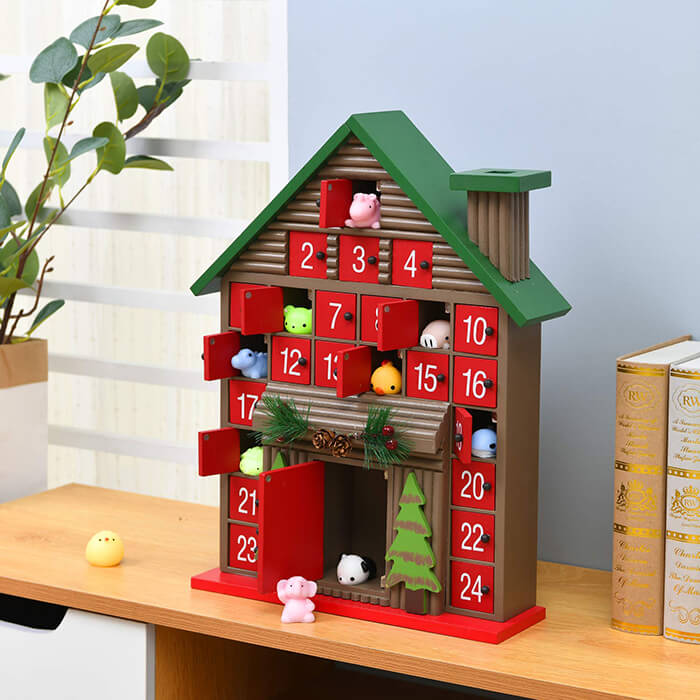 LED Lighted Santa's Workshop Wooden Advent Calendar [buy here]
An enchanting family heirloom you'll bring out every Christmas. Inside the workshop are Santa, his sleigh, elves, a fireplace, furniture, presents and more. Below are 24 numbered drawers for the 24 days before Christmas. You might fill them with candies, notes, or small gifts – something different each year. Flip the switch on back and the workshop lights up with 10 LED lights. Crafted in wood. Takes 2 AA batteries (not included). Large and noticeable on your end table or mantle, piece measures 16″ wide x 16″ high x 3″ deep.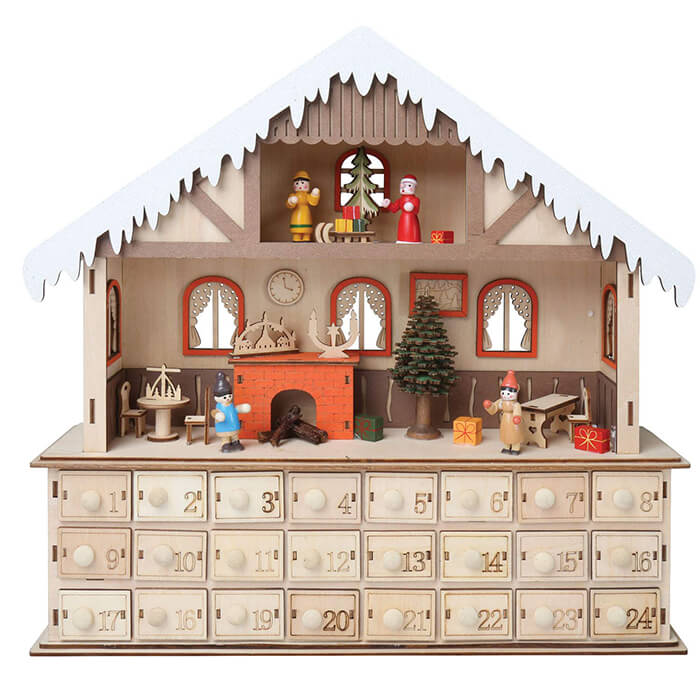 Traditional LED Wooden Advent Calendar [buy here]
This decorative wooden advent calendar is the perfect item to add festive holiday cheer to your home! This Christmas Village will complement any Christmas decor theme and is sure to bring the Christmas spirit into your home. Made out of high quality wooden materials, this LED Christmas Advent Calendar is decorated with a church, a house, and a group of carolers standing by a spinning angels Christmas tree.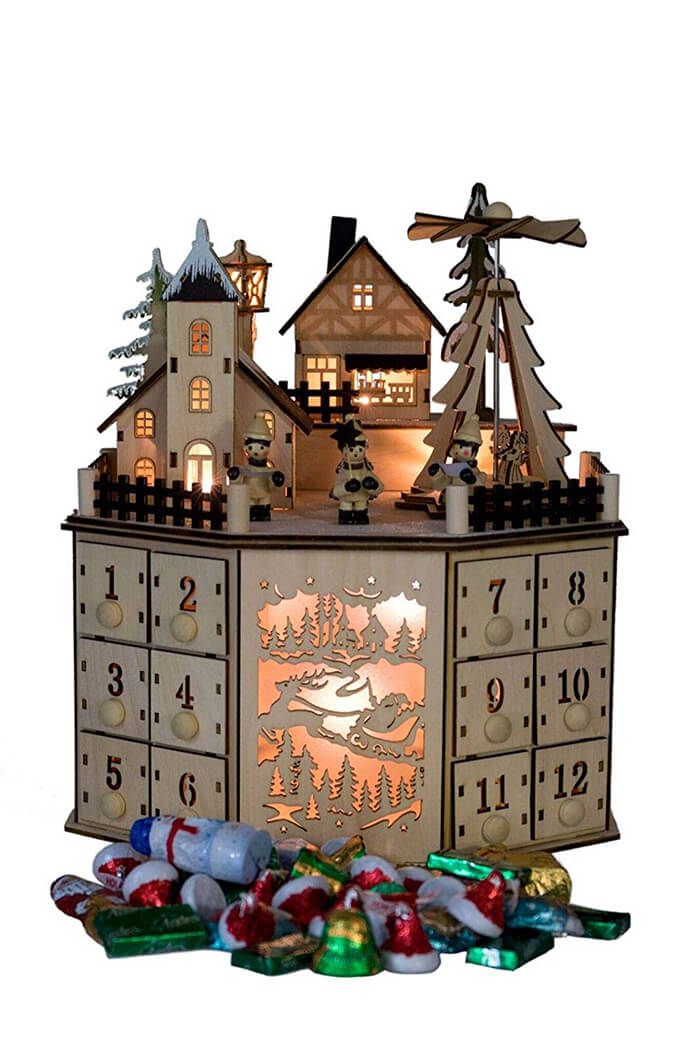 HYGGEHAUS Wooden Advent Calendar with Drawers [buy here]
This Hygge inspired, Solid Wood Nordic red and white advent calander with painted silver handles and has 24 numbered drawers specifically designed to give plenty of options when filling with gifts of toys, candy, chocolate, make up, jewelry. With the box shape design, you can place other Christmas decorations on top such as a personalised stand up name plaque, a pine branch pick or other Christmas scenes. The inside of the drawers and the back of the cabinet are natural wood.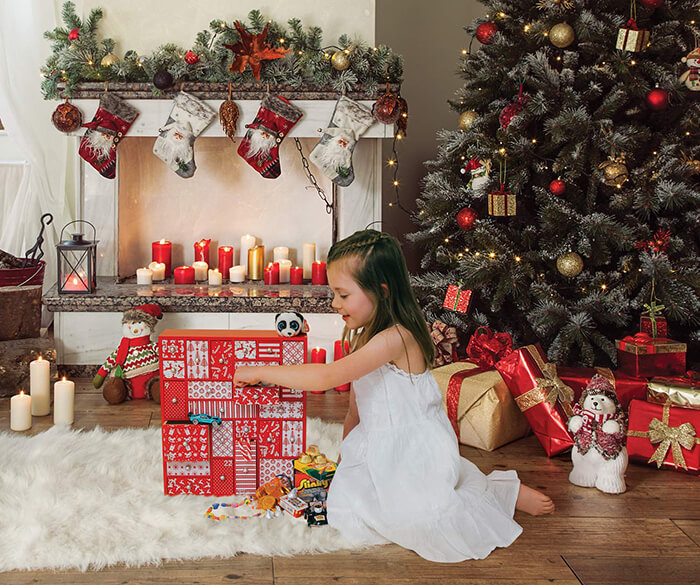 Cardboard Advent Calendar with Gift Drawers [buy here]
Design with two different patterns, both in the shape of a Christmas tree, the pull out drawers hold a variety of items, fun for children and adults alike, creating holiday memories for years to come. Drawers pull out for ease of use, but remain securely in place when you want them to. A fun and affordable way to enjoy advent year after year. Full calendar measures 14.6"(L) x 2.6"(W) x 16.9"(H), and each drawer measures 2.4"(L) x 2.6"(W) x 2.4″(H)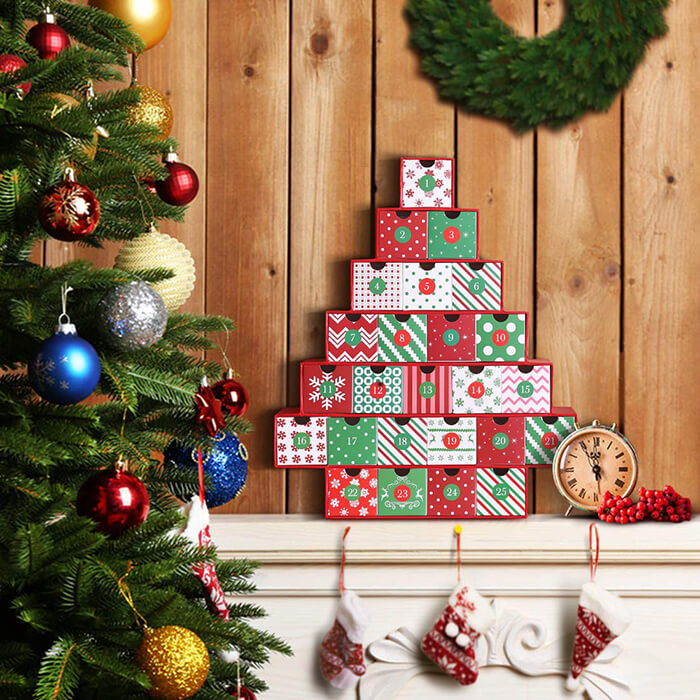 BRUBAKER Advent Calendar Wooden Christmas Book [buy here]
The wooden Advent calendar is equipped for the 24 days before Christmas day. Each drawer can be filled with a little candy or a little present. The memory of the countdown of Christmas in childhood is a tradition that a person will cherish for a lifetime. This calendar is so beautiful that it gives pleasure to young and old. It is a focal point in your home and can be reused year after year.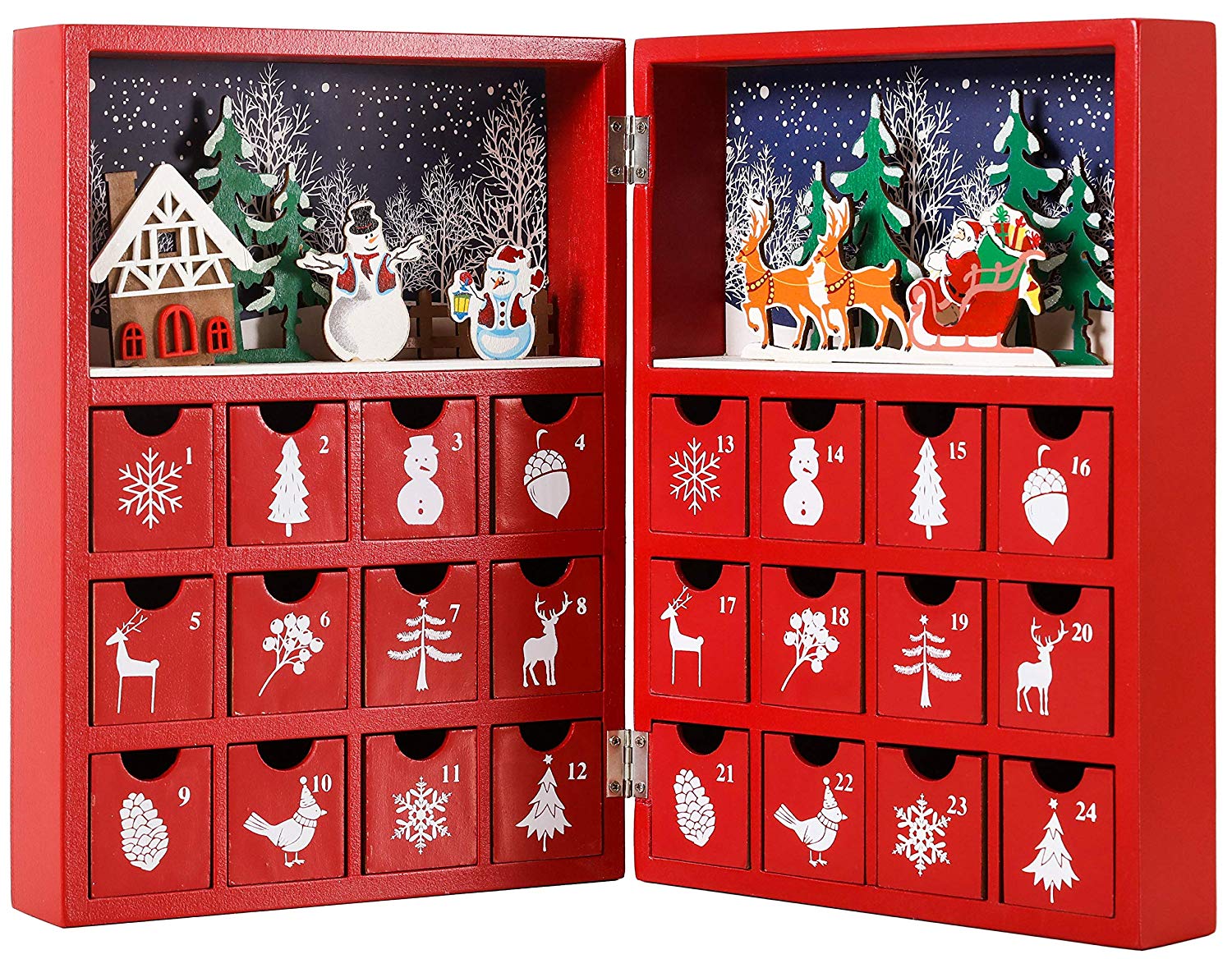 Holiday Scene Diorama With 24 Drawers [buy here]
The Gift Boutique unique and whimsical advent calendar is the perfect house decoration to celebrate the holiday season. Whether gifting to family, friends, or for your own home, use this calendar to countdown the days until Christmas, with beautifully adorned numbered refillable drawers spacious enough for small candies, prizes, mini booze, whiskey , scotch, wine, liquor ,or chocolate so that every day you count down provides something spectacular to enjoy! Constructed of high quality durable wood, you will be bringing this calendar out every year for years to come!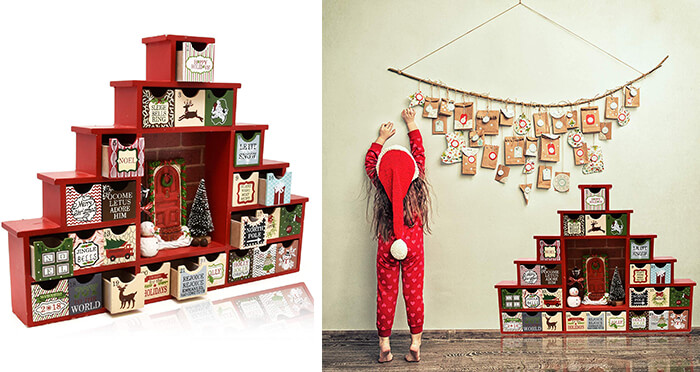 Battery Operated Fold Out White Wooden Advent Calendar [buy here]
Standing at 12" tall, it's perfect to display on a mantel or windowsill. The super cute reindeer forest scene is illuminated by 5 warm white LEDs which create a cosy glow. Simply pop in 2 x AA batteries to illuminate your calendar and opt for the 6 hour built-in timer to maximize battery longevity.