Overview
You will agree with me that a large video file is sometimes trouble. Not only does it occupy too much space for storage, but also there are many limits for uploading to other platforms. In addition, it is hard to find a completely free video compressor on the market, which is another hassle for us. If you are wondering how to compress a video for free, this article will provide you with several practical ideas. It will elaborate on the following aspects: a brief introduction of an effective and free video compressor, a detailed tutorial, a list of its merits, and other alternative ways of reducing video size. Hope it is helpful for you.
WorkinTool File Compressor
WorkinTool File Compressor is new in the market. It is an effective and free desktop tool that is dedicated to video, image, word, and PPT compressing. It is developed by a reliable and experienced enterprise, WorkinTool, which devotes itself to exploring desktop software. You can use it with ease, for it is lightweight and easy to operate. If you are a beginner, you don't have to worry about the operation. What's more, there are no ads on its interface, and it asks for no registration, so you don't need to be concerned that it will bring a virus to your device. More importantly, it is completely free without any request. This benefit makes it prominent among many file compressors.
Key Merits of It
There are plenty of reasons that are accountable for why use WorkinTool File Compressors. Here is a list of its merits.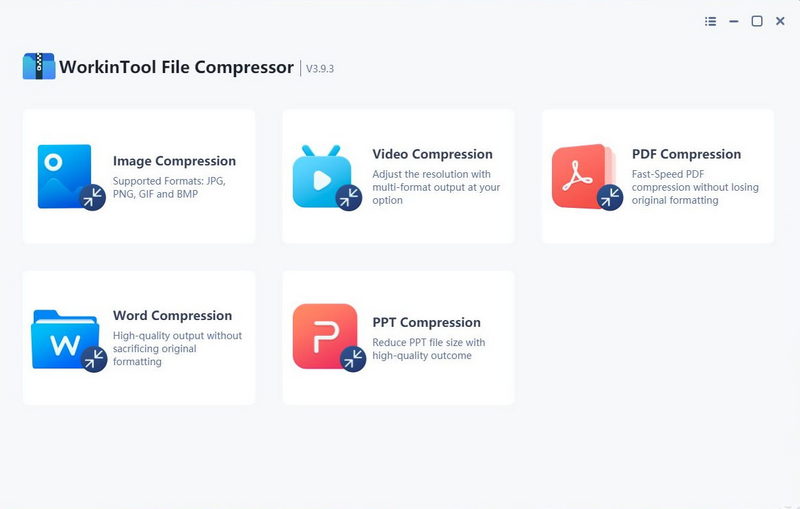 | | |
| --- | --- |
| Free | It offers a long-term free trial, and all functions are completely FREE for users. |
| Effortless | Its easy operation is friendly to beginners. Indeed, it is unnecessary to refer to a tutorial when you use it. |
| No registration | You don't have to log in or create your account. It will not record your file information as well. |
| Efficient | Batch compressing is available. You can reduce many files with just one click. |
| Safe | It ensures data privacy and information security. |
| Powerful | It realizes compressing many mainstream file formats, such as videos, images, PDFs, PPTs, etc.< |
| High quality | The exporting result is of high quality. The number of your files won't affect the output result. |
How to Compress a Video with WorkinTool
Now it is time to find out how to use it. Here is a step-by-step tutorial for you to learn how to compress a video with WorkinTool File Compressor.
First, open the software and find Video Compression.
Second, select your video file from your folder or drag it directly to upload it. It supports the following video format: MP4, WMV, AVI, and FLV. Please ensure that your video is in those formats before compressing.
Third, adjust the settings of the new video.
Tips:
If you don't have any video editing experience, choose "General Settings". As for smaller sizes, it will export your video in a size as small as possible. As for clearer output, you will expect a compressed video with high quality.
If you are not satisfied with the two default modes, you can select "Additional Settings". In this way, you can alter the parameters of video and audio. In addition, it is viable for you to pick the output formats, MP4 or original one. Change the location of the new file if you want by clicking "Save to".
At last, press "Compress" to obtain the reduced video.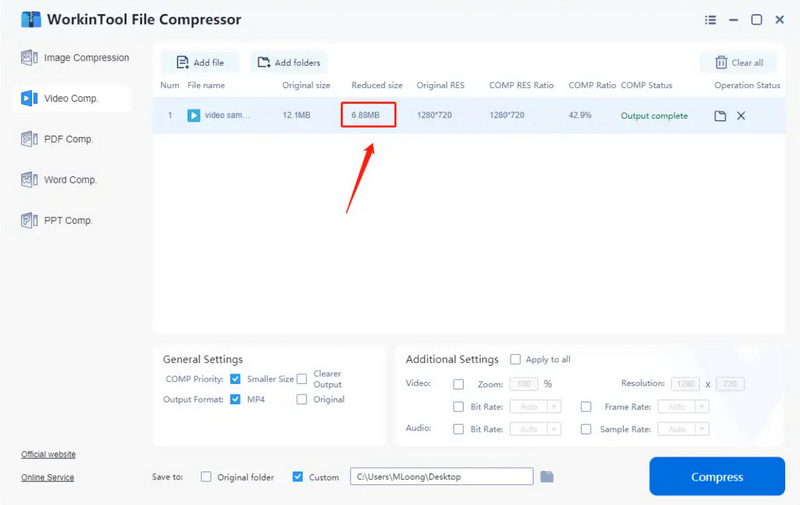 Note:
It fulfills batch processing as well. Just upload more videos by clicking add files or add folders. You can add more or delete the uploaded video before pressing Compress. The number of the file won't take a toll on the compressing speed. Just in a few seconds, you will get compressed videos.
Alternative Ways to Reduce Video Size
If reducing video size is what you need and you don't want to compress it, there are other free and effective ways available for you.
Trim videoIn addition to compressing it, you can trim the unnecessary parts to get a video with a smaller size. In this way, you may need a free video trimmer. However, most of the video trimmers on the market can realize trimming the beginning and the end of the video. It is unavailable to trim it in the middle arbitrarily.
Edit videoYou can reduce video size by editing it. Splitting your video into two small parts is another option. If you want to upload your video to other platforms or want to send it to your friends, you can cut the large one into two smaller videos. If you prefer this solution, WorkinTool can offer you a free video editor as well.
Convert video to linkIf you want to send the original video without any change. You can convert your large video into a link. Just upload your video to your YouTube channel, then set it as unlisted or private, then you can share the video link with your friends.
Final Thought
Now you may have figured out how to compress a video without any cost. As I mentioned above, the reason why I highly recommend it is that it proceeds countless merits: free, easy-to-use, user-friendly, safe, efficient, etc. Besides compressing videos, WorkinTool File Compressor has many other usages, like compressing PDF, PPT, Word, and images in JPG, PNG, GIF, and BMP formats. It is without doubt an effective all-in-one file compressor. If downloading a program is troublesome for you, don't worry about it, for it will update its online version soon. After that, you can turn to use its online tool if you want. As well, I have provided you with other three alternative ways to reduce video size. WorkinTool has also explored free video trimmer and video editor tools. If you are eager to learn how to use other desktop tools, you can visit WorkinTool.