For many women, the most important aspect of planning their wedding is finding the perfect dress. As very young girls, most women fantasize about the day they will marry their Prince Charming; imagining the gasps and awe of the crowd as they see the bride for the very first time, in her amazing, perfect, and beautiful wedding gown. While little girls grow up and mature, the desire to be a beautiful bride remains the same, and it truly is all about the dress.
Picking out the perfect wedding dress can take a lot of time and effort. For brides who are on a budget, the task can be even more difficult. The price of wedding dresses vary dramatically, but most brides pay between $500 – $5000 for their dress. If you are a bride on a strict budget, or simply don't want to spend an outrageous sum of money on a dress to wear once, we can give you some tips and pointers on how to get the most for your money when picking out a wedding dress.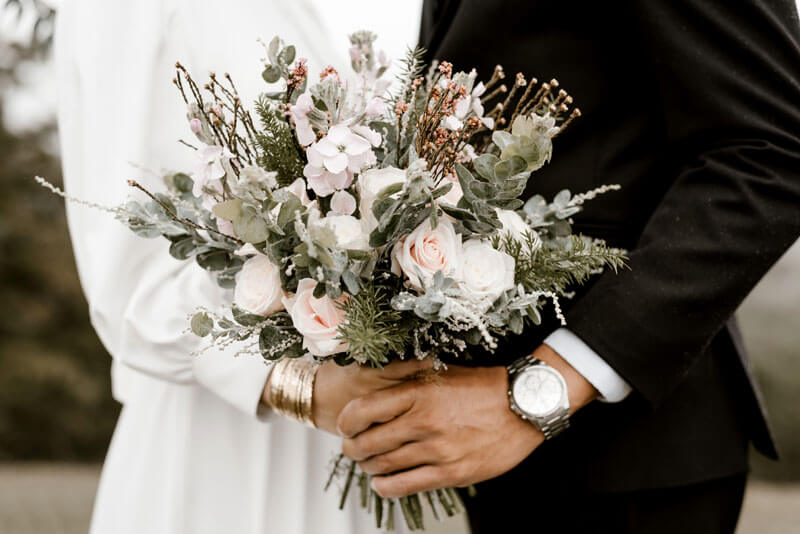 Photo by Trung Nguyen from Pexels
What Factors Affect Dress Prices?
There are a lot of components that go into creating a wedding gown, and as such, many factors that can ultimately affect the cost. However, there are things you can do that will ultimately lower the final cost of your dress, without having to sacrifice style. With some patience and a little extra effort, you can have the dress of your dreams, even on a budget. Let's start by discussing fabrics.
Fabric Choices
Traditional wedding dress fabrics often include silk, charmeuse, satin, and crepe. These fabrics have been used in the commission of wedding dresses for many years and while beautiful, are typically quite expensive. However, in recent years, many man-made fabrics have come a long way in quality, style, and overall functionality.
For example, modern rayon is much less expensive and can look nearly identical to silk. In place of traditional silk chiffon, well-made polyester chiffon is equally as beautiful, as well as functional. Crepe, usually made of silk, can also be made of rayon, and still, be equally as flattering and attractive. By selecting man-made materials, brides-to-be can cut their dress cost in half, without sacrificing style or elegance.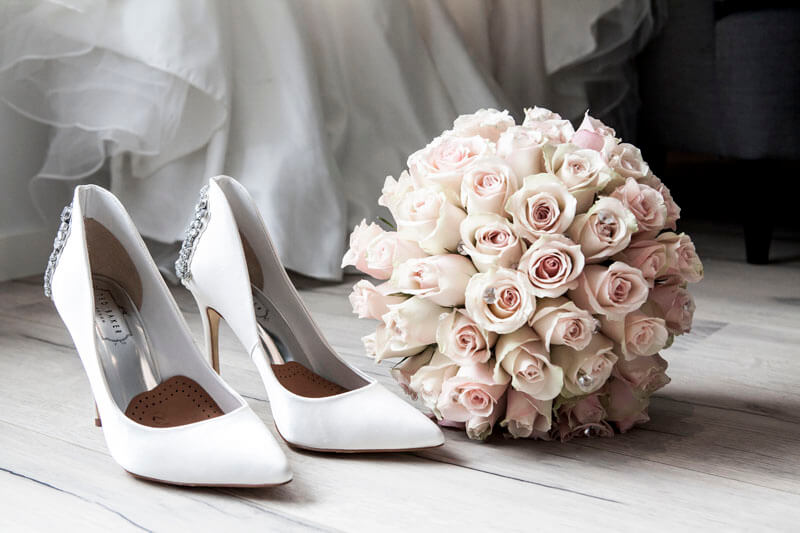 Photo by Terje Sollie from Pexels
Buy Last Season's Styles and Look for Sales
Let's face it, while some clothing styles can change dramatically from year to year, season to season; wedding dresses often have a timeless quality that transcends modern fashion trends. Shops last year's fashions or shop wedding gowns for sale at the end of the season, as you can usually get a dress at a deep discount.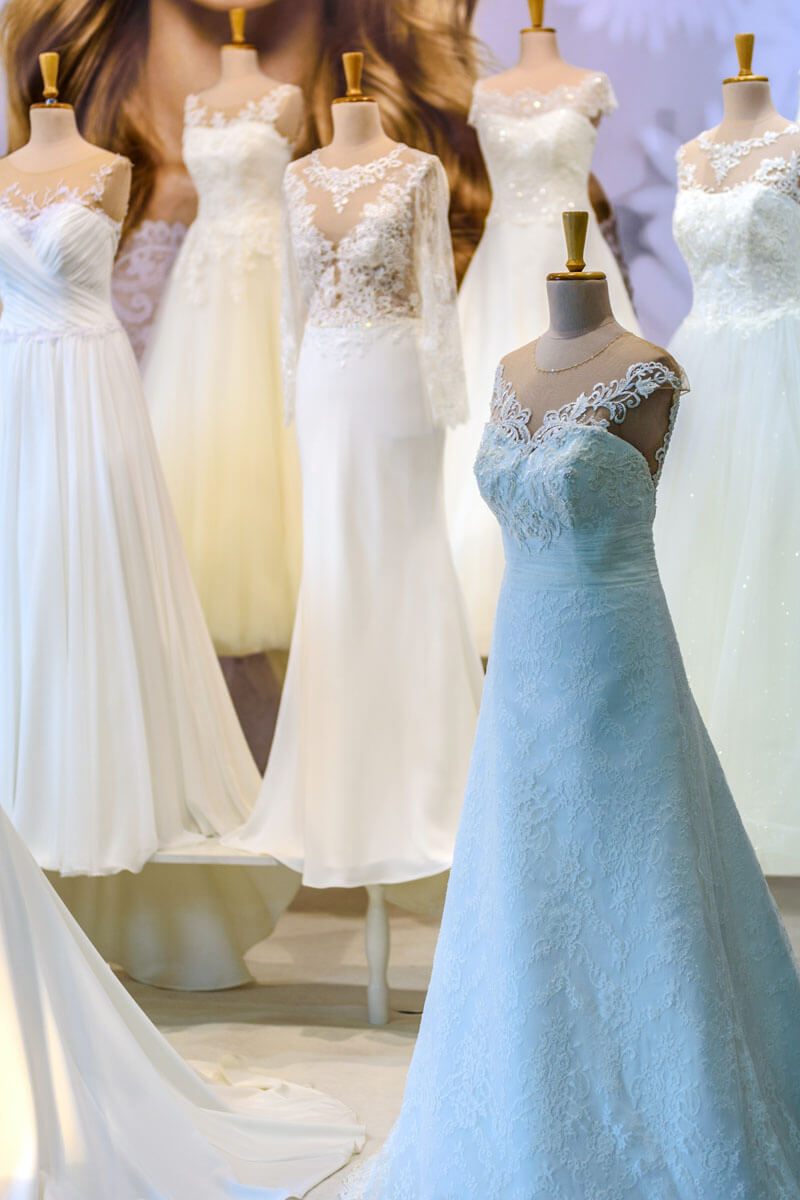 Photo by PhotoMIX Company from Pexels
Alterations and Embellishments
Embellishments like sequins, intricate beading, or appliques can drive up the cost of a wedding dress significantly. If you want a fancy style without a fancy price tag, consider purchasing a simpler style and work with a private seamstress to add some detailing to suit your taste. Alternatively, an elegant yet simple gown can be enhanced by dramatic or detailed jewelry.
Also, always compare the price of using a private seamstress versus the shop staff to complete alterations. You may be surprised at how much money you can save by hiring someone privately.
Whether you decide to try an alternate fabric, shop a dress sale, or use a private seamstress, it is possible to get your dream wedding gown without paying a nightmare price.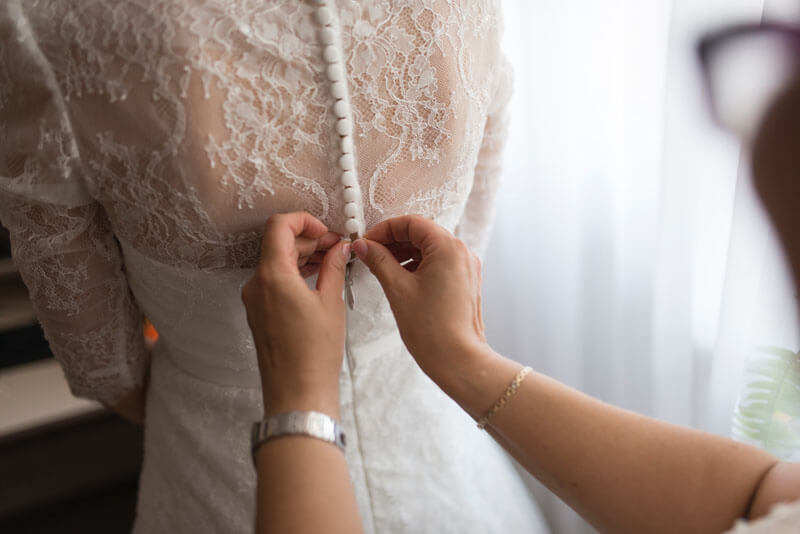 Photo by Dmitry Zvolskiy from Pexels