Would you eat your socks? That must sounds like a very silly question. But there are some very funky and creative socks listed below which might cause your make wrong decisions.
As one of the most banal and inconspicuous parts of our wardrobe, socks are usually overlooked. But some creative designers try to remind us how much enjoying this little things can bring us, they made below unusual, interesting or a little bizarre socks. From pizza to burger, from sushi to beer, here we will present you 7 funky sock designs for food lover. Burger box, beer can, jam jar, pizza box, who knows where else your socks will popup out.
1. Funny Burger Socks Box – 2 Pairs [buy on amazon]
Burger Socks Box is an exceptional combination of the most popular meal in the world and funny colourful socks. The set contains 2 pairs folded so that they resemble a delicious well-seasoned burger. The whole product is wrapped in paper and an original box – like a fresh burger straight out of a restaurant or a food truck. Surprise effect guaranteed!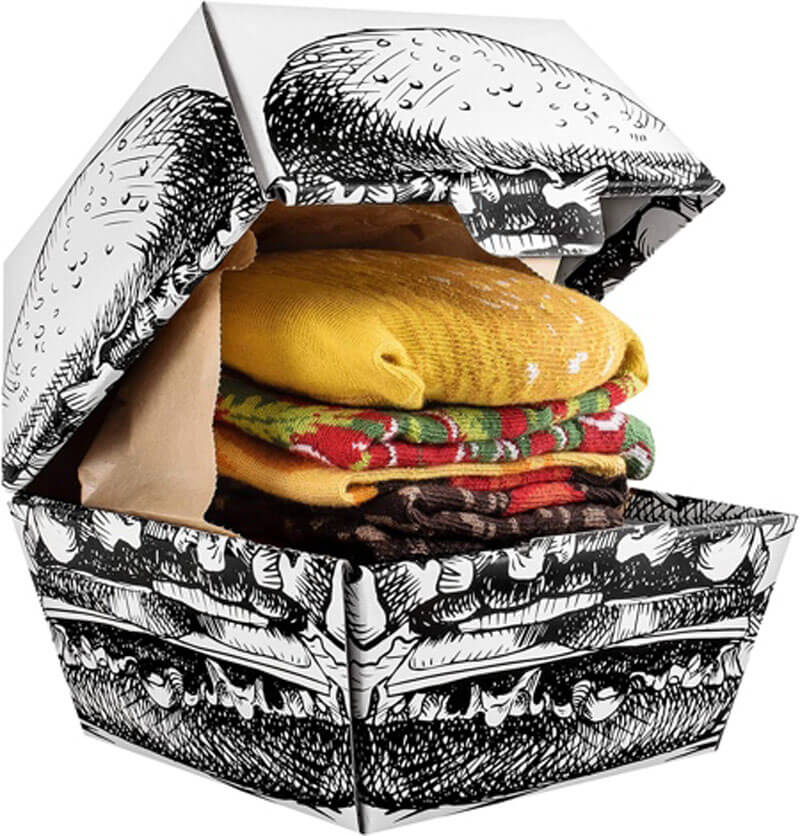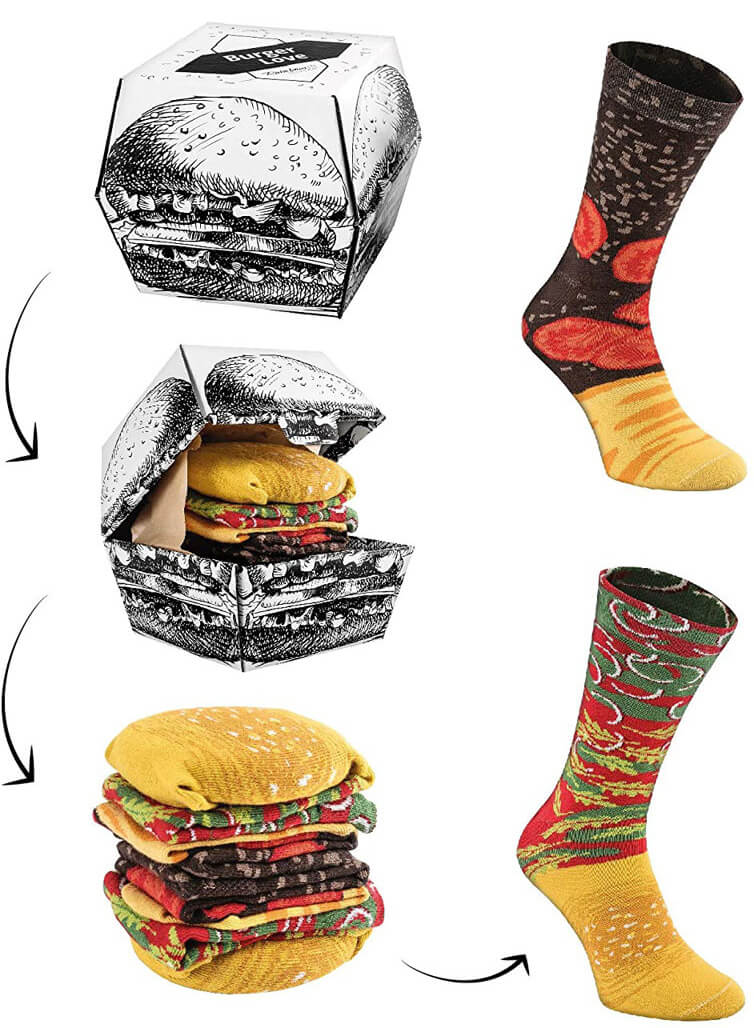 2. Sushi Socks Box Salmon Cucumber Maki [buy on amazon]
The idea for the socks that look and are packed like real sushi was born a few years ago in the heads of creative people who love sushi. Each sock is folded in a specific way so that it resembles the Japanese delicacy. If you are searching for unique socks, you're in the right place.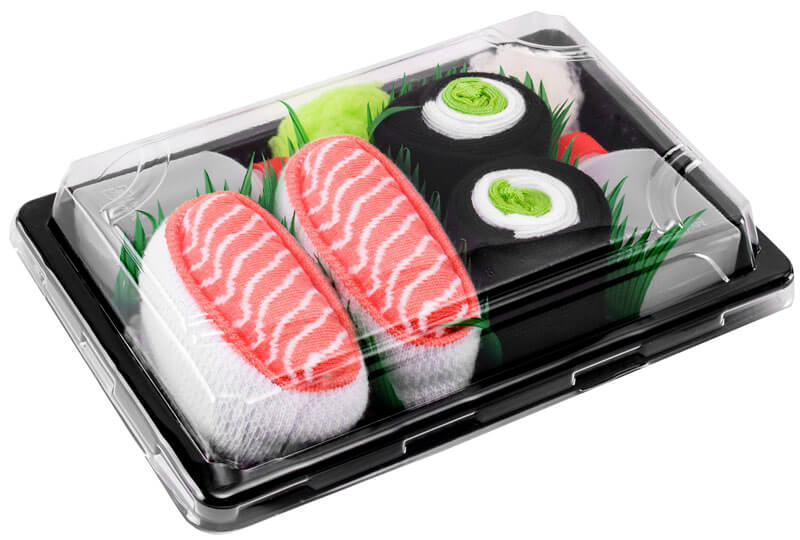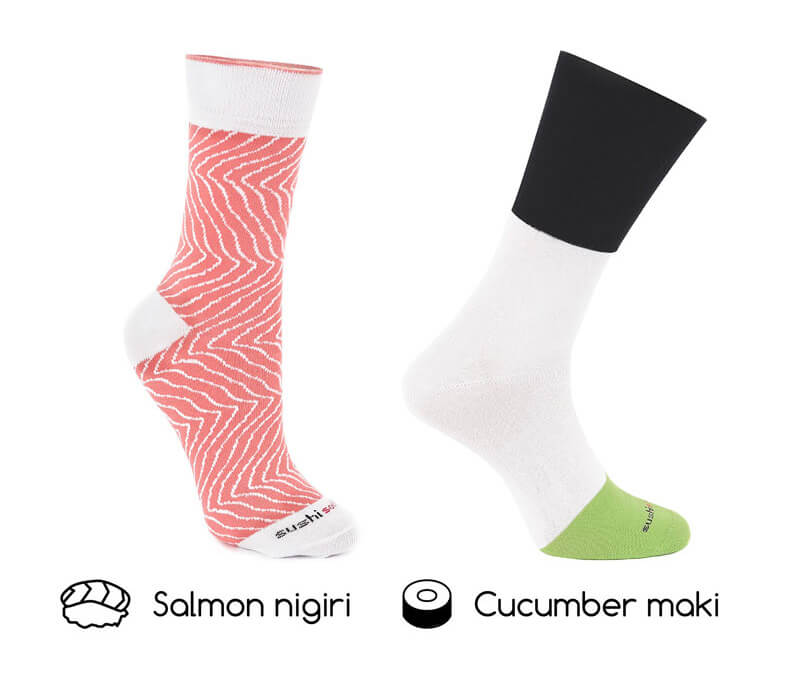 3. Mexican Wrap Novelty Socks [buy on amazon]
You are holding a delicious wrap box, you open it hungrily, and there's a surprise. It may happen that you'll end up biting the little culinary sock work of art! It is an option for all individuals with a sense of humour. Bright intense colours on your feet will catch attention and improve your mood. Most importantly, they'll make you stand out. They will be appreciated by hipsters and originality seekers.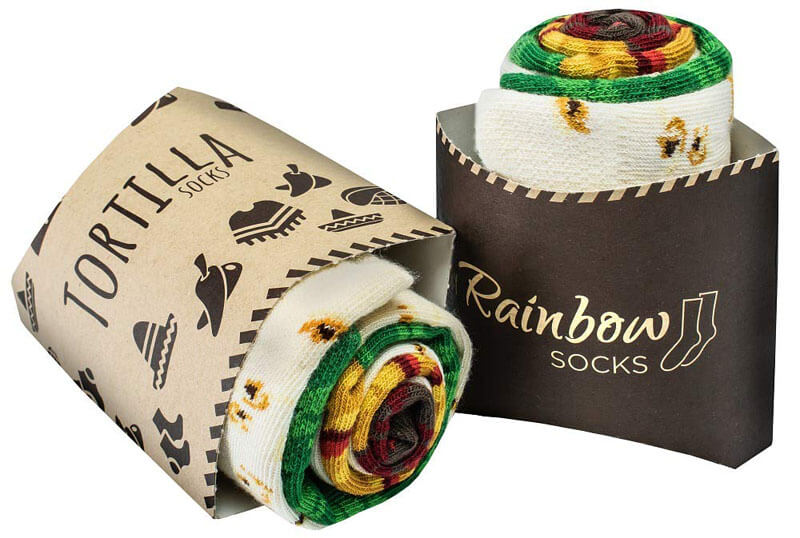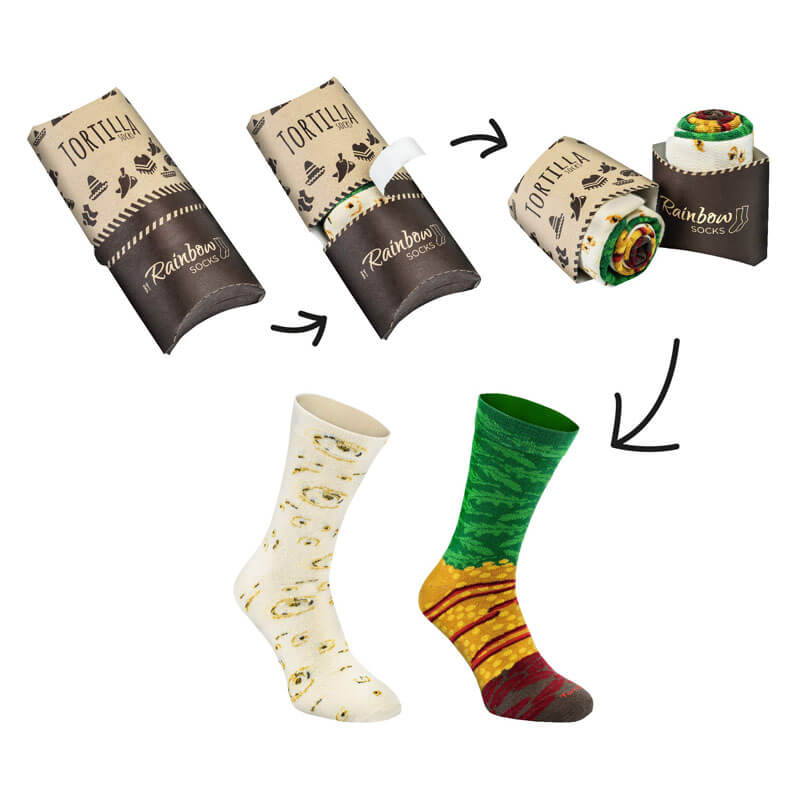 4. Iced Coffee Can Socks [buy on amazon]
Iced Coffee Socks in a can is a perfect gift for all coffee enthusiasts. Now, you can show your love for coffee in an exceptional way! It's enough to put on our Iced Coffee Socks. Whenever you miss summer, reach for this can of iced coffee. It will add energy without raising blood pressure – after all, there's no caffeine in it.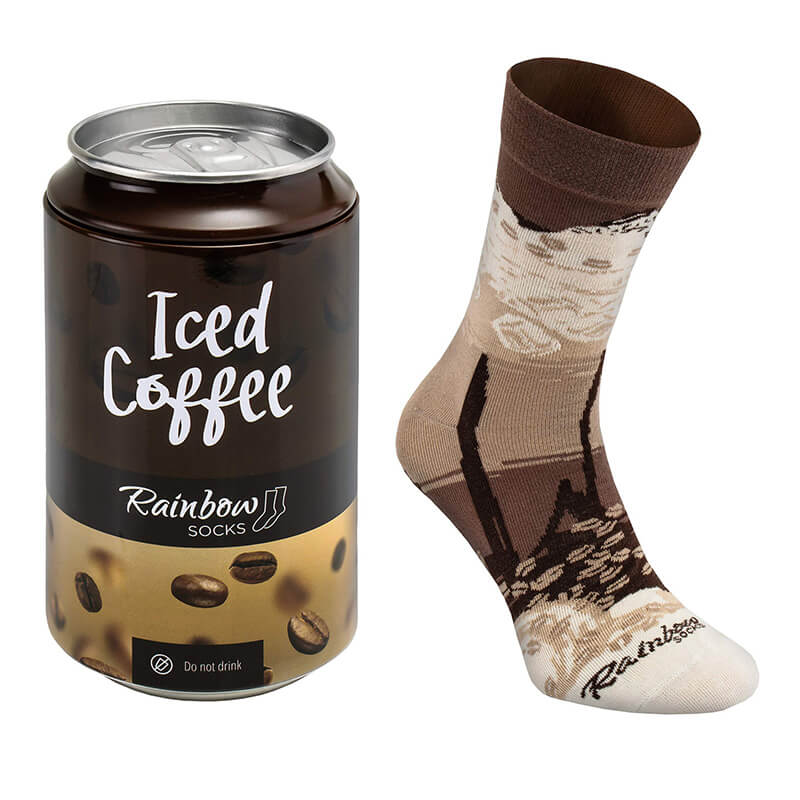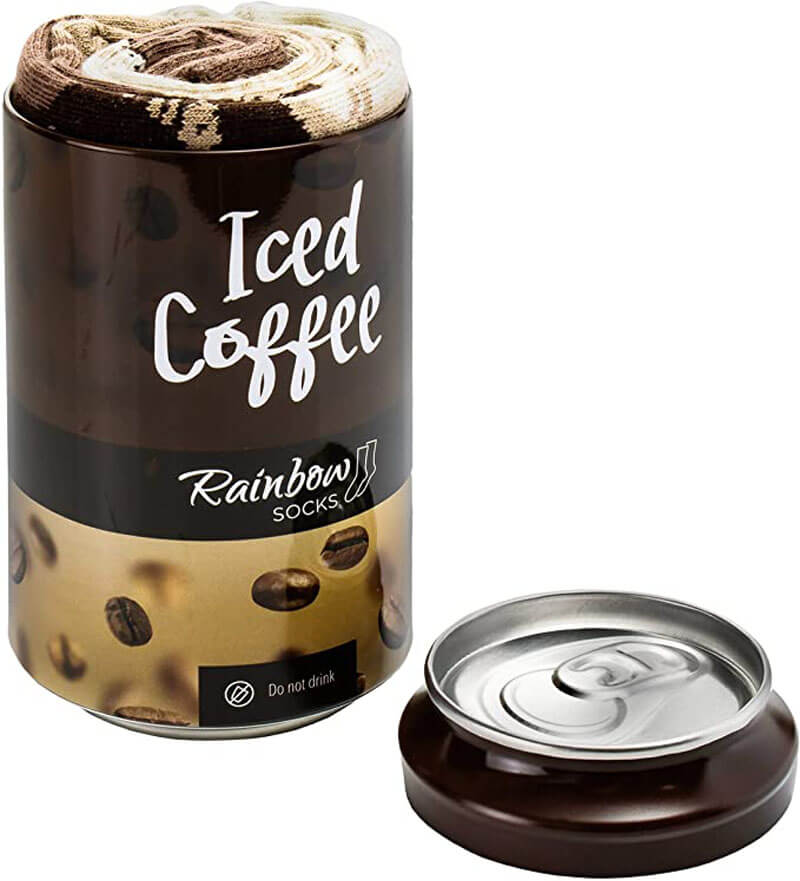 5. Beer Can Socks [buy on amazon]
Refreshing, bubbling, with frothy foam, in a golden colour… Your favorite beer? Not this time! Grab this graceful can and let yourself be surprised. Inside, you'll see something really tasty, but be careful, don't try to drink it! Just take out these incredible beer socks and let them improve your mood!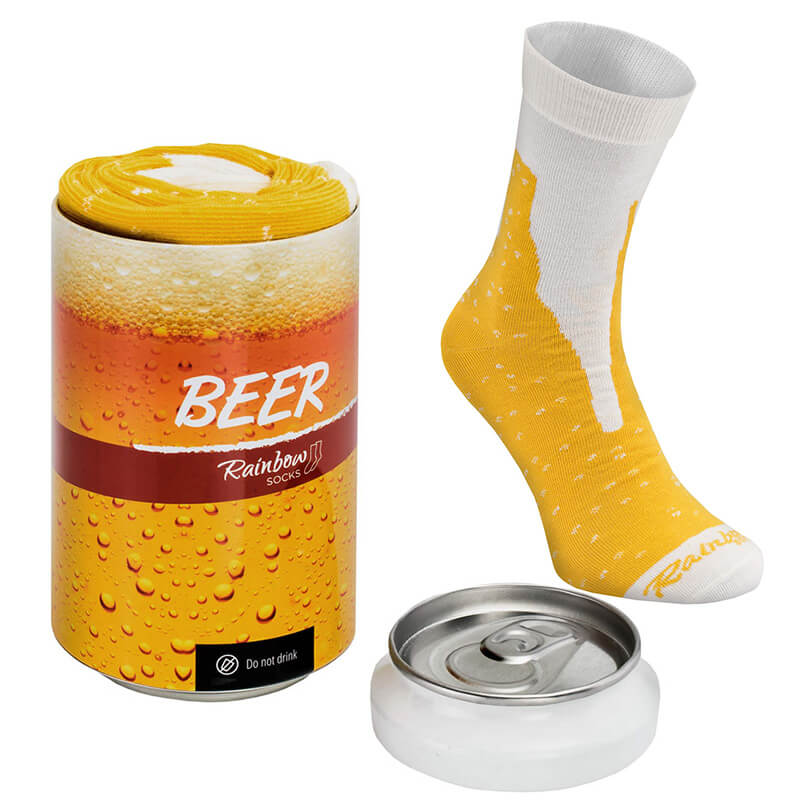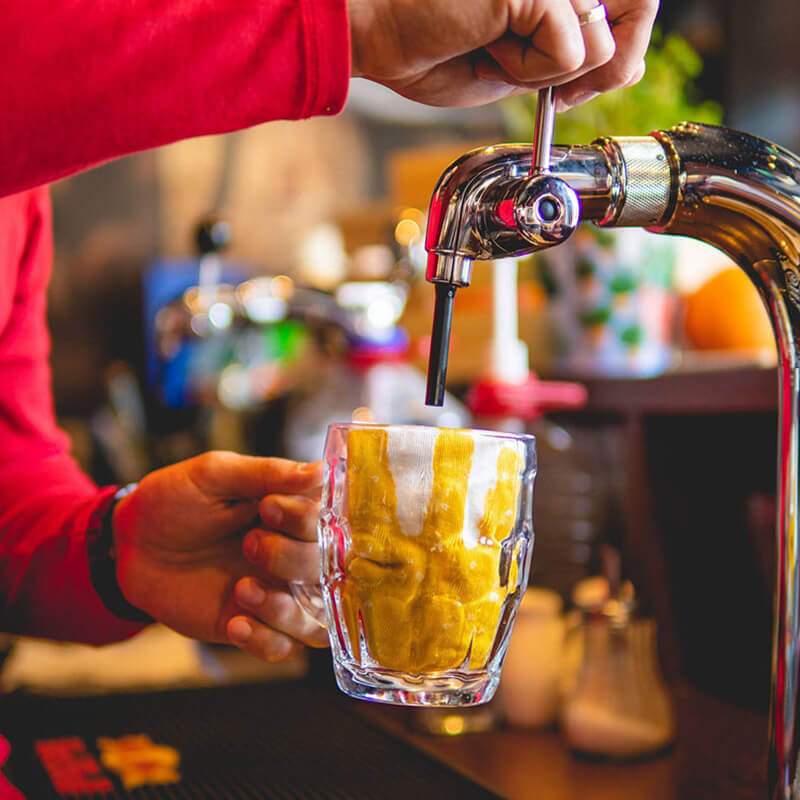 6. Lemon JAR SOCKS [buy on amazon]
Jar by Rainbow Socks is characterized by ultra colorful patterns – yellow lemons in brine, green pea with orange carrot, green pickles, and red and green peppers. Each jar contains two rolled-up pairs of different socks – one pattern is visible from outside and one pair is rolled-up inside the jar.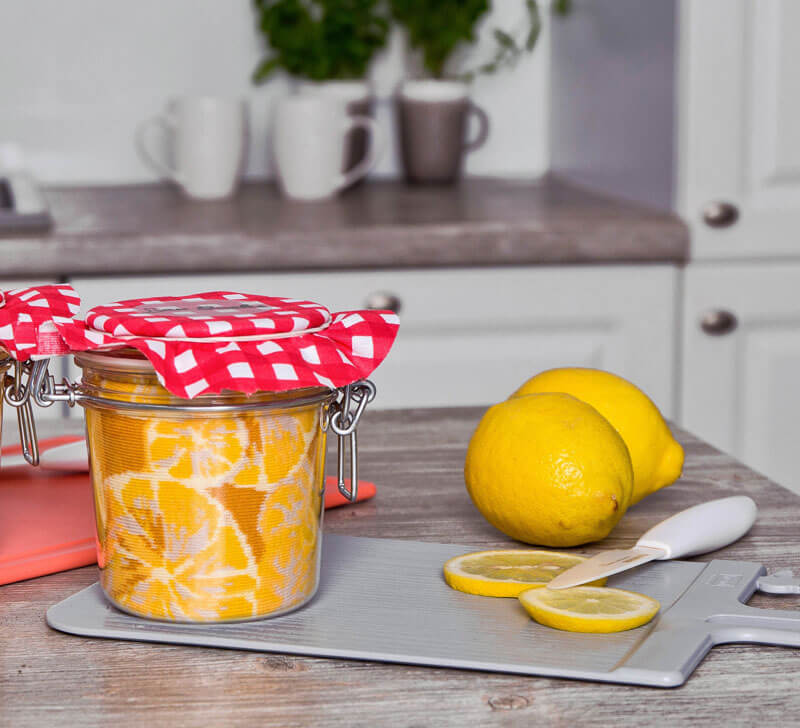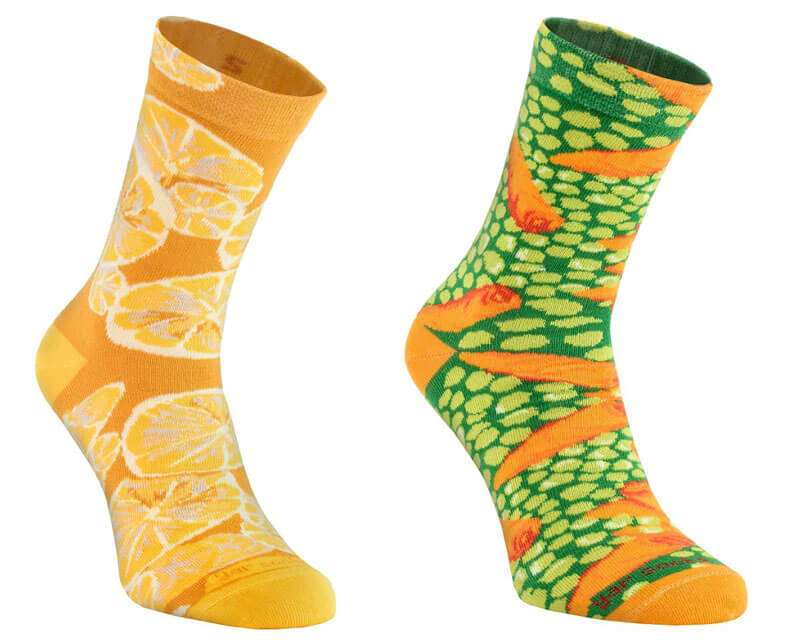 7. Pizza Socks [buy on amazon]
Are you a fan of pizza or colourful socks? Then, Pizza Socks Box is an ideal product for you! The fashion for colourful socks flourishes and you won't be able to find crazier socks than pizza socks that are packed in a box that looks like a real pizza. The socks look funny and original also on their owner's feet. They match both casual clothes, a pair of jeans as well as a jacket and a suit. Pizza socks are funny, crazy, colourful and happy!