Your business's packaging techniques play a critical role in successful sales. From traditional product packaging, switching up to more tailor-fit, customized, and functional packaging solutions will skyrocket your business sales. No matter what packaging technique you're currently implementing, it's always a good idea to improve your process once in a while to attain better results regarding your objectives.
Don't let your customers turn your products down just because of poor packaging. In this article, you will learn some effective ways to help improve your packaging techniques to realize your sales and marketing goals.
1. Strive To Implement Unique Product Packaging
Idea Dolls cited a great analogy between Russian matryoshka dolls and businesses. They said a brand or business consists of plenty of little elements; each when recognized leads to the discovery of another element. As a business owner or marketer, it's essential that you find the core of your brand. If you can't do it on your own, you may hire professionals to help you. So, how do you attain this goal?
Working with an advertising agency, specialized in product packaging, is a good idea to help you in implementing improved unique packaging techniques for your products. This creative agency can help you create unique product packaging by:
assessing your current business packaging techniques and incorporating old good practices into new and innovative ones;
improving product packaging on existing categories or creating an entirely new product category;
developing brand guidelines to take your business to the next level, and
compressing plenty of information and repositioning them in creative ideas.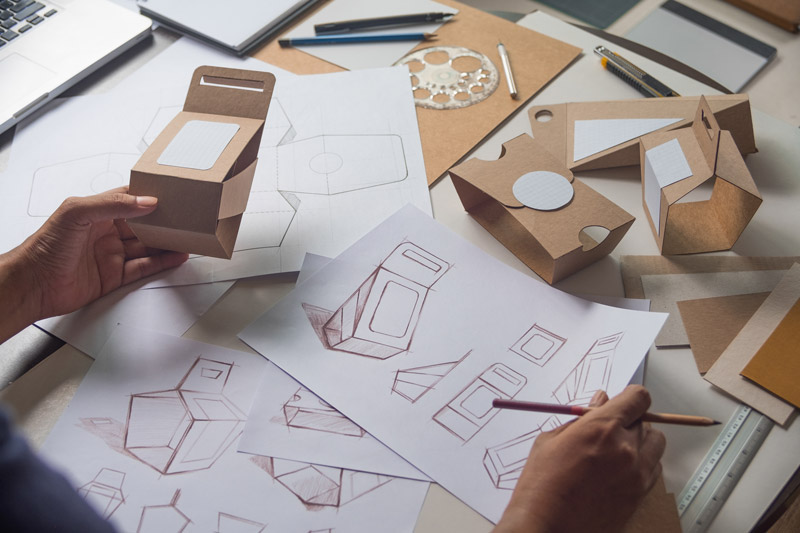 2. Implement Versatile Business Packaging
When it comes to product packaging, versatility is an essential element. Instead of dull, too concentrated designs or drastic changes, slight modifications are highly recommended based on your product variations to make sure they meet your customers' varying needs. Whether you have a new clothing style, a new shoe design, or a new food or beverage flavor, a slight change in design or color is highly recommended to promote versatility in a way that makes your product adaptable to various applications and appealing to different target markets.
Remember, implementing versatile business packaging can help your business glamorize your products in order to entice the customers' attention. The more you attract their attention, the higher your chances of generating more leads and sales for your company.
3. Demonstrate Brand Identity
Another way to improve your business's packaging techniques is by demonstrating your brand identity. You can do this by paying attention to each distinct characteristic of your brand. This means discovering how you can make your brand stand out from the rest of the competition, thereby establishing your brand's uniqueness in the market.
Instead of relying too much on what your competitors do to improve their packaging techniques, you can use your creativity to make a huge difference in this business process. Be brave! Don't be afraid to break new grounds or set new trends. You can give birth to new packaging techniques by knowing your brand more deeply. You may adopt successful techniques from others, but don't forget to set a high bar by making your packaging one of a kind.
By doing this, you'll be able to get the most out of your packaging strengths and more importantly, you'll stay competitive and thriving in your industry for a long time.
4. Pursue Continuous Learning
Why not try to take some short courses to improve your business packaging techniques? You can do it informally or on your own by watching video tutorials or reading blog articles of packaging experts in various industries to help you create the best packaging version for your business.
You might realize that automation is ideal for your business, which involves zero human assistance. Automated packaging may involve simply creating and sealing cartons or fully automated packaging lining, sealing, stacking, and unitizing pallets of goods.
Your strong thirst for knowledge will bring you plenty of business benefits, allowing you to learn different things about business packaging, such as the following:
Brand logo design (including tagline design and other graphic design ideas for your other branding materials, which may be placed on your website, business app, and social media pages)
Best packaging materials for specific item sizes, shapes, and styles (bubble wraps, tapes, adhesives, staples, boxes, foils, etc.)
Safe item packing and delivery procedures (such as guidelines in handling and packaging flammable items)
Shipping and delivery laws and guidelines (most especially if you're planning to expand your business in the international market)
Conclusion
As you can see, there are many ways to improve your business packaging techniques nowadays. Firstly, always strive to promote unique product packaging by working with a reliable advertising agency, specialized in product packaging. Next, implement versatile product packaging to attract more consumers and learn how to demonstrate your brand identity so you can maximize your packaging strengths. Finally, continue to improve yourself by learning the trends that might be effective in formulating your own business packaging techniques.