Now here's something you don't see every day – Optical Illusion Home Design! Sure you probably have seen illusion bottle holders or floating magazine holder. But today we will talk something bigger, like your furniture, your wall paint, your carpet and your yard. I am not sure is that actually user-friendly, but it is definitely eye-catching. You can easily impress or confuse your guest. lol
We are a participant in the Amazon Services LLC Associates Program, an affiliate advertising program designed to provide a means for us to earn fees by linking to Amazon.com and affiliated sites.
1. Magic Chair with Invisible Feet from Davide Conti [link]
At a first glance, this chair appears to disobey the laws of Physics. The Magic Chair comes from designer Davide Conti and seems to only stand on one foot. This optical illusion is made possible due to a transparent material which is used …to help maintain the balance of the chair. But since this material is almost invisible, when looking at this product from a certain angle, the user will surprisingly only see a bunch of straight thin lines. Despite its fragile appearance, this chair is very durable and strong.
2. Suspended Marionette [link]
This one not only looks like floating… but also break into piece…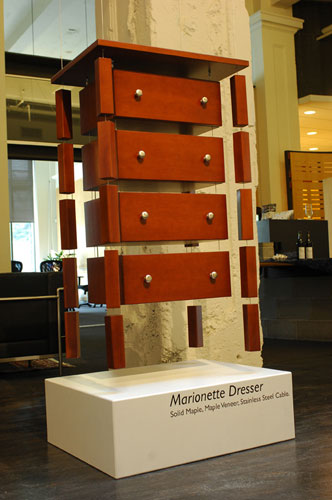 3. Sancal Elipse floating coffee table
[
link
]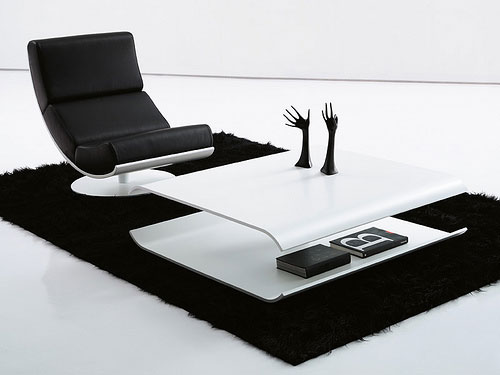 The Sancal Elipse coffee table looks like it's floating. We think the design is outstanding except for those hands. What was Rafa Garcia thinking?
4. Cracked Cabinet [link]
The cracked cabinet looks amazing and the striking design more than makes up for the price tag. If you have an Alice in Wonderland fan in your life, this would make a great gift.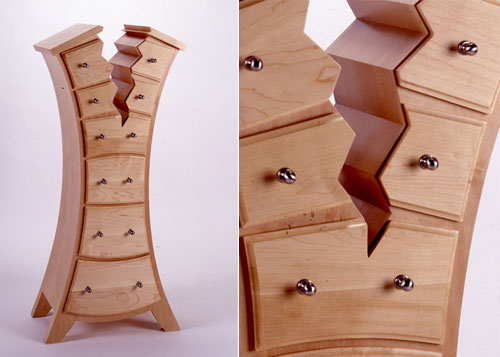 5. Essey Illusion Ice/White Side Table
[
buy on amazon
]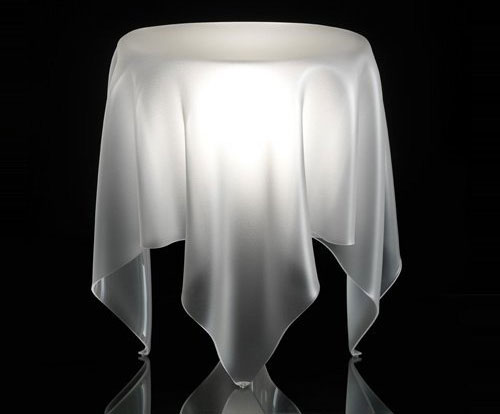 An eye catching and strong small table made from pyramid-texture acrylic. It is designed to recreate the look of a tablecloth floating in the air and is produced in 3mm textured acrylic. Each table is truly unique and handmade in Denmark.
6. Boom! Cabinet [link]
As if your child's room were right out of the pages of Alice's whimsical Wonderland, the Boom Cabinet looks like it exploded, then stopped in time. To a child, the fact that the drawers are suspended "mid-air" is magic. To you, the fact that the drawers are actually functional and can hold things is mess- and sanity-saving magic.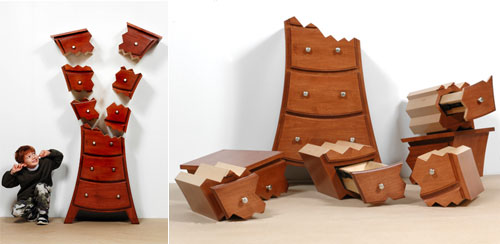 7. Optical Illusion Curtains Photos
[
link
]
This design tricks the eye into believing your room is larger than it actually is using the technique of continuing the room onto the fabric of the curtain. Simply print a photograph of your living room onto material, hang as a curtain, and voila, you have a room double the size of your existing one! Strange, but ingenious.
8. Fade Out Chair
[
link
]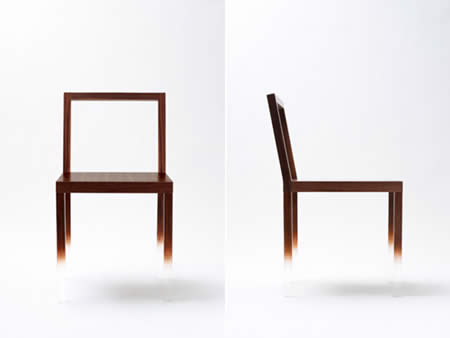 Isn't this chair amazing? Made by Japanese design company, Nendo, this acrylic chair is painted with a wood grain, with legs fade from walnut to invisible. As a result, the chair appears to be floating.
9. Floating cloud Sofa design concept [link]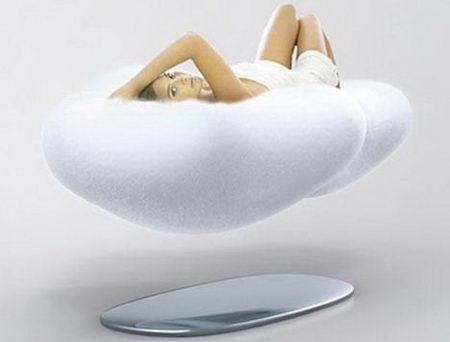 Designed for ultra comfort and relaxation, the Cloud magnetically levitating sofa is the most amazing sofa concept I've ever come across. The magnetic force generated by the base offers support for the verrry soft upper part of the sofa. It would be a great thing to work, relax or powernap on.
10. One – piece table [link]
One…only one piece of material is used to carve out such a unique table. Called the One – piece table, it's best described as an attractive, practical and optical illusion furniture for any space. The main curve changes all the time, depending on from where you view it.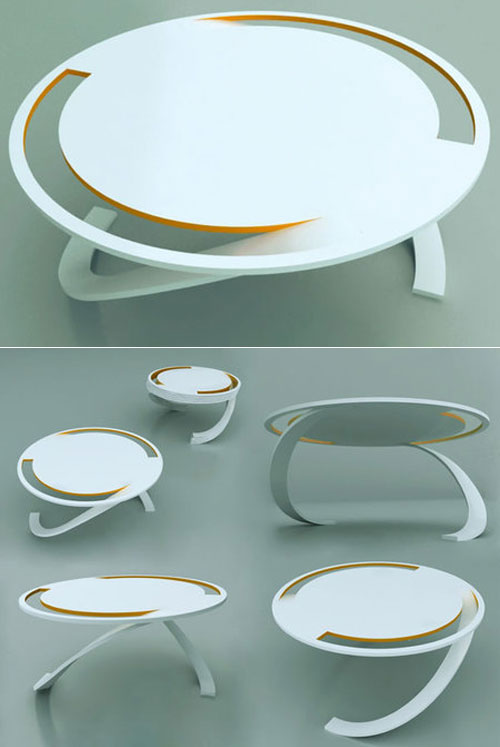 11. Melting Cabinet
[
link
]
Ok. this cabinet is melting… is it too hot in the room? Wait a second, those melting part is a drawer??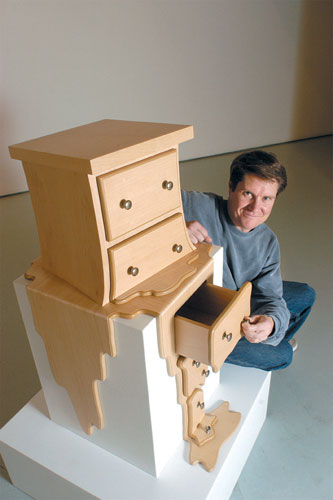 12. Float by RockPaperRobot
[
link
]
Float is a table made of 64 cubes strung together with wire, but mostly held in place by magnetic force. The cubes appear as though they are levitating. It was bouncy, too.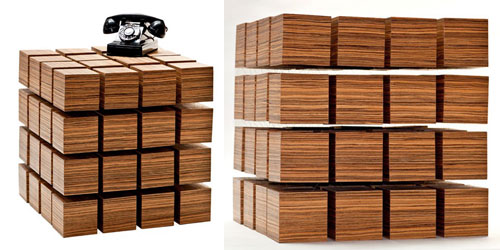 13. Bad Table
Pardon the mess, but this table just went on the carpet. Thankfully, the carpet is included, but the table leg will never come down. And, um, watch your step.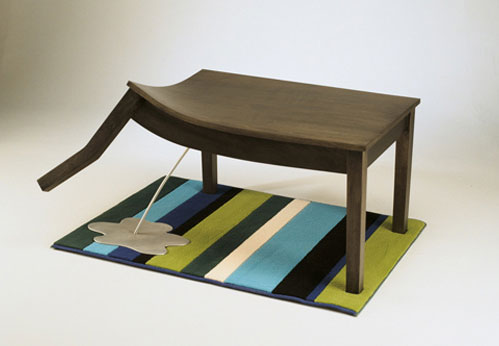 14. Letter Bench by the U.K.'s Boex Brothers
[
link
]
Letter Bench is a creative new project out of Cornwall, UK—a statement in outdoor seating that's meant to put potential patients at ease. The postcard-inspired wooden bench comes with its very own postage stamp in the proper corner, creased into a bend that replicates a folded piece of mail. Constructed of hardwood, Letter Bench is supported on a stainless steel frame, even though the piece creates somewhat of an optical illusion: from the front, it looks like the bench is held up by nothing but air.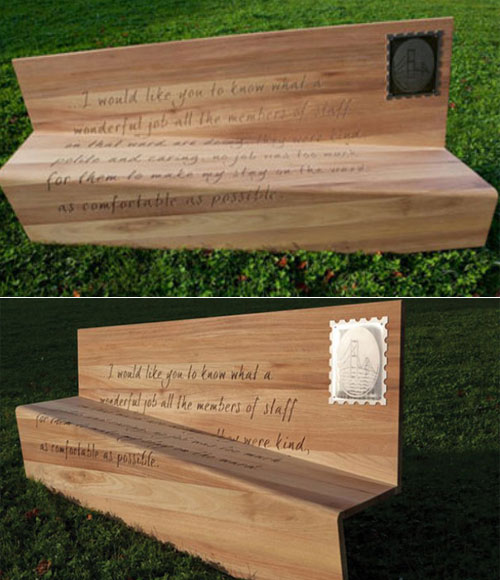 15. 3D Stairs Rug
Play with optical illusion. Inspired by the entrance stairs, this piece is intent to be placed in front of doors.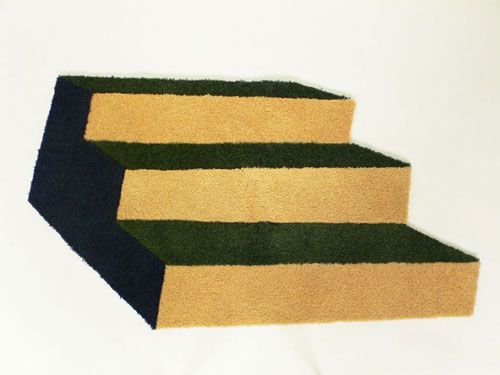 16. Cube Switch plates
[link]
The Cube Switch plates from The Curiosity Shoppe is a new funny idea than can Cube Switch-plates turn your wall into an optical illusion. This idea would make your home a very cool place, and I'm pretty sure that all your visitors will ask you about these switch-plates. Simply swap them out with your current, boring hardware and you'll have the coolest outlet or light-switch in town.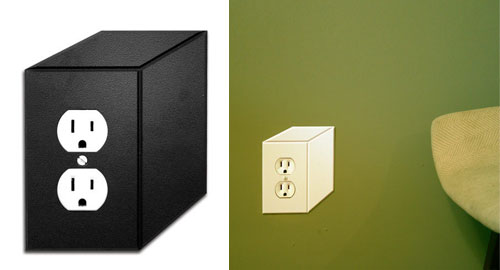 17. Deformscape – Optical Illusion Yard
[
link
]
"Deformscape" is in fact an interesting outdoor pattern that was created in order to bring something fresh to a house in San Francisco. To generate the resultant pattern, a 3-dimensional bulge is formed around the tree, and its distorted wire-grid projected onto a 2-dimensional surface. Taking into account appearance effects created by perspective views from inside, the resultant planar surface appears sink around the tree.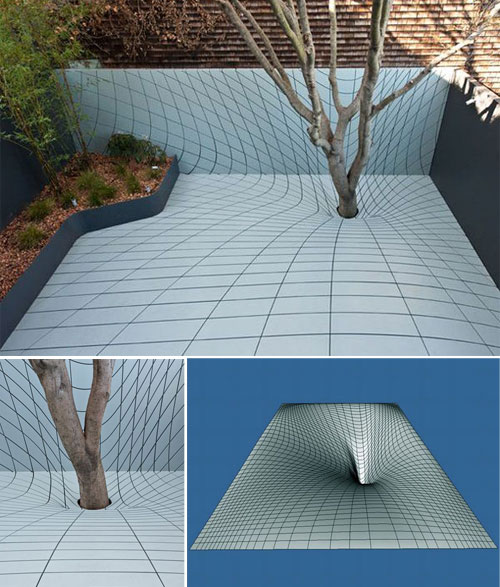 18. Optical Illusion Wall Paint
[
link
]
For this design if the visitors who are not standing in the right corner will not have a clue about the concept. Lines & curves are painted on the wall.