Although, cat as a pet is mostly domestic animals. Don't like dogs, cat doesn't seem to be a big fan of outdoor activity. However, not running around doesn't mean they don't like enjoy the sun and especially in the splendid summer, when everyone is out, why won't your cat? Your indoor cat might begin to crave a little fresh air and freedom and indoor cat tree just isn't enough. Hence, catios (cat patios) are all the rage at the moment. But for some people, they aren't enough yet!
Actually, architect and furniture designer Mario Arbore, the creative force behind Square Paws handcrafted cat furniture, created this incredible Japanese-inspired cat garden in Melbourne, Florida for some very lucky cats and their humans, Michele and Tim. The project resulted in a complete transformation of an existing enclosure into this breathtaking cat paradise.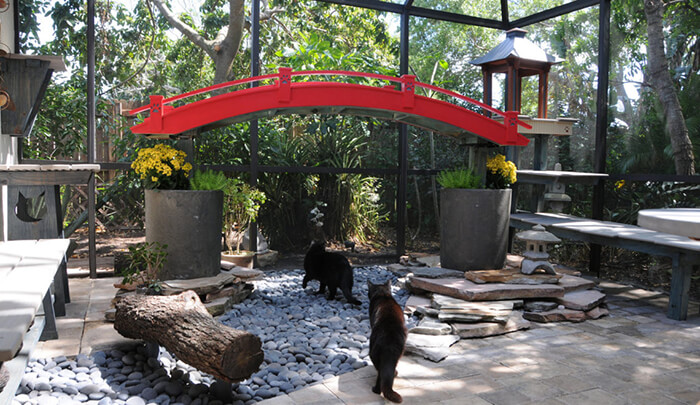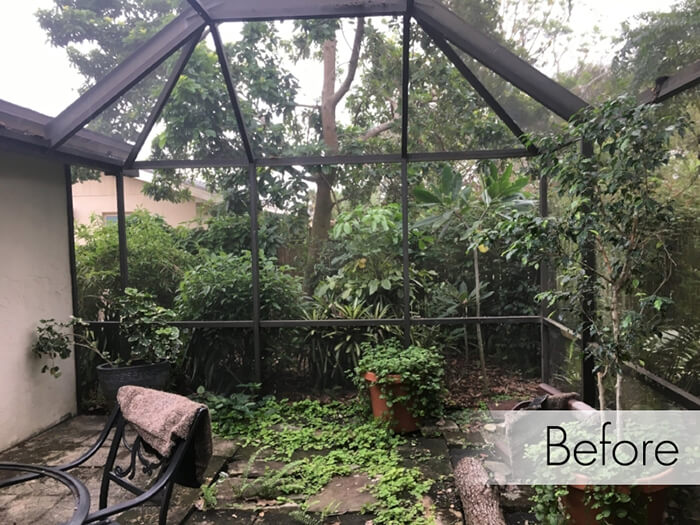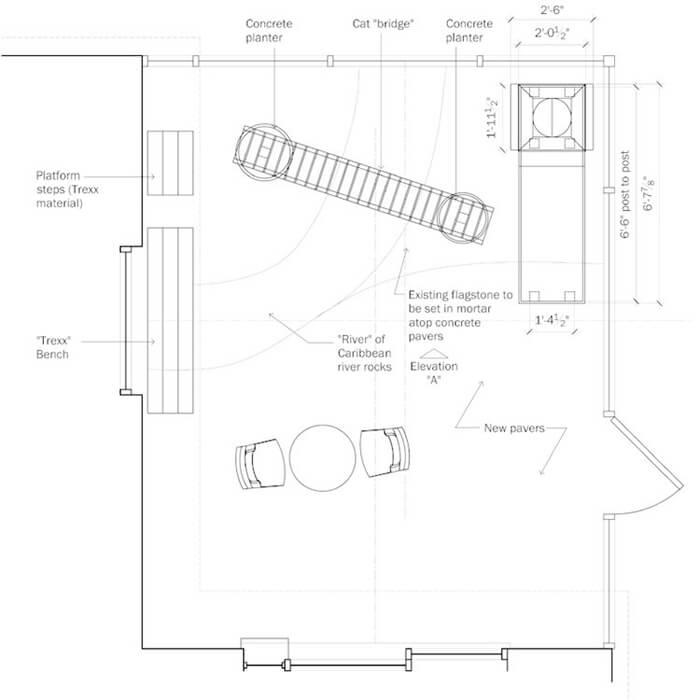 To create this incredible cat garden, Michele and Tim's lanai (a screened-in patio, commonly built in Florida) needed quite a bit of attention such as epairing damaged screens, removing an existing concrete slab, and adding new pavers. Inspired by the koi pond on the opposite side of the house from the lanai, Mario created a design that includes elements from a traditional Japanese garden: a river, a bridge, benches and a Japanese tea house-inspired structure.
The freestanding bridge sits atop two columns that are mounted in large ceramic planters. A "river" of rock flows under the bridge, creating a contrasting texture with the stone pave and stacked flagstones, all textures that cats love to rub on. Various perches and walkways around the space give the cats plenty of levels to climb on. There are many little details hidden in the project, from the paw prints on the bridge and tea house to the cat head cutouts in the sides of the wood benches. Mario even included an old log that the cats had been scratching on, mounting it across the river, adding a lovely and functional natural element.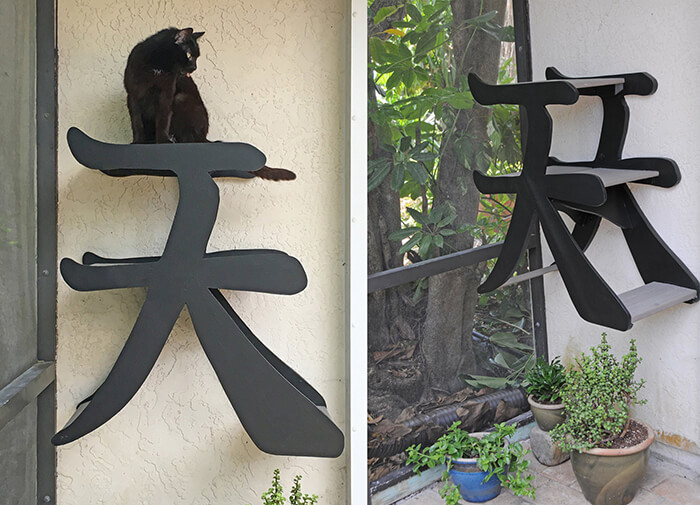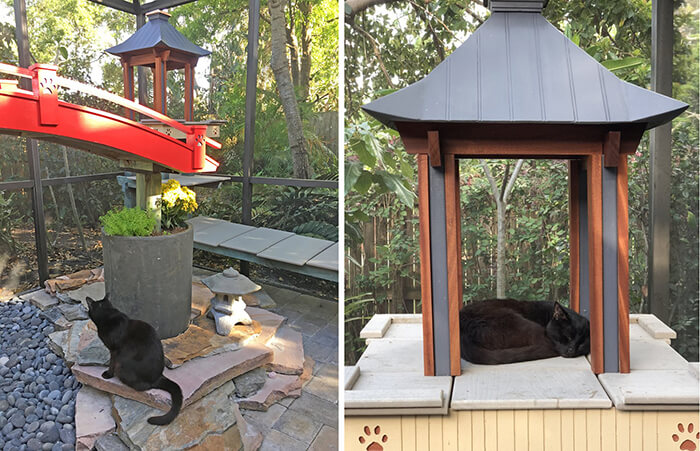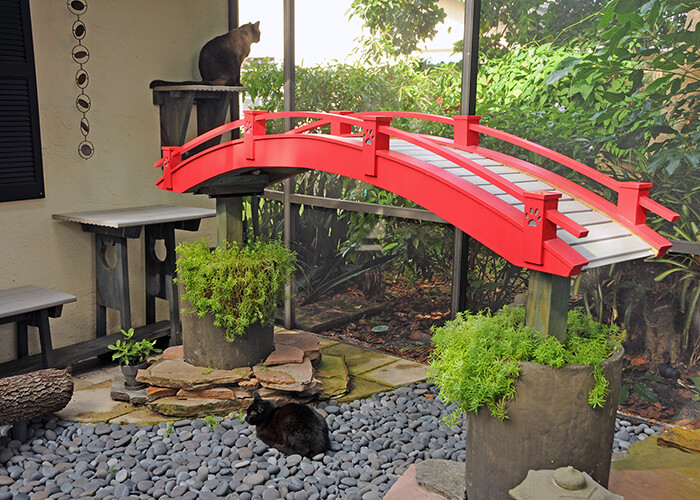 Lucky cats and thoughtful designers. However, not everyone can afford such renovation. But if you want, you still can do some DIY works to build your own catio or build some pre-made catio like below picture 1 and picture 2.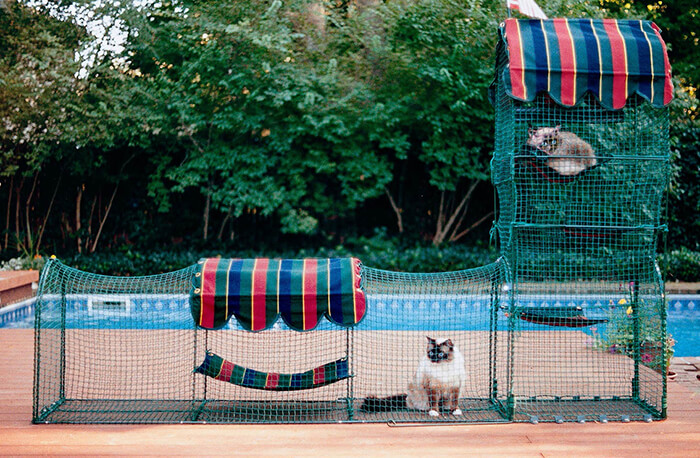 Picture 1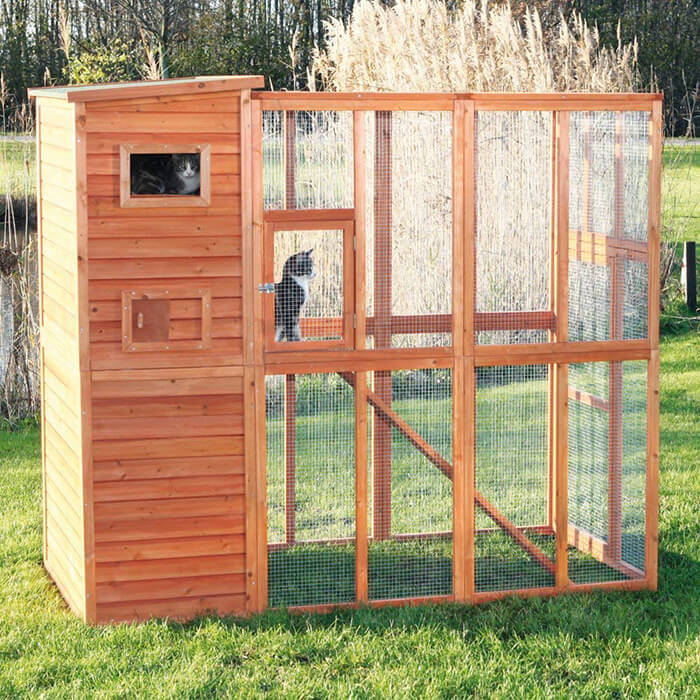 Picture 2