This blog will present you with some creative and unusual lamp designs from around the world. Hope you enjoy!
Paperclip Lamp [link]
When is a paperclip not a paperclip? When it's a LED lamp by Teague, of course. As the ubiquitous paperclip lends itself to being picked up and bent, the designers of this lamp, Ben Collette and David Wykes, applied the same tactile approach to the structure of the lamp. See the lamp flat on a table, why not bend it into shape? Transformation after the jump. UPDATE: The Paperclip Lamp is a prototype. Teague is currently seeking manufacturing partners. Judging from the email and comments, there's a ready market for Paperclip…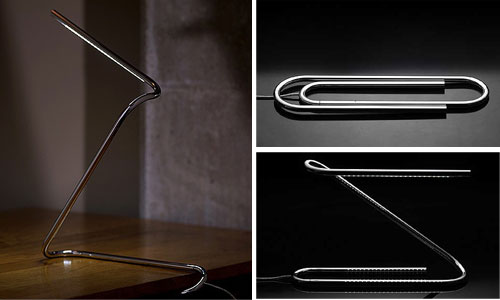 Martyr Lamp [link]
Designed by UK design studio The Play Coalition, made from stainless steel, the playful lamp hangs from a plug point.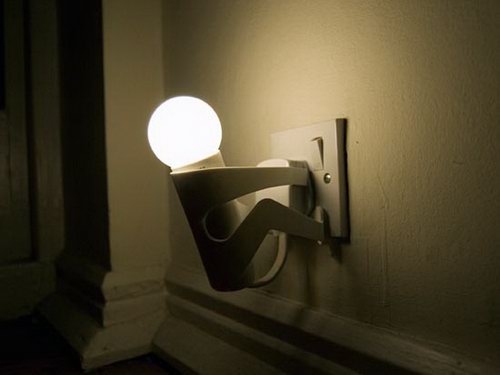 Biosfera Lamp Vase [link]
Creative table lamp design that doubles as a vase. It is one unlike any other I've seen. I hope it doesn't get too hot or your plants might easily die or even catch fire!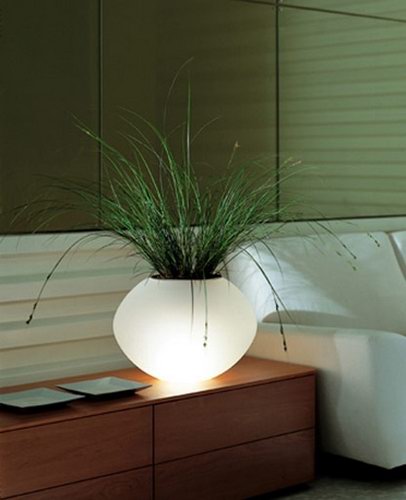 Wet Lamp [link]
The WET Lamp is an elegant and playful series of glass lamps with an alluring water-submerged light bulb at its center. When a thin silver rod is slid into the water, the WET Lamp turns on and becomes progressively brighter as the rod is submerged.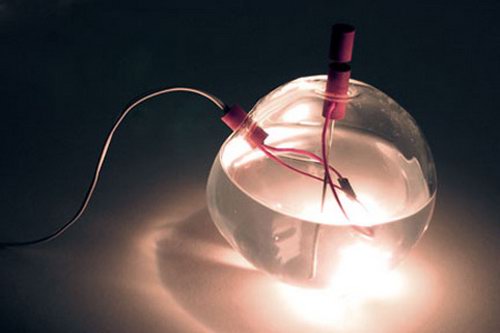 Yo-Yo Lamp [link]
The YoYo floor lamp by Elmar Flototto has got both beautiful and smart design. Place the lamp wherever you feel like and simply roll out the exact cord length needed.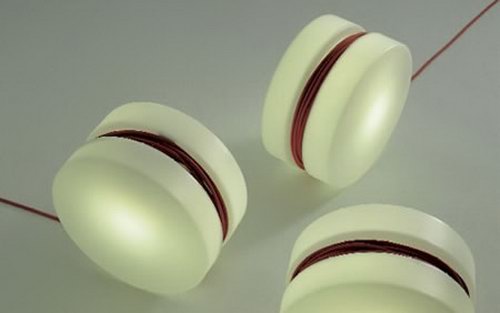 Lull Flower Lamp Concept [link]
Lull is a lamp that opens and closes like a flower. As a bud during sunrise it stretches its petals to bloom. It opens carefully and dims up to give a powerful morning light. In the evening LULL acts the opposite. When it's time to go to bed, the flower slowly closes while the light is dimming down and it turns into a bud again.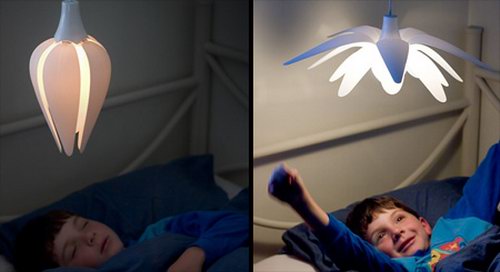 Steampunk Lamp by Michael Pusateri [link]
Made of an old wooden cigar box, two 60 watt bulbs, a handful of copper wire…From author: "I used an old wooden cigar box, a few ceramic bulb mounts, a rheostat and few other odds and ends. I did get a little fancy and paint the ceramic mounts with textured copper paint. The wiring was trivial, but I got a chance to use an Underwriter's Knot. There's a lot more steampunk I could have thrown at it, but I like the simplicity of this. I used two 60 watt bulbs, so it can get quite bright. It's much more pleasant at a lower light level."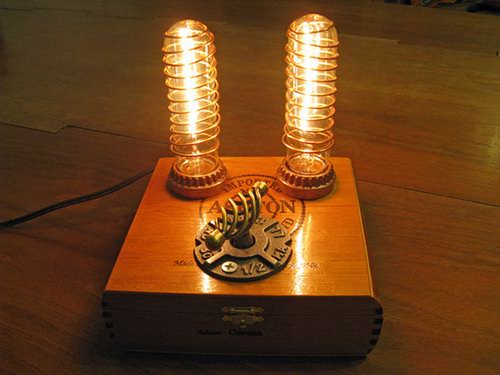 KOZO Lamps by Design2009
The KOZO series lighting made of galvanized iron parts, Cool Tap light switch(developed by Design2009), and house a light bulb or a halogen light bulb! The materials are left raw and alive, with little authentic rust at the joints and the marks from hand tools that were used in the assembly process. KOZO is handmade and assembled at the studio."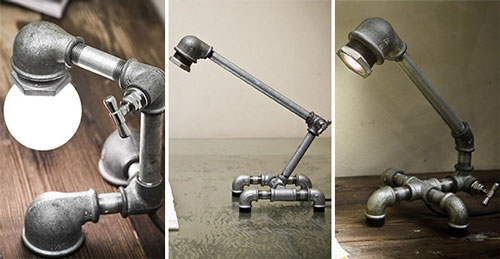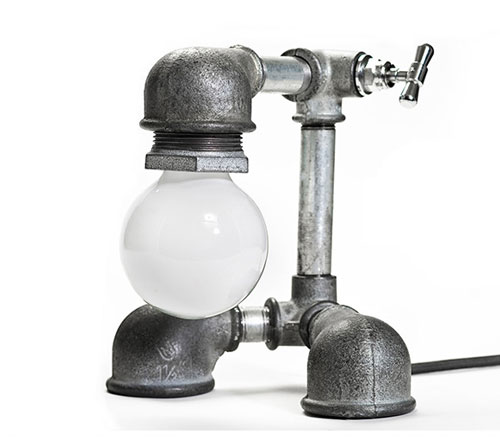 Gecko Wall Lamp [link]
If you like a gecko climb your wall? The Gecko Wall Lamp is a piece of modern funky lighting. It features the frame is constructed from wrought iron and with the main gecko body wrapped in abaca twine. The lampshades are created from fossilized dyed cocoa leaves. Available in green, multi, natural, purple, red lamp shades colors. A standard 25-40 watt candelabra bulb is recommended.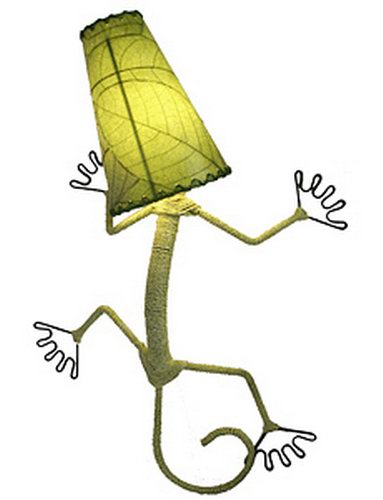 Lamponi Lamps [link]
Designed Italian designer Maurizio Lamponi Leopardi. These lamps can decorate and light the table at the same time – you just need to pick the lamp you want, you can get one with a plane or with a house hold object like an iron or a kettle.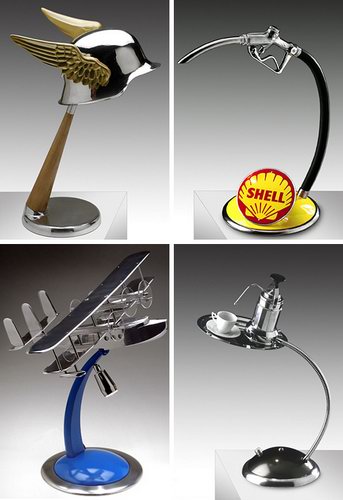 Peel Off Lamp [link]
Grid mosaic lamps are nothing new but custom ones unique to each person are. The Peel Off Light by Sehwan Oh enables each person to take home a mass produced lamp that can be customized by peeling off the pre-scored tiles. Your mosaic can reflect your design aesthetic and/or how much illumination you want. Will we see more of these customizable mass produced products? They seem to make a comeback every year before disappearing to the dead trends wastebasket.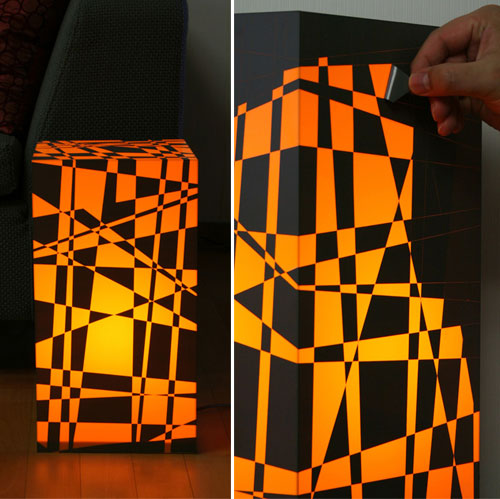 IVY, The Organic Lamp Shade [link]
"IVY is a home source of light made from LED's. The Lamp consists of modules. Connecting them we decide the form and size of the lamp. The base of the lamp is a flowerpot, in which we are planting plants like ivy. The light is penetrating through the leaves of the plant, creating interesting lighting effects and the unique mood in the interior. the design is our attempt to combine nature with technology, two seemingly unfamiliar worlds."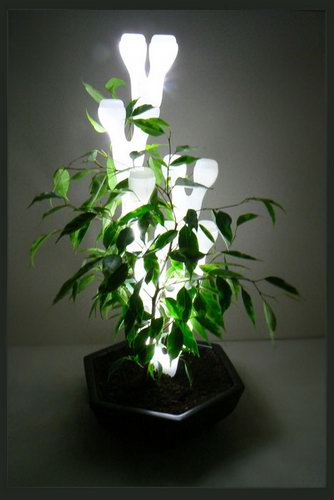 Twist Together Lamp Is Hackerish [link]
The Twist Together Lamp encourages you to design your own lamp. Individual blocks connect together and illuminate with a simple twist. Many creations are possible from a single set of 4 blocks, but you can also connect multiple sets together (up to 6 on a single power supply) expanding your options indefinitely.
Aside from the interactivity, the lamp(s) has an enticing glow adding a warm, modern ambience to any room. It's energy efficient too – LEDs provide a safe, low-voltage and long lasting light source while consuming less power than a standard night light.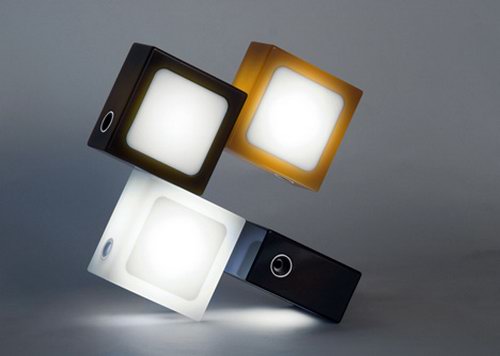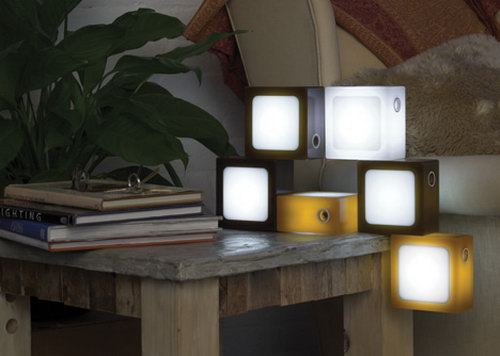 Architectural Mood Lighting [link]
The Penta lamp is probably one of the more striking designs I've seen. In a time when most modern lamps follow the molded poly road, this one uses structure to dynamically change its shape and ambient lighting. Its shape suggest rotary motion but the seemingly complex design is actually quite simple. Flat packed and made of recycled components, the Penta was designed by Luca Casarotto.