Try to brand yourself? A well designed logo is one of those important things you need to think about. A successful logo design can simply summarizes your company in one image and evokes its values feature and goals. However, how to find an artist who can totally understand your need and create such logo design convey the image of your company will be a challenge.
How about hold a logo contest specifically for you? Too much trouble to hold a contest by yourself? No way to find plenty of experiences designers? Be bug every time after some logo artists make a revision of their logo designs? And you probably will feel frustrated and irritated during the process and might even end up with not finding satisfied designs at all.
Try to avoid above situation but still get high quality contest entries? Logomyway helps you in this aspect. It lets you create a contest with Hundreds of creative logo designers in over 100 countries waiting to create your logo. This makes it easy for you to get artists who are experienced in logo making as well as view the entries to see which appeals to you the best.

LogoMyWay, as a professional logo contest holding website, connects clients needing custom logo designs to a thriving community of talented logo designers exploding with creativity.
Experienced Logo Artist + 100% original custom designs
In Logomyway, you will never run out of designs. You will be able to view over 200+ custom logo designs. Also, with hundreds of creative logo designers in over 100 countries waiting to create your logo design waiting to create your logo, you will surely find the logo that is right for your company.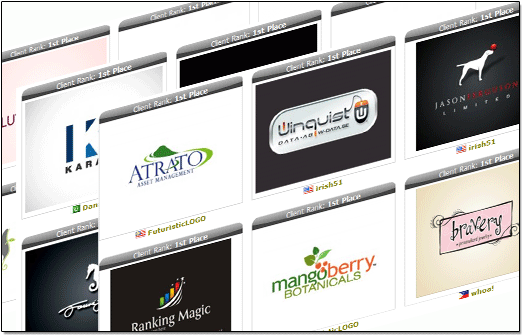 Simple and Effective
With three simple steps, your contest goes live. And you will see amazing logo designs within hours. It just incredibly saves your time and energy. After several days, you will see dozens of entries and all you need to do is choose. If you like, you also can rank the entries and give some comments before the closure of contest. The designer of those logos can see the ranking and comment you made, which enables you to get more specific and appealing design.
Money and Quality Guarantee
In Logomyway, you will see progress in hours. However, if your contest did not get enough contestants, there is also a money-back guarantee. That way, you can be ensured that there will be at least 40 logo design concepts you will choose from. If not, you will be refund without any question. This will provide a real value for your money.
Industry Standard Vector Logo and full legal ownership
You will get your desired logo in a universally accepted vector format. With this, you can easily add this to your website template as well as your letters, business cards and other company publications. Moreover, you are given full ownership of the logo and it will not be used for other companies again.
Interested in it? Check it out now.