They say that the kitchen is the heart of the home. However, with the hectic, high pressure lives many of us lead these days, it surely won't be long until we wake up to the fact that a comfortable, welcoming and stylish lounge or living room is what truly matters.
In fact, it's no exaggeration to say that getting the relaxation zone in your home up to scratch can transform your lifestyle for the better, helping you to combat stress, get more rest, and even enhance your relationship and family life. And with some great deals out there at the moment such as the Matalan Discount Code, it's possible to achieve this for much less than you might expect. What's more, these benefits are not just open to those who are fortunate enough to live in a spacious property.
Warm lighting and muted colours
If you have a smaller living room, aim for a cosy, intimate feel. Clever techniques such as using subtle down lighting in warm tones matched with complimentary decor in muted colours help to create a snug, nest-like space you'll adore returning to after a hard day at the office.
Renters who are unable to make major changes can still benefit from this technique by switching off the room lights and opting for carefully chosen table and floor lamps instead. These can prove to be a great investment, as you can take them with you when you eventually move on, helping you to quickly feel at home in your new digs.
Big sofas for maximum comfort
Getting the furniture right is also key. While still a classic, a traditional three piece suite will tend to either take up a lot of space or consist of smaller individual pieces which don't provide a great deal of comfort. Instead consider a single luxurious corner sofa. If the shape of your room isn't quite right for this, a generous standard shaped sofa can do just as well.
The final touch: accessorize with cushions & rugs
Finally, don't forget to accessorize! Inexpensive items such as cushions, rugs and throws can change the look of your lounge for pennies, and larger purchases such as floor cushions can even provide additional seating for when you've invited a few friends over for an informal catch-up and a glass or two of vino. Just make sure they don't spill any on your lovely new sofa!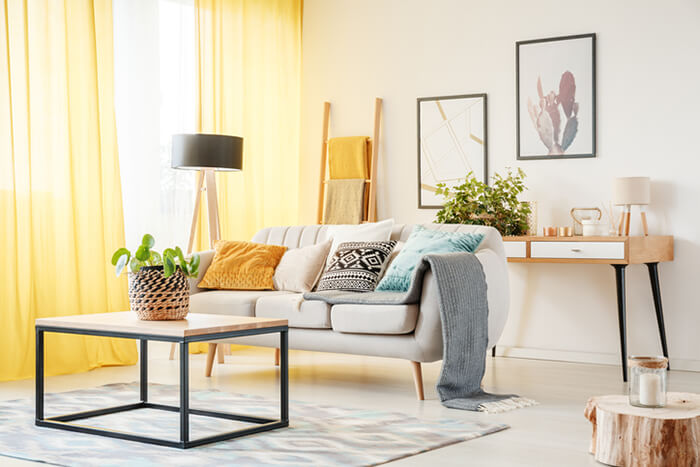 Photo: ©istock.com/KatarzynaBialasiewicz