From ceiling to wall and even floor, this 90 square meter apartment, located in Lviv, Ukraine, is fully finished with micro-cement. The cohesive grey palette floods every room of the home, engulfing all horizontal and vertical planes to create one restful expanse that soothes the eye and the mind.
The industrial style room might sound very cold and grey based on my description above. However, the designer, Ira Lysiuk, clearly uses natural wood slatted features, oak cabinetry and soft creamy textiles to prevent the aesthetic from falling cold. The simple micro-cement décor scheme is free of fuss, which allows contemporary furniture and fashionable designer pieces to command the limelight.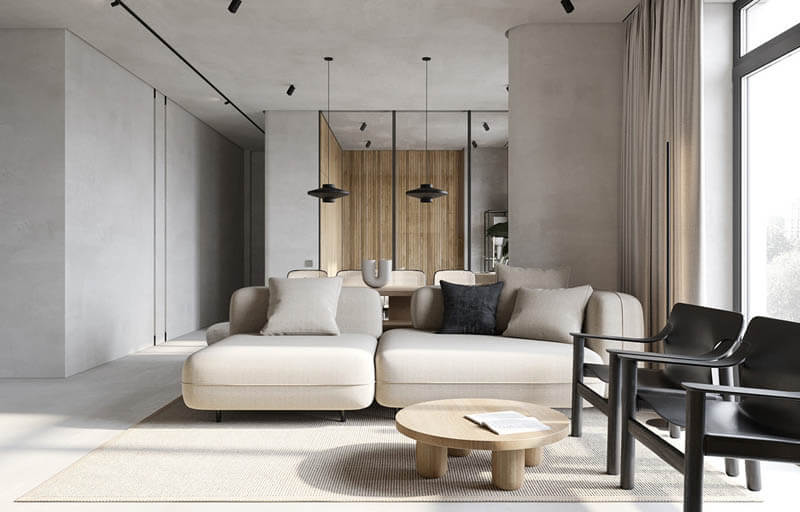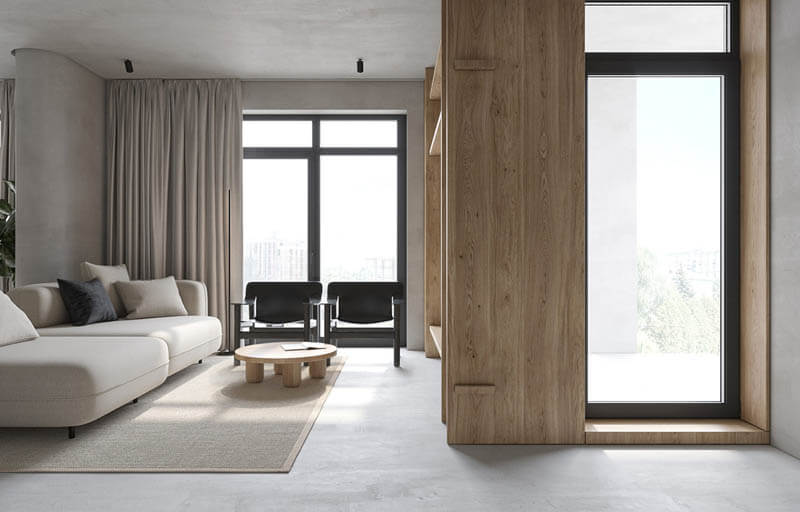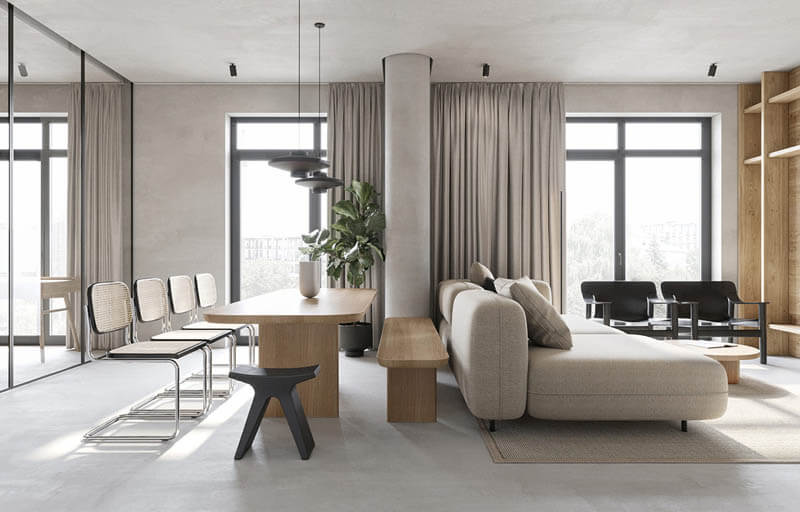 Black steel framed windows contrast darkly with the pale grey micro-cement walls, whilst heavy drapes quietly meld with the modern industrial style finish. Directly behind the sofa, a combination of dining chairs, a dining bench and a unique stool make up a personalized dining set.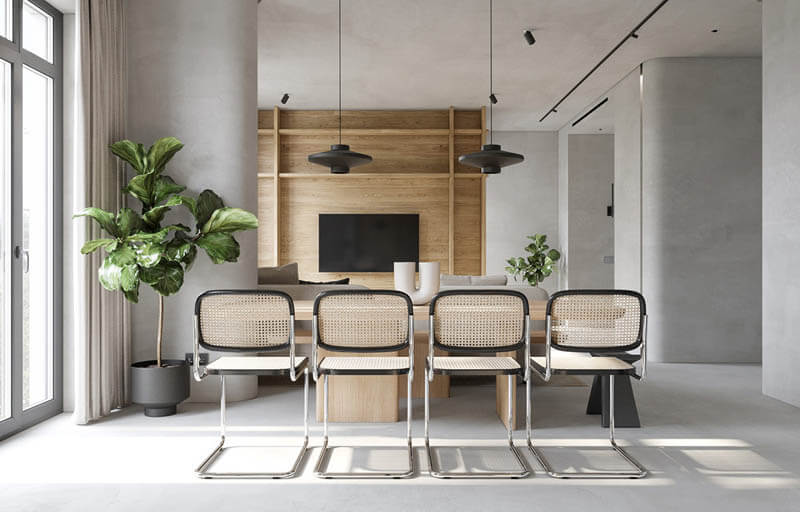 Home Office
A wall of glass separates a dedicated home office space from the lounge and dining room combo. Moreover, solid oak paneling conceals a little built-in storage, whilst wood slatted panels add textural and tonal interest behind the daybed. The beige upholstered daybed provides a cozy reading area within the home office, which doubles as a guest bed if the occasion should arise.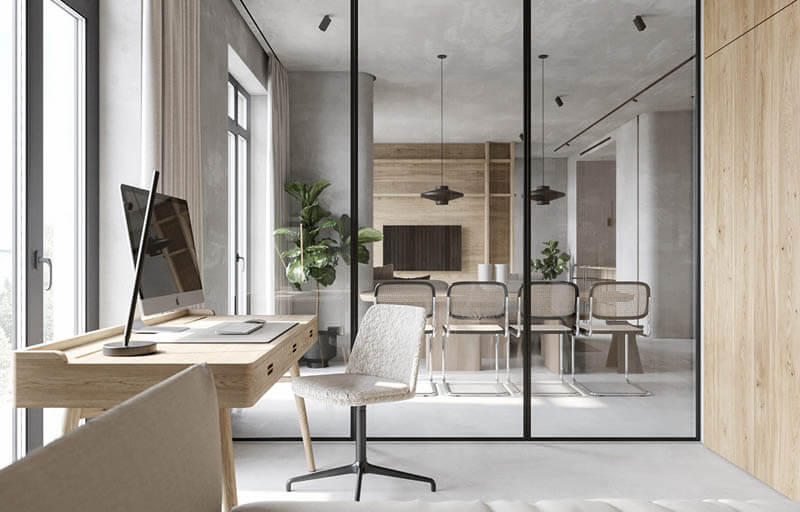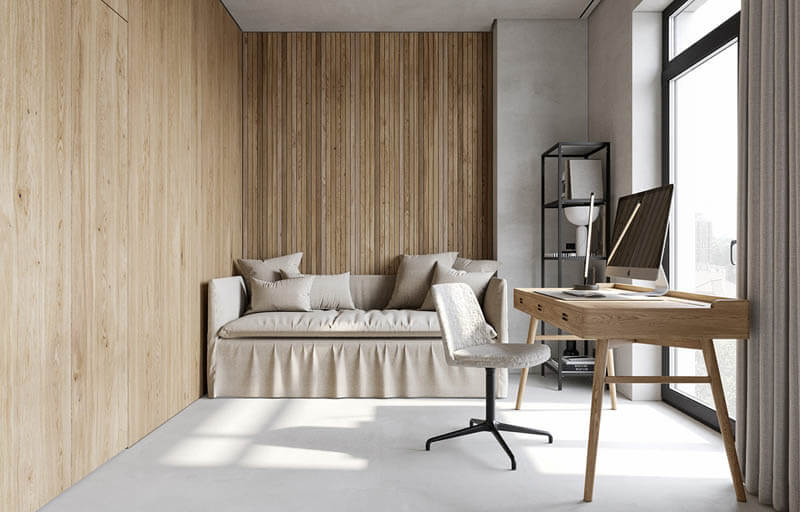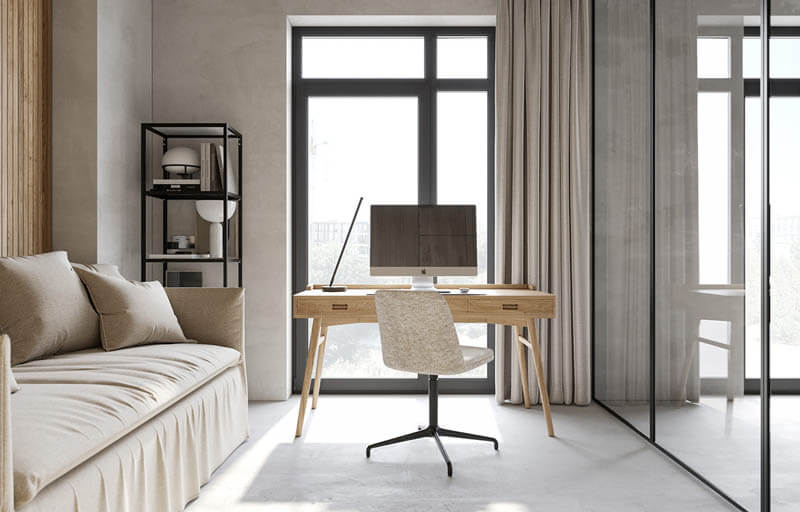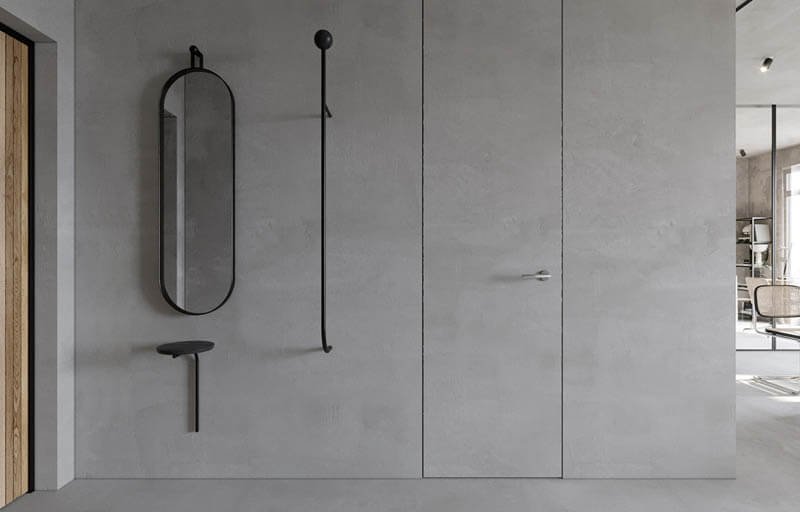 Kitchen
A wide load-bearing column somewhat separates the kitchen from the lounge area. But it won's prevent they joined together in an open flowing arrangement. A set of elevated drawer units bridge the gap between the cumbersome column and an adjacent wall to form a sleek peninsula bar. In addition, a set of open shelving units are used in the place of backsplash.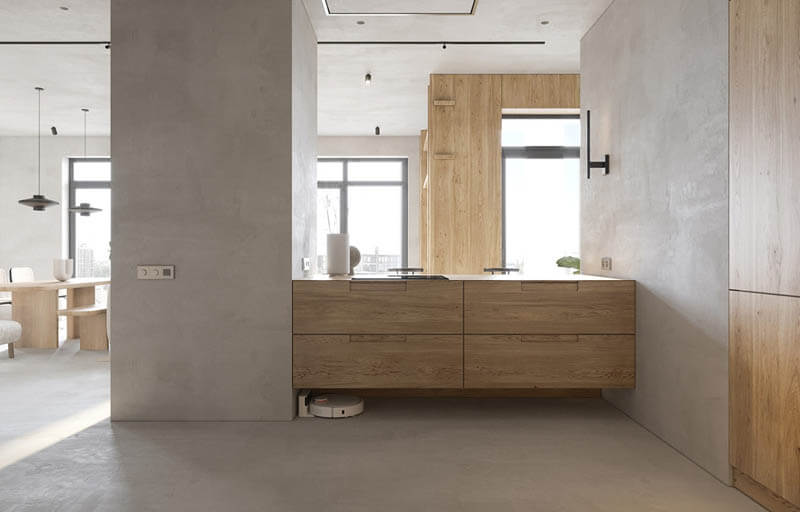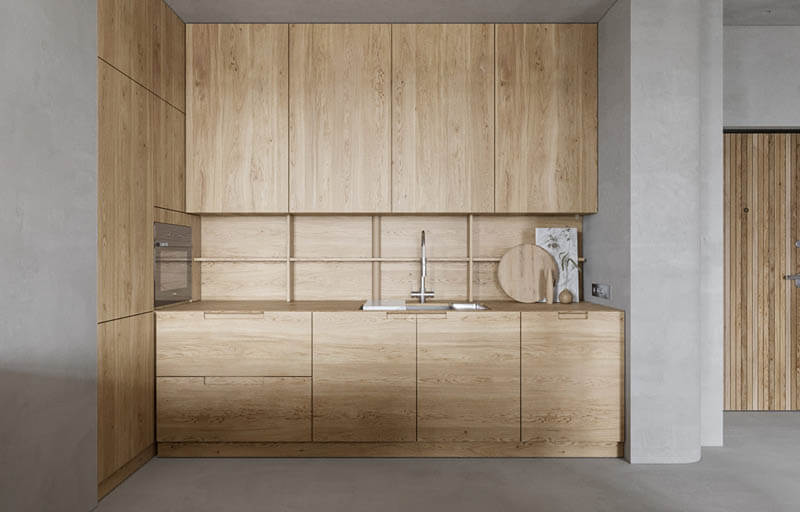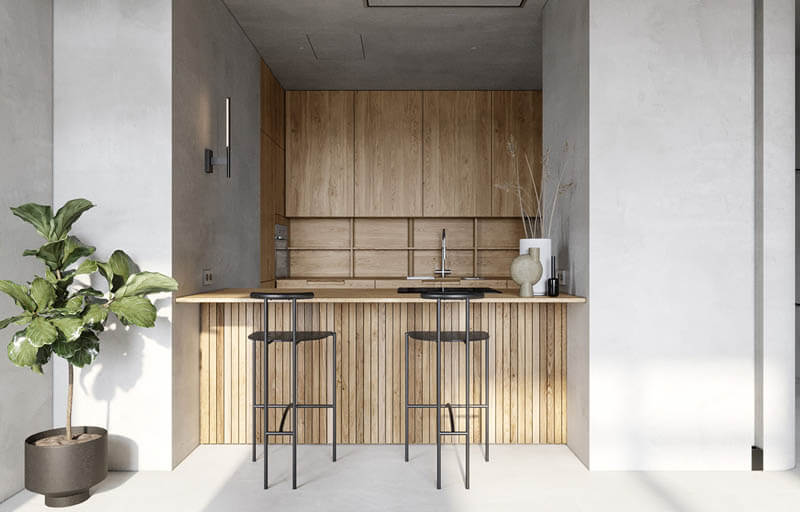 Bedroom
In the bedroom, an upholstered bed appears to float on a cloud-like fluffy white area rug.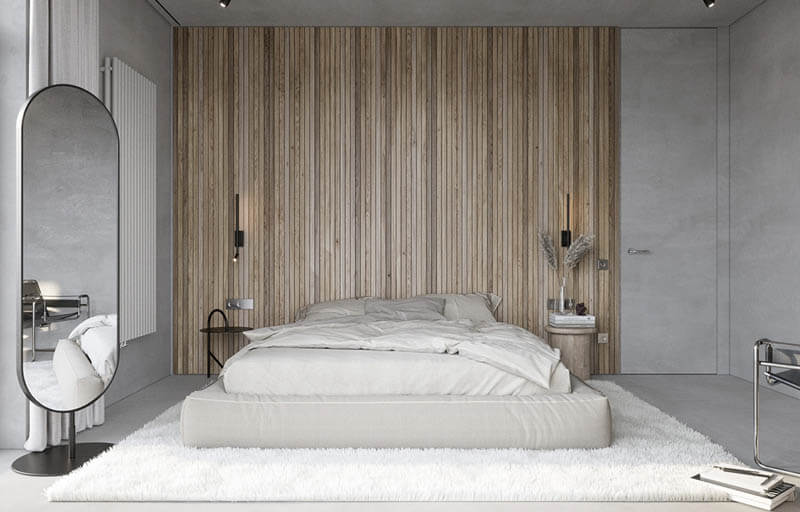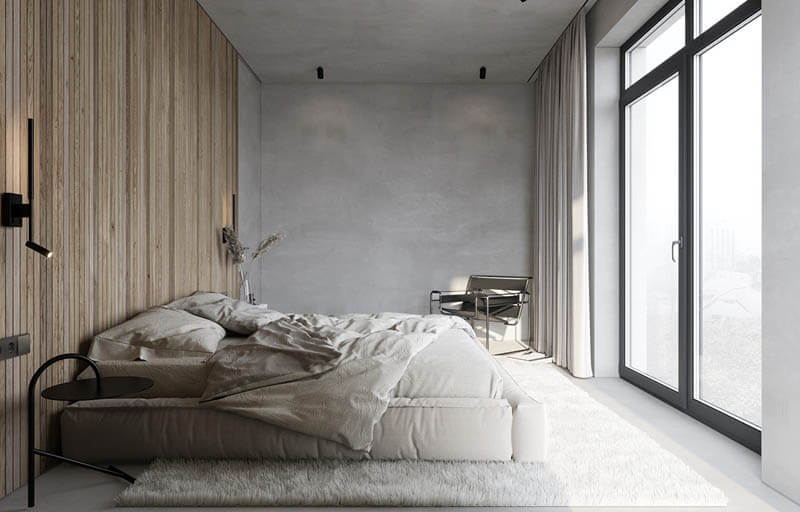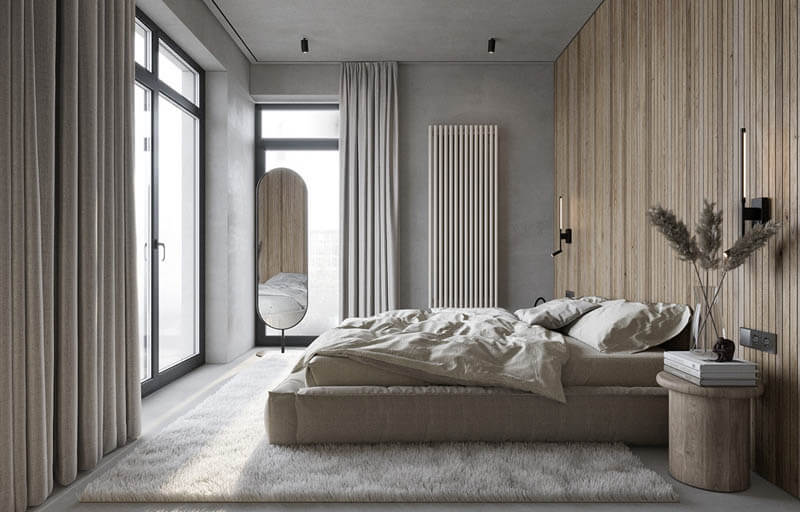 Bathroom
A double sink bathroom vanity has been given the same micro-cement finish as the bathroom walls to minimize visual noise. The wooden base unit makes a warmly toned companion for a wood slatted walkway across the wet zone. Recessed spotlights and a chic wall lamp make up a bright show of bathroom vanity lights.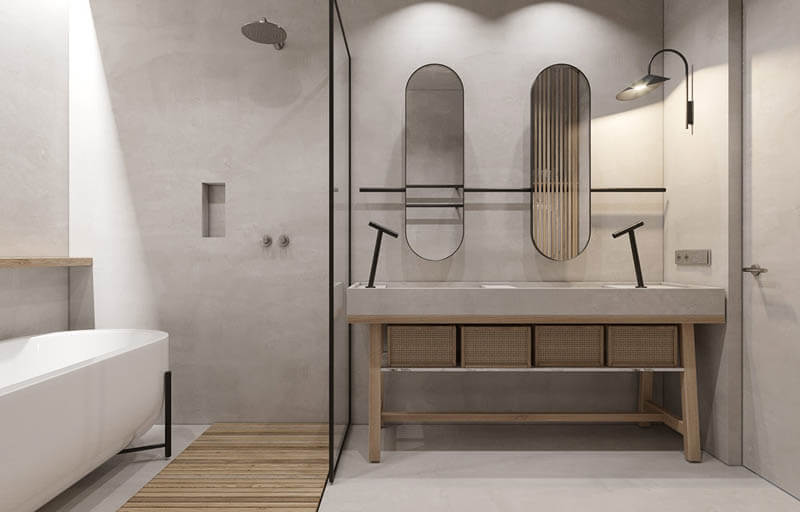 Dual shower screens part dramatically in front of a modern freestanding bathtub. Twin chrome showerheads balance out each side of the bathroom layout. Recessed nooks in the micro-cement walls make handy stow away points for toiletries in the shower area, whilst a decorative oak shelf is mounted by the bathtub. Moreover, stacked washer and dryer are placed inside a wooden slab container with storage on top. It is a perfect place to hide these eyesore essentials and keep the place neat.