Sitting on exercise ball might be fine at home but probably won't be that appropriate at work. How you can get the same core-building benefits in a more compact way and make the office less prefessional? Thanks to Muista, an evolved chair that will free your dancing, swaying and fidgeting impulses while sitting – guiding you away from prolonged inactivity.
Composed of a single piece of bent plywood and topped with a cozy pad in customizable colors, it's as sturdy as it is comfy. Moreover, its clever integrated soft rope design which connects the lower supports, is a perfect place to prop your feet and perfect your balance! Coming with lower and tall versions and both designs engage slightly different muscles, switching between the two modes gives one of your muscle groups a workout leaving the other to rest until you change position.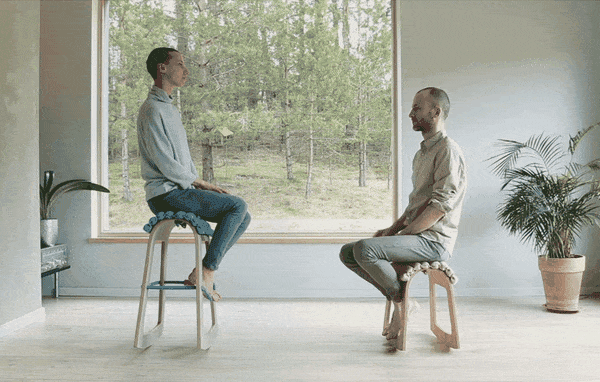 I think it is a pretty awesome design. However, the early 180 USD early bird price might not fit in a comfortable zone for a stool-like wooden chair for many people. But if you are interested and want to know more about that, you can head over to its kickstarter page for more information.