Murphy Beds, sometimes known as Wall Beds, are a great multi-functional solution to create a bedroom without actually have a bed in the room all the time. Whether you are working with a Home office, a Family Room, even an open-concept studio space without a defined bedroom, a Murphy Bed offers you the opportunity to have a real bed that may be folded away against the wall when not in use. Moreover, some Murphy bed even equipped with desk, cabinets and other type of storage to make it even useful.
Of course, such built in bed is much expensive compared with normal folding bed. However, not matter from the appearance or comfort, the Murphy bed is better than the folding bed. In the article below, we have 6 types of such beds, wall bed, cabnit bed, even bunk beds!
Bestar Queen Wall Bed [buy here]
The new Cielo queen size wall bed offers contemporary luxury with its striking two-tone finish and crisp, refreshing design. The wall bed features 2 LED lights which give a functional and intimate effect. Perfect for the guest room or any place where space is at a premium, the bed simply folds up when not in use to allow you to reclaim your living space. Featuring a state of the art piston system, lowering and raising the bed is effortless and secure. The addition of the modular storage units will give you unique configuration possibilities.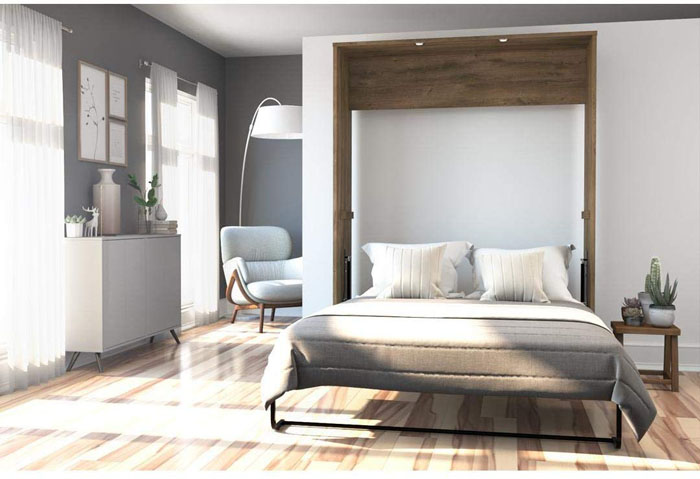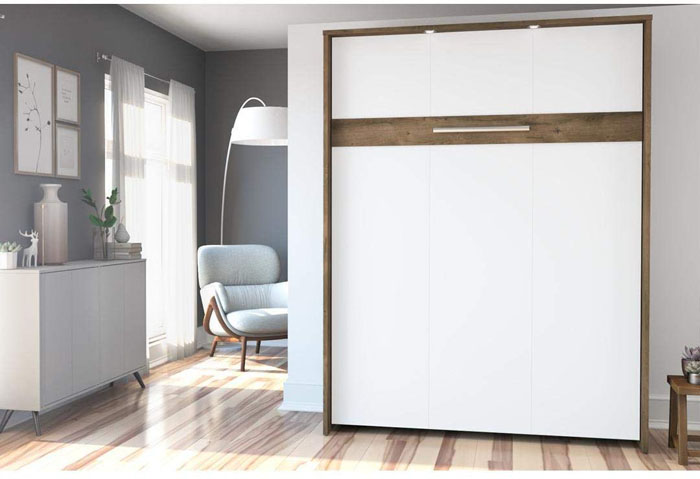 Cabinet Bed [buy here]
Dramatic straight molding adorns the Essex style. Aavailablein three popular finishes, white, Black and ash.This cabinet bed has a 50 inch –wide x 5-1/2 inch deep drawer for storing pillows or bedding. Felt covered runners and fold out legs support the fold-down-front panel when open. No need to remove objects from the top of the cabinet to use the bed. Simply move items towards the back, lift the flip top, open slide bolts to release the front panel. The flip top gives the sleeper more head room and special hardware keeps it in an upright position. The Creden-ZzZ Cabinet bed is an extraordinarily comfortable concelaed bed with a 40% smaller foot print than a sleeper sofa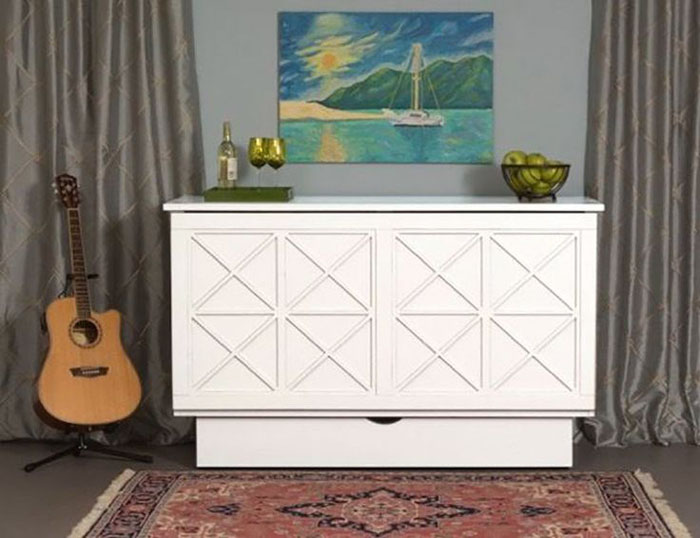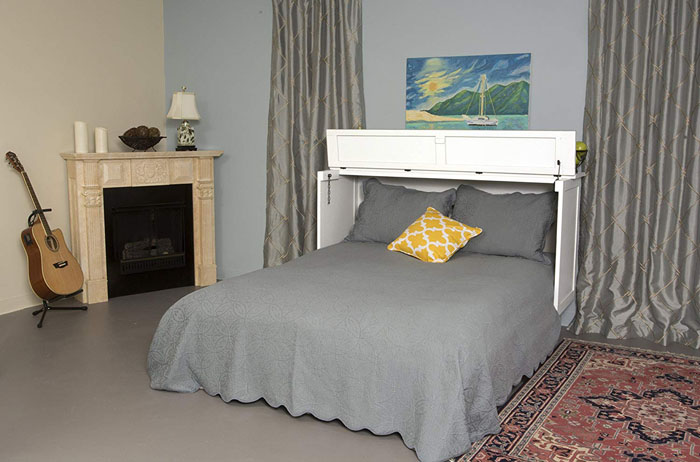 Madrid Cabinet Bed [buy here]
The Madrid features a clean, white contemporary look with a wire brush finish and 5.5 cubic feet of convenient storage space. The storage drawer and rails are felt covered and pull out to for the base of the bed. Front panels fold down to form the bed platform. When not in use, the cabinet's small footprint is 40% smaller than a sleeper sofa and much lighter. This makes The Madrid cabinet bed a great choice for any room that occasionally needs an extra bed! Want to rearrange the room or move? You can. The cabinet breaks down easily for moving or delivery. There is a usable top surface that has a flip-up front to give sleepers more head room. Plus, there is no need to move items off the top when the bed is open. Included is the comfortable, 6-inch deep, tri-fold, high-resilient foam mattress that opens to a full-length queen or full bed.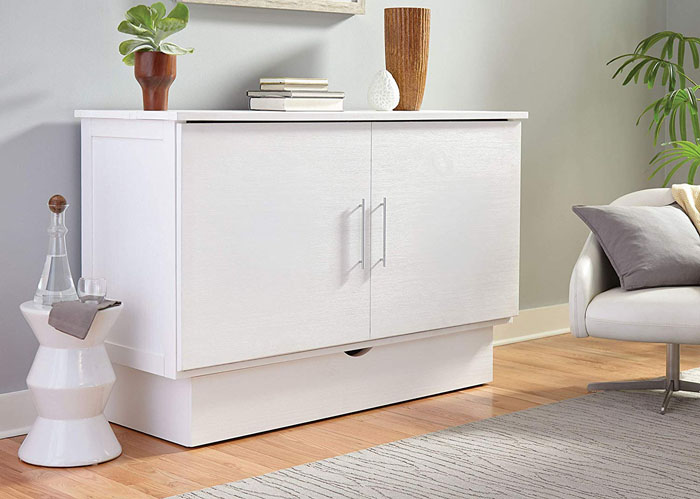 Wall Twin Murphy Bed [buy here]
On the sliding-door cupboards are two display shelves and a mirror. When opened, the cabinet reveals a twin-size bed, a compact wardrobe, and a bookshelf! There's a complete living/sleeping area in a very small amount of floor space! This unit is a perfect choice for a studio apartment where every square foot counts. It is also perfect for a child's bedroom. It can be kept closed and used for play and study, then drop the bed at night for sleeping! Everything from books to clothing all fits neatly in this organized little space! It's easy enough for a child.
The wall bed unit comes in either all-white high-gloss laminate or white with teak wood-grain laminate, perfect for boys or girls, and fits with most décor colours. Wall beds are sturdy, made to last, using certified, thick laminated chipboard, heavy-duty hardware, and strong aluminum bed frame with solid wood slats.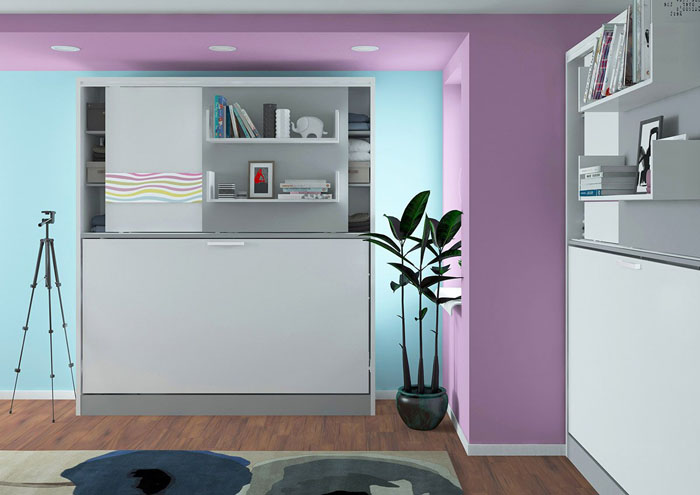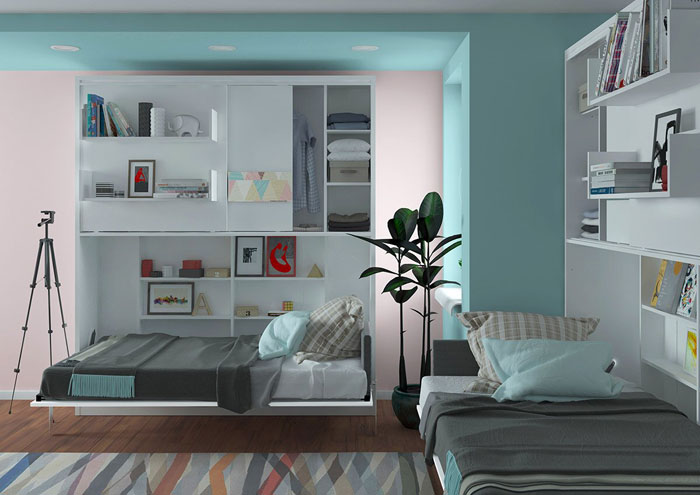 Berner Full/Double Murphy Bed [buy here]
The perfect solution when you need both a bed and a desk without taking up more space. The hidden bed desk bed system features a large work surface and a comfortable bed in one. When you lower the bed down, everything up to 18″ in height can remain (plugged in), on the desktop. The secret is in its balancing mechanism. To lower the bed down you simply place your hand on top of the desk side and pull. Once started the mechanism takes over to assist in lowering the bed. The manufacturer crafts the desk bed in the U.S.A. from solid hardwoods and premium furniture grade plywood to create a beautiful piece of furniture that is built to last.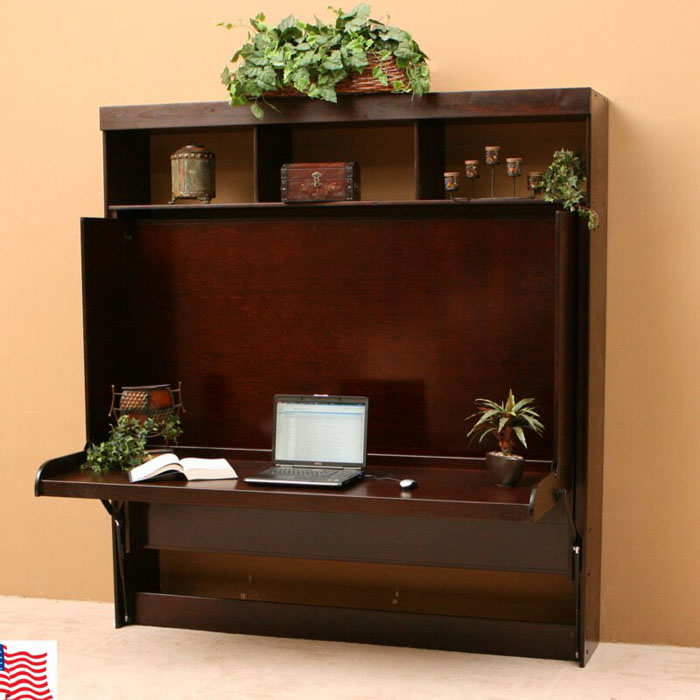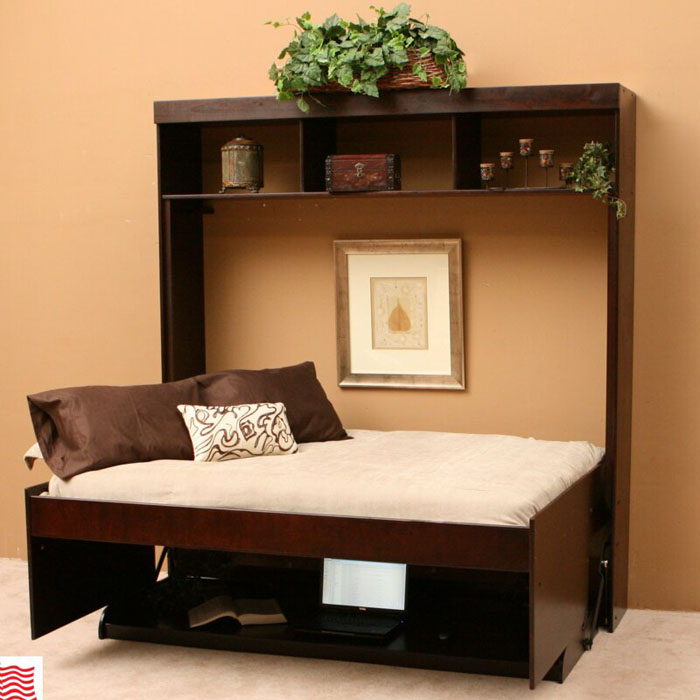 Corey Twin Murphy Bed with Mattress [buy here]
Designed to be both modern and minimalist, this Peck Twin Murphy Bed with Mattress has been created for people in need of space saving. This wall bed is equipped with a superior European mechanism that flips the bed open and closed. Save space while also adding distinctive style to your home with this must-have murphy bed.