You've put in a lot of time and work to build your backyard, so what better way to enjoy it than to invite your closest family and friends over to eat good food, drink good wine, and chat with your loved ones? With just a few entertainment essentials, you can transform your plain backyard into the best go-to area for hanging out in all seasons.
Today, I've rounded up the top 6 essentials for creating the perfect outdoor entertaining zone.
Fire Pit
Although Australia isn't known for its bitter cold, residents are aware that there are some colder months here. For this reason, you ought to invest in a fire pit for your outside gathering space.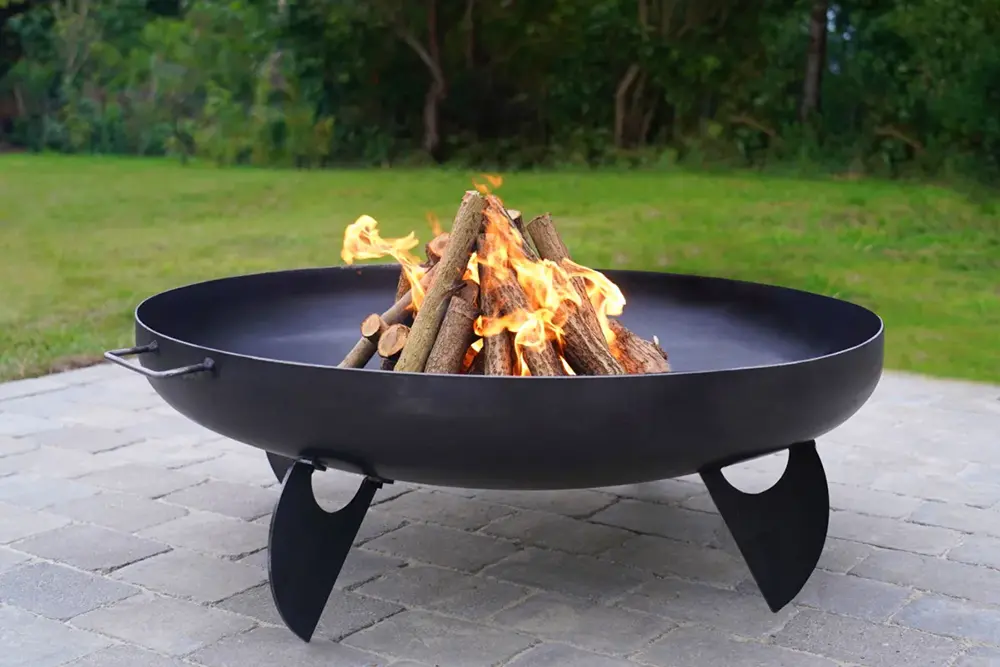 An al fresco sitting area is excellent with an outdoor fire pit. Outdoor fire pits, like indoor fireplaces, make an interesting focal point for an outdoor seating area and look excellent when they are flanked by built-in benches or cushioned outdoor sofas. Place the grill plate over the top of the pit to cook anything you would ordinarily prepare on the grill, a barbeque, and more when you find yourself wondering what to eat while relaxing in the warmth.
Outdoor fire pits come in what seems like an infinite number of styles. You may choose between a modest wood-burning fire pit to bring a rustic touch to your patio or a huge, sophisticated gas fire pit table that ignites with the touch of a button to create a dramatic focal point for your yard.
Fire bowls are a popular option among homeowners. Featuring the shape of a large bowl, these fire pits are typically made out of metals, such as stainless steel and copper. Compared to a fire table, they are easier to move around your patio or yard. You can choose from a variety of sizes, many of which include legs, and can opt for using wood, propane, or natural gas as fuel.
How big your outside area is and how many people you wish to accommodate will determine the ideal fire pit size for you. Choose a larger model if your outdoor area is spacious, so that more people can enjoy the warmth of the fire.
Small fire pits often have a maximum width of 90cm, whereas big ones typically have a maximum width of 180 cm. A circular type needs a minimum of 90cm of space around it and at least 180 cm if you want to entertain a large group of people.
Lighting
Although outdoor spaces tend to be well-lit by the sun throughout the day, without the proper illumination, the party can end as the sun sets. If you intend to use your outdoor area after dark, be sure to select lighting that matches your sense of style.
Café lights are a great option to consider; their simplicity adds instant appeal, and they're super simple to hang. Your guests will get the impression that they are at their favourite restaurant. To complete the look and add a gentle glow, additional lighting such as path lights, tiki torches, and lanterns will help.
Outdoor Kitchen
Outdoor kitchen designs can vary based on the type of food you like cooking outside.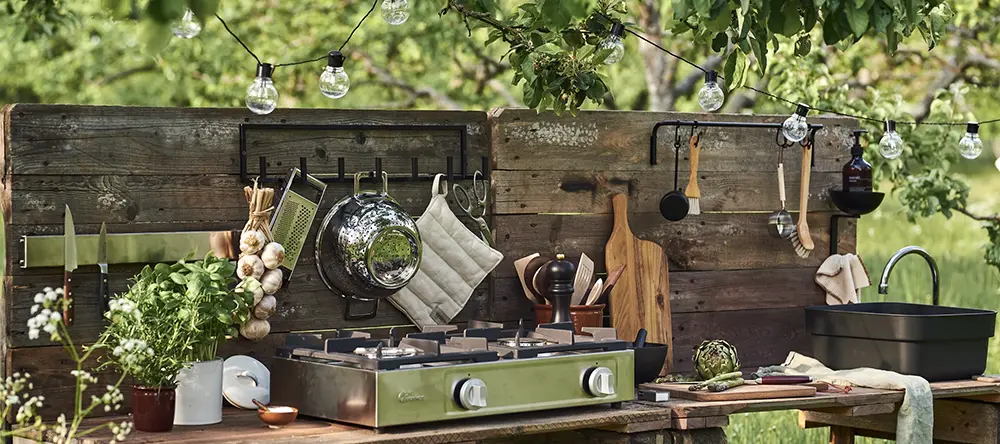 The most common outdoor cooking option is the traditional BBQ grill, which you can use to prepare all of your favourite summertime foods, including burgers, hot dogs, ribs, and more. Installing a beautiful stone pizza oven would be another way to advance the situation. Nothing compares to serving your guests a hot, fresh pizza straight from an outdoor oven.
When entertaining, do you tend to think about beverages rather than food? Install a bar fridge, a drink dispenser, and glasses to create a beverage station in your outdoor gathering space. This way, your guests will be able to assist themselves with ice-cold beverages while everyone is outside having fun, saving you from rushing back and forth to get drinks from inside.
Comfortable Seating
Having comfortable outdoor patio furniture is a must, especially if you want to entertain a sizable crowd while dining outside. Depending on the size of your space, four to twenty seats would be a good quantity for entertaining in your outdoor eating area. Just be sure to keep a good balance between the available chairs and the open space. You want your guests to have room to move around rather than be packed into a confined area.
Add corner seating, hanging chairs, a dining table, and other different types of seating to keep things interesting, flexible, and sociable in your outdoor party space. Don't forget to set aside some comfortable seats for your elderly guests! And provide throw blankets and lots of outdoor cushions to keep everyone toasty on frigid evenings.
Shade and Shelter
Summer entertainment isn't limited to the nights. In fact, there is plenty of fun to be had during the day, which means that the sun will undoubtedly be blazing down on everyone. Having well-planned shading spots in your outdoor space will help ensure your guests stay comfortable.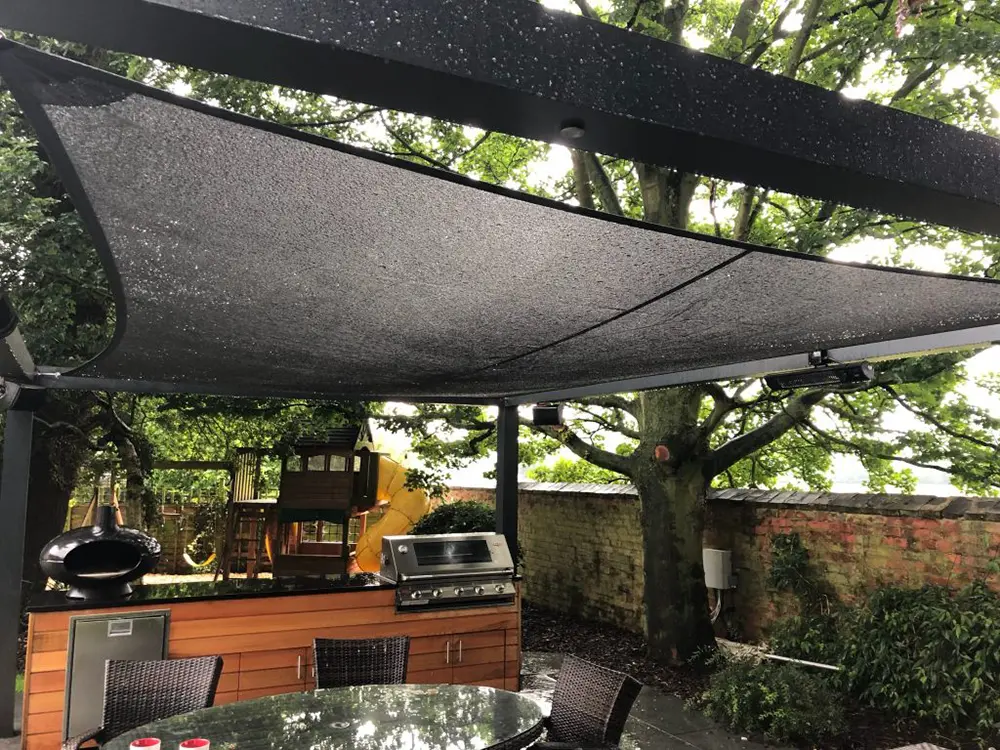 Pergolas are fantastic for filtering sunlight, and umbrellas are ideal for propping up at a table or by the pool. Although it's still important that your guests apply sunscreen to stay protected against harmful sun rays, they will appreciate some cooling relief during the day (particularly if they're coming for an all-day event).
Outdoor Decor
Here is where the fun begins! Pick a theme or colour scheme you like and get a bunch of outdoor cushions and decorations to set the vibe of your backyard. Consider decorating your backyard as an addition to your interior area. The secret to adding visual appeal to your outdoor entertainment space is implementing colour, pattern, and intriguing textures.
A plain outside wall can instantly become a topic of conversation with the addition of beautiful wall decor or artwork. A lovely approach to improving your area is by hanging outdoor curtains around a pergola or covered porch. Using a set of pillows in a bold colour scheme can liven up your seating space. A colourful indoor or outdoor rug placed under your furniture will add a touch of colour and pattern to the area while also helping define the space.