Maybe because I live in a fairly small place, I always pay attention to the ideas which help to make small place compact, functional and neat. The small adobe below (Visualizer: Julya Chernova) features glass wall bedrooms that expand the feeling of space and light to counteract tight dimensions. All of the living spaces are joined together in a small open layout, where green décor accents create fresh cohesivity.
Usually, for a small home, it is hard to have a dedicated dinning area, not to mention a dinning space for four. However, the designer smartly create a living room dining room combo via using small sofa as seating for dinning as well. Although it seems a bit awkward to enjoy TV in living room with two chair in front.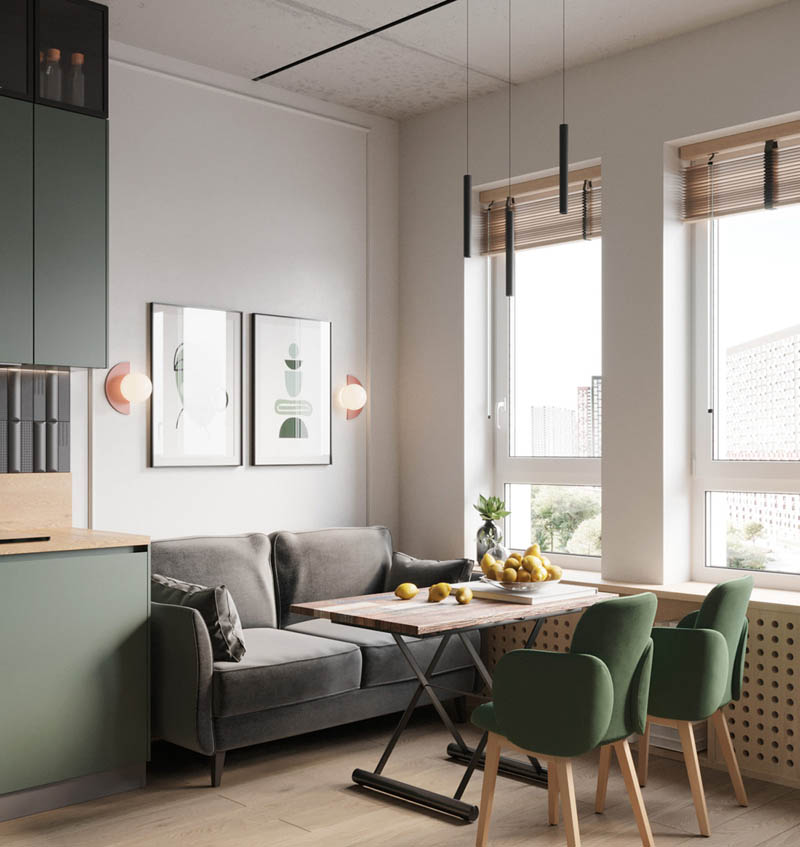 Along the window wall, the radiator has been decoratively boxed in with built-in bookcases flanking either side. The wide window sill makes an ideal home for indoor plants. It is a smart idea to hide the eyesore as well as adding more storage.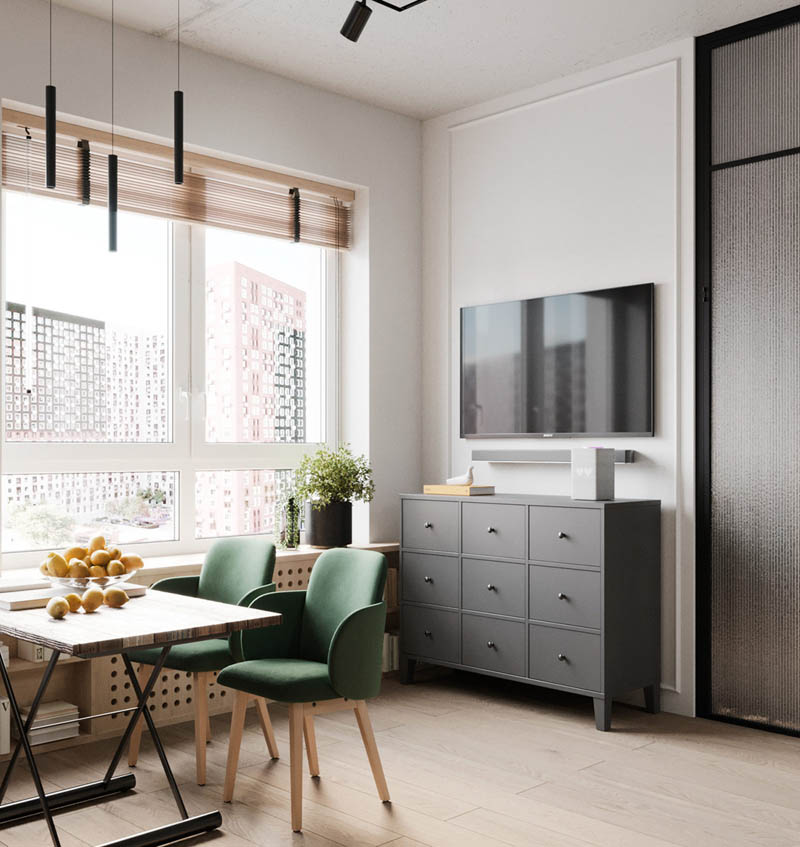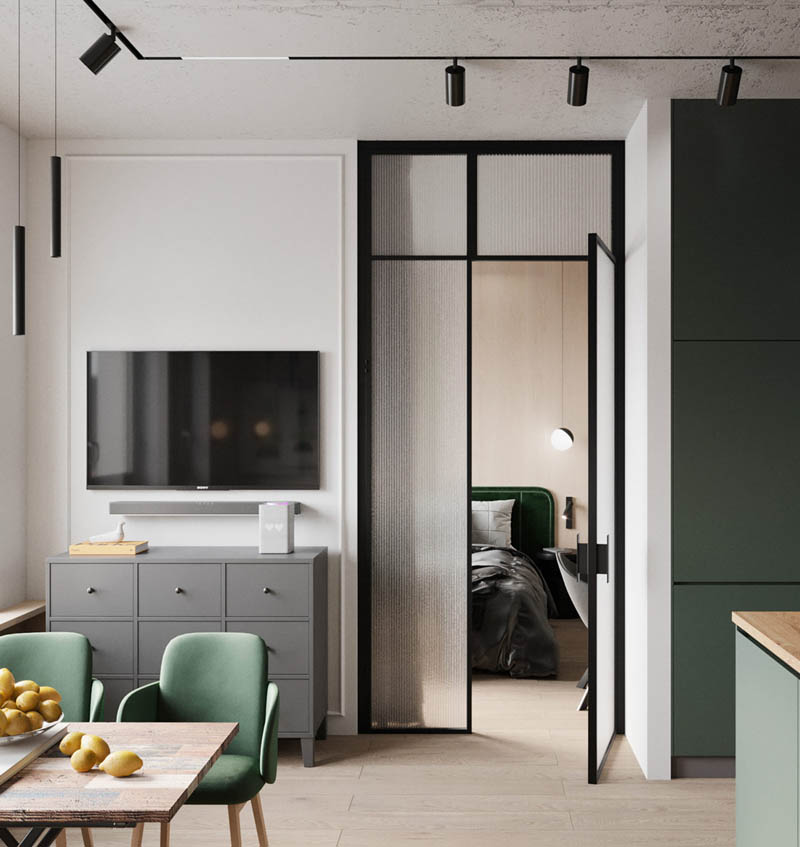 Kitchen
The L-shaped kitchen installation extends all the way up to the ceiling to take advantage of the room's vertical wall space. Glass fronted kitchen cabinets maintain an open aesthetic around the ceiling line, which prevents the small room from feeling closed in. The backsplash tiles have an interesting three-dimensional design that catches the light and creates a perception of added depth. And probably due to the space limitation, all the kitchen appliances are installed along home entry with slatted panels finish. I won't say it is common set up but it seems the best option has for this place.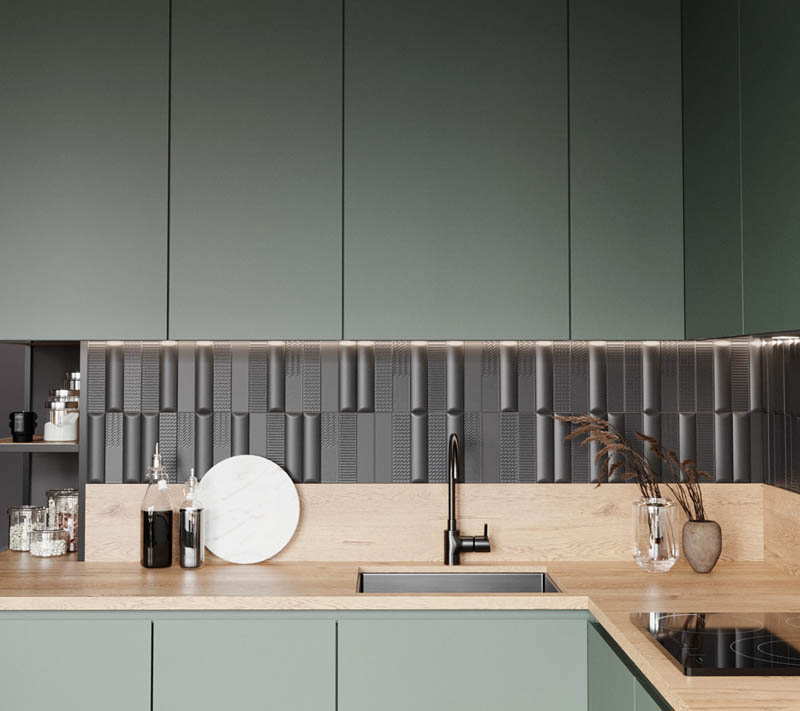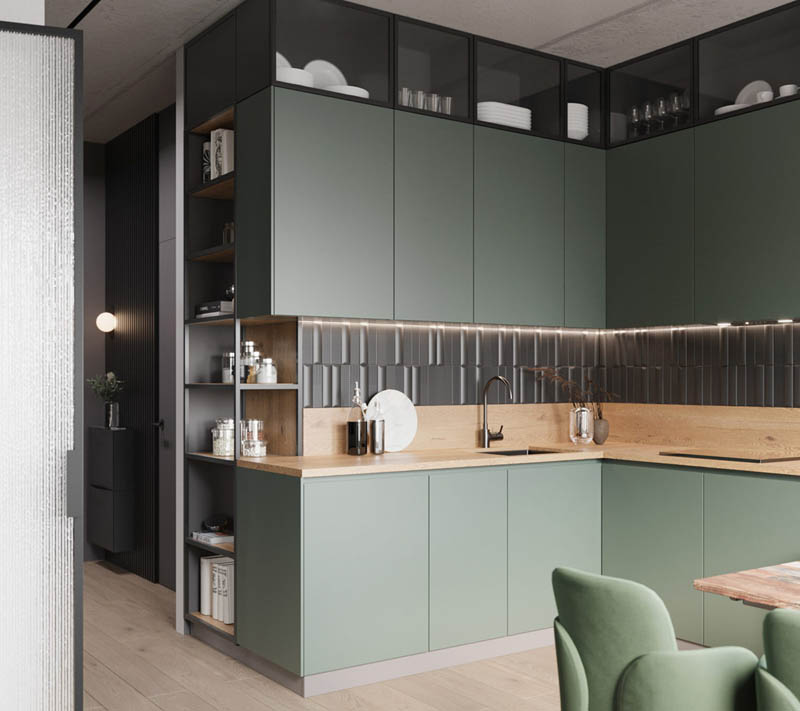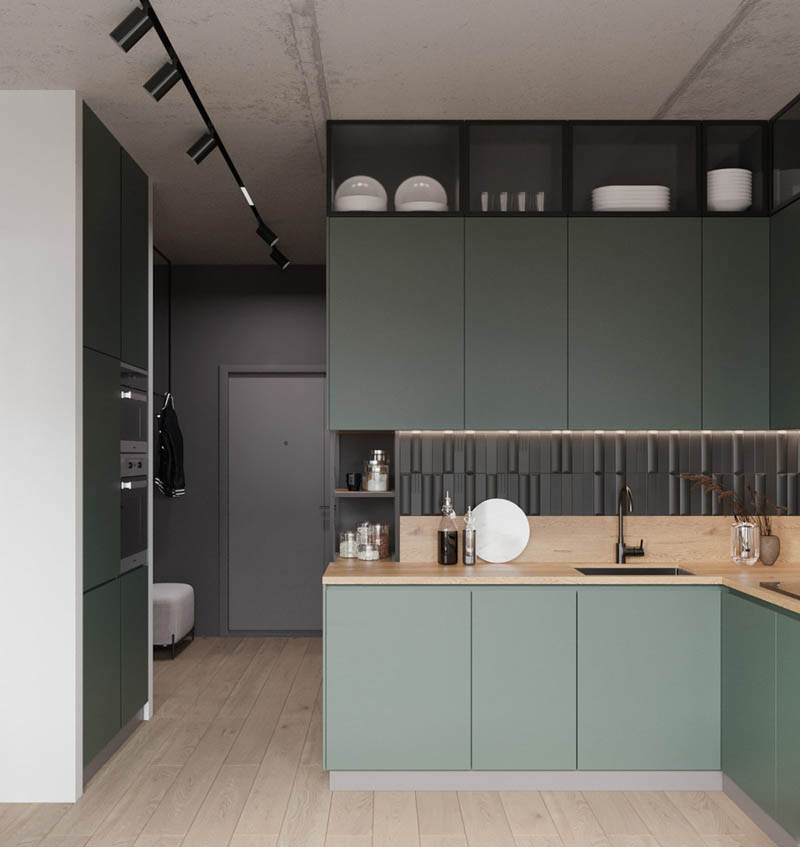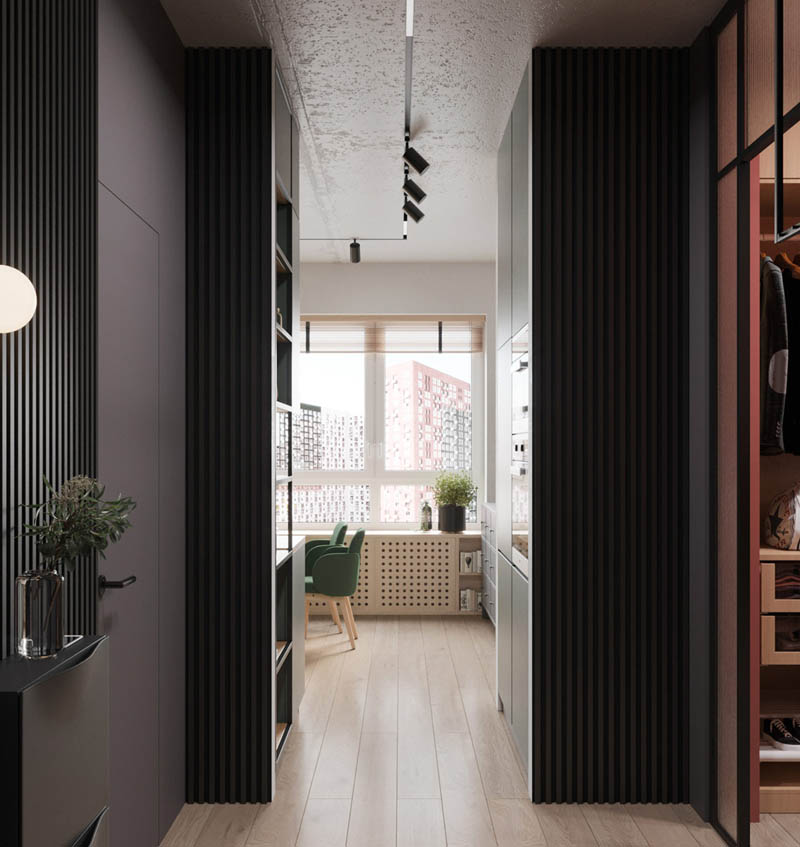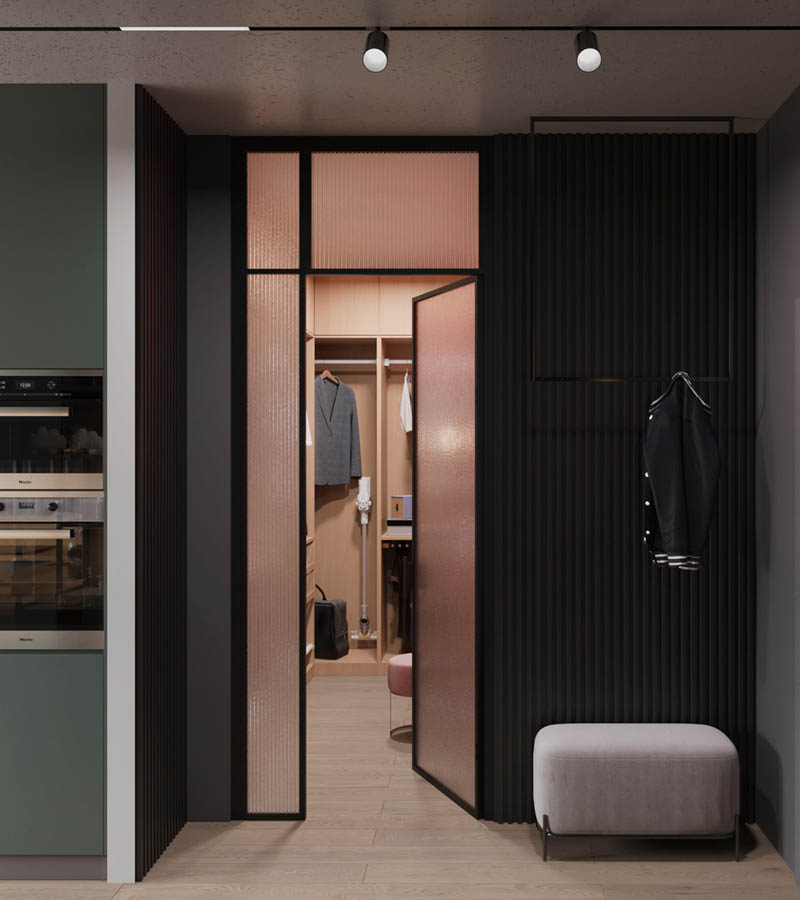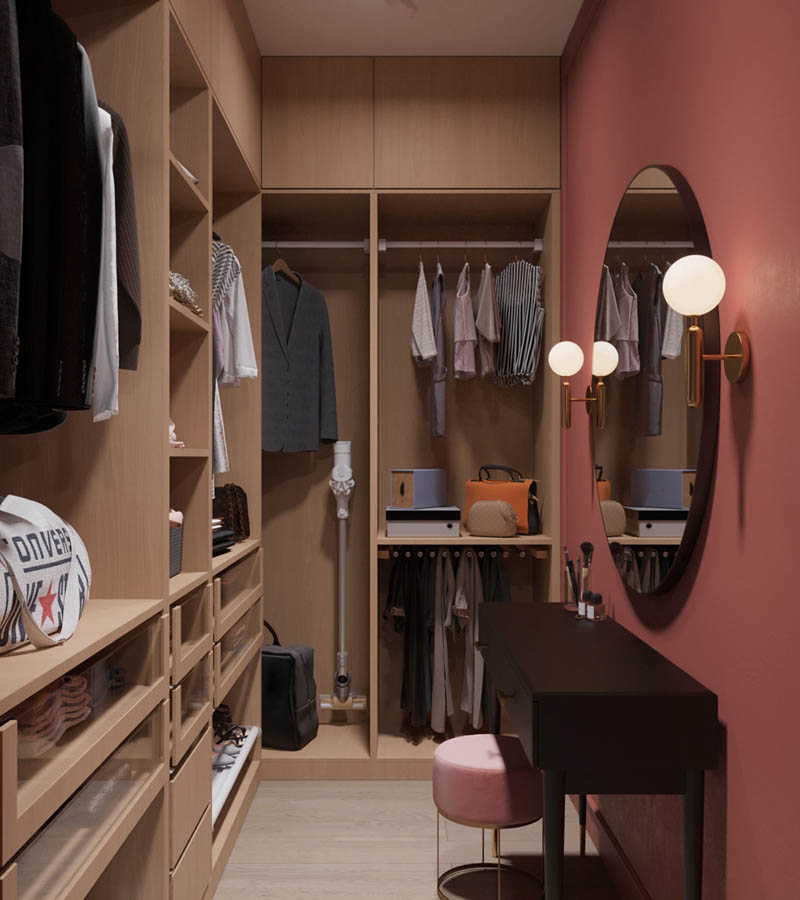 Bedroom and Home office
Fluted glass doors screen off the bedroom whilst allowing the natural light to be shared between the two spaces. Just inside the bedroom, a modern home office desk commands the corner of the room. A pegboard organizes office supplies and paperwork. Multiple matching bedroom pendant lights illuminate a storage unit next to the desk and two bedside tables. More indoor plants find a home on a bespoke radiator cover and bookcase combo.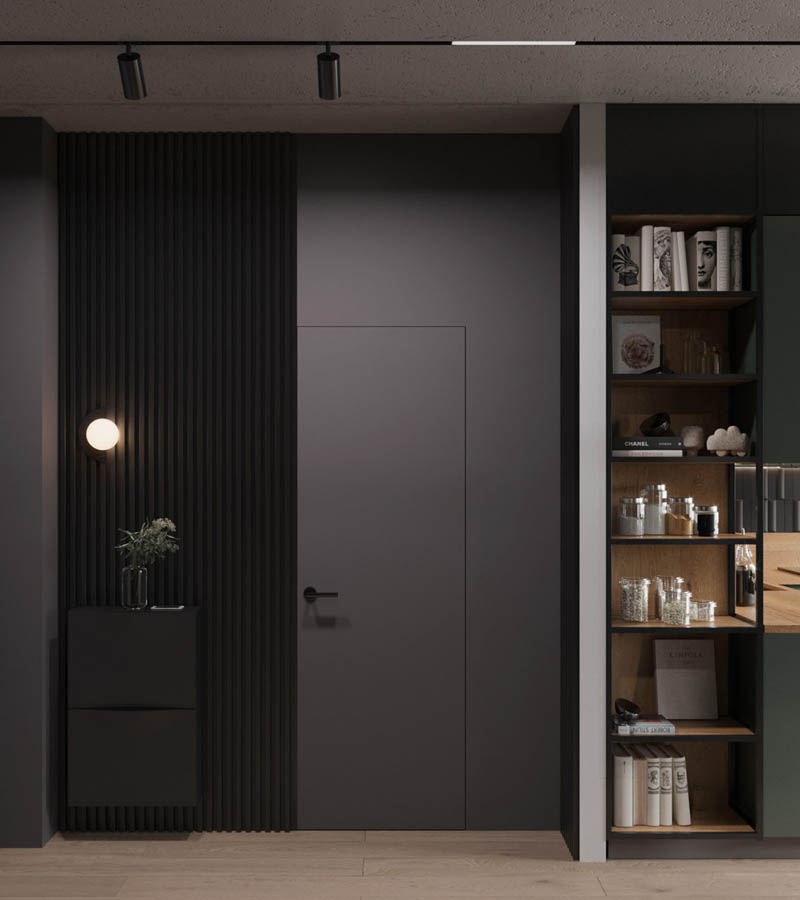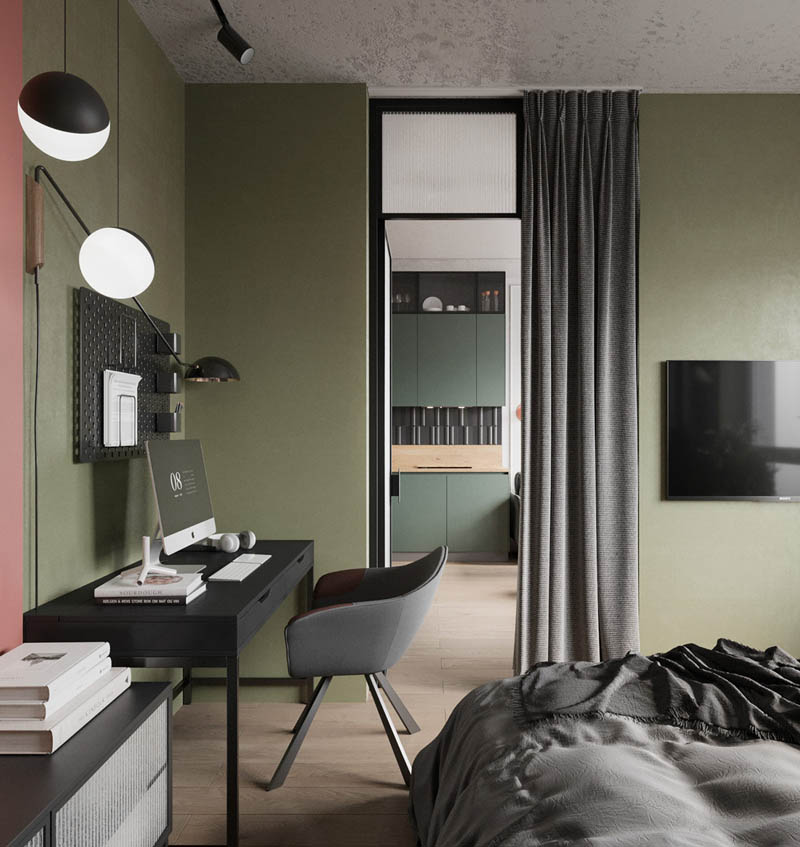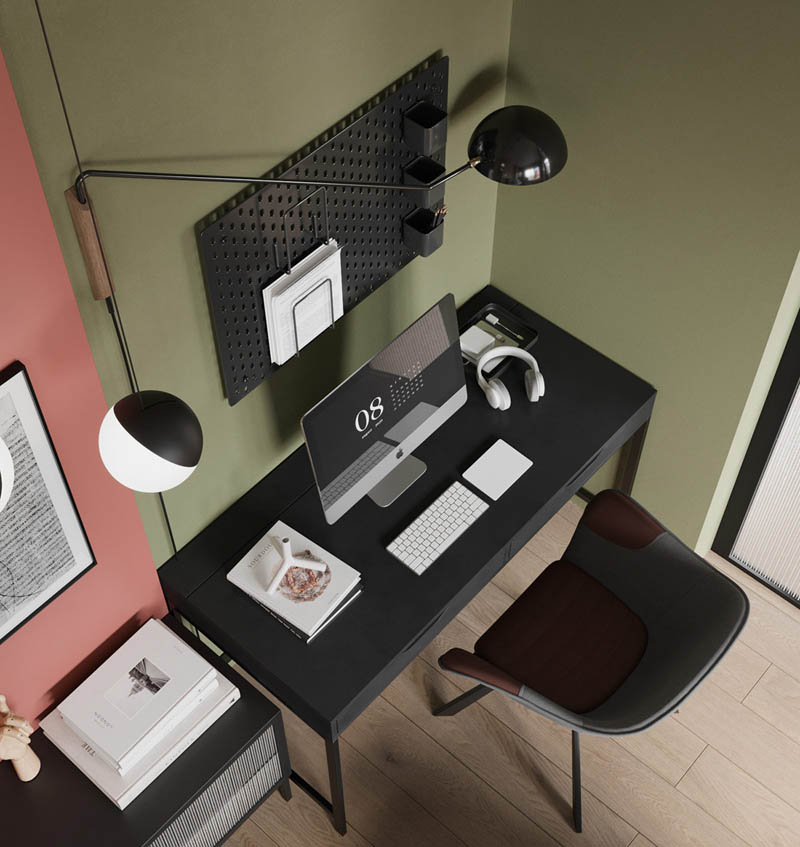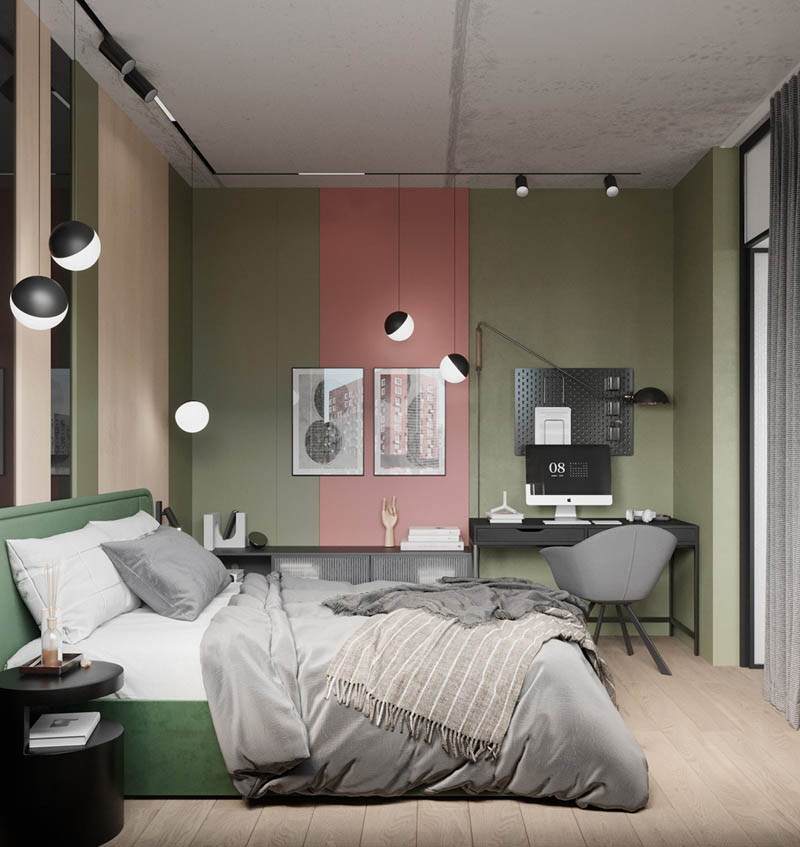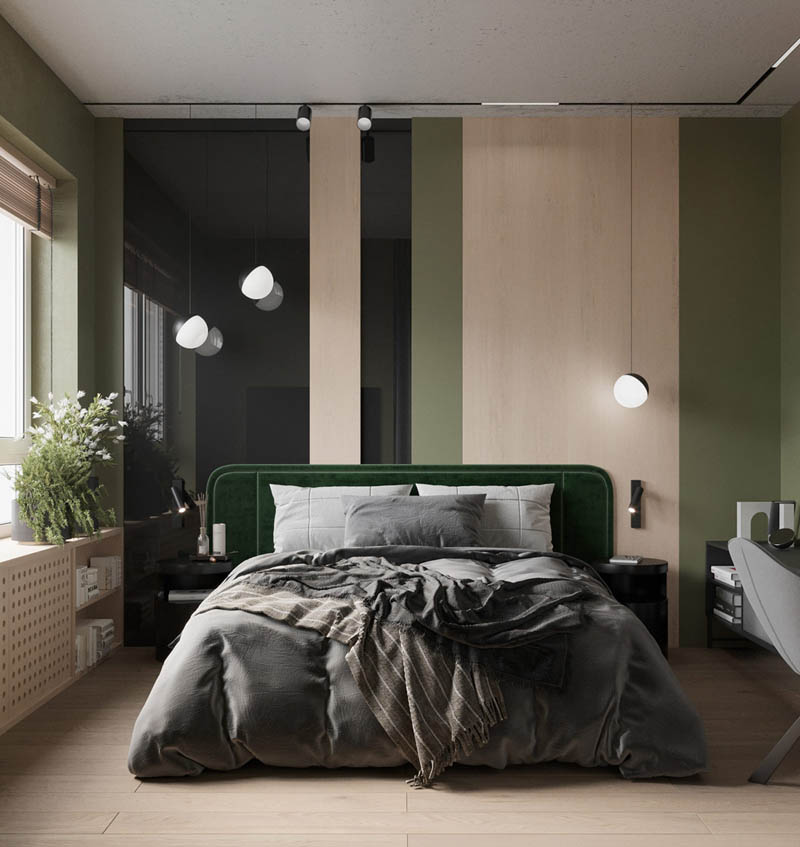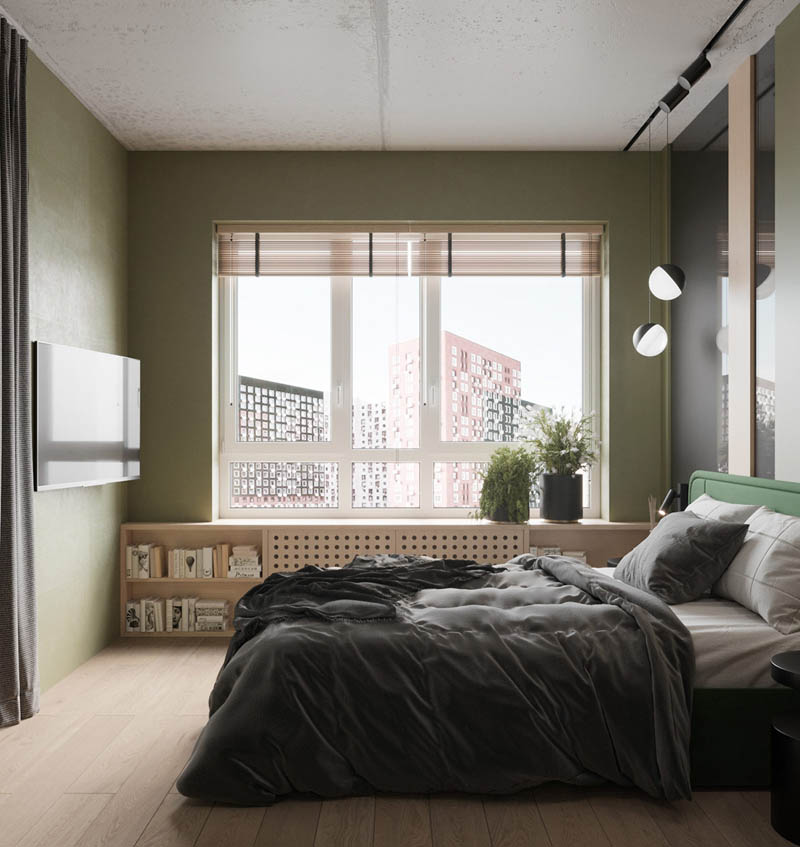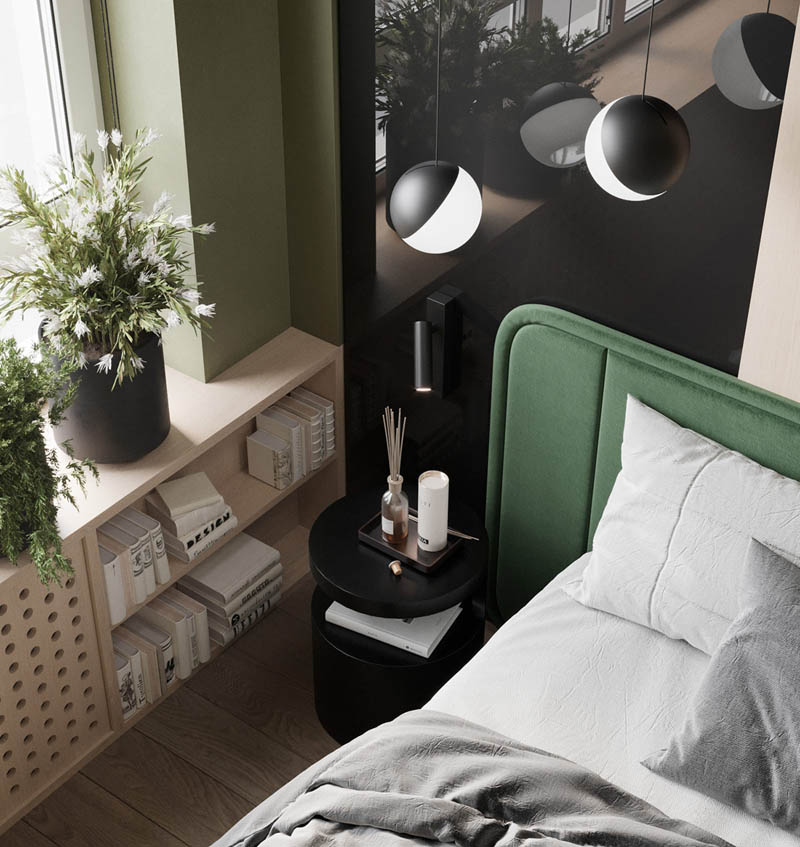 Bathroom and Laundry Room
3D pattern carves a stunning vanity wall in the bathroom. Vintage style bathroom vanity lights hang a hint of glamour around the frame of the wall mirror. Wooden bathroom units conceal a utility area with a stacked washing machine and tumble dryer, plus laundry essentials.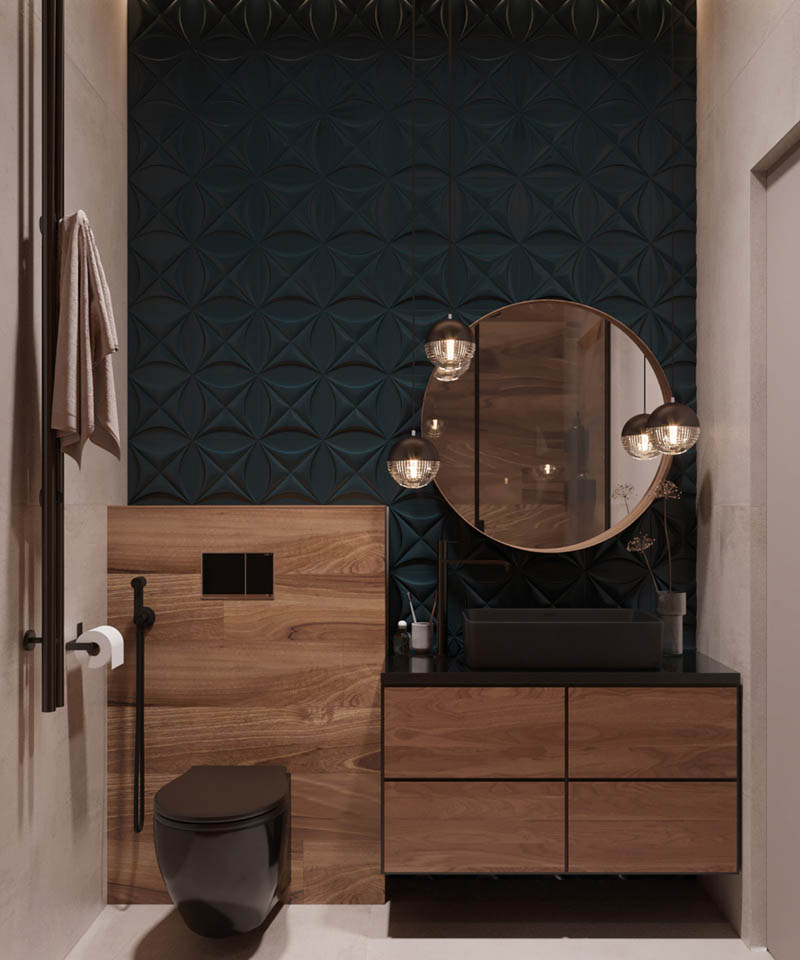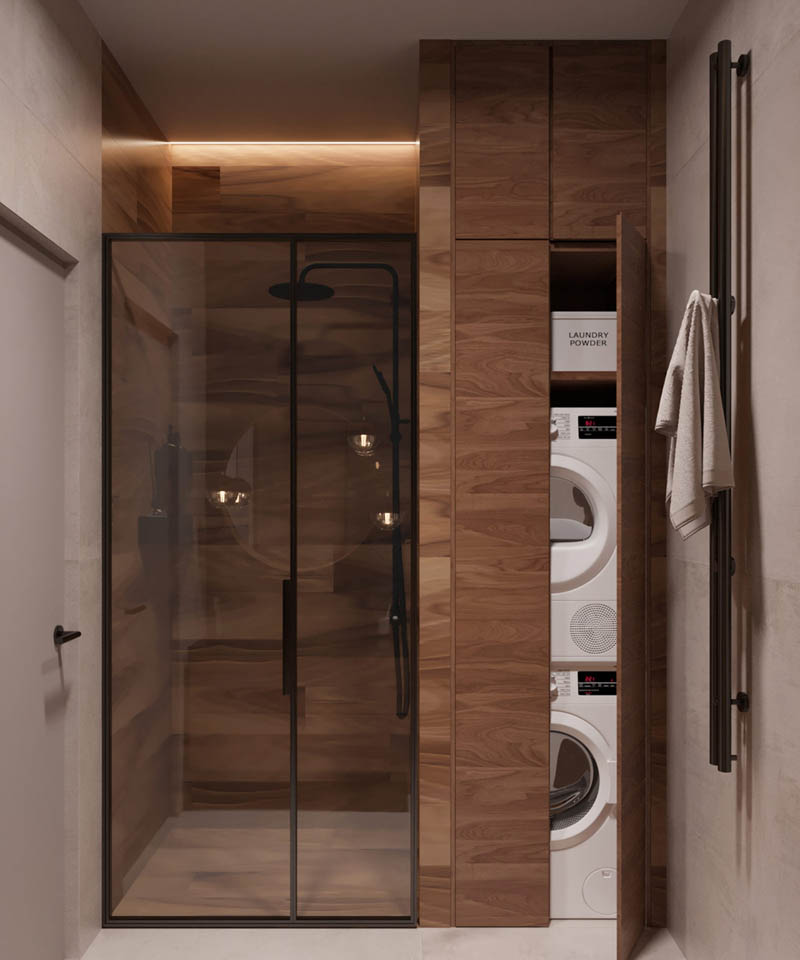 Floor Plan