Like or not, we might spend more time at home and if you happen to have a garden, you might want to spend more time there than before.
No matter you want to host a home party or just make your garden looks pretty and make yourself proud, you need some garden docration. There are nothing easier than having some solar powered flowers, insects or fairy style decoration in the garden.
Made to resemble a real flower or butterfly, these pretty petal and wings are made from fabric. No need to hide any external wiring either—just stick them in the ground and let the sun charge them during the day. Come nightfall, the integrated, color-changing LED lights will come on, allowing your garden to sparkle with illuminated color! and becomes a fairy place. These decorative solar lights are perfect for someone like me, who can easily kill flower than grow them. And another best thing is it is solar powered. I don't need to be guilty of lighting up my garden at night.
Solar Lily Flower Lights [buy on amazon]
These outdoor solar flowers lights are designed with 7 color-changing features, and they automatically light up in the dark to illuminate your garden and pathway. With its great light transparency, these solar lights outdoor flowers release beauty and charm by showing their gorgeous colors.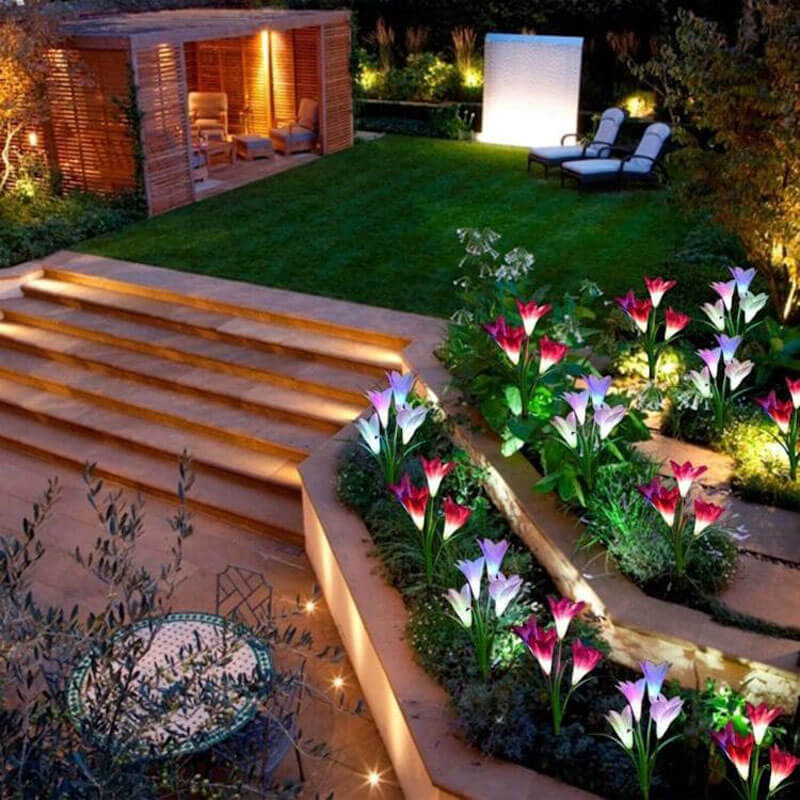 Solar Rose Lights [buy on amazon]
This beautiful set of 2 garden stake light is a perfect addition that inside the 3 Heads rose- (highlight). Features:
1.Waterproof: Water resistant is good for outdoor solar lighting.
2.Economic & Eco-friendly: Powered by solar and there is not any electricity cost, save your money; Solar power, green energy without any pollution, it is total a Eco-friendly product.
3.Stake lighting: The stake can also light up with LED inside it.
4.Easy installation: Just stick into the ground and keep the solar panel in a good position to receive the maximum sunlight, no wiring or external electricity required for use.
5.Light sensor: Lights turn on automatically at dark and turn off at dawn.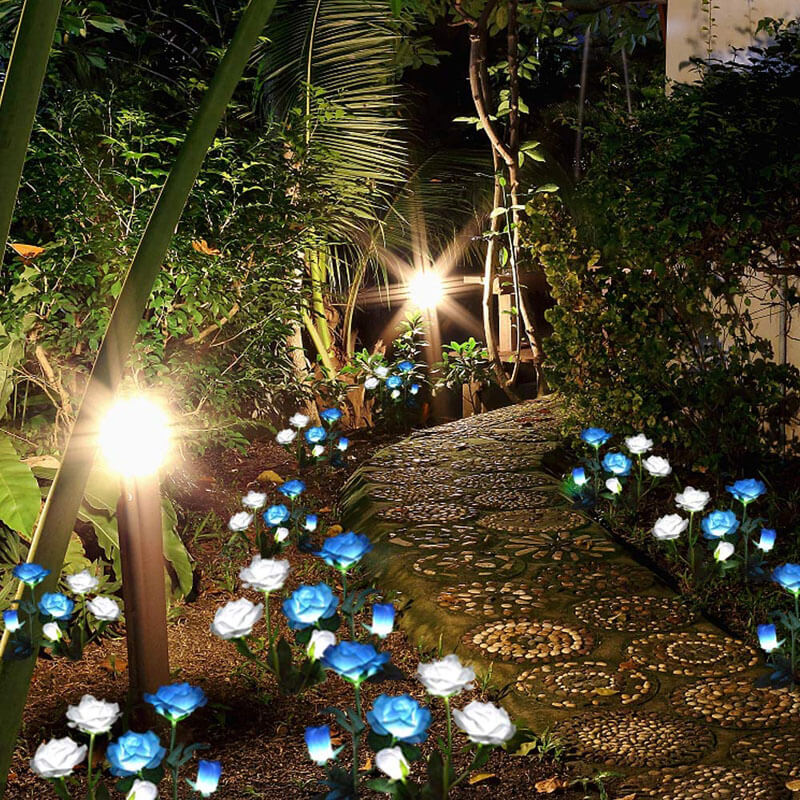 Solar Orchid String Lights [buy on amazon]
Solar-Powered, No utility energy costs. Waterproof, ideal for outdoor use.
Environment-friendly products,up to 17% energy conversion rate.
12.5ft with 10 pcs orchid flower.
Put on wall, window, door, floor, ceiling, grass,tree, post or building,adds perfect atmosphere to your place.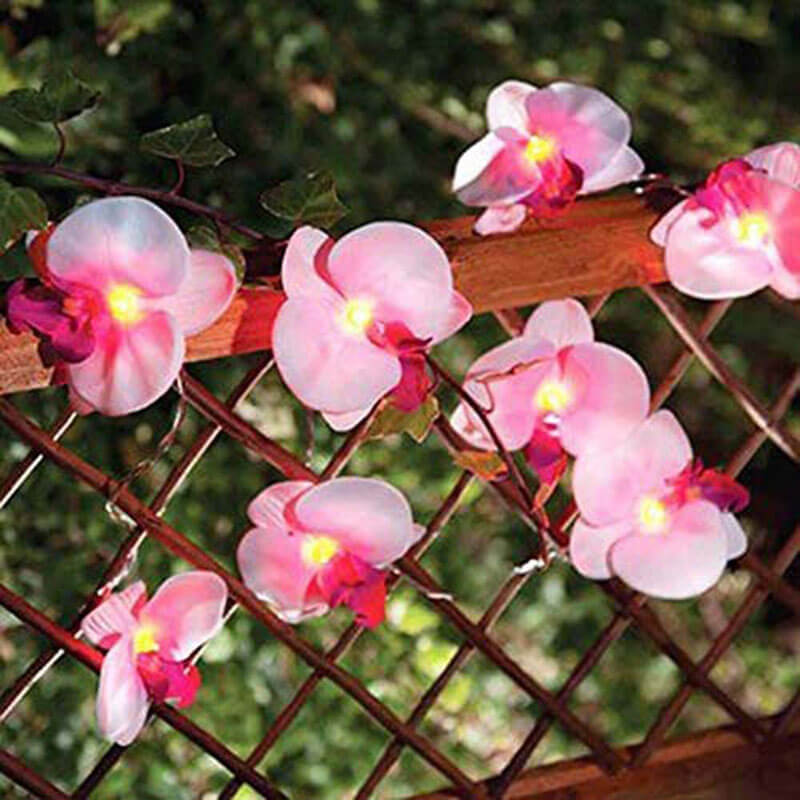 Solar Butterflies [buy on amazon]
Solar powered, auto turned on at night with built-in light sensor, no extra wire or electricity needed to decorate your garden.
Color changing led bead lights up a vivid garden landscape of colorful "flying" butterflies in the flowers.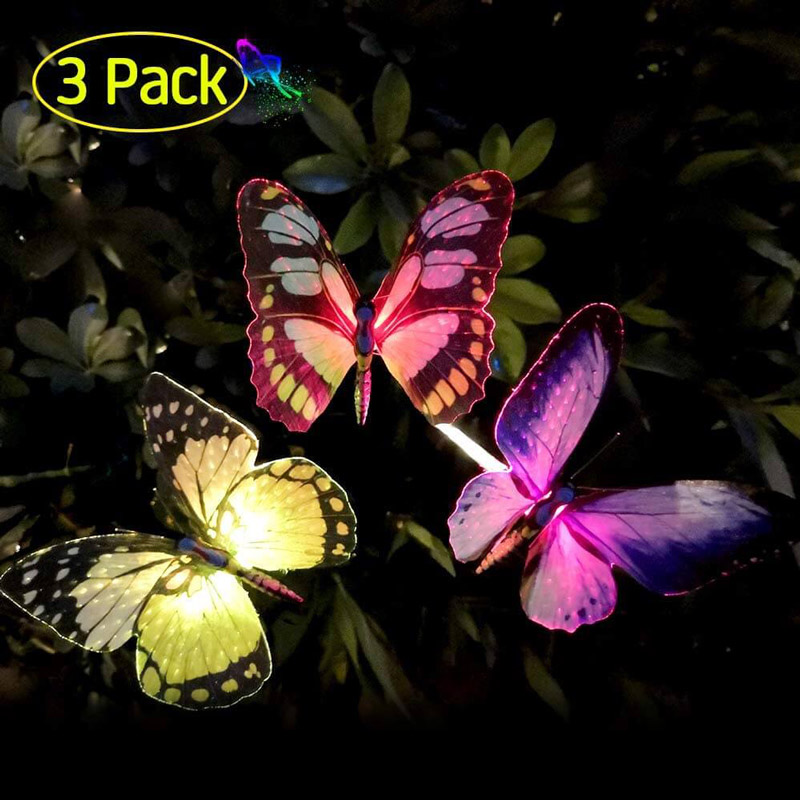 Solar Hydrangea Ball [buy on amazon]
Bask in the gorgeous glow and full flower blooms of this double purple hydrangea flower ball solar stake with 34 solar outdoor lights. The hydrangea flower stake is crafted with durable metal that resists fading, rust, and discoloration for long-lasting enjoyment.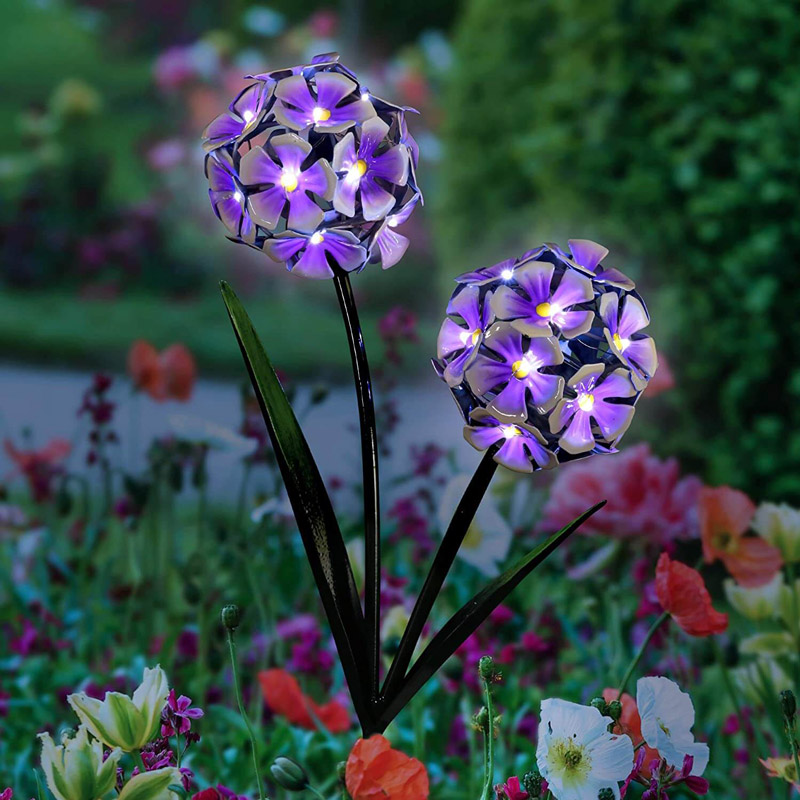 Fiber Optic Solar Stake Lights [buy on amazon]
This waterproof fairy solar garden lights is equipped with dusk to dawn sensor. It will turn on automatically at night and goes off during the day. 7 colors changing automatically once you turn the solar powered garden lights on. A perfect decorative garden light for your patio, backyard, pathway for friends and family.It's some nice solar lights outdoor decorative for your sweet home.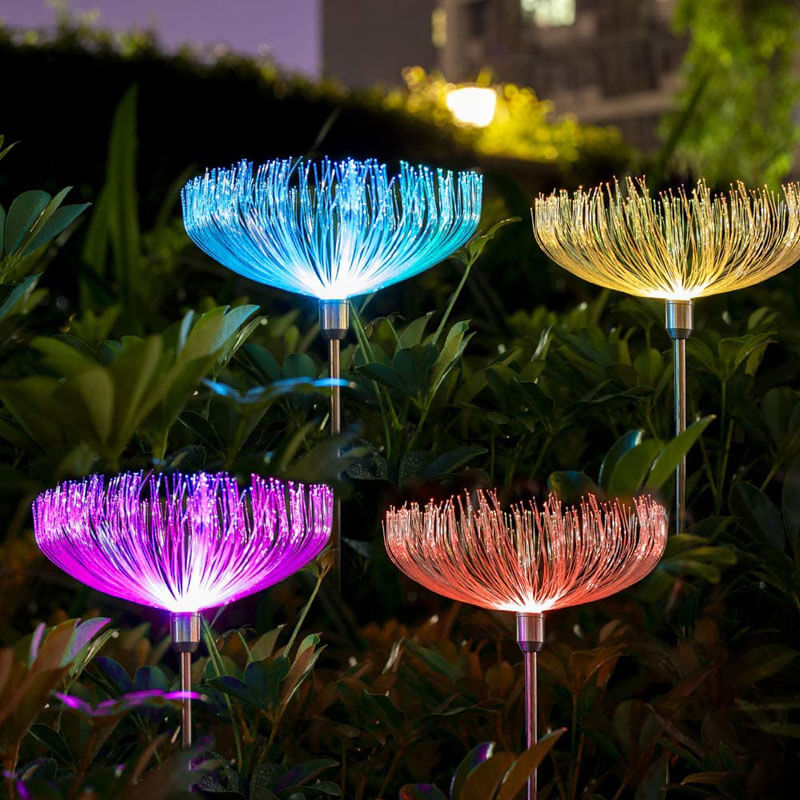 Solar Peacock Decorative Light [buy on amazon]
Durable and sturdy solar outdoor lights are made of high quality stainless and glass ball with Waterproof class IP65 design. lightweight and more durable. Each Landscape Path Lights includes 1 x AA 300mAh NI-MH battery, Solar garden light get energy from sunshine, operated by rechargeable battery. Efficient converts light into power faster even cloudy and rainy days. Automatically turns on light 8 hours of nighttime.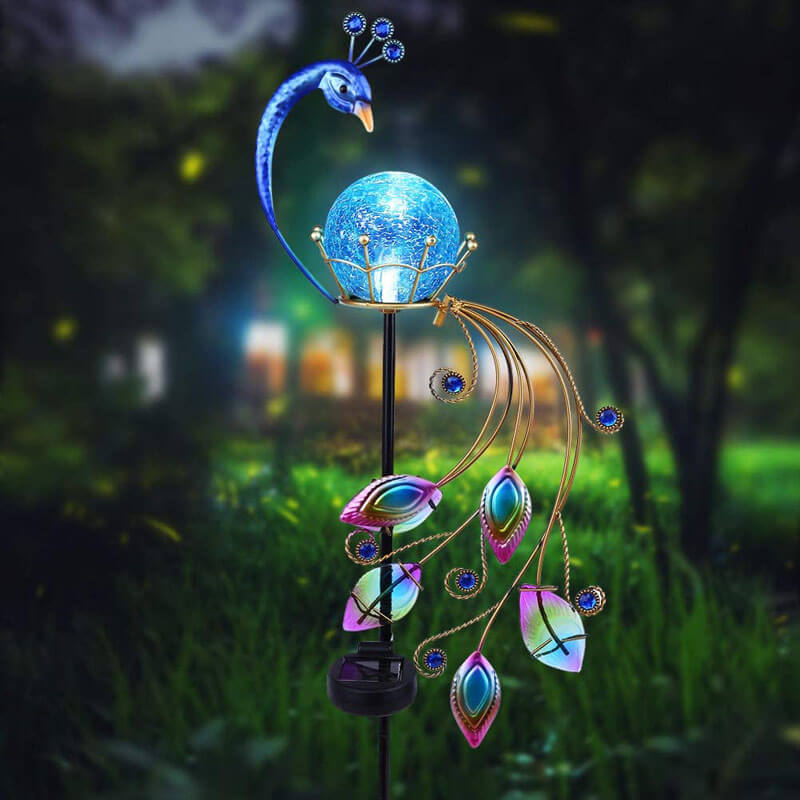 Solar Honey Bees Decor [buy on amazon]
Solar string lights with 20LEDs,which LED has shaped by a high simulated honey bee decor,looks like some real honey bees in your garden
Solar string lights powered by solar, operated by rechargable battery,no wire and no electricity needed,can lower a lot cost for your family
High simulation honey bees of the solar string lights are made of strong plastics,hard enough,with waterproof design,good for outdoor decorations,not easy to be broken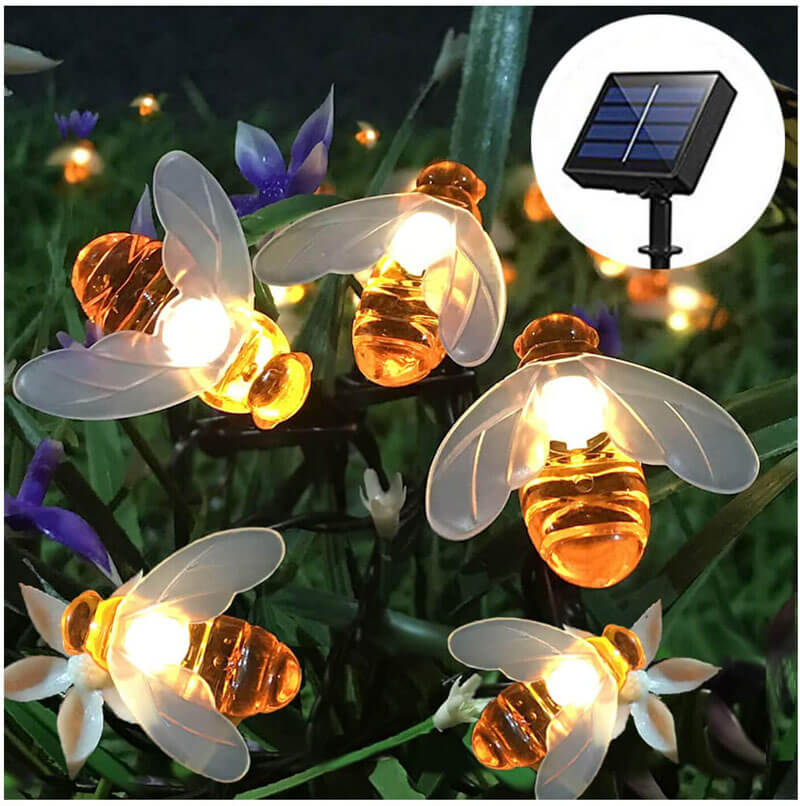 Solar Orchid Flower Lights [buy on amazon]
Solar garden lights are made of fabric material to make the orchid flower realistic,with adjustable iron wire stems. 2 colors mixture,purple & pink.You can bend the stems into your favorite style.Orchid will not color fade easily even after being exposed to the sun.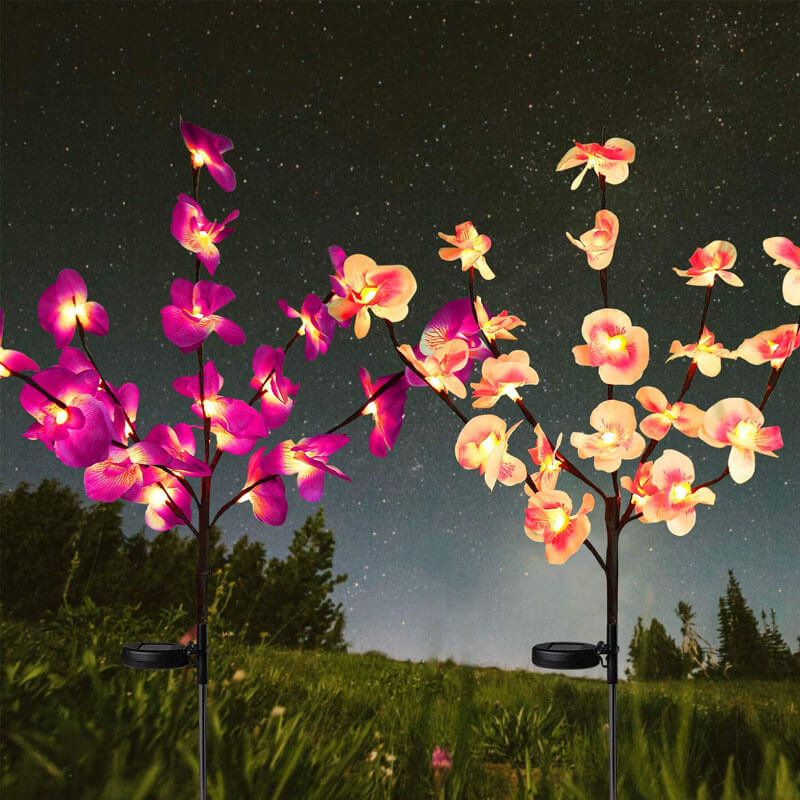 Solar Crackle Glass Ball [buy on amazon]
MOON SHAPE DECOR: Made of stainless steel and crackle glass, the garden light is great for decorating your pathway, garden, lawn, patio or courtyard, with waterproof warm white LED.
SIZE: 7.5" x 3" x 30.5". Durable construction and weather resistant feature of the garden solar lights ensures long lasting performance under most weather conditions.