You can hear the sound, but how you see it? Similar to the equalizer on music player, Fabian Oefner, a talented Zurich based photographer came up with a creative way to make the sound waves visible. Or in other word, build a bridge between the acoustical and the visual world.
In this experimental project called "Dancing Colors", Fabian attached a thin membrane on top of the loud speakers, and put some colored salt on it. Once the music starts playing, the salt starts vibrating and these odd looking sculptures form for just a fraction of a second. By connecting a microphone to the flash trigger, Oefner is able to capture these very brief moments where sound colorfully dances along the surface of the speaker.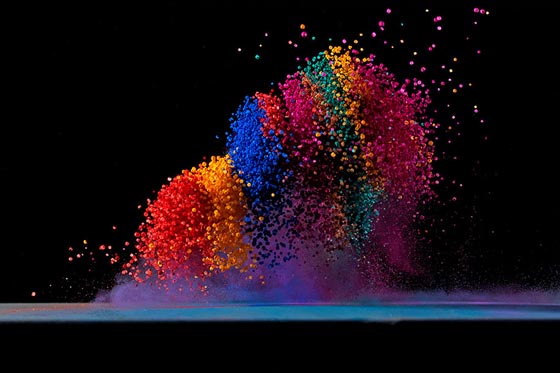 It is fun to look at these vibrant visual delights, while from the artist's description, the "the shooting is very time-consuming and messy". But thanks to those artists who doesn't seem to mind the mess, we are able to see more of these interesting stuff.