The best way to make your living room reflect your personal style is by revving up the décor. Selecting an area rug is a good way to start. Wall to wall carpeting is not as popular as it used to be. Today it has been replaced with modern rugs that can add texture and patterns to an eclectic living room. The right living room rug can cohesively pull all the accent colors together in your room. It can also add texture and patterns to a contemporary space. Your flooring is also important to the overall feel and looks of the room, so make sure you select something that you won't tire of looking at quickly.
To help you choose, we list below a few tips on how to stylishly decorate your living room with modern rugs.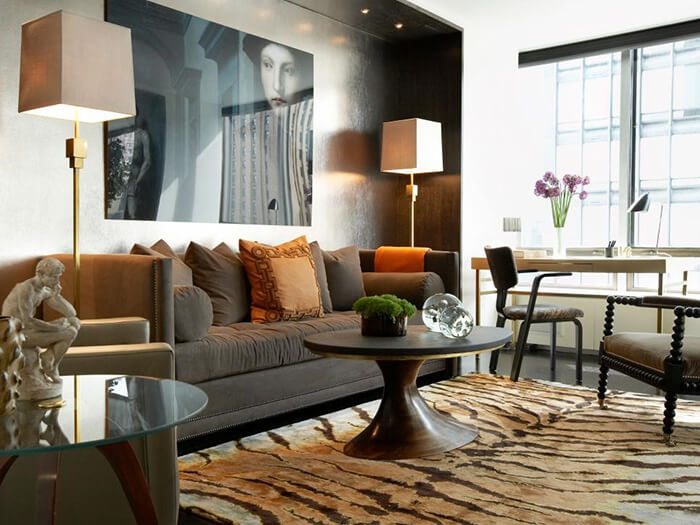 Color and Patterns
When it comes to selecting an area rug it is best to look precisely into the colors and patterns that best suit your living room. Choosing patterned modern rugs is an effective way to add color and make your room appear more interesting if you have neutral furniture and light-colored walls. The same way a solid-hued rug in a neutral color is the best way to tone down an elaborately decorated room. Note that rugs with designs and patterns are better in camouflaging spills and dirt than a solid colored rug.
If your room is already with multiple colors, try to select a modern rug that will bring all the colors together. The idea is to make it visually pleasing and that the colors will not clash which can make your living room look very cluttered. For example, a weathered pattern will help mute colors that can overwhelm your room. Softly worn patterns work well for the beach-inspired or boho chic living room décor.
Don't be wary of color. Rugs with an interesting pattern and a combination of highs and lows in the pile can help hide the wear and tear and allow people to enjoy their living room space.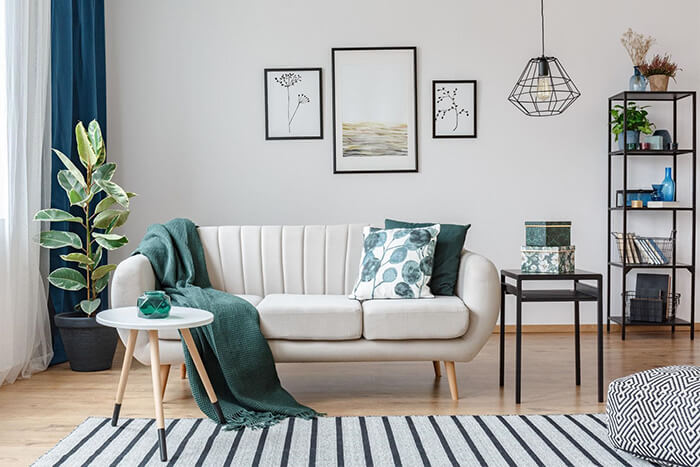 Size
The standard sizes of rugs from stores range from 6 x 9 feet, 8 x 10 feet and 9 x 12 feet. The most common mistake that people make when decorating their living room is that they often select an area rug that is too small for their space. It is also possible to have a rug custom made to work with the right dimensions that you need.
Choosing the correct rug size is crucial to the room's design structure. You don't want an oversized rug to dwarf a small living space. The right size will make a significant difference in how the final space will look like. A practical guide while shopping for your rug is to make sure it accommodates your desired seating area, instead of the whole room.
Texture
Think about how you want the rug to feel when you walk on it barefoot or run your hands through it. Wool rugs can contribute a sense of warmth than rougher materials like jute can't. Silk rugs are known to be very expensive but beautiful and soft, however hard to clean. Choose a rug that you love and one that feels good underfoot. Also, make sure to check the cleaning and maintenance needed before pushing through with your purchase. Foot traffic is an important element when considering the texture of your rug. If the room is heavily used with pets involved, one might want to consider an all wool hand-knotted rug, a combination of wool and artificial silk(art silk), or a modern cotton flatweave that can take and withstand a beating.
Consider the rug's function
Think about your current lifestyle. How do you imagine your living room? Is it for comfort or more for the show? Do you like entertaining friends and family? A sturdier rug that can manage the wear and tear and hide wine spills might be a good option. Once you've decided how you'd like to spend time in your living room that will dictate the design and quality of rug that you will look for. Let your lifestyle guide your decision.
Play with multiple rugs
To make your living space more interesting, layering area rugs on top of each other is a creative option. It can bring more color and patterns and an ingenious way to decorate for each season. In the cooler months layering more rugs can make your space look cozier. During summer, the rugs can be lifted to make the room look lighter and cooler. This is also an easy way to add dimension and visual interest to your room by layering rugs with similar elements and colors. Set a solid ground color and work with its complementary colors on the preceding layers. Jewel tones are a good place to start. Feel free to also combine contrasting textures and shapes. It will be a good conversation starter.