There is an old saying that can be applied to many areas of life, from philosophy to music, art and interior design: everything old is new again. Whatever the previous generation discarded or left behind in their search for something new and more modern is then rediscovered by the following generation and becomes relevant again.
We are currently witnessing a full revival of the 70s and 80s, which have become the decades where everything was magical. Far away enough from the present times so that we don't remember the low points of those years (and sure there were a few), yet modern enough to have given birth to the trends and technology we use today (think of the birth of the arcades for videogames, or the clothing fashion that is so hip nowadays).
Also in the field of interior design we are experiencing the second coming of vintage-inspired wallpaper patterns, whether we are talking of funky, almost psychedelics patterns that were all the rage in the 70s or the kinds of print and botanical motives you used to be able to find in your grandmother's linen closet or in a quirky and old fashioned cottage in the English countryside.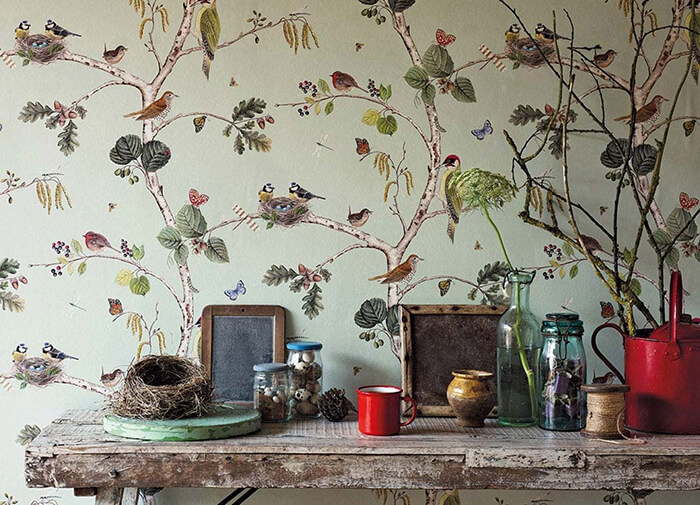 Gone is the sterile, IKEA-style minimalism that dominated the interior design landscape for the last twenty years, replaced by a colourful nostalgia that seeks to bring back a joyful approach to how we style our living quarters.
In this context, wallpaper has been playing a fundamental role. Long considered an unnecessary accessory in the interior design weaponry, it has come back roaring, riding this nostalgia fuelled wave.
The allure of vintage wallpaper
While all sorts of wall coverings have come back into fashion, vintage wallpaper has seen an incredible resurgence. There is truly something unique about vintage wallpaper, as its designs and timeless patterns trigger memories of a time long gone and help create a unique atmosphere and vibe.
Inserted in a modern environment, with contemporary furniture, vintage wallpaper produces an exciting contrast, effortlessly bridging different eras in the same way a vintage piece of furniture might add a special touch to a contemporary décor.
For this reason, interior designers worldwide have been scouting old warehouses and long-gone retailers, seeking forgotten stocks of original, authentic rolls or wall covering from those decades.
The options for sourcing it are nowadays far broader than a few years ago. Thanks to the web and the connected global marketplace it brought along, nowadays a simple search through the meanders of the internet provides with a wealth of options to those who seek original vintage wallpaper, whether via a Craiglist or eBay listing or via specialised resellers that did the job for you and are stocking a fascinating selection or rolls dating back to the 30s.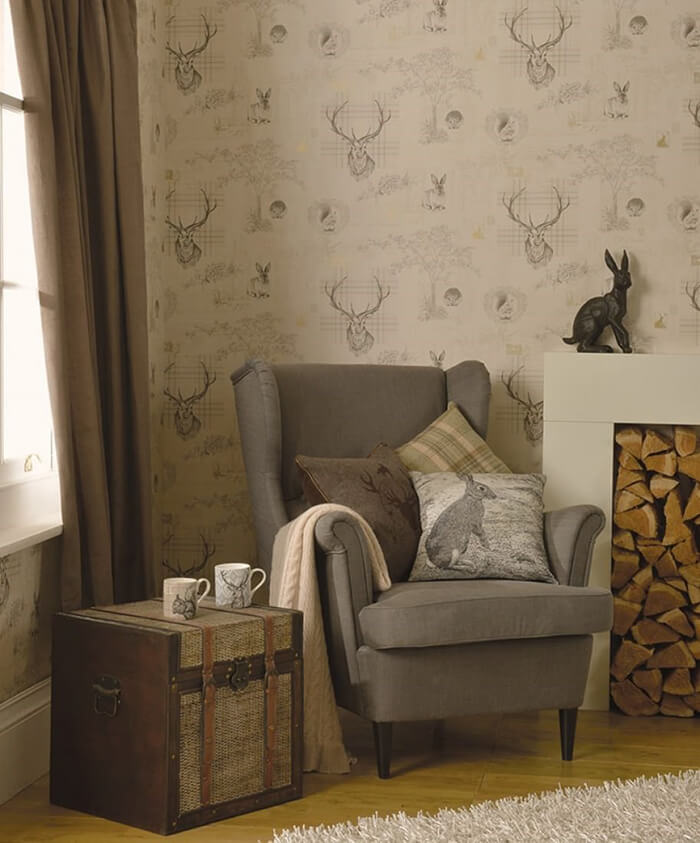 All that glitters is not gold
Unfortunately, just finding the pattern you were seeking and a reseller that stocks it is not the only challenge when dealing with vintage wallpapers. After all we are talking about a product that has been sitting in a storage space for decades. One needs to consider the damage done by time, humidity and having been stored in less than perfect conditions for long years.
This damage might not be visible at first and the rolls might look just fine until they unrolled, and you find out that the paper carrier material show mould spots, yellowing or unsightly discolouration. Furthermore, the adhesive quality of the carrier material might also have been affected by decades in storage, resulting in possible problems with the uniformity of the wallpaper once hanged.
There is another factor that needs to be considered: we are talking here about a product that hasn't been printed for over 40 years. You might have found a roll or two, but it is no longer in stock and there is no guarantee you will be able to source it again. Should the amount you purchased not be enough, or if later you need some more to fix some problems you hadn't anticipated, the chances you will be able to source it again might be slim. It is therefore always advisable to purchase at least one full roll of surplus vintage wallpaper (if available) before embarking or a redecoration project.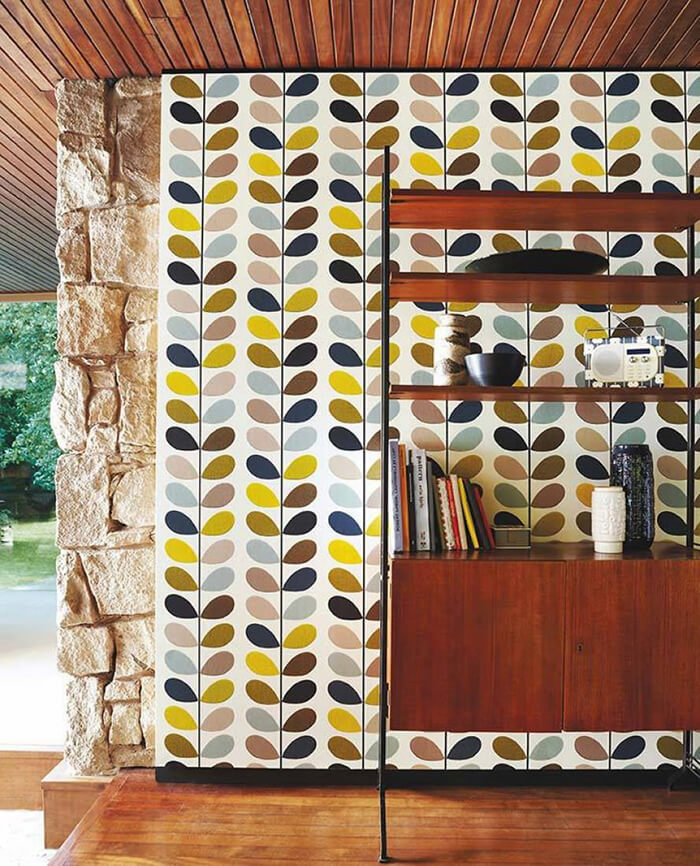 Vintage wall coverings without the hassle
Due to the problems described above, many interior designers are very wary of using authentic vintage wallpaper and prefer using newly produced wallpaper with a vintage design. Over the last few years a number or retailers have specialised in vintage wallpaper and started catering for those customers seeking to recreate a vintage look but not willing to embark in the risks and challenges of authentic, old wall coverings. Modern vintage wallpaper preserves the vintage motives of yesteryear but with a new shine and many advantages.
They combine the great looks of vintage wall coverings with all the advantages of modern manufacturing techniques, with a quality, safety standards and breathability that are incomparably better than their original forefathers.