Vincent Callebaut Architectures has proposed a project called 'Treescrapers' that envisions New York City as a collection of vertical green villages. This plan is designed to respond to the city's net-zero carbon objective by utilizing Building Information Models (BIM), AI-generative tools, climate simulation, and construction optimization software programs. The project spans from the Bronx to Brooklyn via Queens and uses low-carbon and bio-sourced materials, bioclimatic design, renewable energies, biodiversity, and urban agriculture to create eco-friendly buildings that foster a sense of community and mutual aid.
The Treescrapers project has four pillars that guide its eco-design strategy. The first pillar involves climate-responsive design that takes into account the climatic data of the place and optimizes natural ventilation systems to reduce energy consumption. The second pillar focuses on the integration of renewable energies, such as axial wind turbines, solar panels, and geothermal energy, to move towards a Positive Energy Building and carbon neutrality. The third pillar is spatial agility, which considers the adaptability of the habitat to changing uses and ways of living. Finally, urban agriculture is the fourth pillar, with greenhouses and market gardening orchards cultivated in permaculture integrated into the roofs of buildings and plots to strengthen solidarity and social cohesion.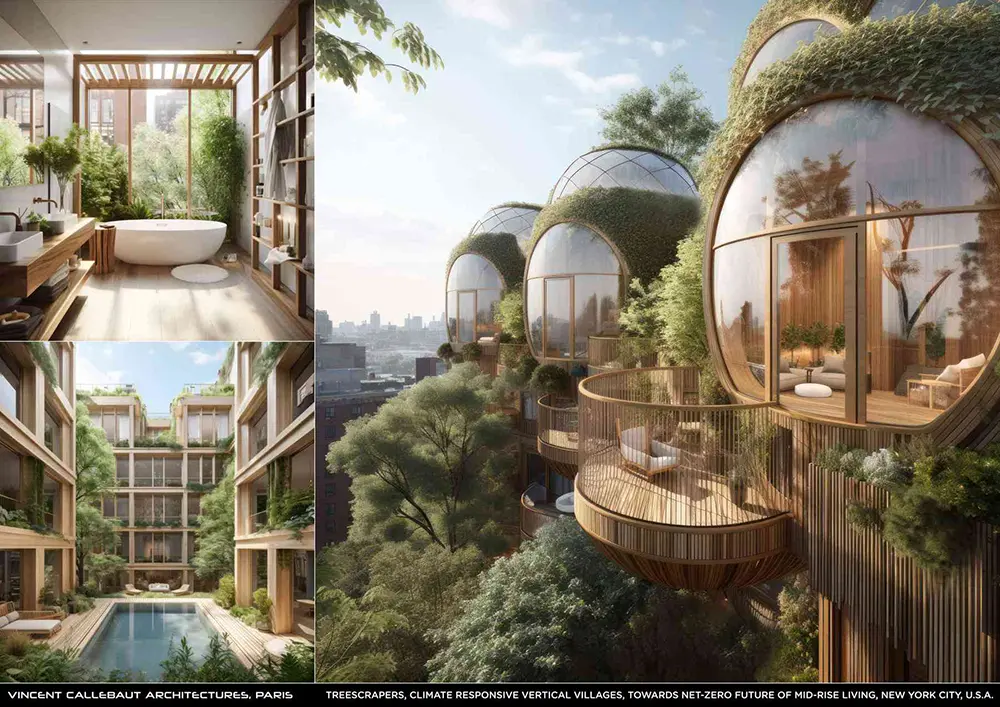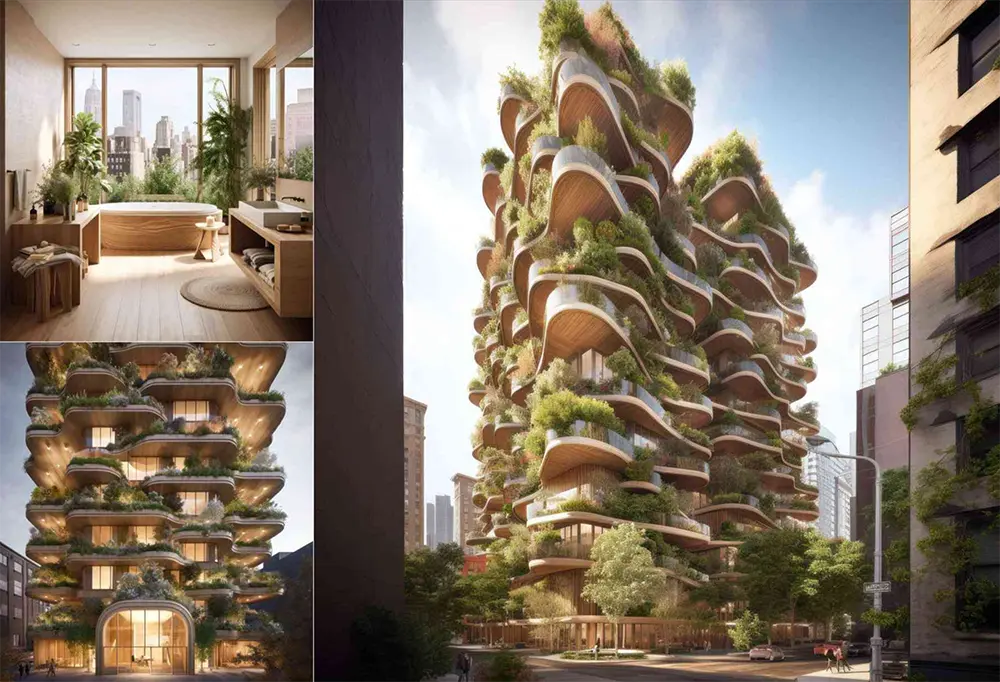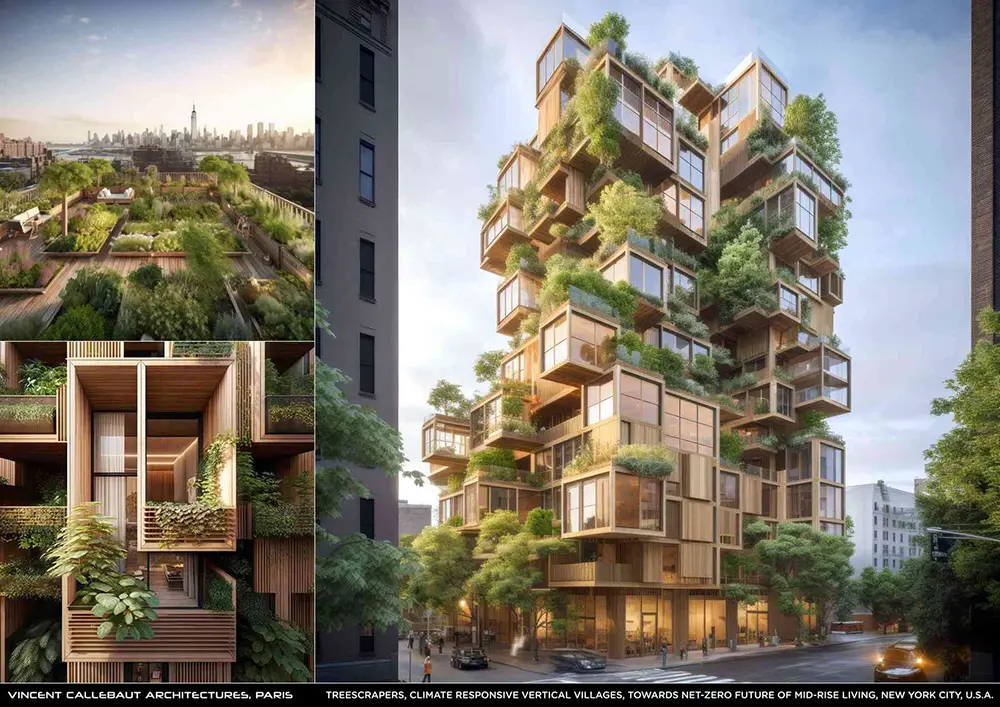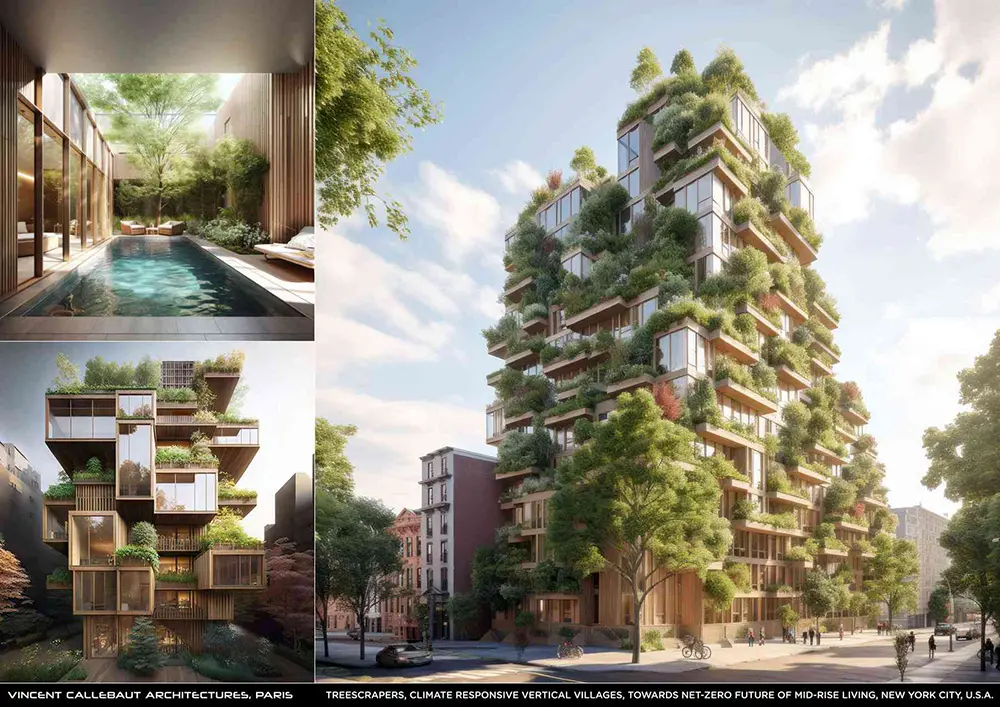 Treescrapers' biomimetic green solutions help fight against urban heat islands, atmospheric pollution, and soil sealing while promoting rainwater management, recycling of gray water, reinforcing green and blue urban networks, protecting biodiversity, implementing urban well-being, and developing urban agriculture. The hybrid concept of a climate-responsive village of medium size that encourages the development of short circuits and soft proximity mobility, presents an eco-responsible way of life.
Vincent Callebaut Architectures' innovative approach transforms New York City into an ecosystem, its neighborhoods into forests, and its buildings into inhabited trees producing their energy and recycling all their waste into resources. By creating people-centric, eco-friendly buildings that foster a sense of community and mutual aid, the Treescrapers project shows how urban areas can adapt to changing environmental needs while promoting sustainability, well-being, and social cohesion.