Chair is one of the most normal furniture in our life. However, in this post, I will present you some really creative/unusual/bizarre chair designs made by those who think out of box. Not sure whether those chairs will be comfortable, but I gave my words that all of them are pretty special. It's definitely worth taking a look and hope you enjoy… Or maybe, you will like to have one to spice up your home.
Fade Out Chair [link]
Isn't this chair amazing? Made by Japanese design company, Nendo, this acrylic chair is painted with a wood grain, with legs fade from walnut to invisible. As a result, the chair appears to be floating.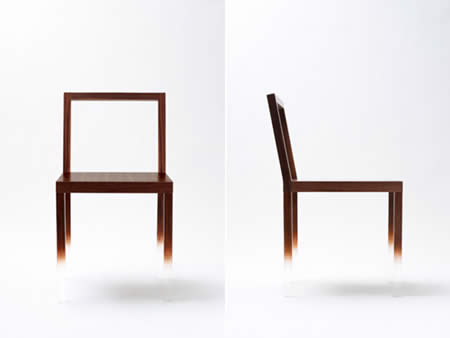 Ivy Chair [link]
Tokyo's h220430 design studio reminds us of the power of nature with the Ivy Chair, a graceful armchair covered in white leaves. An urban lifestyle and the often frantic pace of city living distract us from a healthy appreciation and respect for nature, and it is only when it is too late that we become aware of its importance. The whiteness of the leaves is an expression of the exclusion of nature from the city. But using such a piece of furniture will serve as a reminder and add value to its primary function as seating.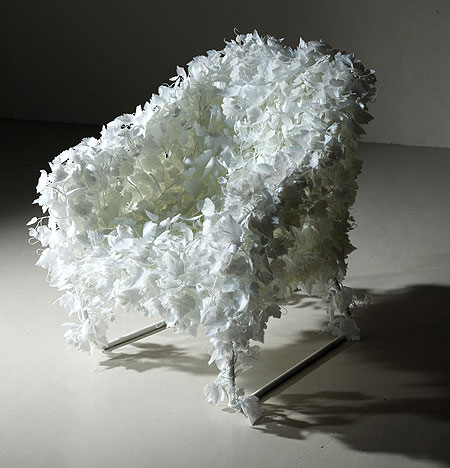 SIE43 Chair-Pop Bottle Benches [link]
Using a stainless steel frame and many, many bottles, furniture designer Pawel Grunert created the SIE43 chair
The SIE43 Chair was created for Milan's Eco Trans Pop exhibition from scores of PET bottles held together is a stainless steel frame. The phrase 'sculptural organic form' is an overused one in the world of furniture – and objects described by it would normally have me running a mile – but it describes this perfectly and I'm still here.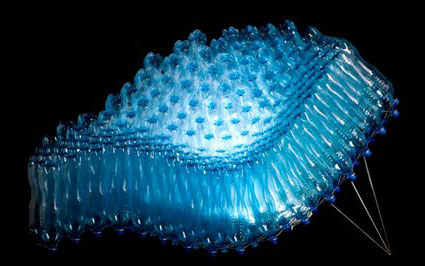 Horsetail hair Chair [link]
This one is a bit scary for me. The PrettyPretty seating series designed by Degana Kailjo are, according to the designer, "Pretty heads to sit on." The PrettyPretty seating series is hand made out of horsetail hair. Due to the character of the material each piece in this limited edition series is unique; they are also signed and numbered.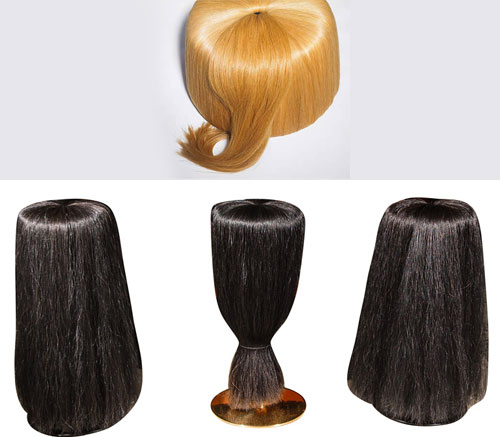 Troll Chair and sheep head chair – Chair for winter [link], [link]
Troll Chair (left) The appearance is inspired by Dumbledore, trolls and cold winter days. The materials are Icelandic sheepskin, full grain saddle leather, and oak.
While the right one kind of using the same material and have similar design but is definitely one of the creepier pieces of furniture we've ever saw.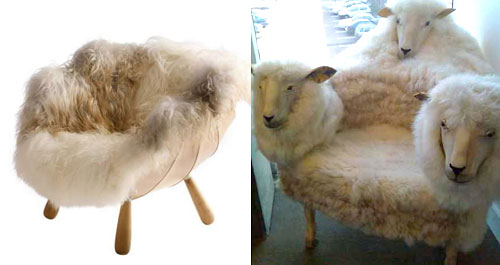 Blossoming Flower Chair [link]
The Bloom Lounge Chair by Kenneth Cobonpue is inimitable and the credit goes to its amazing flower like design. Made out of microfiber, resin, and steel, this cool designer chair is invitingly comfy. Its stitching pattern gives it a very fine finishing and the overall look would definitely revive your living area. Your neighbors are sure to envy you for having this new blooming beauty in your house.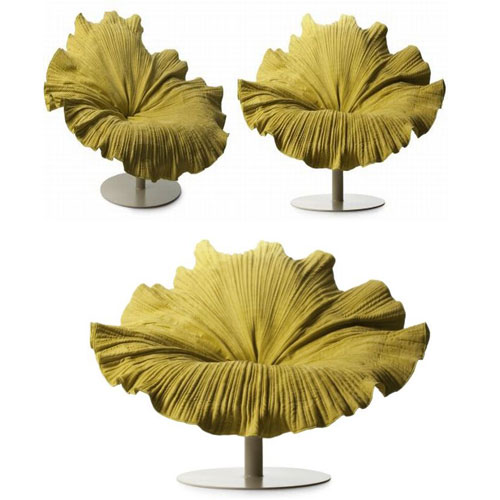 Dondolo Armchair and La Roche Chair [link]
Those two chairs are designed by same designer – Milla Rezanova. I really like the La Roche Chair, it looks so elegant.

Dondolo Armchair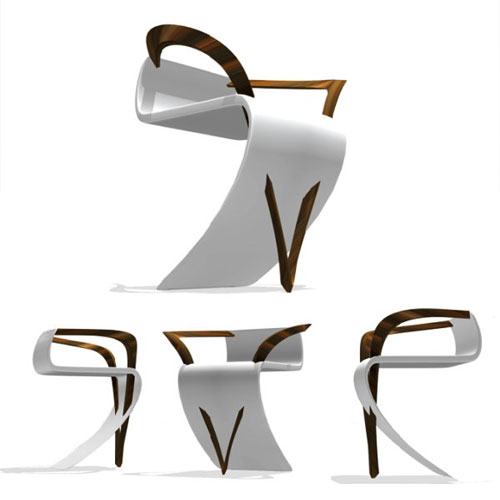 La Roche Chair
Bang Chair [link]
For this exploded fauteuil a special 'booming' process for body support was developed. Textile 'pyramids' where individually molded with self inflating foam, an explosion in itself, resulting in This big soft explosion will largely define any setting by its looks.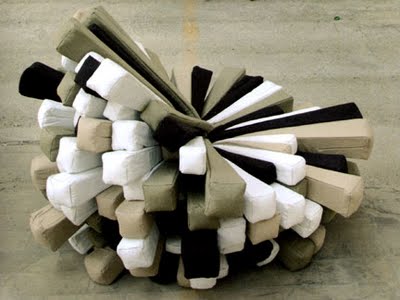 Meltdown Chair [link]
Tom Price exhibited the latest in his series of Meltdown chairs at this year's Designersblock. This particular version is made by heating and fusing together common plumbing tubes, which create the molded seat.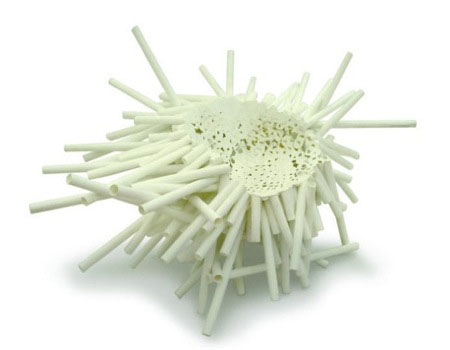 Solar System Chair [link]
Have a taste for modern funky furniture? Well this is your stool! The Solar System Chair is crafted from stainless steel and has chromed steel legs that will charm any room! The seating and arm rests are filled with a soft foam and finished with a synthetic velvet for superb style and ambience!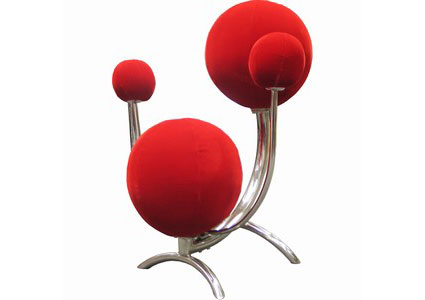 HAIRY CHAIR – Charles Kaisin [link]
What is porosity? How can the shape of an object influence the way you use it? Is it a chair? A sculpture?
Layers of very fine cut paper, as the meaning of a crazy flow of information and the creation of a new animal coming from a reused old chair. The old chair completely covered in paper strand, gave a new shape, like a hairy animal!"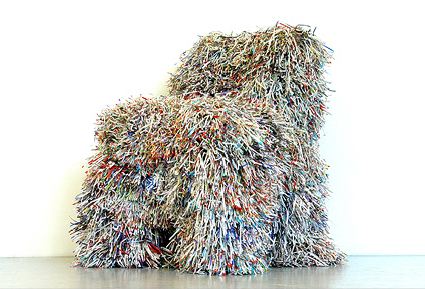 chair made by forks knives and spoons [link]
I guess… this one won't be a really chair… maybe just a sculpture in chair shape, since it looks like so uncomfortable.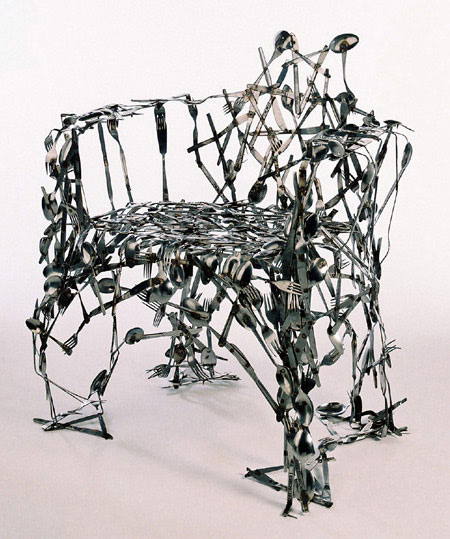 Ghost Chairs [link]
They're made from plexiglass and the 'ghost' shape inside is created through laser technology. The 'ghost' sets this chair apart from it's plastic counterparts and what's more the ghost can be customised… oh the possibilities! I look forward to seeing what comes next from this studio.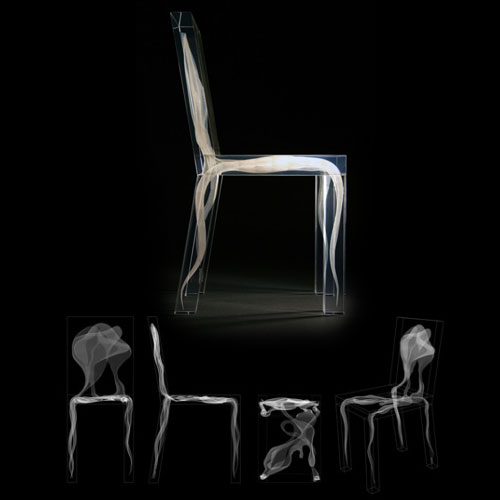 Pelvis Rocking Chair [link]
This striking "Ruby" rocking chair from Pouyan Mokhtarani is modelled on human anatomy. The manufacturer makes a bunch of crazy newage claims about the benefits of this ("This chair is designed in a way that when ever an individual sits on it, he or she will experience the sense of power. This feeling is synonymous to that of a super metaphysic human who can control every surrounding matter.") but I like it because it just Looks Cool; it's entirely conceivable that sitting in it is like being beaten with sticks.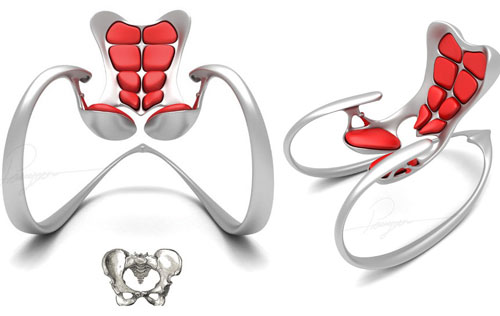 Human leg shaped chair [link]
This one is also a creepy design… the whole chair shaped like a women leg…..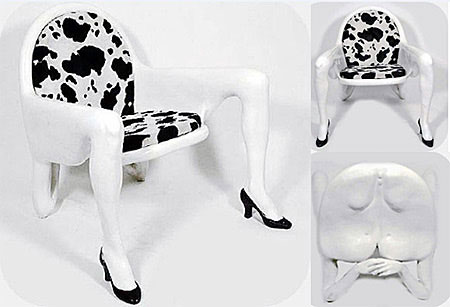 Snake Bar chair [link]
Designed by Svilen Gamolov the Snake Bar Stool is radically designed and resembles a hissing snake ready to strike at the challenged with a vicious and fatal poisonous bite. Carved out of wood this superb piece of furniture can easily blend with any furniture of your home dimension. The incredible color of the snake bar stool gives it a superior look and one can comfortably seat on it. This chair is just a concept for now, but you have to admit that the idea is just awesome.