When the weather starts to get cold, what is better than hold a mug with your favorite beverages? Maybe hold a cute animal shaped mug? Okay, I have to admit, I am a big mug collector and have no resistance to cute mugs. But if you are or know someone like me, take a look at below adorable animal mugs. Maybe it is time to treat yourself with a cute and warm gift? Anyway, take a look and let me know which is your favorite one. The sleeping dino is my favorite.
This post may contain affiliate links. If you make a purchase, Design Swan may earn an affiliate commission. Please read our disclosure for more info.
Panda Hug Mug [buy on amazon]
Fluffy, calm, majestic, and a little bit curious, this adorable and fun Panda Hug Mug will suit all people, moods, and beverages. Whether you're an avid coffee, tea, or hot beverage drinker or simply a fan of cute animals, this panda mug will sure to catch eyes wherever you are. Made with high quality ceramic, this mug can withstand all your favorite beverages whether they be hot or cold. Come complete with a realistic art design to portray the adorable panda complete with a cookie holder.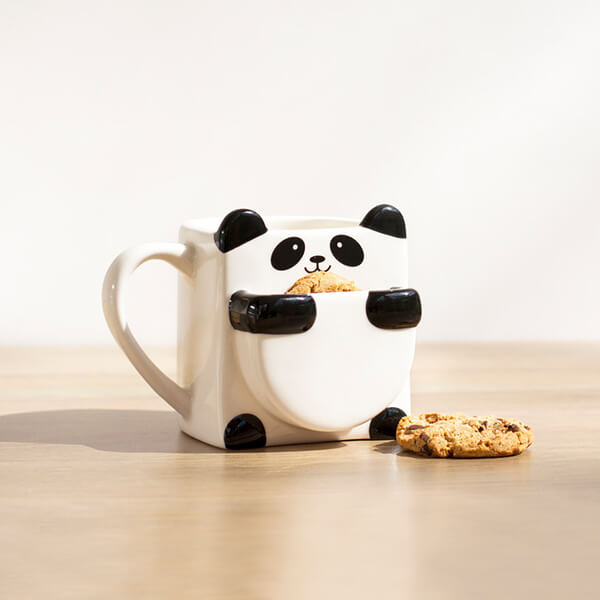 Pinky Up Chloe Cat Mug [buy on amazon]
Knock back your hot drinks with Pinky Up Cat Mug. Cast in white, black, or pastel pink ceramic, this beautifully-designed cup features a shiny golden handle, perky nose and pointed ears on the rim of the mug. Once you've finished your beverage you're rewarded with a cheeky hidden message to remind you that you're 'Purrrfect' and should be 'Feline Good'.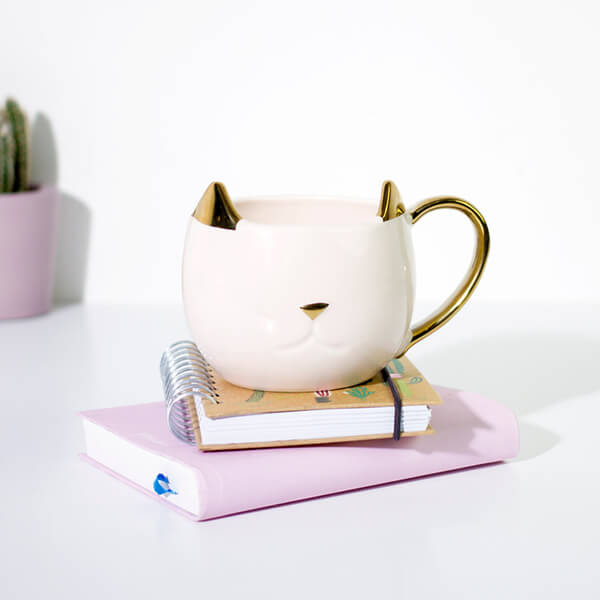 CREATURE CUPS Hidden Animal Ceramic Mug [buy on amazon]
The Land Collection from Creature Cups features animal mugs from the forest, jungle, savannah, mythical worlds, and prehistory. Made with high-fire ceramic, these cups have humorous, fun creatures in the bottom that are slowly revealed as you drink. 11 oz. cup. Exterior color is Cobalt Blue; interior color is white.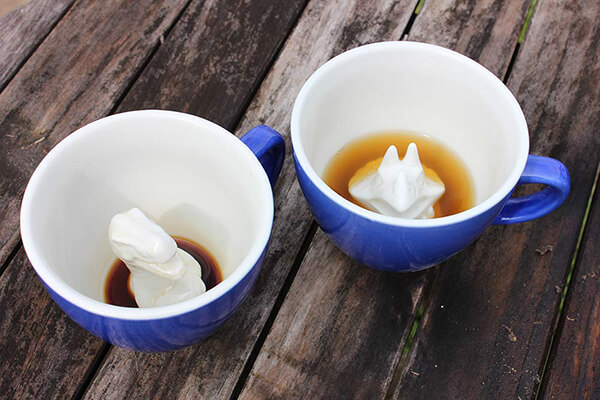 Sloth Mug [buy on amazon]
With a pair of ears to grab onto and an exceedingly generous capacity, it's perfect for consuming large quantities of coffee, cereal, soup. So the next time you're feeling a little sluggish, just relax and take a looooong refreshing sip from the smiling face of the Sloth Mug.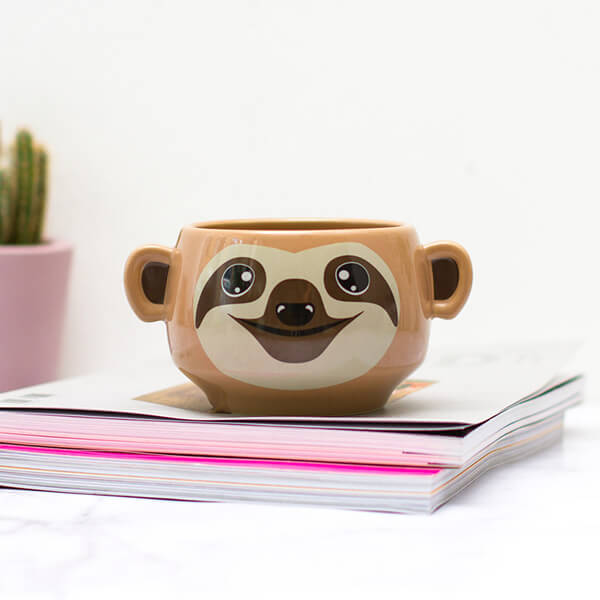 Black Cat Mug [buy on amazon]
A cute Cat shaped mug with a bushy tail for a handle. The perfect present for any Cat lover. It's made of high quality ceramic and holds up to 275 ml of your favorite hot beverage.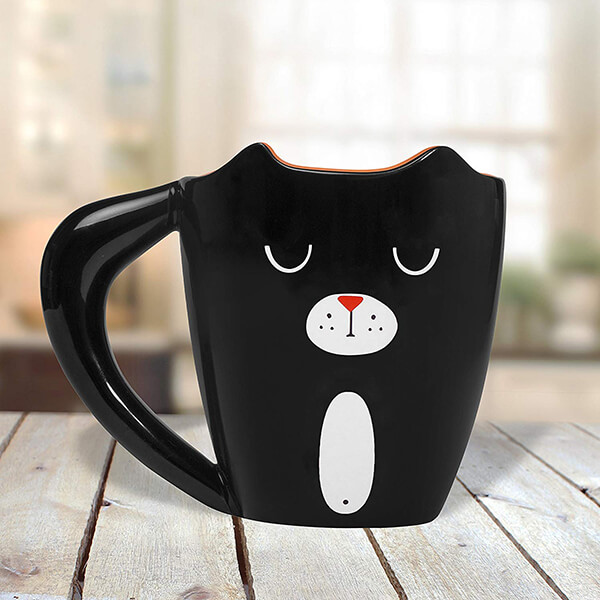 Elodie the Unicorn Mug [buy on amazon]
Meet Elodie the Unicorn Mug, the ceramic sibling to Uni the Unicorn. She looks a little like a mythical Guinea Pig but we can assure you she's very much a thoroughbred Unicorn – just look at that pastel coloured mane and glistening gold horn. Sip your favourite caffeinated elixir from Elodie's spacious cranium and add a little magic to your morning routine.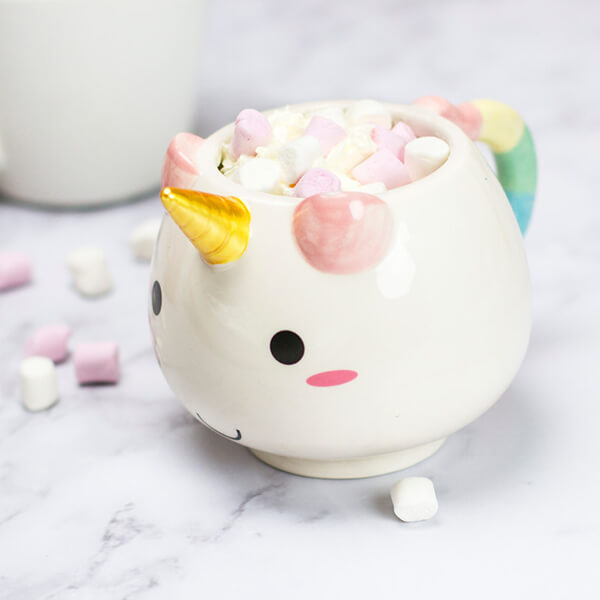 Nari the Narwhal Mug [buy on amazon]
Never mind the ceramic glaze, dinky little horn, blushing cheeks and lengthy eye-lashes – just look at that glorious oversized blow hole! It's the perfect shape for sipping hot drinks out of.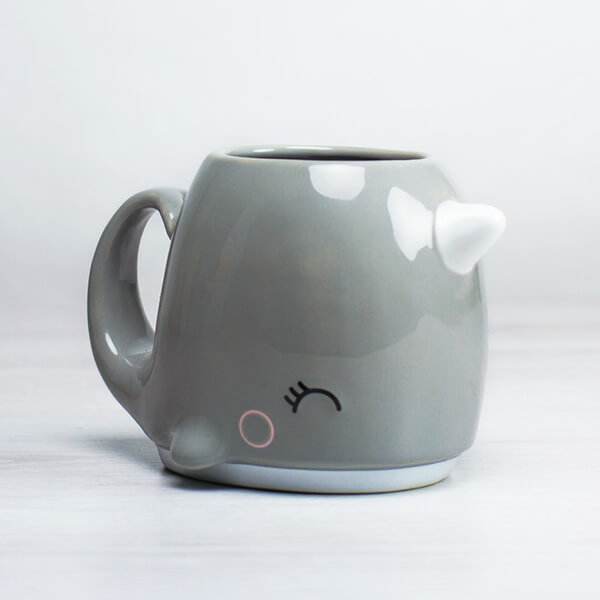 Luna The Llama Mug [buy on firebox]
There's no such thing as too much llamas or too many mugs. And this one has a magical duochromatic glaze that shifts colours in the light! It had to be done, gang. Rev up your kettle and get ready for the cutest cuppa of your entire life – just be sure to be kind to your new llama friend or she might spit in your drink!*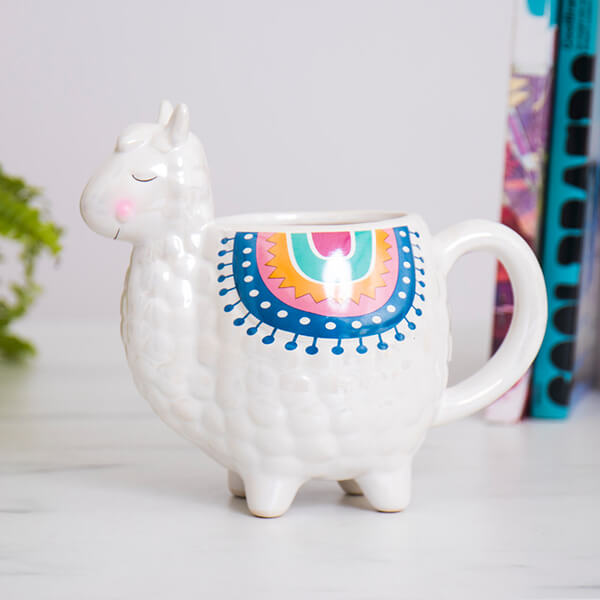 Sleeping Dino Mug [buy on firebox]
Splosh! A rude, wet, warm awakening for the ceramic dinosaur – a flash flood of tea. Or not, because he's a mug and nothing is going to wake him up. He's not dead, he's just ceramic. This has turned morbid, let's move on. Pour your favourite brews into the most adorable mug in the Jurassic period entire universe.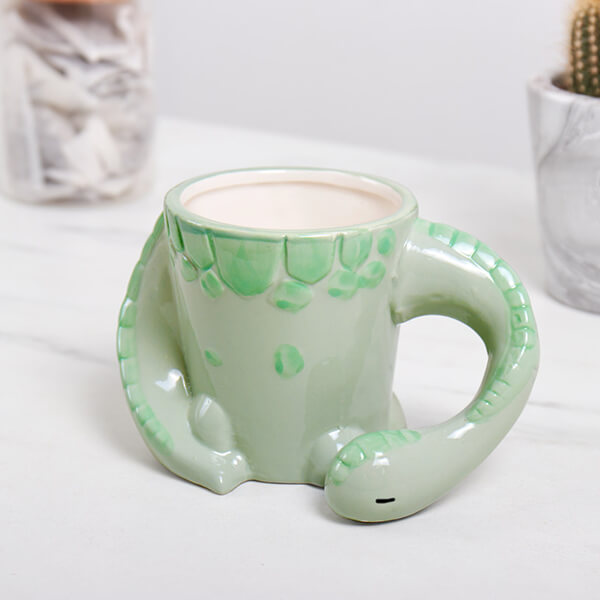 Magical Unicorn Mug and Wand [buy on firebox]
This squat ceramic steed has a flowing rainbow mane, metallic gold features and a cute little wand for stirring up your tea/coffee/whisky/freakshake (delete as appropriate).