For our beloved little one, we want to give them the best we can afford. No wonder there are so many cool cribs you can find on market where our little spend most of time there. In this post, we will present you 10 Cool and Functional Cribs, which combines modern styling, functionality and playtime together. Some of them are super cool, like the jaw crib and carriage crib; some cribs are multi-functional like the tunnel crib and ALONDRA bed. For the rest of them, not matter its design, having one common feature – growing with your kids. Hence, if you happen to look for some cool cribs for your baby, this is the post for you.
We are a participant in the Amazon Services LLC Associates Program, an affiliate advertising program designed to provide a means for us to earn fees by linking to Amazon.com and affiliated sites.
1. Tunnel Crib – TUNNEL PARK [source]
Park is designed for crowded families to welcome different ages of children to play at once. While a baby plays at the top layer of the parc, toddler or preschooler can play in the tunnel below at the same time. The tunnel is removable and the top layer can be repositioned to a lower layer when the baby is big enough to sit up.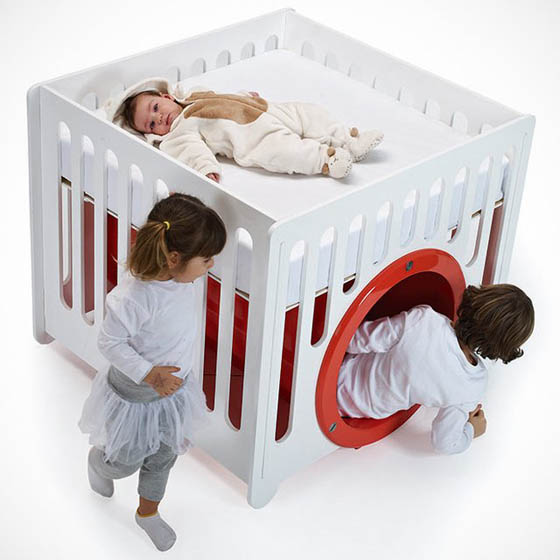 2. Jaws Baby Crib [source]
Unique infant bed designed and made by talented sculptor Joseph Reginella. Giant shark from the movie Jaws appears to be eating the sleeping baby. "You're gonna need a bigger boat."

3. Growth-oriented Crib [source]
The Growth Crib is one ingenious design that embodies sustainability and innovation. This adjustable piece of furniture can be extended as the child grows, transforming into a bed. Two planes of bent, interlocking timber 'teeth' can be pushed together to create a crib structure, or pulled apart to extend the length of the crib and produce a bed.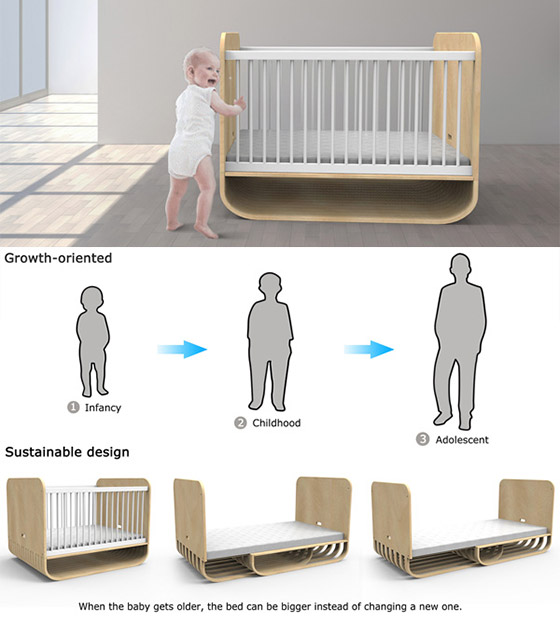 4. Bloom Alma Mini Urban Crib [buy on amazon]
Suitable from newborn. Modern design, solid wood mini-crib sized for urban living spaces. Bassinet with extended life as mini-crib, comfortably up to 12 months (longer lifespan depends on baby size). Sized for room-to-room mobility during nap time; fits easily through small and standard doorways. Patented no-tools-required easy set up in under 5 minutes. Compact-fold construction for easy storage and transport (durable storage bag available). Open slats on all four sides maximize all-important air-flow. 2 position adjustable mattress platform for growing baby. 4 lockable castors.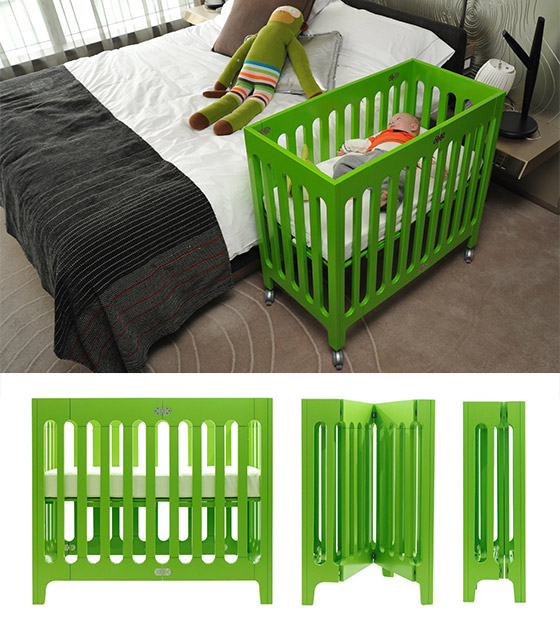 5. aBaby Maxi Cot [source]
Baby Cot – This is for all you mothers out there who wish you could just climb into the crib with your baby to cuddle them to sleep.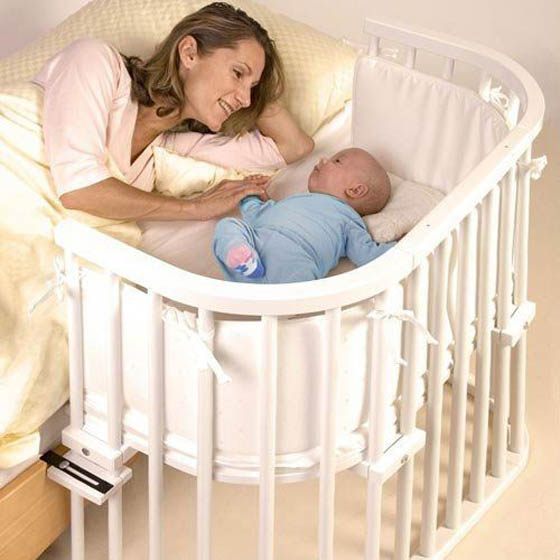 6. ALONDRA Baby Bed [buy on amazon]
Thanks to its sophisticated design, Alondra's flagship product offers two possibilities. Firstly, it is a functional baby bedroom in which you will not lack anything. Once the child has outgrown the cot, it can be turned into a complete junior bedroom, including a bed, desk, bedside table and modules.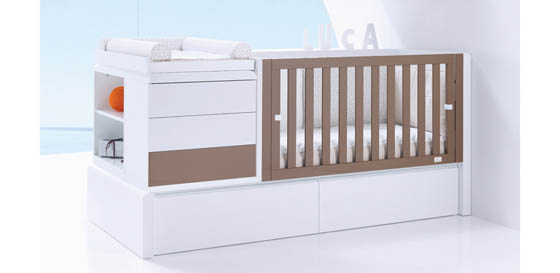 7. ROCKID [source]
Rockid is a cradle for the baby, for Mom or Dad it's a rocking chair. Together and at the same time each with their own space. As the parent rocks, so does the child, effortlessly and with all comforts. While one sleeps, the other can dream. Thus, Rockid creates a contemporary way to foster a bond as old as humanity.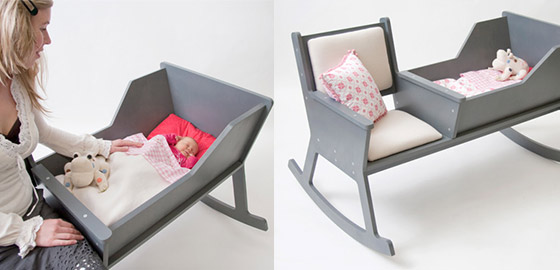 8. Stokke Sleepi Crib [buy on amazon]
The Stokke Sleepi crib's distinctive narrow oval shape creates a nest-like environment that is soft and safe, cosy and curvaceous – a secure, practical, enclosed area where your child's rich and unique fantasy life will know no limits. With the ability to grow with your child, Stokke Sleepi expands to accommodate the changing needs – and sizes – of childhood while maintaining a comforting familiarity. And the wheels mean that as you move around the house your baby can follow you, keeping you both comfortable, even during those daytime naps. Mmm… We're getting sleepy just thinking about it. It starts as a mini bassinet (conversion kit is included in System and Complete sets) and grows into a crib. It then becomes a toddler bed and with a conversion kit (sold separately), it then transforms into a junior bed.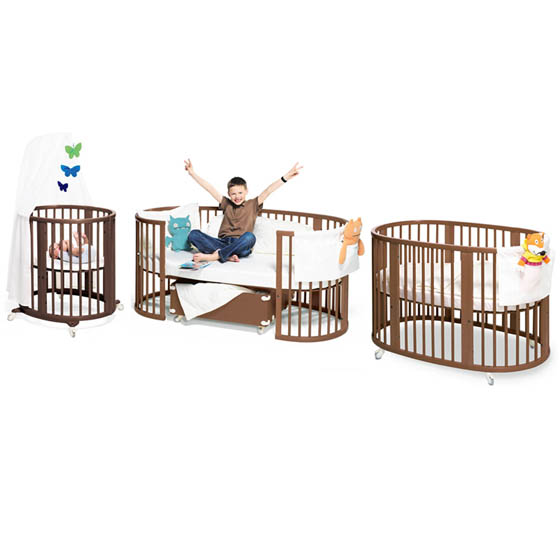 9. Leander Convertible Crib [source]
The crib is actually a 5-piece furniture design in one so it can easily grow along with your child so it is not only adorable, it is also very versatile. As your child grows, the bed can convert into a toddler bed then changed into a larger twin-sieed bed for older kids based on their needs. No additional kits are needed for the crib conversion so your high-quality crib will see your children through their many phases of life.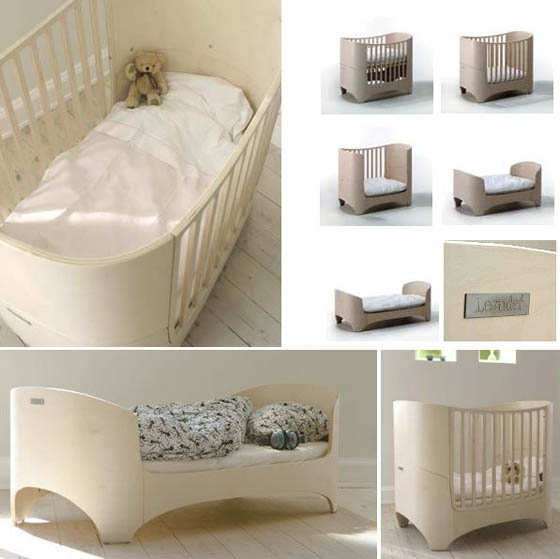 10. Fantasy Carriage Crib [source]
The carriage crib is constructed with a solid cedar frame and birch details. Features a front faux leather seat (not for sitting-max weight of front seat is 25 lbs), rear box designed as a changing table with an overall look of a luggage rack on the carriage. Round mattress included. Finials and drapery are for display only.