Keep your work space free of clutter. Take a look at these 10 Cool Pen Holders and Stands featured in the post, which can not only help your pens and pencils right where you'd expect them to be but also work as a decorative element on the desk.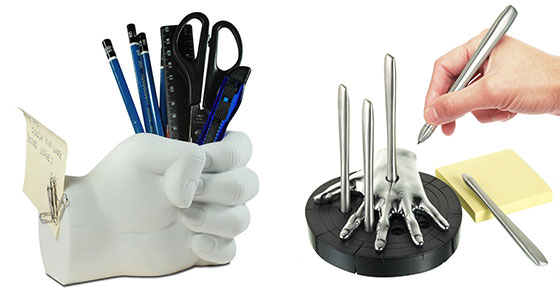 We are a participant in the Amazon Services LLC Associates Program, an affiliate advertising program designed to provide a means for us to earn fees by linking to Amazon.com and affiliated sites.
1. Dead Fred Pen Holder [buy on amazon]
Feeling stressed and frustrated? Need someone to take your aggression out on? And somewhere to keep that pesky pen you keep losing under the edge of your computer keyboard? Well Dead Fred is the man for you! Alleviate all that pent up aggression by violently and repeatedly stabbing Fred through the heart… and is if by magic there it is, just where you left it, your pen right at your fingertips – and your stress and frustration, vanished!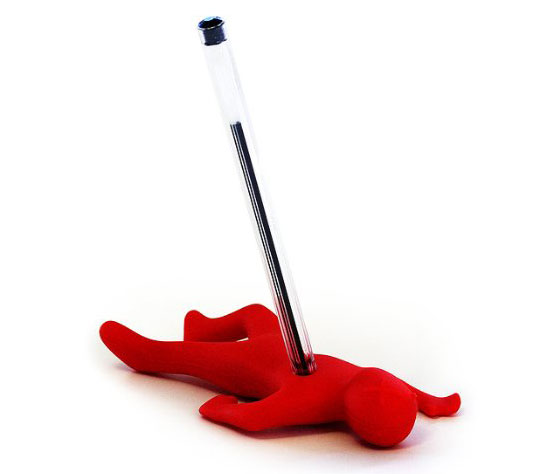 2. Five Finger Fillet Pen Holder [buy on amazon]
A radical alternative to store pens
Unlike anything you've seen
Hold your pens in this unique fashion
Perfect for home, office, or gifts
A wonderful conversation piece. Designed by Raffaele Iannello and Manufactured by CSB Commodities, Inc.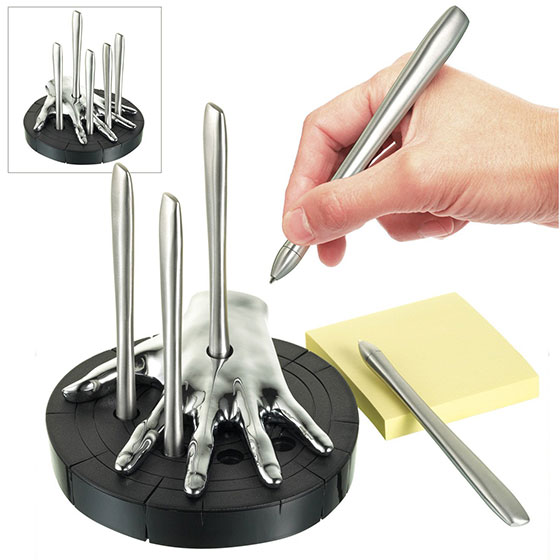 3. Tech Tools Desktop Madness Series Hand Pen Holder with Magnetic Back [buy on amazon]
Keep your workspace free of clutter
Magnet holds paper clips & more
Ideal paper weight
Weight: 2.5 lbs
Durable material: Plastic/Cement Mix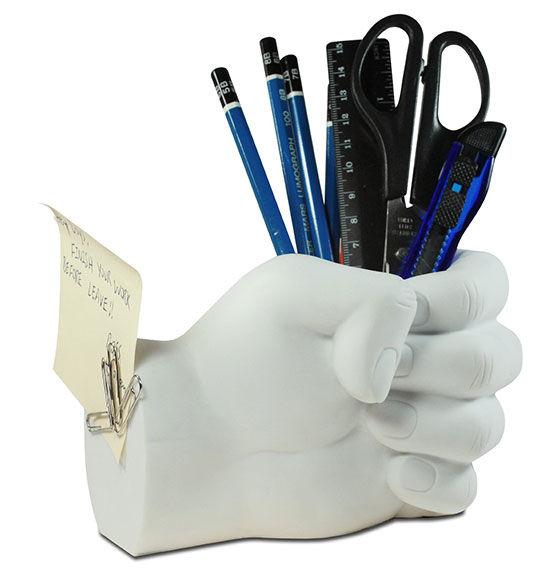 4. PenPen Desk Pen Holder [buy on amazon]
Find your pens and pencils right where you'd expect them to be-with the crumpled paper. This whimsical penholder serves to remind you of the inseparable connection between pen and paper. It also brings to mind thoughts of persistence toward a goal, or even reusing and recycling. But most of all, this attractively deigned piece will bring a smile to your face. (It's great for toothbrushes too.) Measures: 4″ x 4″ x 4″.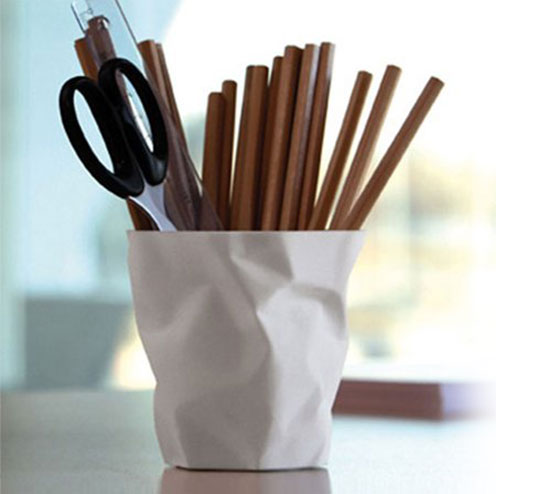 5. Jac Zagoory Pen Stand Coiling Snake Stand [buy on amazon]
Coiling snake pen holder, the Guardian of the pen.
Comes in Pewter, Satin, and Bronze finishes.
Proudly still made in the USA. Pewter. 2″W x 3″H.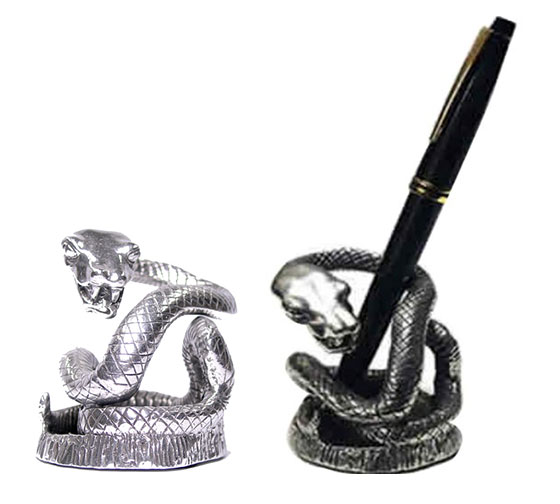 6. Natico Cupola design Series Pen holder [buy on amazon]
Silver Cupola design series desk pen and pencil holder
Contemporary Design
Decorative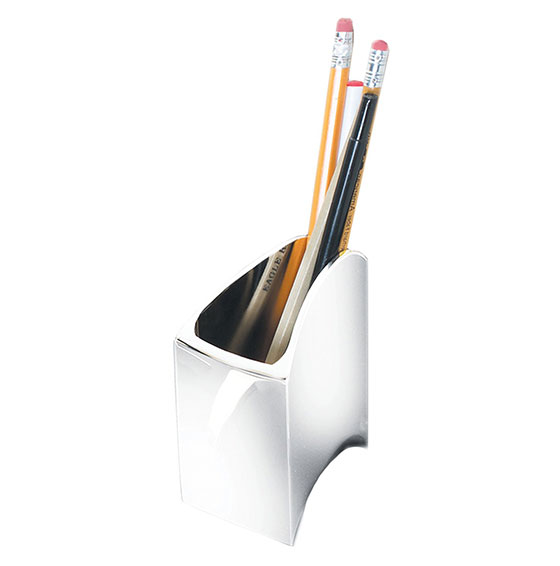 7. Suck UK Sharpener Desk Tidy [buy on amazon]
Keep your desk looking sharp
Oversized pencil sharpener desk tidy
Made of sustainable rubber wood and stainless steel
An ideal gift for any desk
Measures 3.35 x 4.75 x 3.35-inches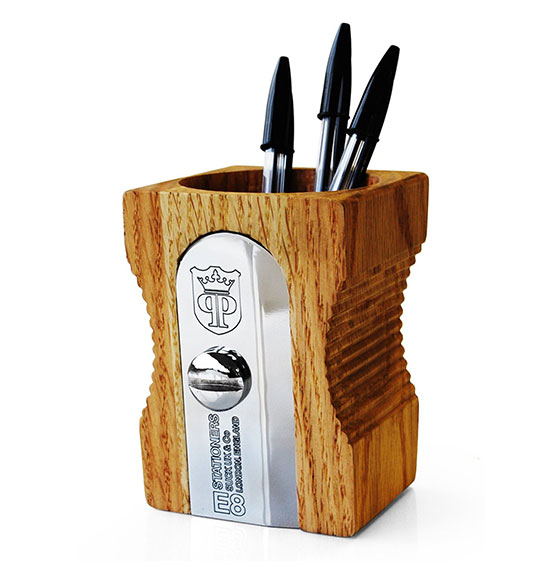 8. Atlas pen holder [buy on amazon]
Strength and poise.
Perfect gift for a new office.
Proudly still made in the USA. Pewter.
5W x 3H x 5D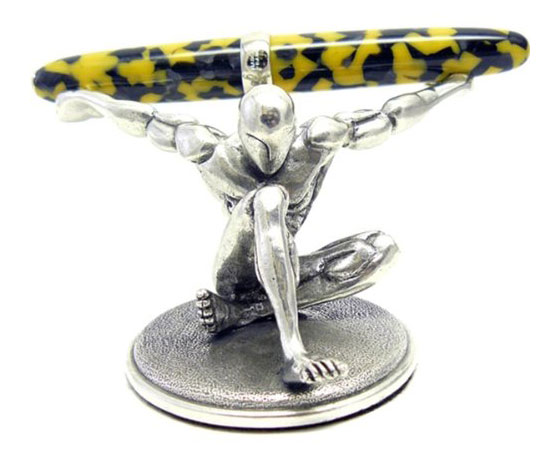 9. A di Alessi Sebastiano Pencil Holder [buy on amazon]
Applying new, fun designs to everyday household items, Alessi has done it again with this pencil holder
Crafted from durable PMMA resin; hand wash only
Comic-strip illustrator Massimo Giacon's fun design makes Sebastiano appear uneasy about all the pencils in his belly
Peruse all A di Alessi items to find like-minded, whimsical pieces; fun for the home or office
Measures 5 inch wide by 5 inches long by 2 inches tall; available in a choice of colors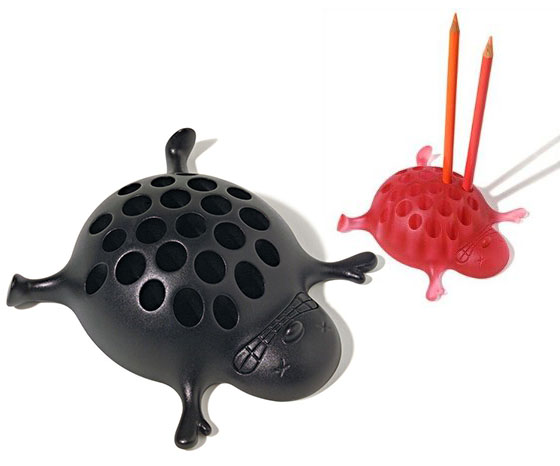 10. Dentist with Patient Female Business Card Holder [buy on amazon]
This Female Dentist can take care of her patient, and your business cards and pens. This Unique recycled steel business card & pen holder makes a great Dentist's office decor piece.
Created from Recycled Steel
Approx. 6″ Tall