Things made out of re-proposed items aren't new anymore. However, not anyone is good at it but you still can contributing to the recycled art via purchasing some well crafted items made out of such items. Wine bottle recycling is a good example. In those skillful hands, humble wine bottles become wind chime, tiki torch, bird feeder, chandelier, latern and more. The original color and bottle shape has been smartly used in these re-creation and bring a new life to it.
This post may contain affiliate links. If you make a purchase, Design Swan may earn an affiliate commission. Please read our disclosure for more info.
1. Wine Bottle Wind Chime [buy here]
These Wine Bottle Wind Chimes are the perfect addition to any back yard or patio. This wind chime is a gorgeous addition to any home or makes a perfect gift for a wine lover or anyone that enjoys being out in the garden during the spring and summer months, with so many color options you're sure to find one you or someone special will love.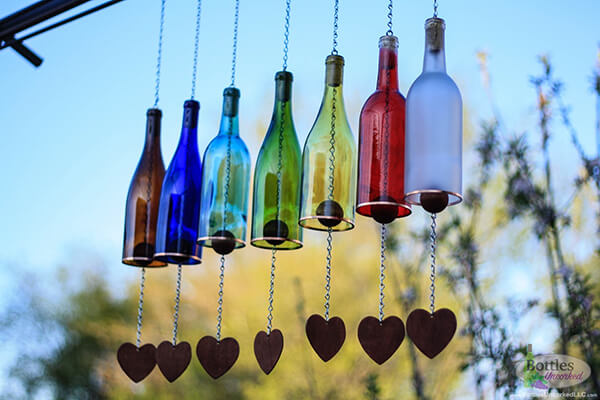 2. Wine Bottle Tiki Torch [buy here]
This beautiful wine bottle tiki torch will make you the talk of your town. This beautifully crafted torch is made from a 375ml wine bottle in either colbalt blue,emerald green, or antique green. It is artfully accented with copper trim that will make you fall in love with its elegant design.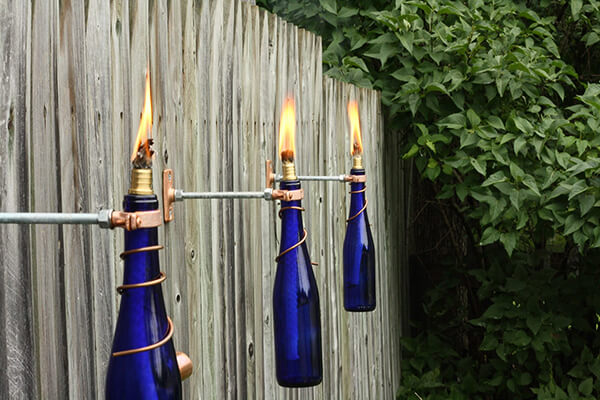 3. Wine Bottle Bird Feeder [buy here]
These handcrafted wine bottle bird feeders will be the highlight of your yard, garden, patio, or where ever you decide to hang them. These ornate bird feeders come in your choice of color and trim. They comes topped with a 'T-cork' for easy removal for refilling with birdseed.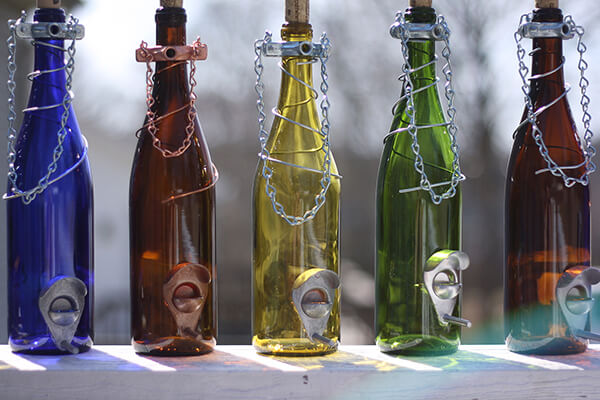 4. Wine Bottle Hummingbird Feeder [buy here]
This artfully hand-crafted Wine Bottle Hummingbird Feeder will add beauty where ever you choose to hang it. Wrapped in copper wire that forms into a hook for easy hanging, this is sure to attract hummingbirds where ever you place it.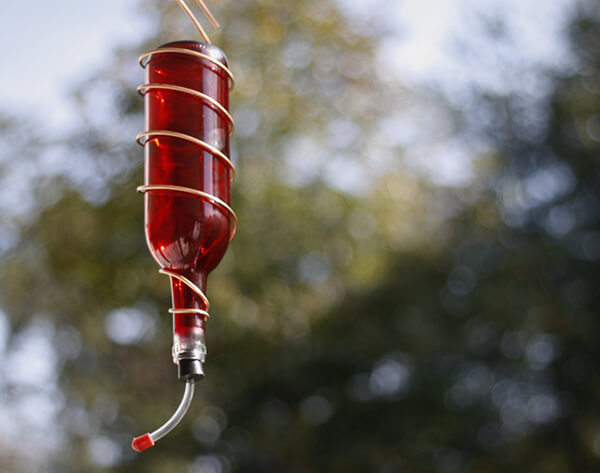 5. Hanging Wine Bottle Lantern [buy here]
Romantic indoor or outdoor lighting. Option of 1 Green, Amber, Yellow, Cobalt Blue, or Clear glass 750ml wine bottle. The chain lengths can easily be changed with a simple pair of needle nose pliers by you at home.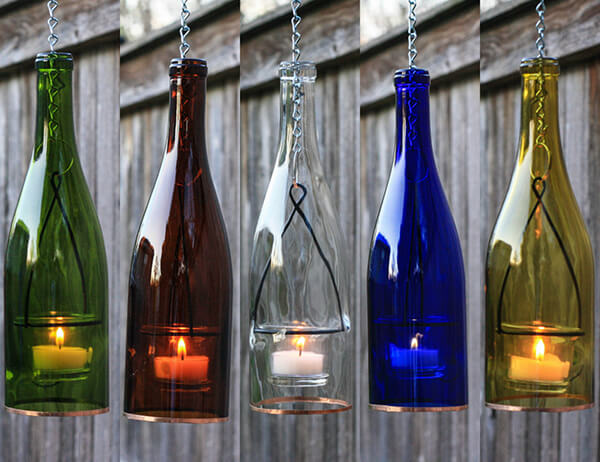 6. Wine Bottle Chandelier [buy here]
This wine bottle chandelier is handmade from reclaimed wood. The pendant wiring is a black cord with satin sockets and 11 professionally cut and polished cascading recycled wine bottles. It is breath-taking in person. This would be the focal point in any room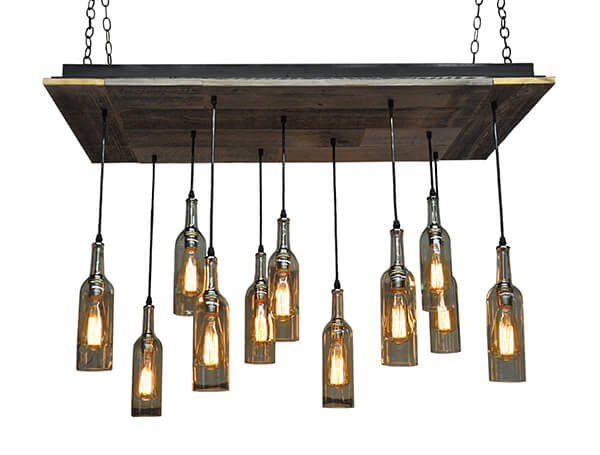 7. Wine Bottle Flower Vases [buy here]
The box is made out of wood and includes iron decorative knobs to give it a custom look. The face is covered with wire and it includes 7 full size wine bottles (750 ml).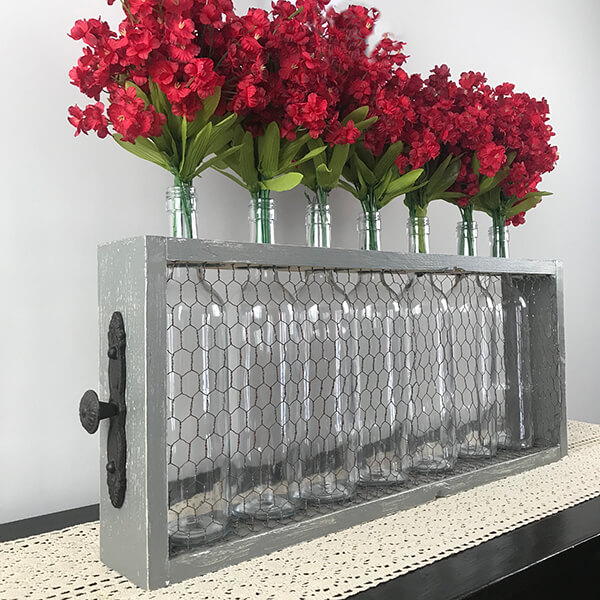 8. Wine Bottle Torches [buy here]
Brighten up your nights and chase the mosquitoes away. Our beautiful citronella torch set is hand painted with a soft blue glass paint, filled with brilliant marbles, and table ready. Whether you're entertaining or just enjoying a book, these torches will light your night and keep you bite free!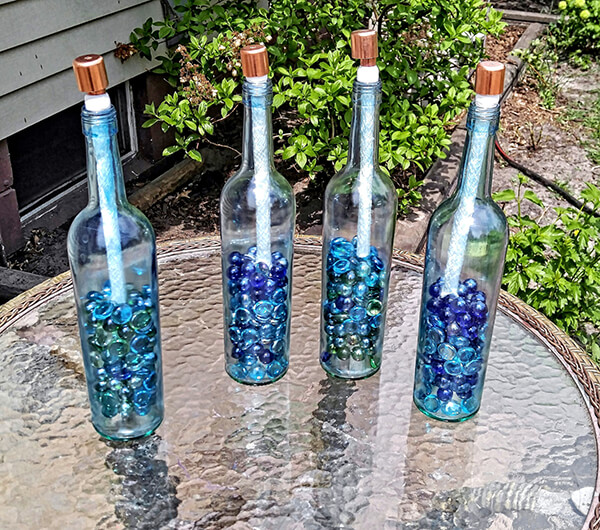 9. Wine bottle lamp [buy here]
This barn wood lamp is made from a recycled wine bottle, the whole process is made by hand. Upcycled bottle lamps make excellent accent anywhere in your home or outside.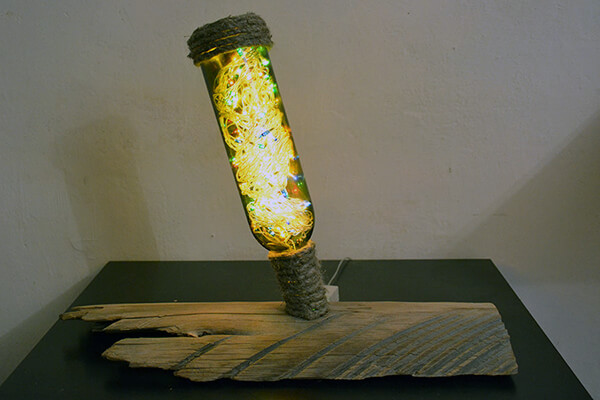 10. Wine bottle Wall Sconce [buy here]
A simple wall sconces but stylish, completely handmade. A perfect gift for wine lovers. Using the most recycled materials and fully customizable.