Winter is coming, heater is on and the uncomfortable dryness is here as well. Althoug it is said, Humidifiers typically don't improve overall health, nor are they needed for the health of your home. But you should still admit, cool mist on face does feel good when you stay in a heated place for long time.
For the person like me, the dryness just cause irritation and my sensitive skin makes it even worse. Hence, I just can't live without humidifiers in winter time. I have those large ones runing for the whole place but a small cute one that I can carry around also comes in handy in many cases.
These mini, portable ones shown in this article look quite different from our normal, conventional (boring) humidifier designs and easily carry for travel, tabletop & car console as well. Most of all, they are stylish and affordable, which make them a pretty good gift option.
HOPEME Cool Mist Humidifier [buy on amazon]
✧ Professional cool mist humidifier, decent water tank (300ml), consistent mist (50ml/h), quiet working noise (<30dB) and long working time (8 Hours).
✧ Lovely Animal Characteristic, plus the 7 colors LED mood light, a great ambiance decoration to your home, office and car.
✧ Automatic Power-off Protection, will never have to guess when the reservoir needs water.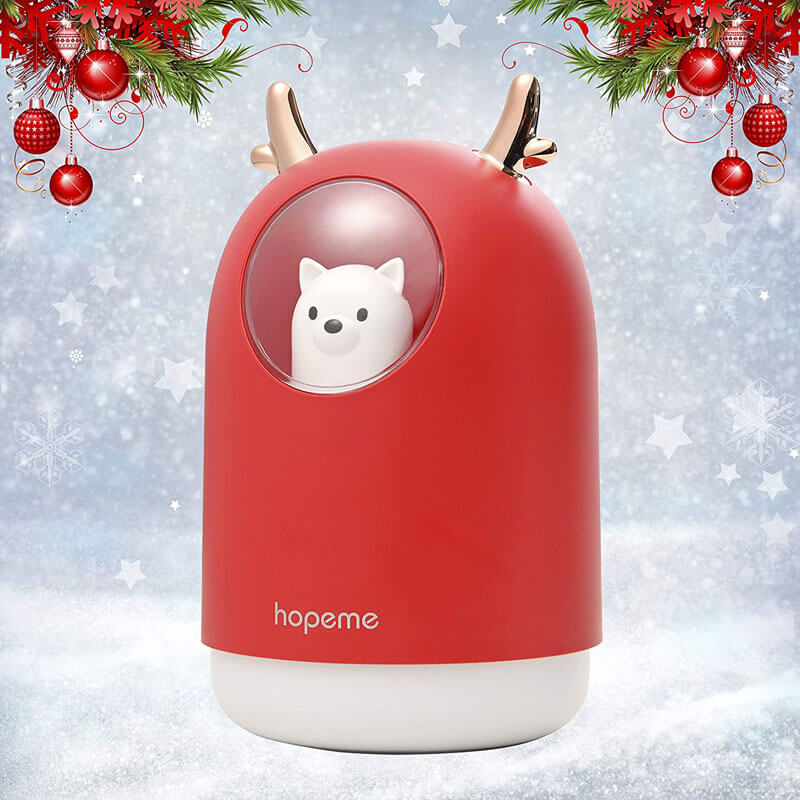 AmuseNd Humidifier for Bedroom [buy on amazon]
✧ There are two atomizers on the top that can work at the same time, make this USB humidifier work in three different modes: Two atomizers, Single atomizer, and Alternate work.
✧ 1L humidifier, put it in the bedroom, bedside or office. It can keep humidifying the air for 10 hours
✧ It's almost noiseless, and even if we put it to our bedside at night, it doesn't interfere with our sleep.
✧ There is a separate button next to the power input port to control the night light function.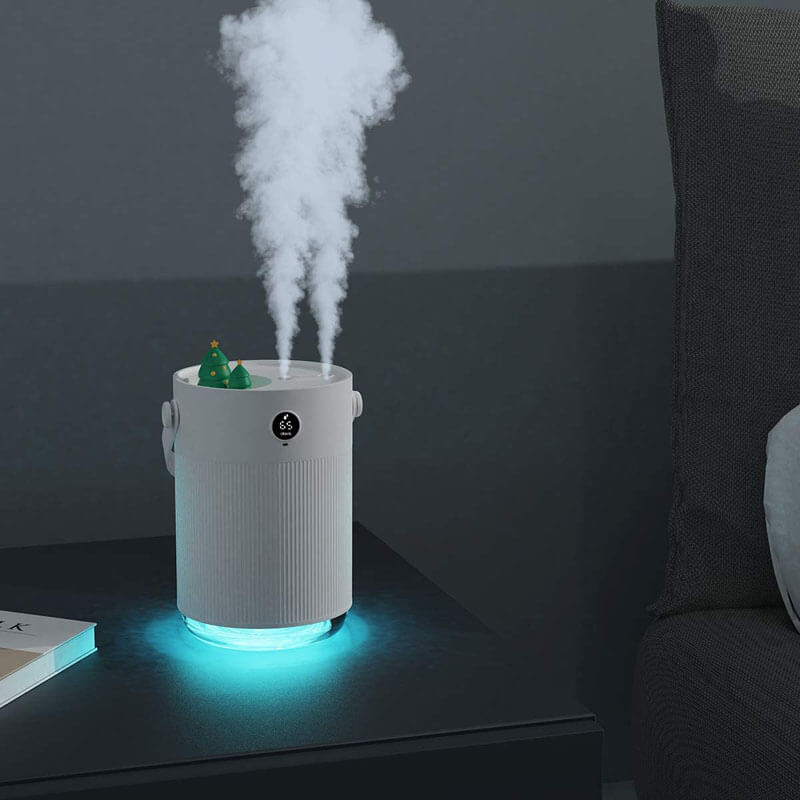 AOLODA Mini Portable Desk Humidifier [buy on amazon]
AOLODA rabbit humidifier quietly moistens the air in small spaces, providing the ideal moisture balance to help you breathe better. Easy to keep your living space humid. Providing healthy moist air for your family, no matter when you stay at home, at work, even in traveling.
Features:
✧ Lovely rabbit design
✧ USB-powered humidifier
✧ 7 color breathing light
✧ Timed auto shutdown
✧ Ultrasonic operation and ultra-silence design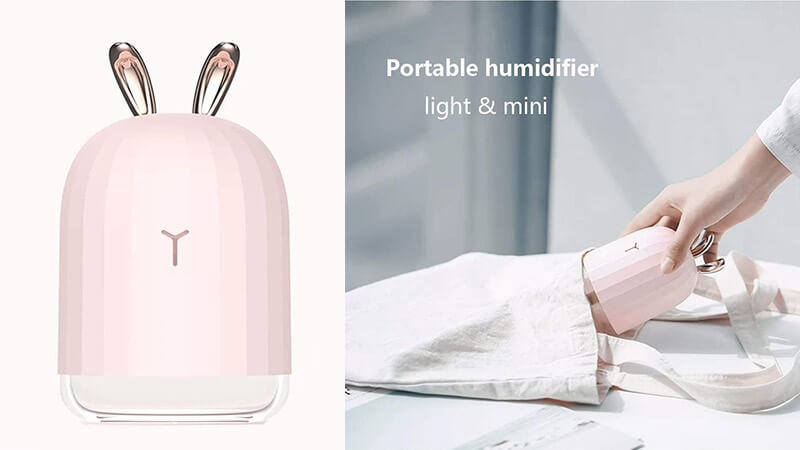 JISULIFE Mini Travel Air Humidifier [buy on amazon]
✧ Equip with 3600mAh battery,wireless humidifying for a whole night,just take it to anywhere;
✧ Double outlets,dual mode.To meet your requirements for spraying;
✧ Large capacity,easy to add water and can contain 1L water,say goodbye to adding water frequently;
✧ 12-24 hours endurance,depends on how you use it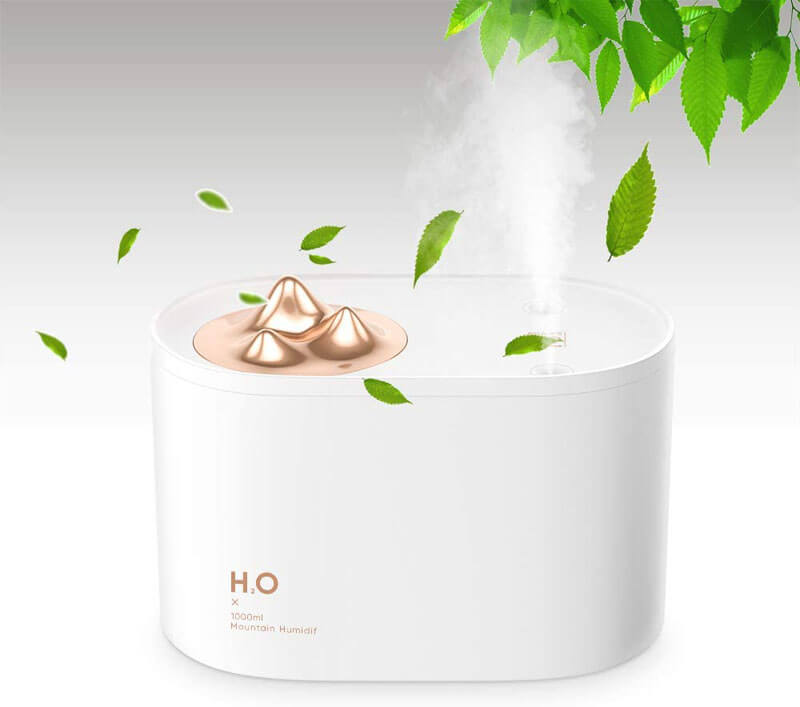 Portable mini humidifier with led lights [buy on amazon]
Perfectly fits any kind of room and deals with different environments. The cool mist helps prevents dry eye, scratchy nose and throat, offer sound sleep and reduce static electricity when it's dry in the winter. Portable humidifier for kids has an innovative 360 ° rotating stand, rotating casually for any angle of humidifying, light projecting, any angle as you like. The humidifier will not produce a lot of water droplets during use, which will bring you a feeling of relaxation and calmness.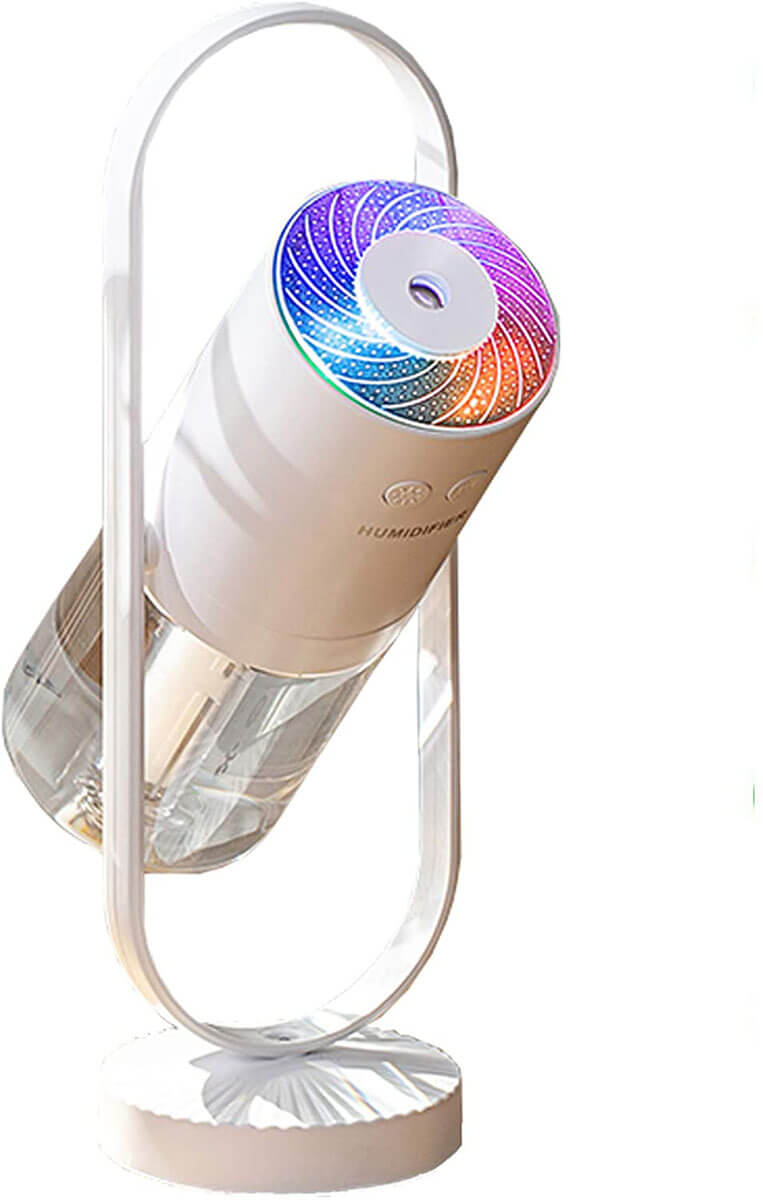 Mini Train USB Humidifier [buy on amazon]
Small train humidifier, simple packaging of literary and artistic fan, gift-giving should also be the best. ltrasonic fine water mist, 110,000 times high-frequency vibration atomization sheet, make the water molecules quickly become fine and soft, long-term moisturizing without drying. 1 hour lights off, 4 hours humidifier automatically power off.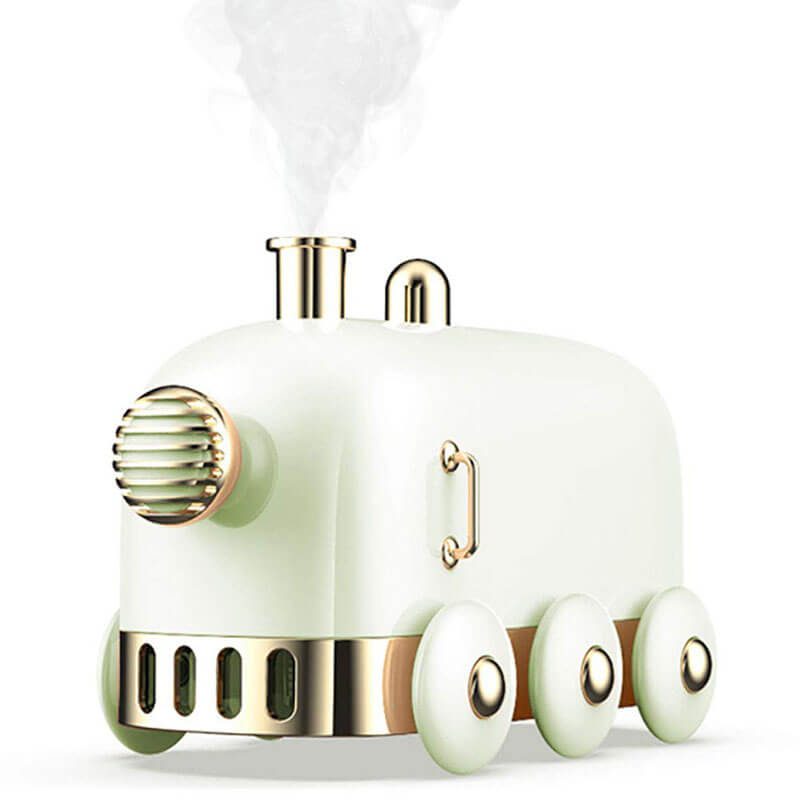 Cute Rabbit Air Humidifier [buy on amazon]
This mini USB Car humidifier has two modes.One mode,It can continuously spray for 7 hours once you press the button.Another mode,it can intermittently spray 10 seconds (stop 10 seconds) for 10 hour
This USB humidifier is also a night lamp with two light modes(warm and cold light). Cute humidifier automatically shuts off when the water level is low or working for 8 hours, to prevent equipment damage and ensure the safety of children.
This portable humidifier plugs in your car, it is portable to be taken anywhere and fits perfectly to any vehicle cup holder with USB cable.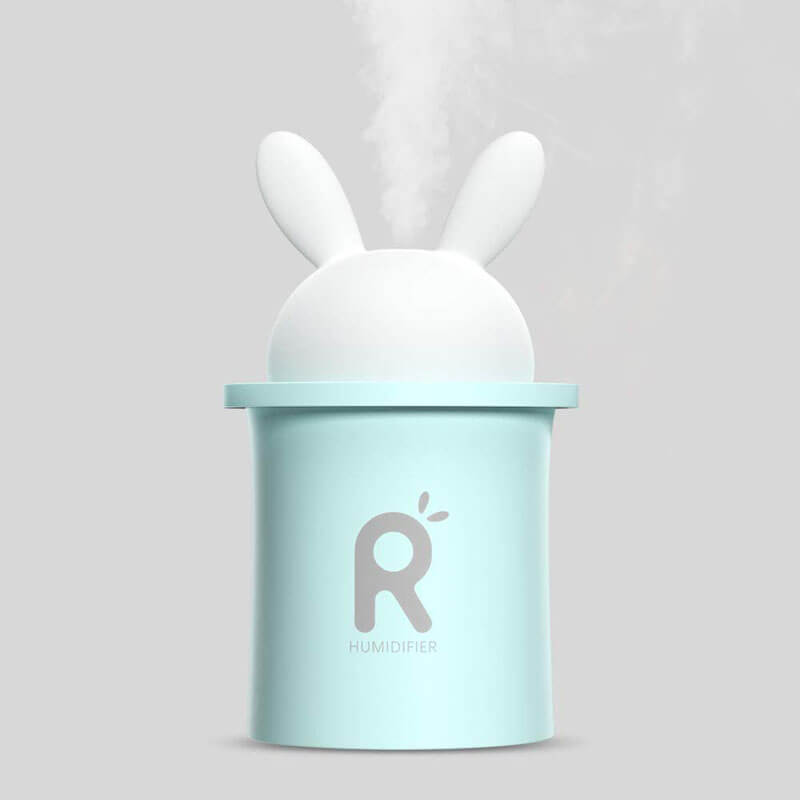 Portable Cactus Air humidifier [buy on amazon]
Humidifier has nanospray. As humidity increases, you can prevent colds and allergies. Also, relieve stress and protect your health.
Advanced ultrasonic technology prevents drying and tearing of the skin during the dry season, no noise. You can enjoy high quality living.
The night light can be used as a bedside lamp to create a relaxing environment with a worry-free sleep.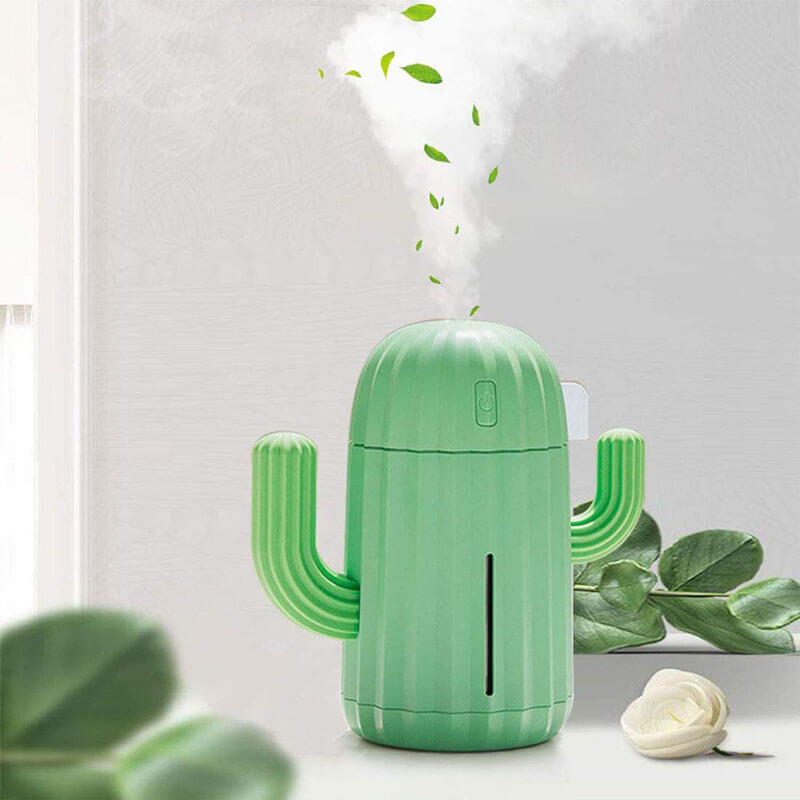 Personal Air Mushroom Humidifier with Night Lights [buy on amazon]
This mini car humidifier is small and light which is easy to carry. It is suitable in bedrooms, offices, living rooms, cars and travelling.
The quite diffuser adopts ultrasonic technology, it is extremely quiet. The machine will safely and automatically shut humidifier off when water runs out.
The ultrasonic car humidifier emits a steady mist of soothing soft swirls to drive the dryness away.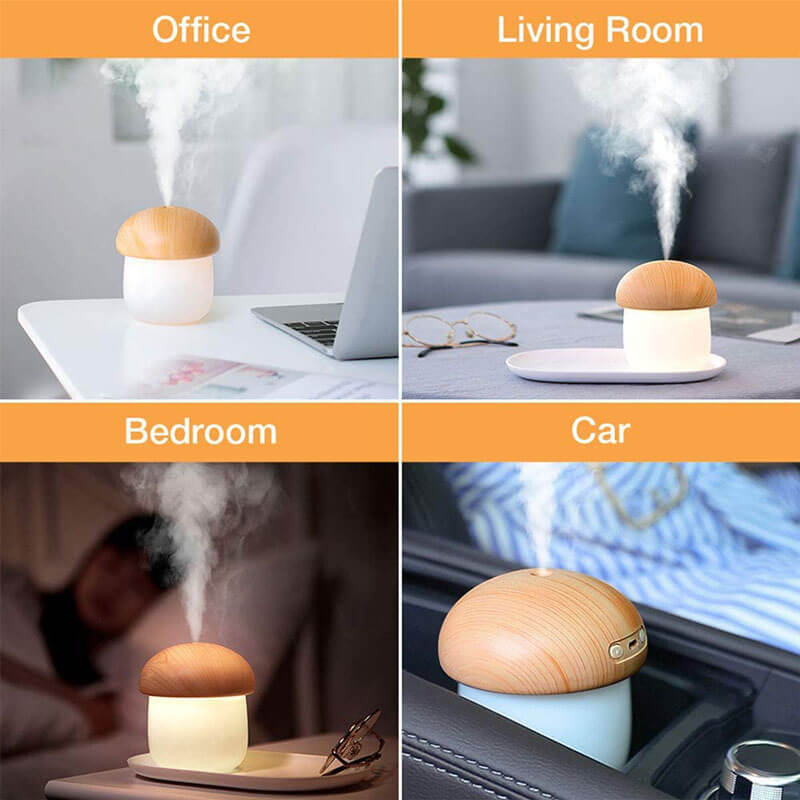 LivinArts Mini Portable USB Humidifier [buy on amazon]
This cute mini portable cool mist diffuser has no water tank. Comes with two sizes of cotton cores and can be easily switched, fits any container you want, mug, water bottle, or glasses. Takes no effort to add water compare with regular humidifiers, also saves trouble cleaning water tanks.