The kitchen space is considered the heart of the home because it's the most used room. In addition to that, the kitchen is where you enjoy spending most of your time with friends and family. That's why most people aspire to have the right kitchen that is inviting and aesthetically pleasing.
Awesome and Unique Kitchen Ideas You Must Follow
If you are looking for inspiration for your next renovation project, check out our gorgeous unique kitchen ideas on a budget that help you in the process of making creative decisions:
1. Modern and Minimalist
If you like the modern and minimalist look, consider opting for stainless-steel appliances. They provide a sleek look with a modern touch. Your countertops and cabinets will be of the same colour and provide a clean look along with ample storage.
The minimalist approach is sustainable and practical as it allows you to cherish meaningful items. Decorative ideas of Homes and gardens will help you make your space look clean and sophisticated and also help in avoiding unnecessary clutter.
2. Ideal Countertops
You can make the most of your countertops to add functionality to the kitchen. An ideal countertop will serve a multi-purpose and offers you a place to cook, wash and dine. Moreover, unique kitchen countertops come in so many different varieties. You need to pay attention to their quality, durability, care and maintenance. Thus, before making a final decision, try using the samples of Caesarstone to know how it will look in your space.
3. Open Shelving
While cabinets provide storage, open shelves allow you to bring the decorating and styling element in addition to storing your regular kitchen appliances. It allows you to showcase your creativity in the styling portion. You can mix-match your dishes, mugs, glasses, jars with vases, books, and statement pieces.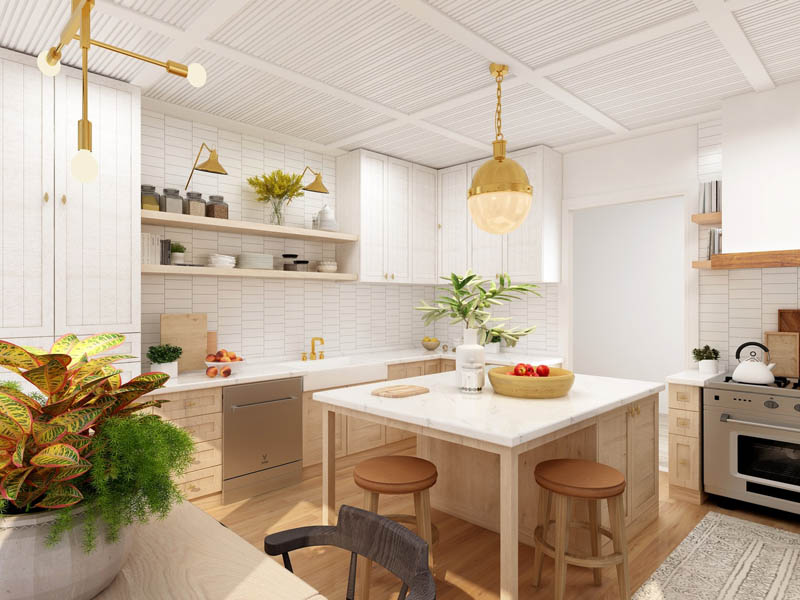 Furthermore, if you are not comfortable going all the way to an open concept, you can also go for a half & half look. It allows you to have hidden storage via cabinetry and open storage via some open shelves.
4. Statement Backsplash
Go for the backsplash that will add a statement to your kitchen. It is one of the great unique kitchen ideas. You can add a little drama in your kitchen by putting a creative stamp through the backsplash.
There are many varieties of backsplashes like different patterns and colours of tiles, stones, granite, quartz, etc. You can also be a little creative by doing the backsplash only in the main part of your kitchen while leaving the rest of the space bright and light.
5. Bar Carts
If you are running on a low budget or don't want to invest in a large island, you can add a smaller decorative table or cart. It gives you a workspace along with storage options.
A small bar cart is an amazing alternative that provides you with a decent amount of counter space and easy transferability. As bar carts are portable, you can move them around according to your convenience.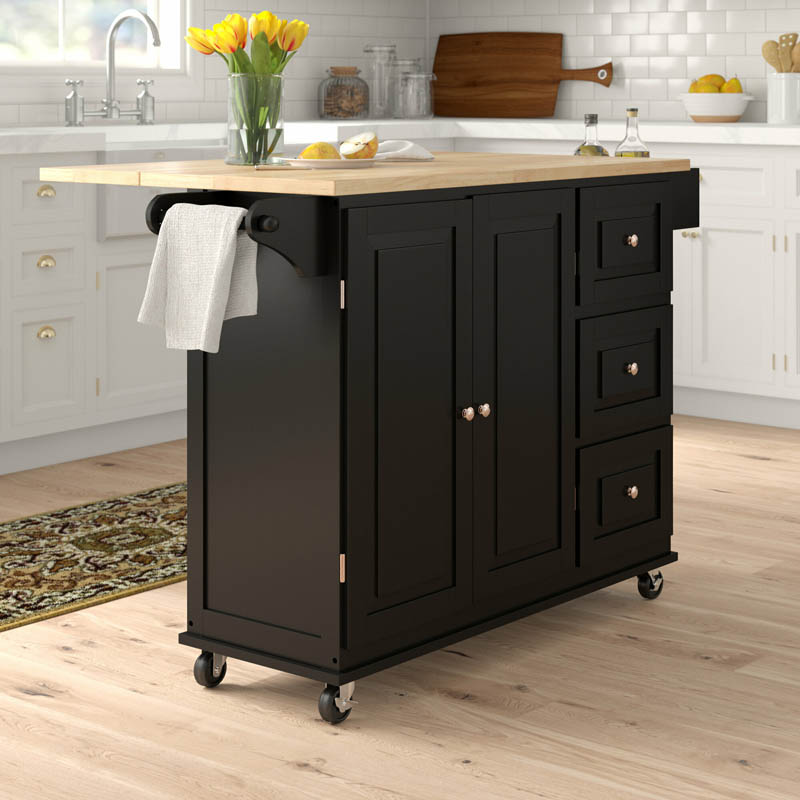 6. Hidden Kitchen
If you live in a small condo or apartment and want to enjoy a maximum open and clean space, you should explore the hidden or disappearing kitchen. It is fully integrated into the walls and is covered by large door panels.
The main feature of this style is to conceal the small space after cooking or when needed. To avoid clutter and have smart storage.
7. Skylights
If you are a sunny person and love the feel of nature around you, you can consider streaming the skylights in your kitchen. You can bring in the natural light and make your space bright and sunny by adding roof windows.
A skylight will let in more natural light while creating a feeling of open space. It also gives you the illusion of being a part of outside premises by making your ceilings feel higher. Skylights elevate the whole feel of a traditional kitchen.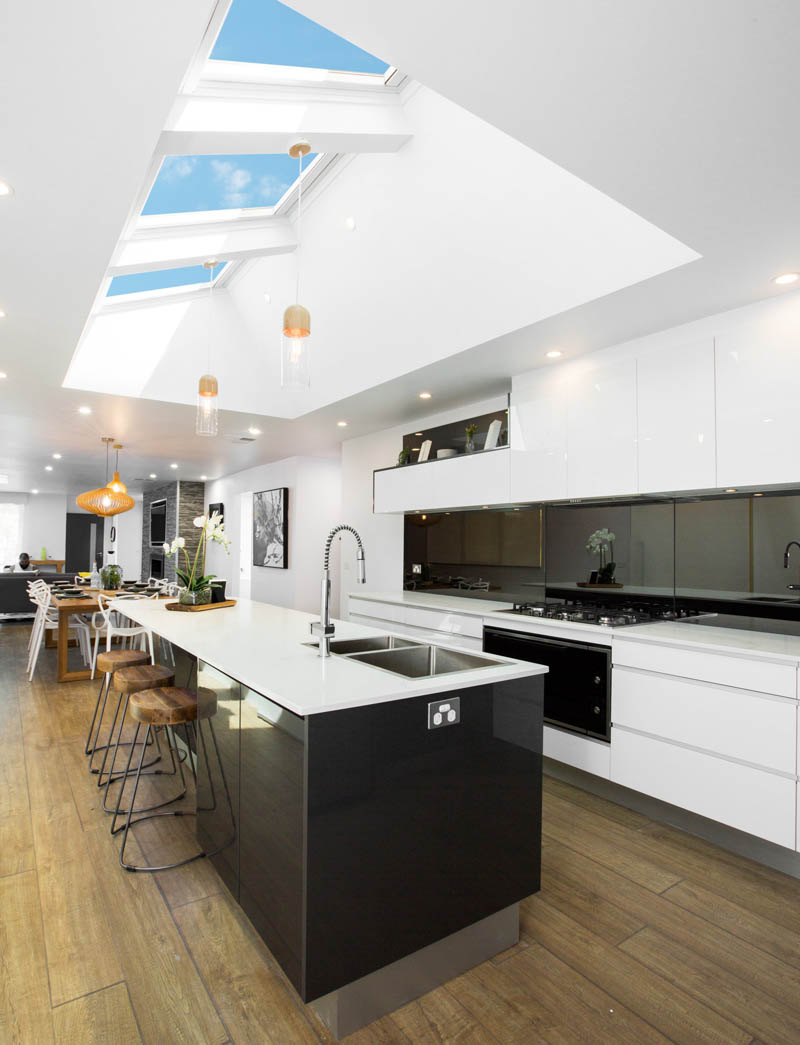 8. Smart Lighting
Adding smart lighting will help you completely change the look of your kitchen. It will highlight all the areas, including nook & crannies, and provide a clean and spacious look. The addition of LED strips and spotlights can take the look of your kitchen to another level. You can use them to showcase your decorative details.
Moreover, with the aid of technology, you can have the element of automation or can control the lighting through your smartphones. Smart lighting also allows you to sync them with music and more.
9. Impressive Colour
To match your happy sunshine personality, you can add colours to enhance the look of your space, like painting the countertops, window frames, doors, cabinetry, etc. Remember, an impactful colour that always pops out whenever you glance in the kitchen.
To make your kitchen brightening and inviting, check out the spruce to get inspiration and decorating ideas. Then have fun with adding splashes of colour in your kitchen and create your own personal favourite theme.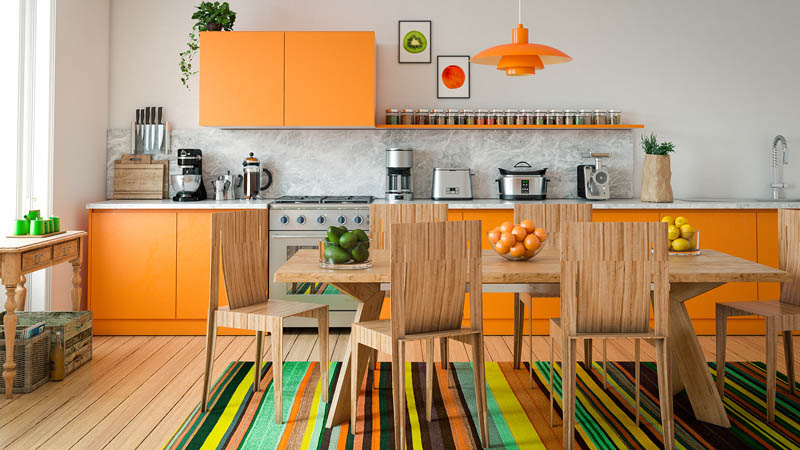 10. Dark and Moody
These days, dark and moody kitchen themes are on-trend. Deep & saturated colours and bold patterns are making a huge statement. So, if you want to add some moodiness to your space, consider going for a dark theme.
You can add dark-tone furniture, cabinets, countertops, and appliances to gain a specific look. You can even consider painting your walls a dark colour to gain an ambient look. Just make sure everything is in sync and complement each other.
Conclusion:
You should consider the popular kitchen styles defined by their names. For example, the most popular kitchen styles are classified as Classic kitchen, traditional kitchen, cottage kitchen, contemporary kitchen, modern kitchen, farmhouse kitchen, industrial kitchen, Mediterranean kitchen, rustic kitchen, French country, and craftsman.
In all contexts, you can add the elements you like the most. It helps in contemplating the design and style that match your personality and elevate the look of your space.
I hope the list of unique small kitchen ideas mentioned above will help you select the unique style that makes your kitchen inviting and cozy. Remember, these are only tips and ideas. You can mix-match these unique kitchen ideas to get your own style.