Maybe we are still not that creative since one thing we never thought we'd be applying our creativity to is a calendar. But after checking out this post, which features some very unique and creative calendars, probably you will say "Woo, we do have some inspirational and innovative calendar!".
Most of these calendars are very unique…something that you might not expect in calendar. These calendars are also fun to use and may require your involvement since some of them are quite interactive in nature. I hope you will find the calendar designs inspirational.
We are a participant in the Amazon Services LLC Associates Program, an affiliate advertising program designed to provide a means for us to earn fees by linking to Amazon.com and affiliated sites.
1. An Apple a Day Wall Calendar
Creative apple calendar from Germany reminds us that an apple a day keeps the doctor away.
Every day, after you remove one apple from the tube and eat it, the rest of the apples will move down and reveal today's date. At the end of the month, the tube is refilled with 31, 30 or 28 apples.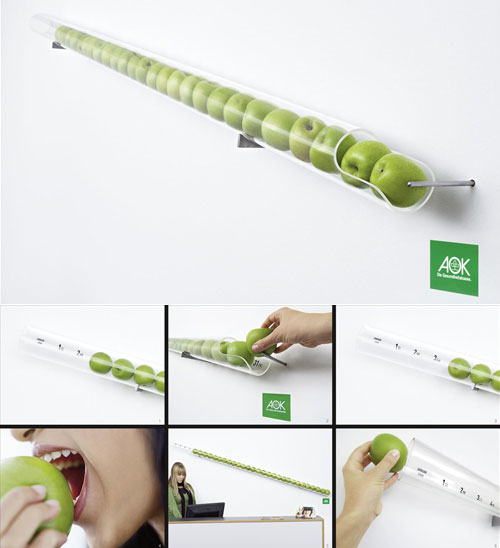 2. Everlasting Calendar Tape
The Everlasting Calendar Tape (not really everlasting of course – but very very long) is multi-functional sticky tape that works as a calendar, diary, organizer & planner. As well as being pretty useful packaging tape! And here's where the creativity comes in – easily create each month in any day and date combination, by using the two separate rolls and sticking them next to each other.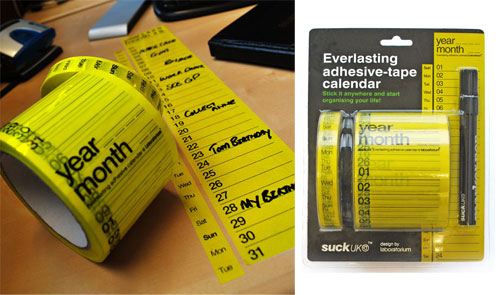 3. Keskin: Calendar [link]
This is an advertising calendar for all Keskin-dealer, which was intergrated in an original car tyre. Month to month the calendar sheets show a stylish new Keskin rim. In doing so changing the calendar sheet became changing the rims.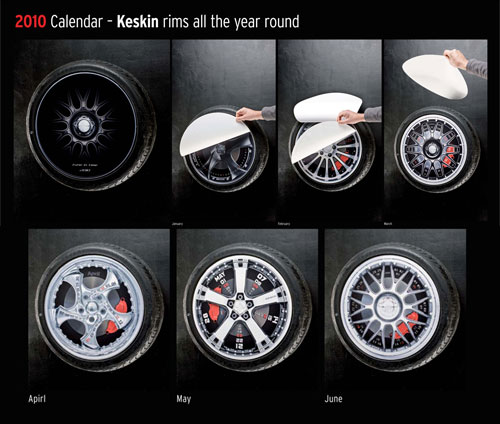 4. Napkins Calendar [link]
Unusual daily calendar by Russian designer Stas Aki.
You know it is actually weird for me. Do I only allow to use one napkin per day?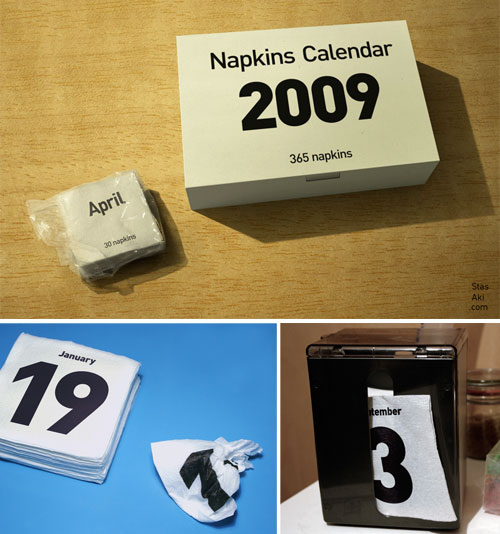 5. Matches Calendar [link]
What a creative idea! Calendar made of matches. Designed by Yurko Gutsulyak, each page is a month and it looks like a comb made of matches that correspond to the days. The matches are real and the construction of the calendar is absolutely safe.
Kind of a reminder that time goes really fast… Just like enlightening the match.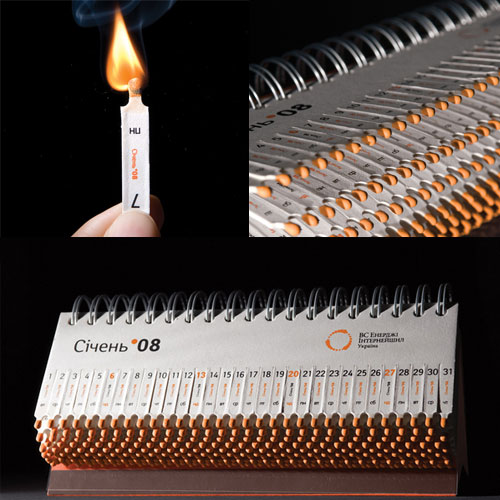 6. Say goodbye to yesterday – Shredder calendar [link]
The Chrono-Shredder is a wall calendar designed by Susanna Hertrich that shreds the days as they pass. It takes a full 24-hours to shred a date, but only 10 minutes to run a dead hooker through a wood-chipper.
The Chrono-Shredder is a device that reminds us of the preciousness of our lifetime. It represents the passing of time by shredding the days of the year – printed on a paper roll – at a slow constant rate. To shred one day takes 24 hours. There is no "off"-button. As the seconds pass by, the tattered remains of the past pile up under the device…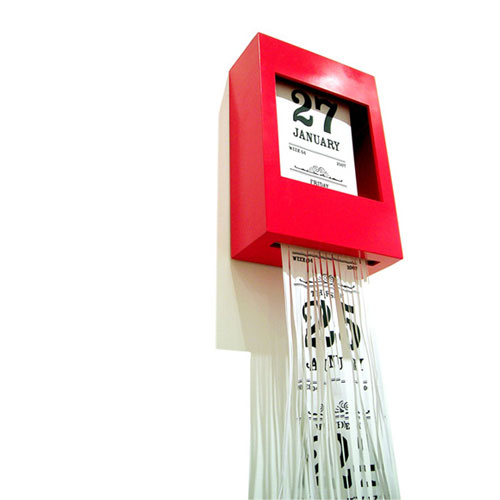 7. Ink Calendar [link]
This cool calendar is dipped in ink, and it'll bleed as the days go by. Each number on the calendar is printed daily, until the end of the month when the ink well is dry. So, the calendar not only signals elapsed time but gives a true sense of it. The calendar is an invention of Oscar Diaz.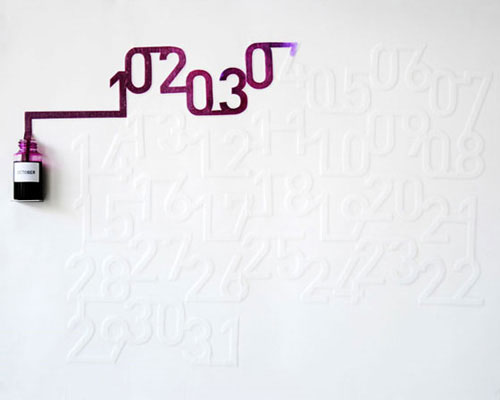 8. Dorogaya magnetic calendar [link]
Awarded a bronze prize at Kiev International Advertising Festival '08. Has 31 days of months, just in case, and month names are abbreviated to three letters. There are also special chips like "Dead line", "Arrival", "Drink day", etc.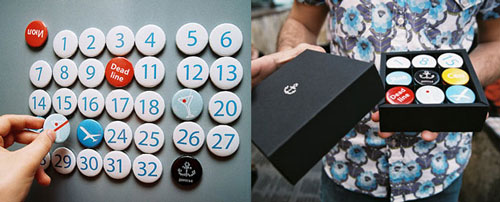 9. Puzzle Calendar [buy on Amazon]
Say good buy to your plain and vanilla-boring desktop calendar. Not only does the Puzzle Calendar keep your brain wrapped around your busy schedule, but it keeps your fidgety fingers occupied – it's got the added bonus of letting you play with puzzle tiles while on the job.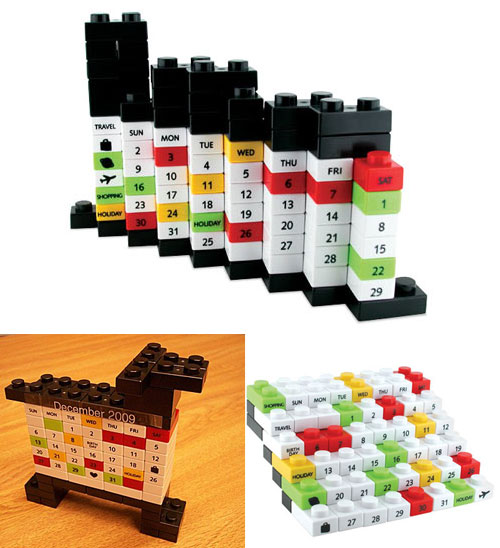 10. WoodStation – calendar, clock, alarm and weather forecast [link]
I know this one is not only calendar, it actually combines calendar, clock, alarm and weather forecast, a lot of different function in one wood looking station.
The WoodStation is a skillful blend of natural materials and display technology. The body of the WoodStation is made from wood and located inside is a clever LED display that mysteriously projects through the wood. When you get close to the Woodstation, a motion sensor will detect your presence and turn on the display. When turned off, it looks like a modern wooden sculpture.