Never underestimate the power of simple office supplies, such as Post-it Note. This a small square with re-adhearable adhesive on the back, is designed as as a reminder, a note, or for organization. But some creative people among us don't see it as only a productivity tool… they see it as a medium for colorful art. Thanks to them, we can see those amazing post-it notes creations in today's Post.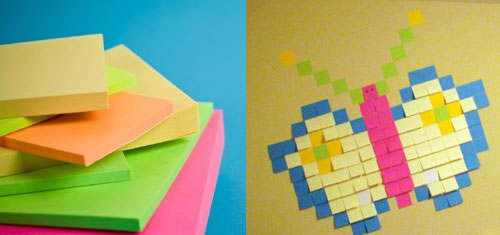 Post-It Notes + Wallpaper = Pixelnotes. [link]
This wallpaper, made by Duncan Wilson and Sirkka Hammer, consists of four notes of grey tones with a red backing. Pixelnotes create a functional wall – as you pick up the notes, the wall changes aesthetically.

Store display windows for Christian Dior [link]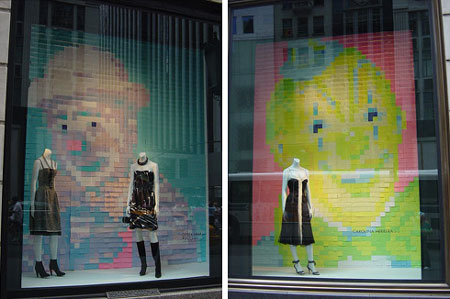 Post-it Notes – Hand [link]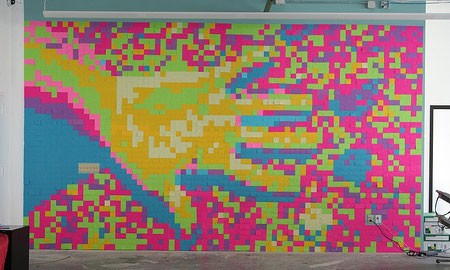 Post-it Notesl – guitar [link]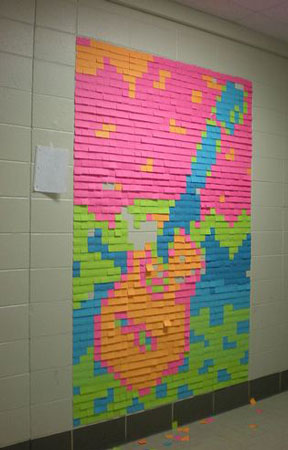 The Post-It Notes Jaguar [link]
It might not be high art but it certainly makes a pop impression by this Post-It Notes Jaguar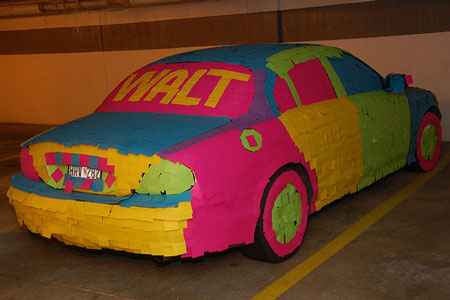 Post-it mosaic: It's Elvis.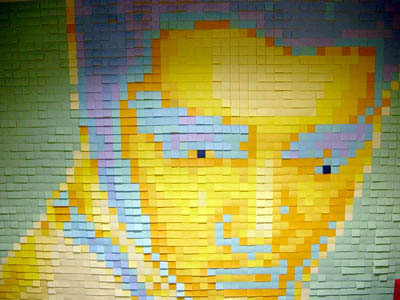 Pixel Home by Rebecca Murtaugh [link]
Look at the sofa, lamp, cushion, wall…. Rebecca Murtaugh just try to plaster everything in notes, from living room to bedroom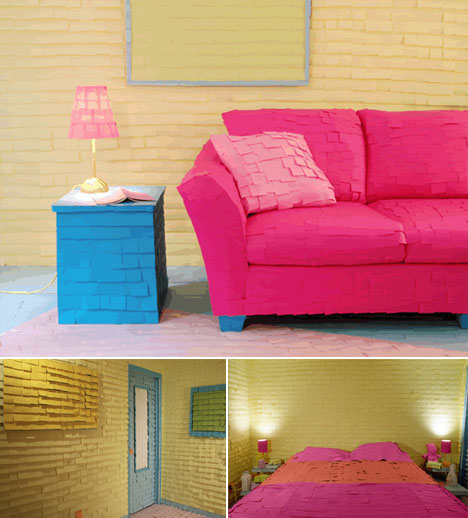 TO DO [link]
"TO DO" is a project by the New York based public art collaborative, Illegal Art. Feel free to write your own "to do" list on a Post-it. Please do not remove any Post-its. We will be documenting the project as the week continues and installing new Post-its as the space fills.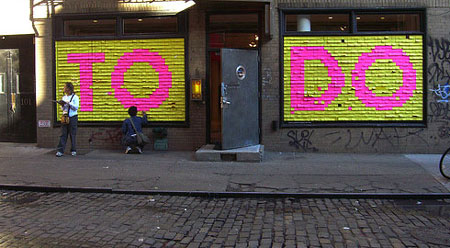 Office pranks done with Post-it notes [link]
To make office like that, it cost around 5000 post-it notes.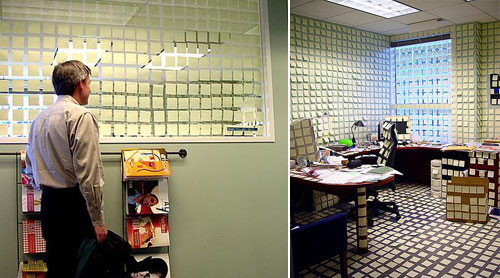 Eagle from 3M 'The Post-it Note-able Art Competition"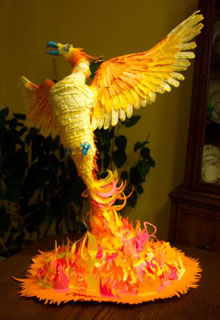 Post-it Notes: 3 color palettes Wall…. [link]
It's almost hard to look at this incredibly vibrant wall of notes without your vision swimming somewhat. The stark contrast between the wall and the rest of the room creates a surreal backdrop an otherwise ordinary space.
Post-it Notes: Donkey Kong [link]
The Donkey Kong installation took the team of ten people about five hours to complete, and used over 6,400 colored Post-it Notes (although they had to buy over 14,000 of the little sticky buggers to get all the colors they needed.)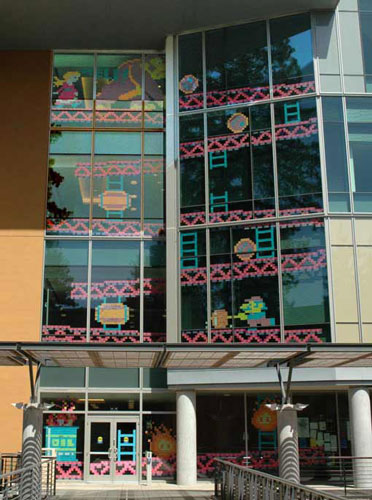 I've Lived (Post-it Notes for Neighbors), Brooklyn, NY [link]
This is an interesting project. Public art installation on a storefront window in Carroll Gardens. It's a question every New Yorker wonders – how much is my neighbor paying for their apartment? "I've Lived" was an interactive installation that helped demystify the topic by inviting local residents and other passers-by to share information about their living situation.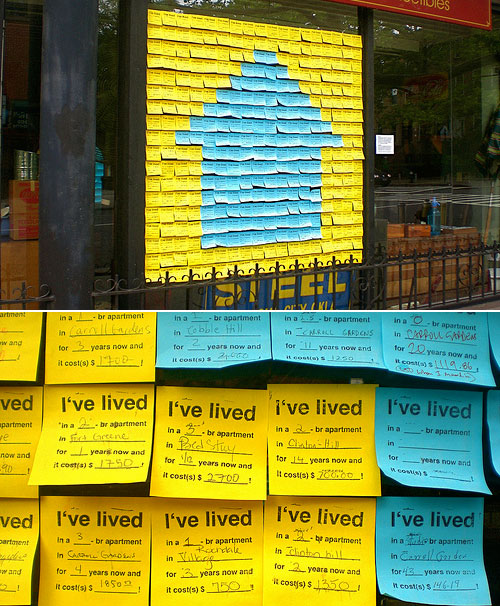 Post-it Notes lamp (two tones) [link]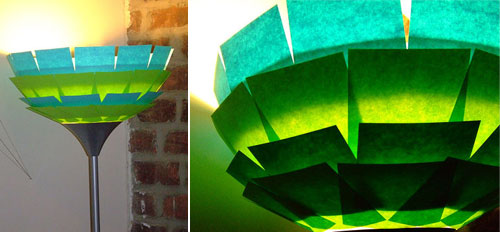 Post-it Notes Tommy Orange Fresca [link]
This is the infamous post-it note mural of a Thomson's gazelle. It rocks.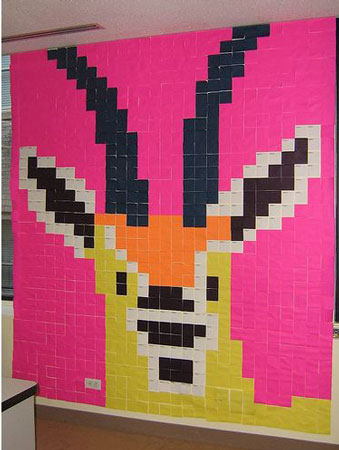 Post-it Notes Marilyn [link]
Post-it Notes Mario [link]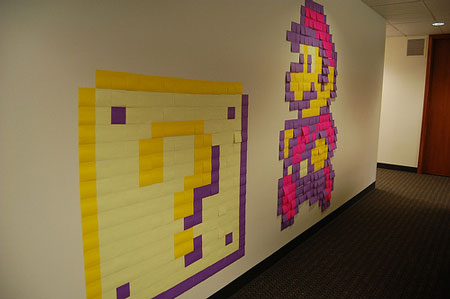 what a great thing to see walking into work!
when post-it meets origami [link]
Really pretty pink post-it art.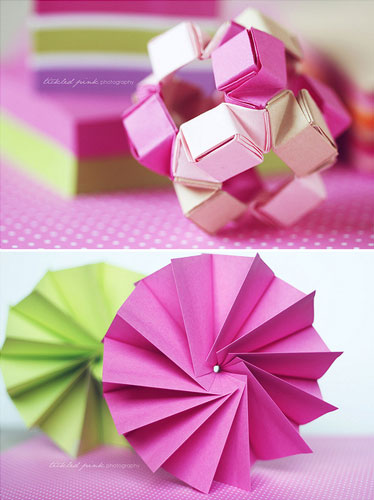 Post-it notes Fish [link]
This amazing work is done by 14,000 post it notes. Awesome!