Whether you're setting up a new kitchen or considering upgrading the tools you currently have, a knife set can seem like a good idea. But do you really need to buy a knife set? Many people have different options. Some people think a big knife and a small knife is all you need, while someone think a set of knives come in handy.
There are many advantages of get a knife set. For example, they are fairly cheaper compared with buying individual one by one. They always come with a nice holder. And all the blades will be made of the same material, so you only need one sharpener. However, before you rush to the deal, think about your needs and kitchen space. If you live by yourself, a 6 piece set might be good enough. And a big family who enjoy steak a lot, then a 24 sets with 6 steak knifes probably will be a good choice.
Personally, I like knife set. I want to use different knives for different types of food. But I won't over complicate things and make my own life difficult. Hence, if you decdie to buy yourself a set of knife, here are some suggestions for you. But do think about your actual needs before make any purchase. Use your money wisely and buy fewer but better quality knives that will last a lifetime.
MIDONE 17 Piece Kitchen Knife Set
MIDONE 17 piece kitchen knife set meets all cutting needs, includes: 1 PCS 8″ Chef knife, 1 PCS 8″ Carving knife, 1 PCS 8″ Bread knife, 1 PCS 6″ Santoku knife, 1 PCS 5″ Utility knife, 1 PCS 3.5″ Paring knife, 6 PCS 4.5" Steak knives, 1 PCS Pizza knife and scissors, peeler, knife sharpener and acrylic stand.
OOU Black Shark Knife Set
A specialized set of kitchen knives for all your chopping needs. The Knives set includes 7"Chef Knife, 8"Slicing Knife, 8"Bread Knife, 5"Utility Knife, 3.5"Paring Knife, Kitchen Scissors, Knife Sharpener and a modern design universal knife block.
18-Pc Colossal Knife Set
Incredibly razor sharp, full-tang, imported high-carbon German steel with a hand polished edge at 16-18 degrees per side. Precisely tempered and stain resistant. This set will last a lifetime.
Gladiator Series 18-pc Colossal Knife Set with Glacial White Handles: (1) Carving/Slicer 9″, (1) Bread Knife 9″, (1) Kiritsuke Chef Knife 8.5″, (1) Chef Knife 8″, (1) Santoku Knife 7″, (1) Nakiri Knife 7″, (1) Boning Knife 6″, (1) Utility Knife 6.5″, (1) Serrated Utility Knife 6″, (6) Straight Edge Steak Knives 5″, (1) Paring Knife 3.5″, (1) Bird's Beak Paring Knife (.75″, (1) Honing Steel 10″
DALSTRONG Knife Block Set – 5pc – Shadow Black Series
A ruthlessly sharp scalpel-like edge is hand finished by expert bladesmiths to 15° per side using the traditional 3-step Honbazuke method. Nitrogen cooled for enhanced harness and flexibility. Each Shadow Black Series blade receives a Titanium Nitride non-reflective coating, improving robustness, corrosion resistance and enhancing non-stick properties. Crafted from a single piece of steel, each hand polished blade is full-tang for maximum durability.
Bodo 10 Piece Knife Block with Chopping Board
Each knife has been engineered and tested to meet Rockwell 53 specification guaranteeing a blades hardness and optimum performance. Damashiro knives have been crafted from the finest Japanese Steel 420J2 and ice hardened ensuring for blade strength and durability. The Damashiro range features a distinctive Damascus inspired tradition and traditional Japanese handle design favoured by Japanese craftsman samurai makers.
Mercer Culinary Genesis 6-Piece Forged Knife Block Set
Ergonomic Santoprene handle offers superior comfort and a non-slip grip, even with wet hands. Will not break down from exposure to kitchen oils and is able to withstand hot and cold temperatures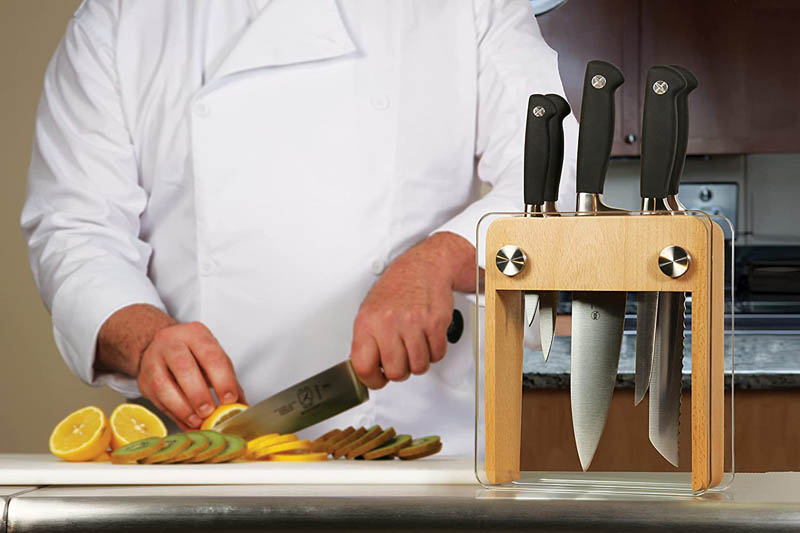 [buy on amazon]
9-Piece Kitchen Knife Set with Block
Professional Damascus Knives set includes 8"Chef Knife, 8"Slicing Knife, 8"Bread Knife, 7" Santoku Knife, 5.5"Utility Knife, 3.5"Paring Knife, Kitchen Shears, Knife Sharpener to stay sharp and Beechwood Block. Knives are crafted with VG10 steel core 67 layers superior damascus steel blades for precision and accuracy. HRC 60±2 hardness for exceptional sharpness, edge retention. Curved design handle provides comfort and support.
14-Piece Rainbow Kitchen Knives Block
Marco Almond knife sets are are made of premium quality stainless steel to make them durable and long lasting. Each knife is coated with Titanium that creates a very soothing rainbow color effect. Stainless Steel material adds quality and Titanium coating provides a very beautiful look and decor as if they are art pieces. They are constructed differently with finely sharpened blades; each suitable for unique cutting jobs.
14 Pieces kitchen knives set includes: 1pc-8″Chef knife, 1pc-8″Slicing knife,1pc-8″Bread knife,1pc-7″Santoku knife, 1pc-5″Utility knife, 1pc-3.5″ Paring knife, 6pcs 4.5″ Steak knife, 1pc-all-purpose kitchen shears, 1pc-butcher wooden knife block.
13 Piece Kitchen Utensil Set
The 13-piece kitchen utensil set meets all the tools you need: wooden block, Sharpener, 20.5cm chef knife, 20.5cm bread Knife, 20.5cm slicer knife, 13cm Utility knife, 9cm paring knife, solid spoon, slotted spoon, skimmer, solid turner, slotted turner, spatula.
The kitchen knife set make of food grade high Japan quality stainless steel and ABS handle. The silicone scraper has a solid stainless steel inner core, and the inner steel core extends to the the handle loop,for extra durability and sturdiness.
Imarku 11-Piece Kitchen Knife Sets with Block
This Professional 11-Pieces Stainless Kitchen Knife Set with Block includes an 8″ Chef Knife, 7″ Cleaver Knife, 8″ Bread Knife, Kitchen Scissors, Knife Sharpener, Knife Block, Cutting Board, and 4 pieces of 4.5″ Steak Knives. It is suitable for slicing, cutting meat, mincing food, etc. Easily meet all daily needs for your kitchen and family.
Each knife in this chef's knife set is made of High-Carbon Stainless Steel to maximize the durability and sharpness of the blade.