Are you in a continuous struggle with how to make things out in your tiny kitchen? You don't need to worry if you are not blessed with a big kitchen with large cabinets. Here're some creative storage organization ideas to help you make the most of your tiny kitchen. These ideas include installing a pot rack or hooks to store utensils, hanging more shelves, and some sneaky ingenious tricks that you may have not heard before.
Benefits of an organized kitchen
An organized kitchen makes everything so easy from unpacking the groceries, keeping the kitchen calm and productive. Everything becomes super quicker as an organized kitchen saves a lot of time and makes it super convenient to find kitchen essentials every time you need them. Moreover, a well-organized kitchen is more functional as you can conveniently move around without tripping things.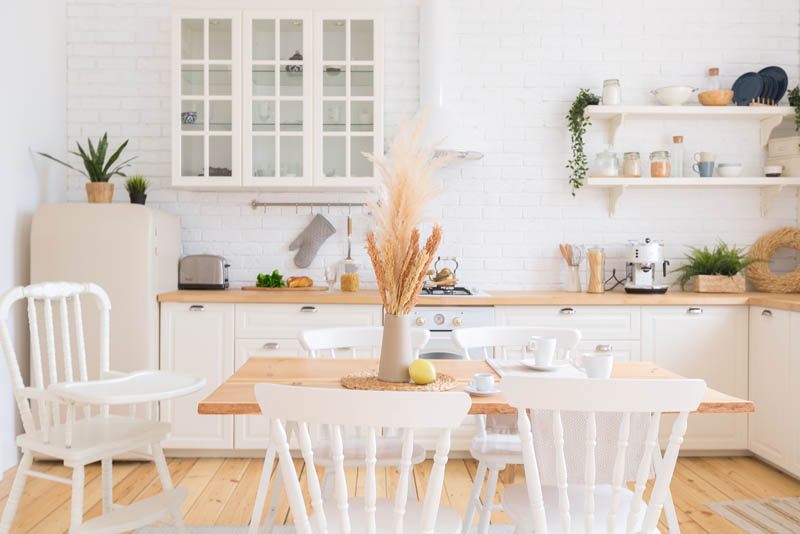 10 best storage ideas for small kitchen
Discover the best storage ideas for a small kitchen that will assist in making the most of the space you already have. These will help to corral clutter and make a tiny kitchen more functional.
1. Add hooks all over the space
Add hooks all over the space and turn all your collection including some amazing mugs or apron collection into a focal point. The simple trick frees up the precious space in the kitchen and helps you to make things out in your small kitchen. Hooks are economical and you can install them in your entire kitchen or beneath kitchen shelves.
2. Store stuff out on a floating shelf
Hang some rustic oak shelves and put your most-used ingredients – the simple trick will free up the cabinet space and make it super convenient for you to grab whenever you are working in a kitchen. A simple floating shelf, dessert stand, or lazy Suzan do the same. They not just beautify the overall space but improve the overall functionality as well.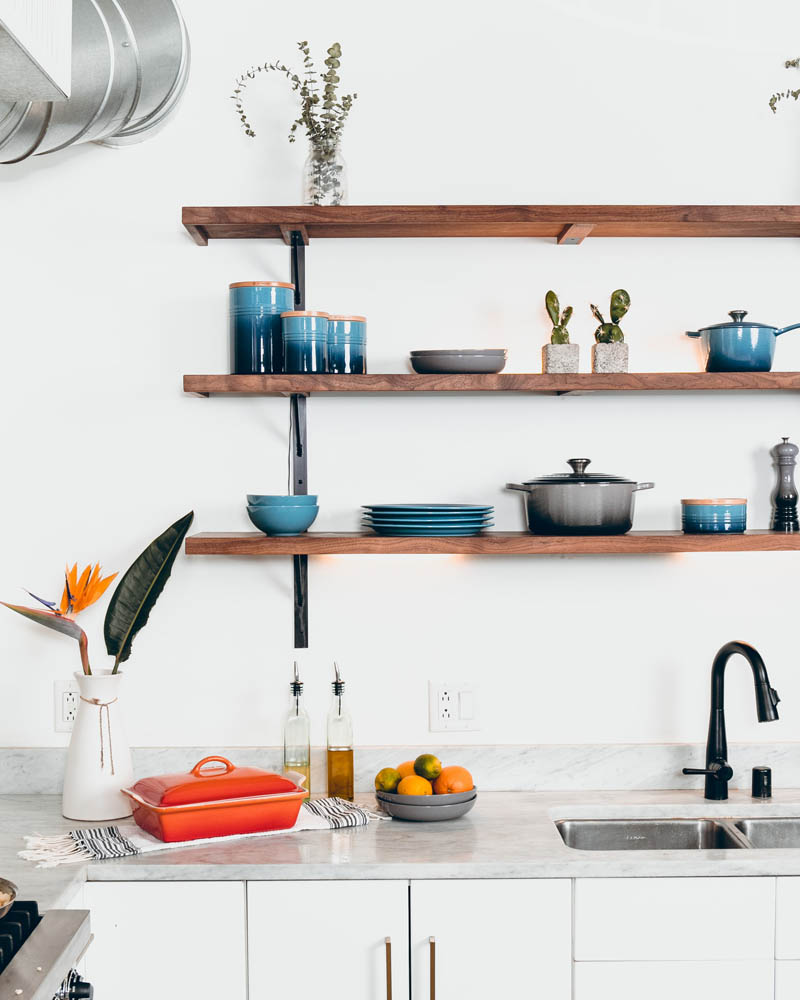 3. Use kitchen windows as storage
You may never want to block the precious natural light but when you are living in a small apartment with a tiny kitchen you need to think strategically and should make a bold decision. Hang some of your most-used pots or mugs in front of a kitchen window. However, it blocks a part of the natural light but its role in turning the place into a focal point can't be put aside.
4. Get a freestanding shelf or a bookcase
Do you have a spare bookshelf or a freestanding shelf? The one that takes little ground space but is tall! When you find one, load it up with the utensils or kitchen accessories. Moreover, It is also okay to steal a part of space from the living area when you have no space at all for the kitchen.
5. Anything that you can hang, should be hung
Most kitchen utensils or kitchen accessories including pots, spoons, and mugs should be hung! We however suggest hanging everything literally everything that can be hung. Not only it frees up valuable space from your kitchen cabinets and counter space but turns the stuff into decoration as well.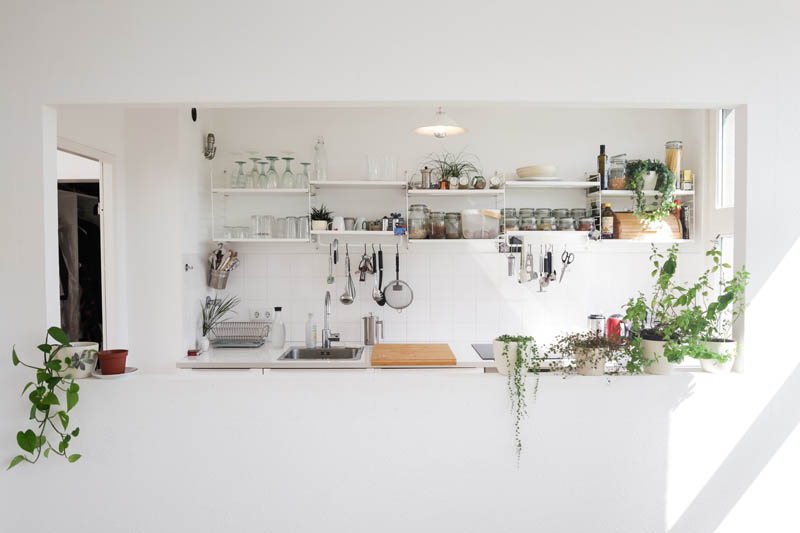 6. Use the spare side of the cabinets
Have you reached a stagnant point where the cabinet does not hold anything? well! You need to think out of the box! Surprisingly, a great benefit from the kitchen cabinet that does not butt up against a wall can be achieved. These additional square feet offer you a bonus space to hang anything from pot rails, or simply add some basic shelving to take most from the sides of the cabinet.
7. Make the most out of your drawer
You can carve out the space for some most used kitchen essentials by effectively utilizing the drawer space! Better get a drawer organizer so you can effectively categorize baking supplies, utensils, and spices. The drawer organizers are economical and will not add a dent to your bank at all! Buy them from anywhere you want, Amazon, eBay, or from a local store.
8. Fill up clear canisters
Well, when done right, the pantry stables have an excellent tendency to create an eye-catching display. Put nuts, cereals, pasta, and baking ingredients into separate glass jars, be sure to mark each of them with a custom chalkboard label, so you won't have to search high and low every time you need anything.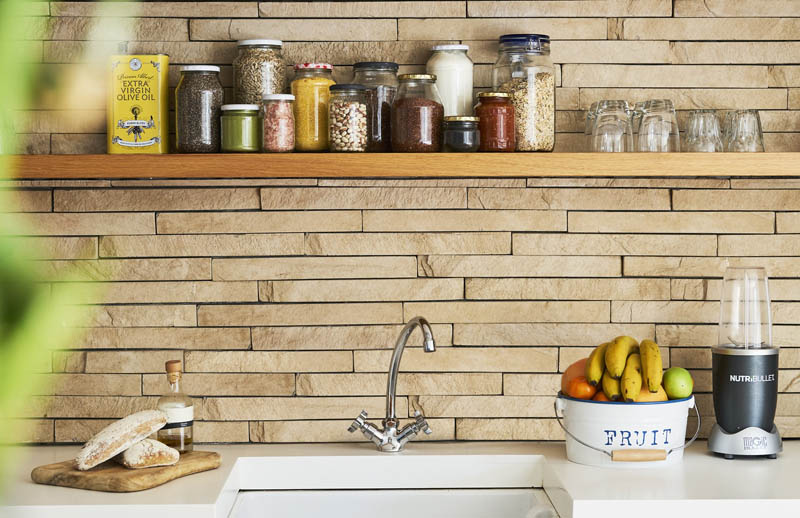 9. Bring in baskets and bins
You can't hang anything or sometimes you don't feel like putting some kitchen essentials on display! To help you in this,, we suggest investing in some printed baskets and bins to keep things out of sight. They will help to keep the kitchen clutter-free and make the kitchen counter more organized than ever before. Baskets and bins are easily gettable however to give them a more customizable touch, label them. These are also excellent for corralling any extras on the kitchen counter or top-shelf. However, be sure not to put heavier objects in bins as they will become more difficult to grab.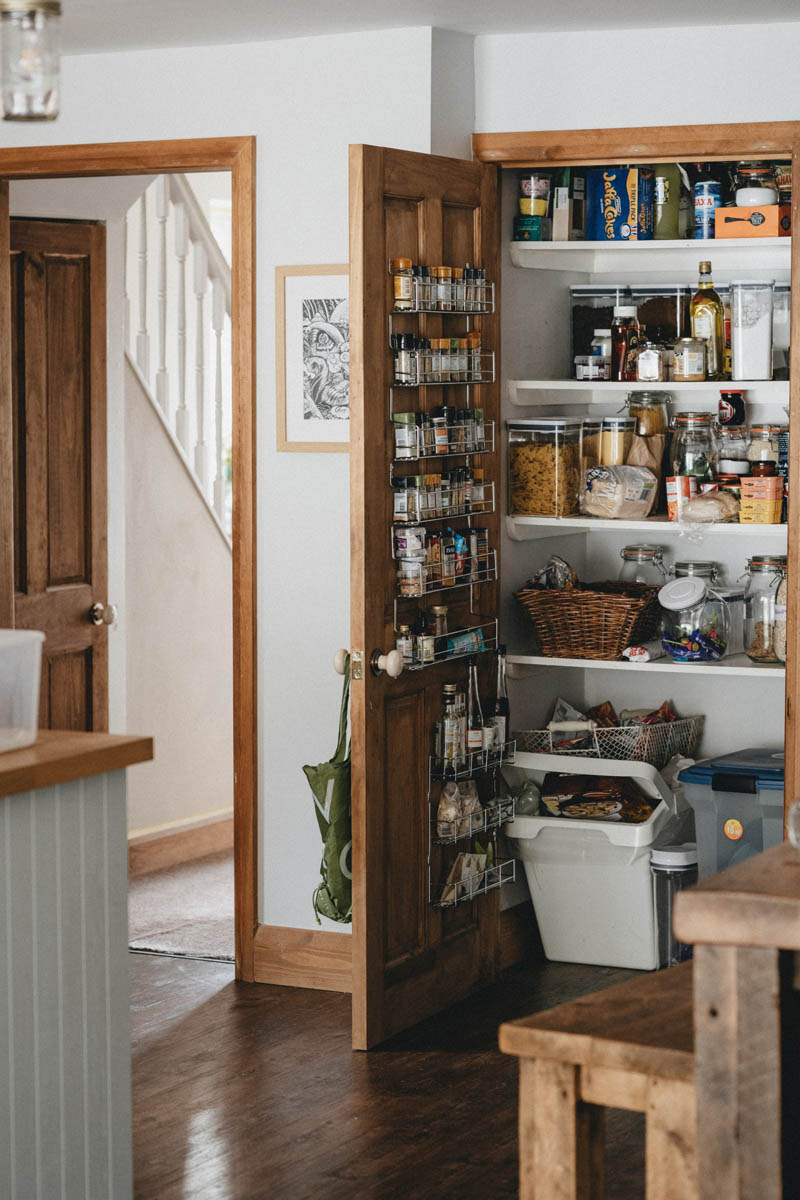 10. Line your shelf
We understand you have a tiny kitchen and you are unable to create a free space but putting more attention on how to make it more fuss-free and easy to clean is important. Shelf liners are great to brighten up the available space. These shelf liners come in limitless designs and colors; also you can get their adhesive and non-adhesive variants.