Decanting has numerous benefits, including separating the sediment from the liquid. This is especially helpful for red wines, which hold the most sediment. Decanting also enhances a wine's flavor by exposing it to fresh air, and allowing it to breathe. That is the reason you see people who are serious about wine, always have a set of decanter at home.
However, normal decanter will do the work, but they won't as eye-catching as the one presented below. From chicken, to diamond, from globe to skull, these unusual shaped decanter will definitely make your guest impressed.
Chicken Decanter Set with 2 Whiskey Glasses
This decanter will make anyone admire the artfully detailed sacred rooster, it's unique shape and side colors. Large unique shaped decanter, it shows in realistic detail of the chicken which is a delight to admire. This rousing glass decanter is truly a shimmering work of art from highly skilled glassblowers.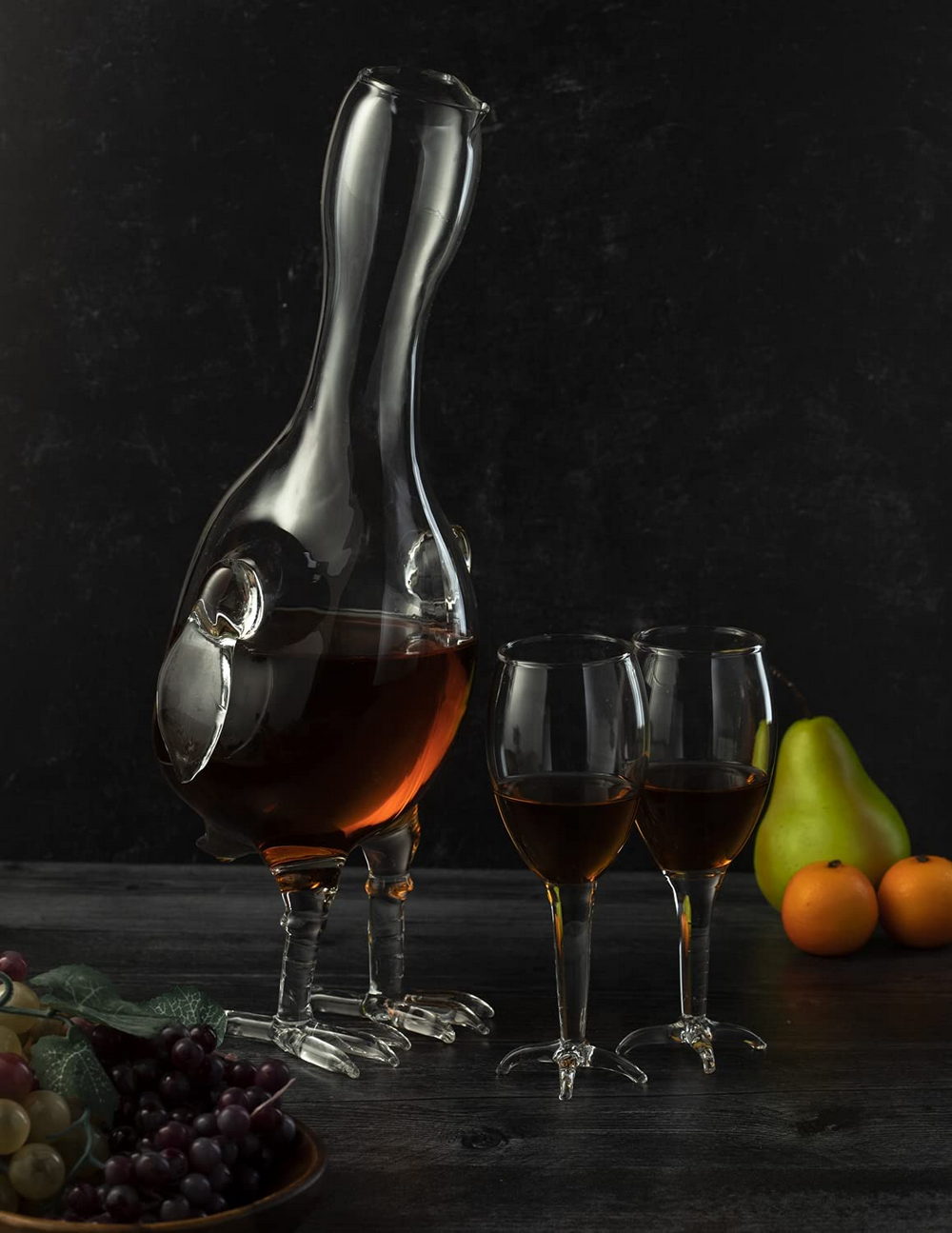 [buy on amazon]
Animal Whiskey Decanter Bull On Wooden Display Tray
Unique handmade charging bull liquor decanter placed on a mahogany stained wooden display tray will surely impress for any occasion.
Lead Free Crystal. Capacity: 500ml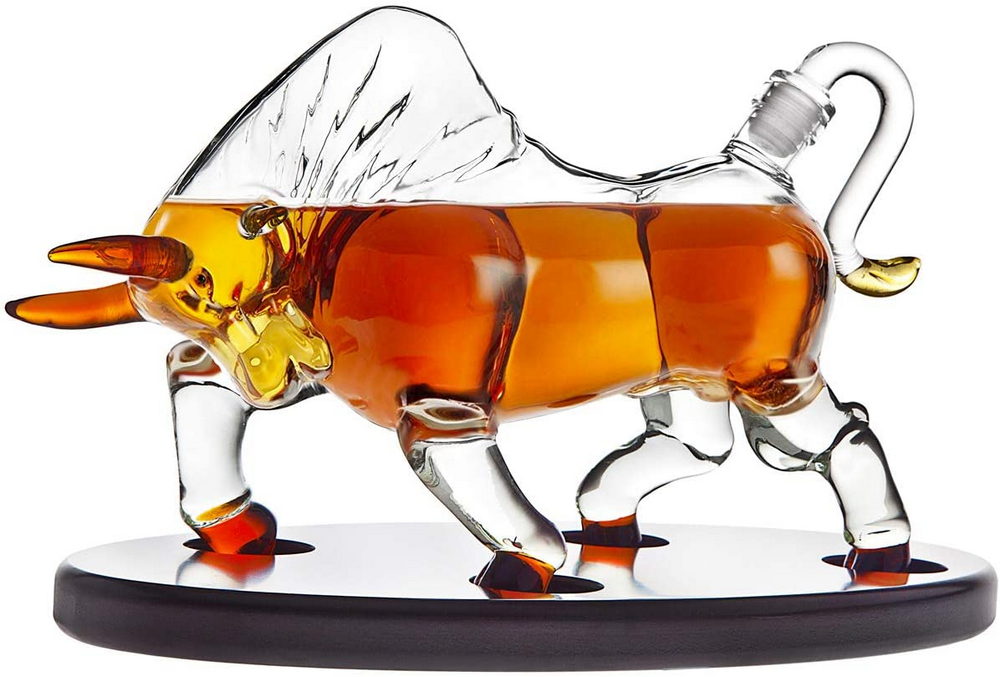 [buy on amazon]
Whiskey Decanter Globe Set with 2 Etched Whiskey Glasses
Hand blown elegant whiskey decanter dispenser featuring an etched globe design and antique ship in the bottle will undoubtedly enhance your drinking experience while making a bold impression.
Patented set includes whisky decanter with 2 matching globe design old fashioned whiskey glasses fitted onto mahogany stained tray. Gold stopper adds a touch of class while keeping your spirits sealed.
Lead free decanter capacity: 850ml – Cocktail glass: 300ml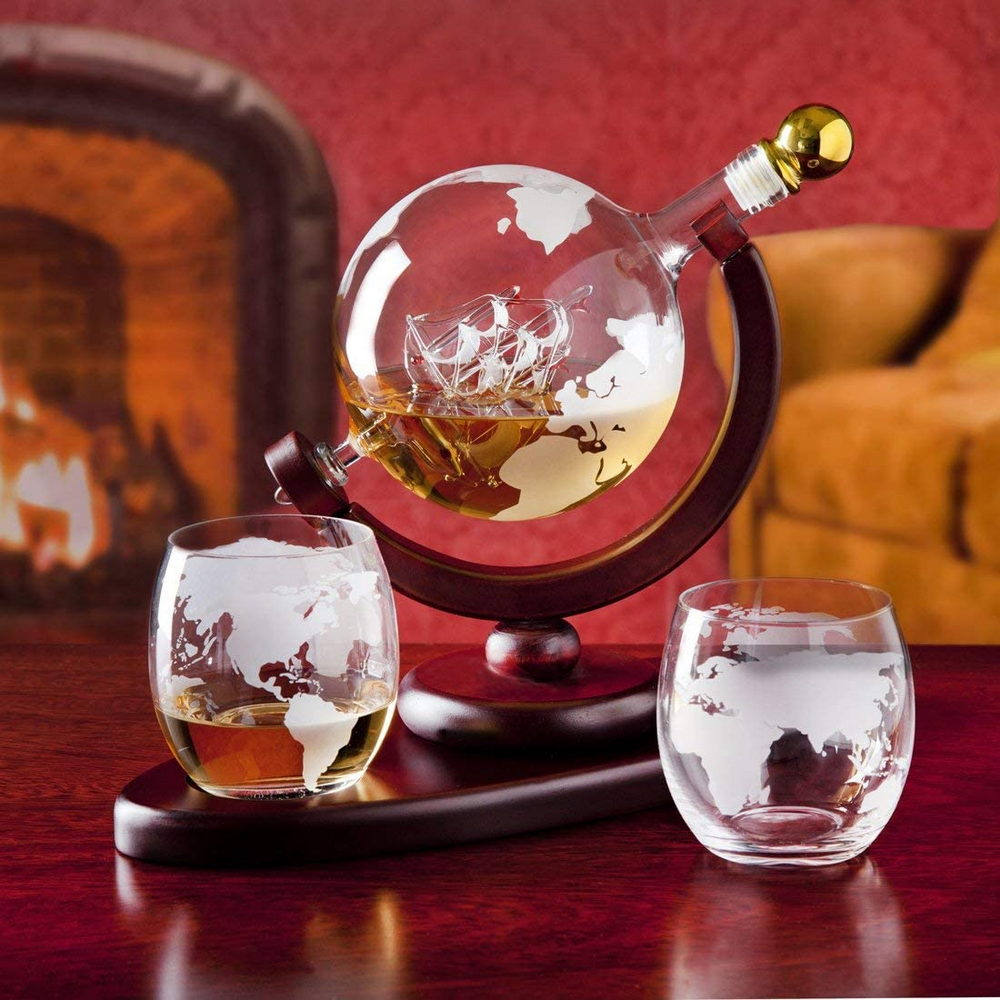 [buy on amazon]
Diamond Whiskey Decanter l With 2 Diamond Glasses
Great as a starter of finishing touch for any bar. This is a hand crafted carefully constructed DIAMOND decanter with Patent Pending diamond glasses, will make anyone admire the artfully detailed diamond shape spirits decanter, and it's symmetrical Crystal base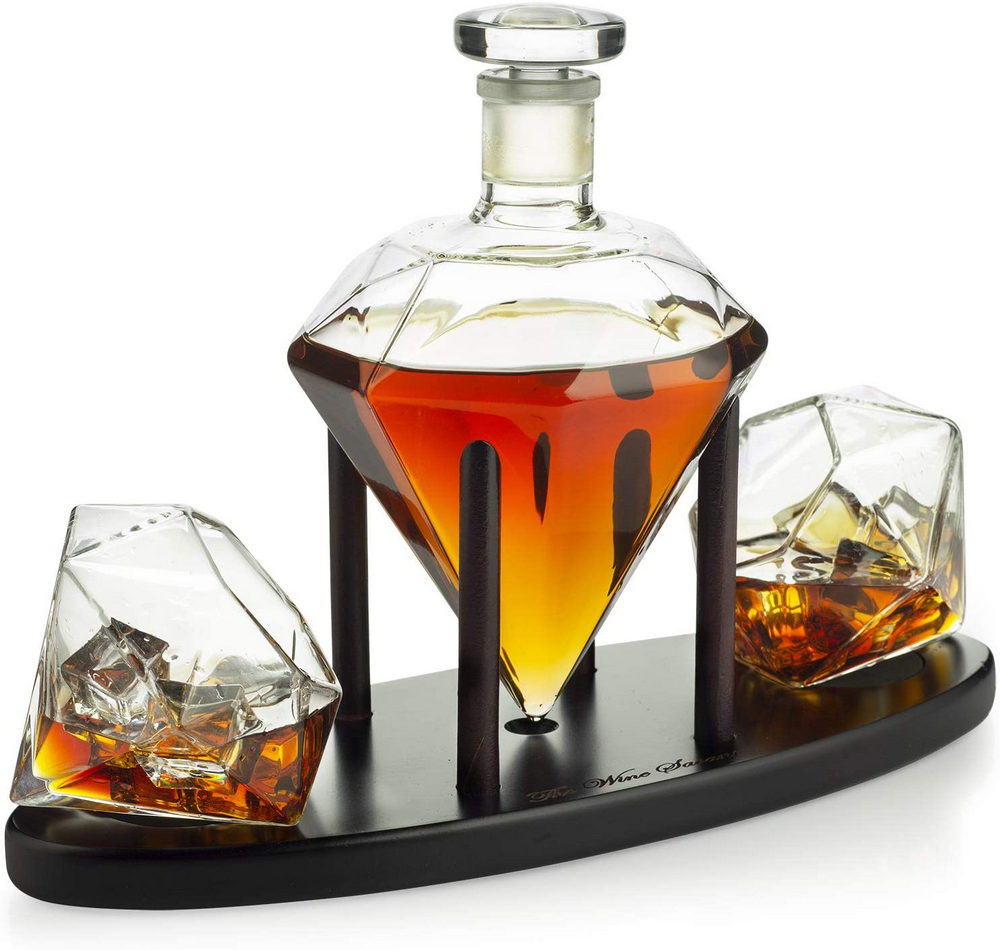 [buy on amazon]
Tall Octopus Whiskey and Wine Decanter 500ml
Paying homage to your love of wine and all things oceanic, the Wine Savant 500ml "Octopus" Decanter is the perfect way to bring personality to your entertaining. The distinctive shape of an octopus provides a unique touch to any table and adds a special flair to serving your favorite wines and spirits. Made from hand blown borosilicate glass, this will both acclimate and aerate your wine as it pours out.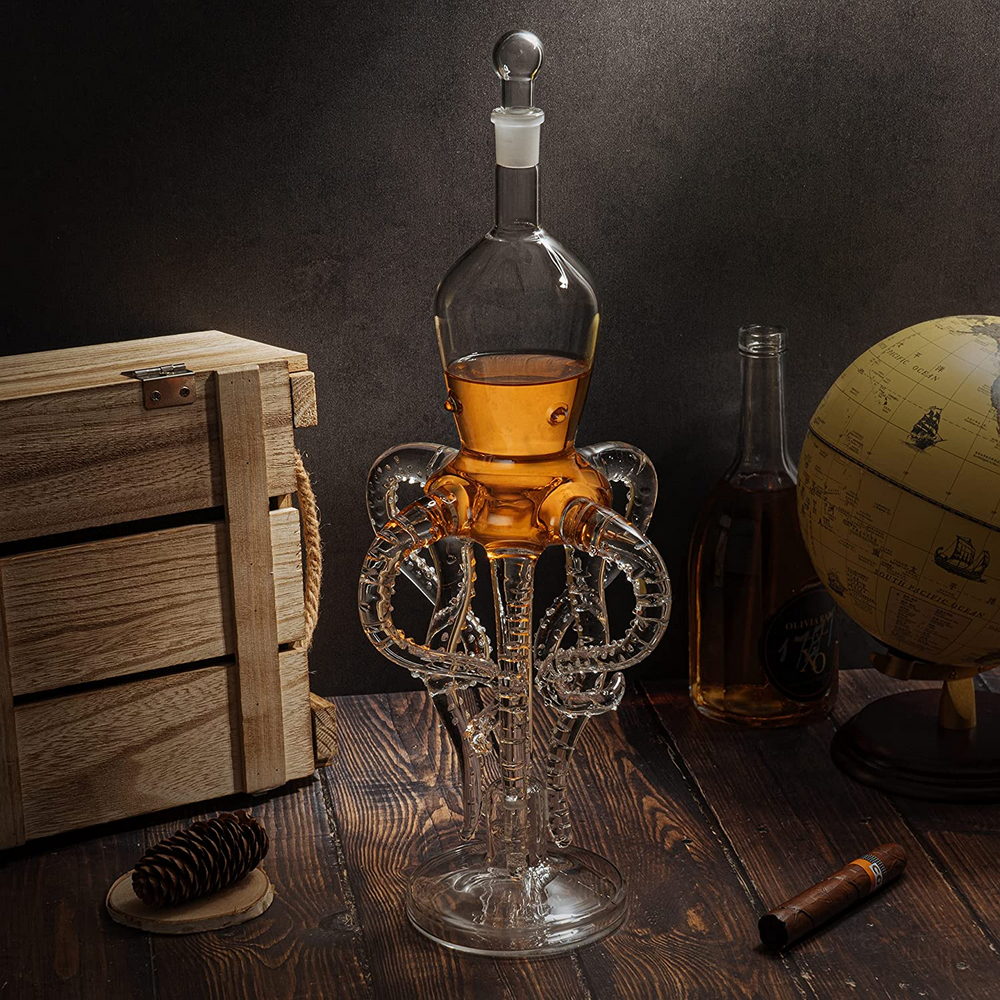 [buy on amazon]
Gun Large Decanter Set Bullet Glasses
Elegant and classy this large Decanter set is 22.5″ Wide x 8.5″ high Rifle Gun Decanter – Can you imagine how classy this will look in your bar.
This boroscilicate glass gun is more delicate yet less destructive than a traditional gun, it is nonetheless an elegantly decorative item to display in your home or bar.
Four Handcrafted 12 oz Whiskey Glasses and the Decanter is 100ml.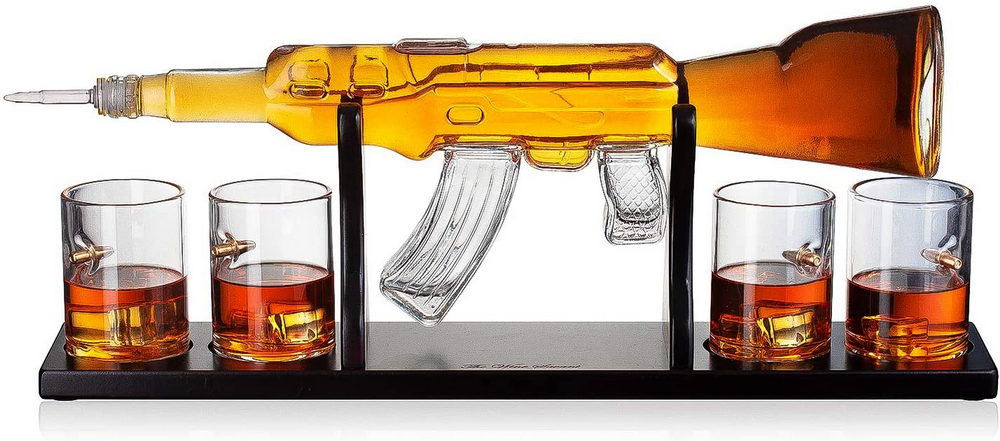 [buy on amazon]
Gun Whiskey Decanter Liquor Bottle and Bullet Shot Glasses
Shoot for the sky with this awesome whiskey decanter dispenser. Revolver gun decanter and bullet shot glasses will undoubtedly enhance your drinking experience.
Beautifully crafted decanter fitted onto a mahogany stained display stand makes a bold impression.
Capacity: 325ml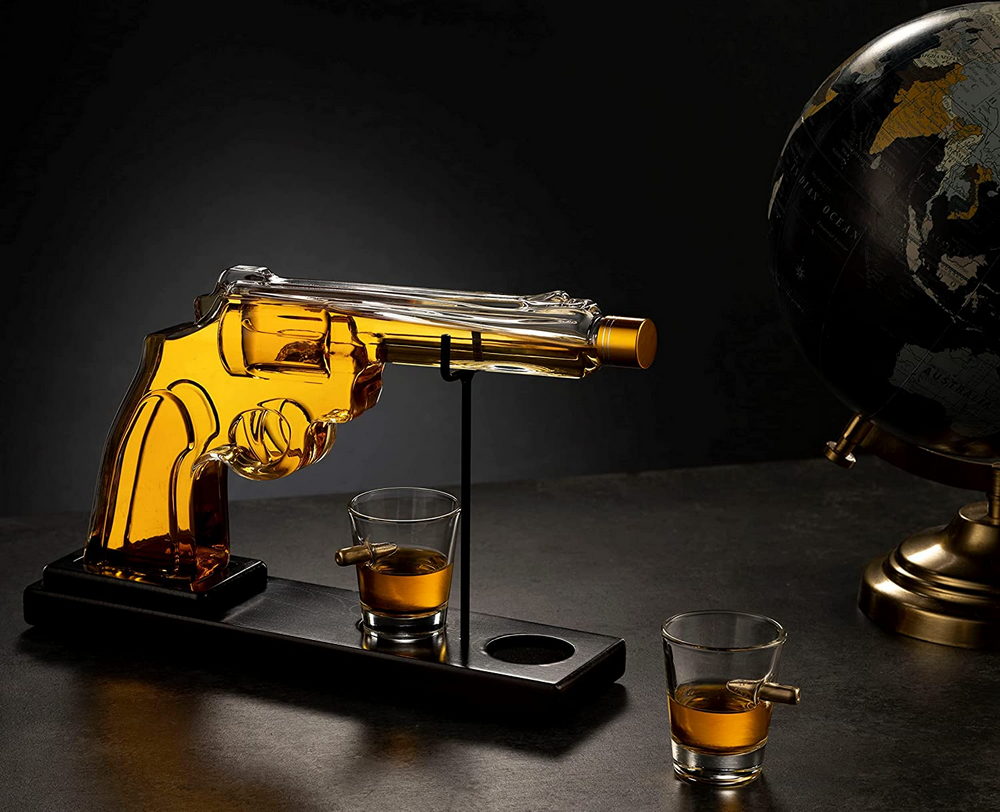 [buy on amazon]
Skull Whiskey Decanter Set with 4 skull shot glasses
This elegant decanter set takes your home decor to the next level. It will be the beginning of many conversations as your guests gravitate towards the decanter in awe of its beauty and novelty. The perfect bar accessory or decorative piece
This elegant lead free skull decanter is entirely hand made. From the hand crafted wood stand to the hand-blown skull shaped glass decanter.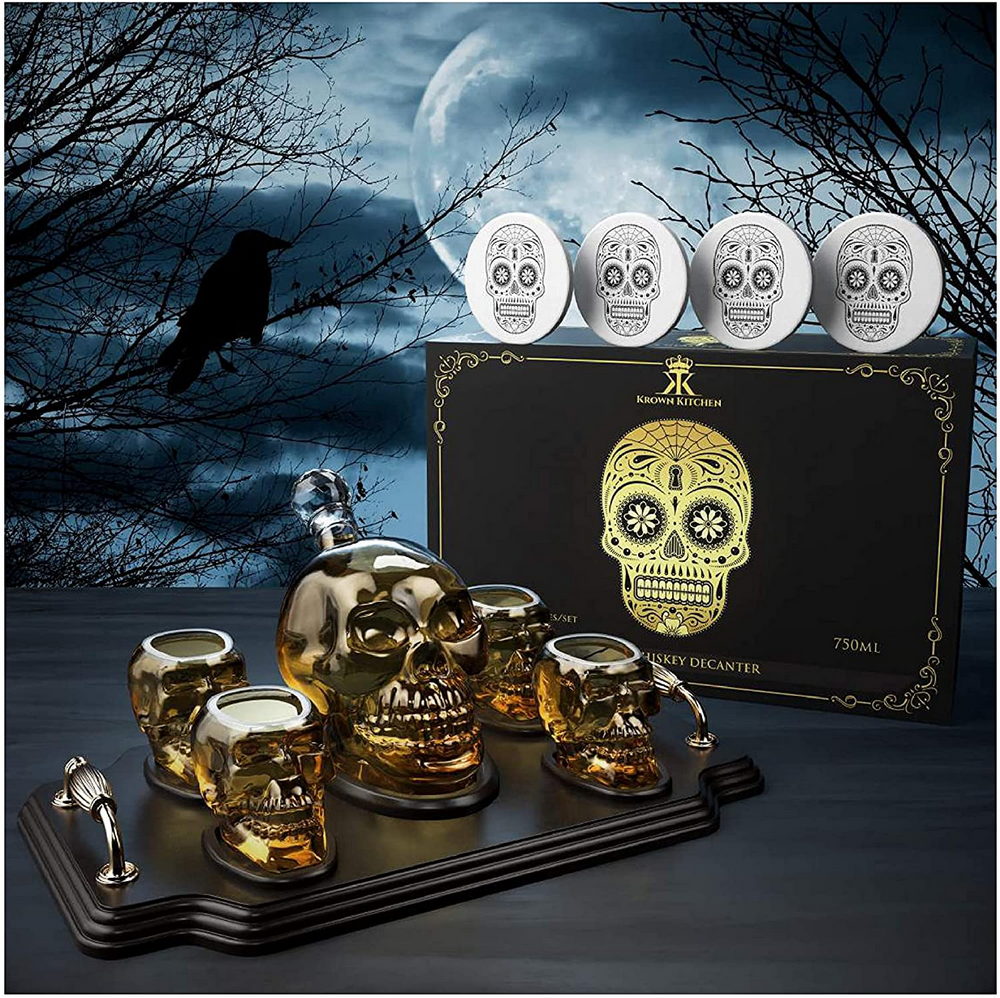 [buy on amazon]
Antler Crystal Decanter
Enter the equine world of decanting with this whiskey decanter. The striking display of the stag figurine stands proudly and is mounted on a hallmarked mahogany base. Crafted from fine borosilicate, the stag decanter is a beautiful statement piece, paying tribute to one of the most majestic animals. This collection is inspired by horses and deer, and is the perfect addition to any connoisseur's barware.
Molded from blown soda lime glass. 100% Lead Free.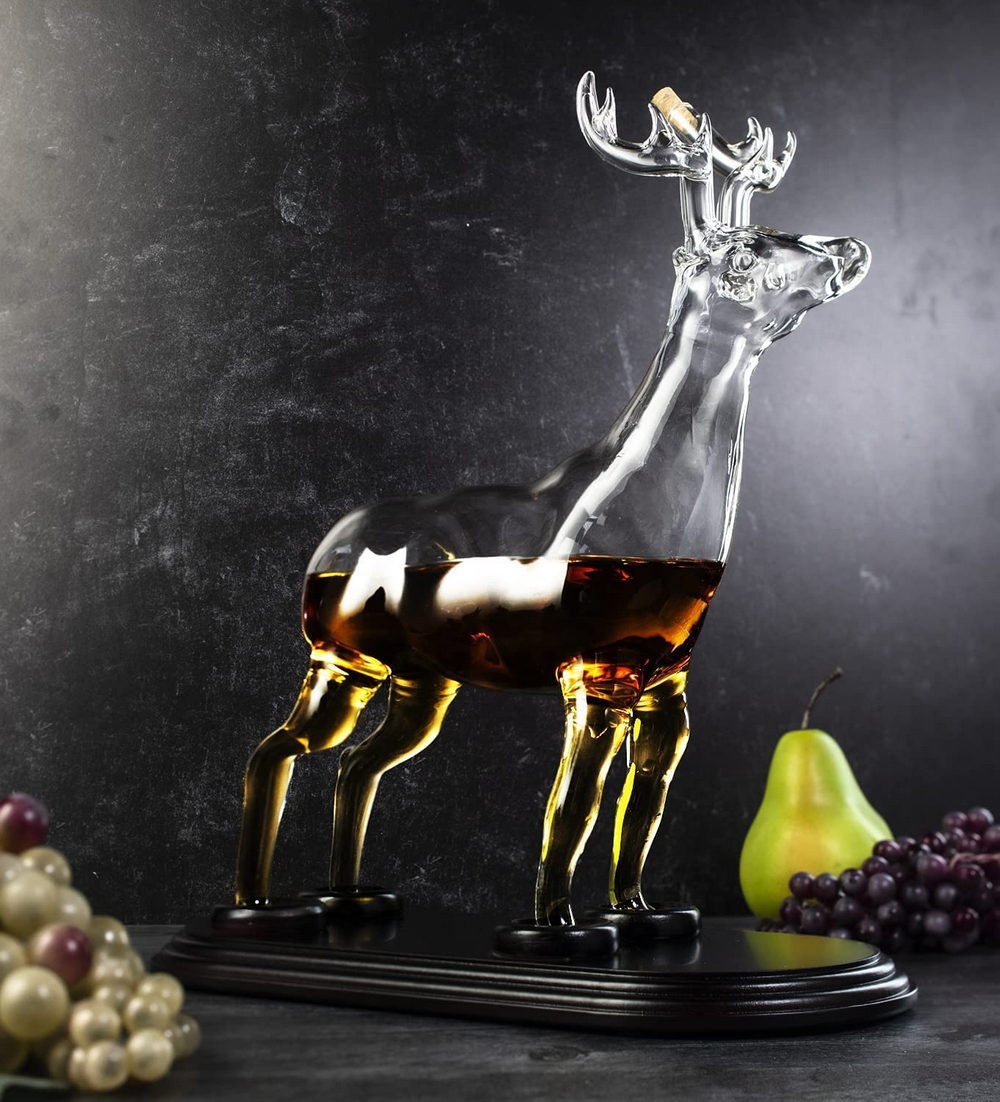 [buy on amazon]
Wine Savant Whiskey Gift Set and 2 Airplane Glasses
Embrace your love of both travel, adventure and a good whiskey/scotch. This beautifully built model airplane with a mouth blown decanter and 2 airplane glasses is a must have. The Airplane model is reminiscent of old times and the wood base has an amber hue which makes this a beautiful home piece.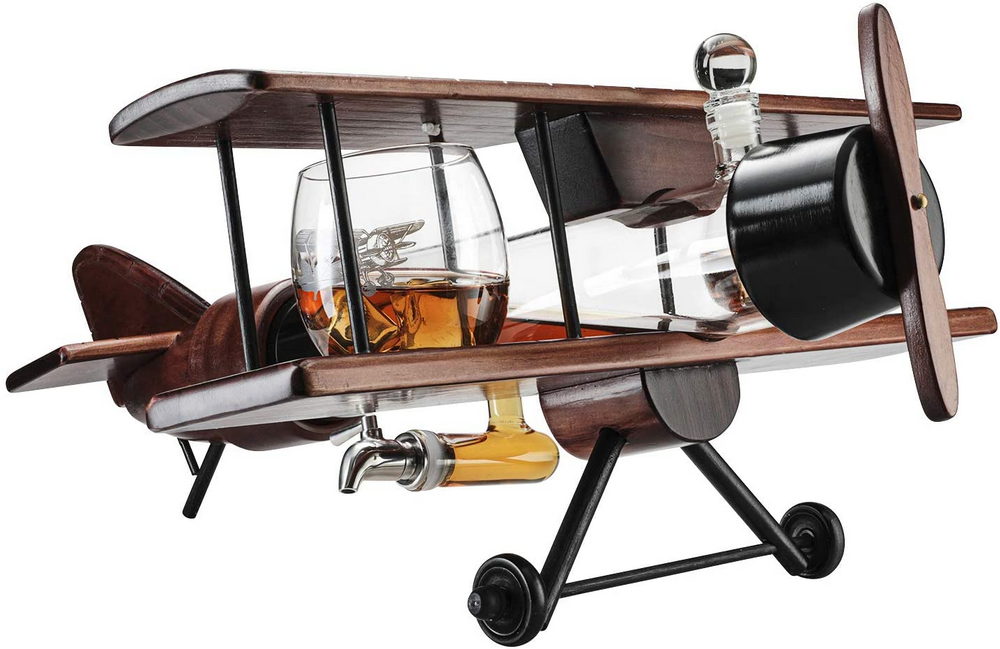 [buy on amazon]