One of the best arguments for RV camping over tent camping is the luxury of having a bathroom. No more worries about finding a place "to go" in the middle of the night or while on the road. But as convenient as they are, RV bathrooms are notoriously tiny. Fortunately, there are lots of products available to help keep your RV bathroom functional and organized. Let a few of these RV bathroom essentials make your journeys more comfortable and convenient.
A Quality Camper Toilet
Let's begin with the focal point of your RV bathroom—the camper toilet. There are many options to choose from including different materials, flushing systems, and other features. You can even find ones that don't require water to flush.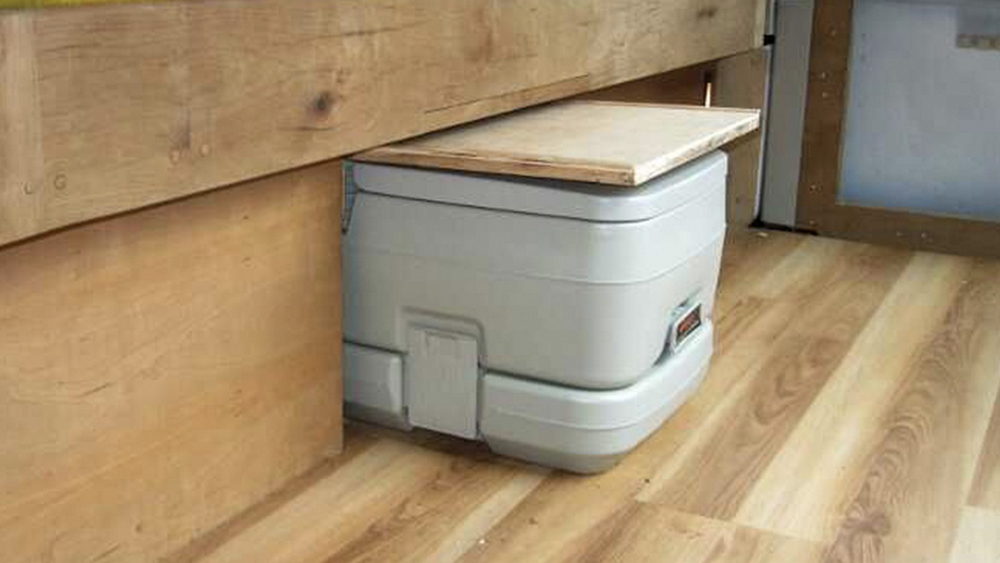 You should look at all the available options carefully to find the one best suited for your needs. For example, a composting toilet is eco-friendly and a good option if your water supply is limited. However, if you're traveling with more than one or two people, a flush toilet is your best option.
RV Toilet Paper
Before setting out on any RV trip, be sure to stock up on RV-specific toilet paper. If you risk running out and having to stop somewhere for it, you may not be able to find it. And you should NEVER use residential toilet paper in your RV. That's because it doesn't break down and will inevitably clog the toilet and leave a huge mess. It can also cause issues with the functioning of the level sensor.
Self Adhesive Toilet Paper Holder
Just like at home, you need a toilet paper holder to keep your roll of precious TP off the floor and easy to reach. Avoid screwing hardware into your RV wall with a self-adhesive toilet paper holder. A sticky adhesive back that you simply peel off allows you to press it to a smooth wall surface. You can adjust it to your bathroom's size by mounting it horizontally or vertically.
Hanging Toiletry Organizers
You'll be surprised at how much space you can save with hanging shelves, caddies, and pocket organizers. Use an over-the-door pocket organizer to store soaps, shampoos, and other toiletries. Clear pockets make it easy to find and grab what you need.
A hanging shelf or caddy for the shower can hold all those items that won't fit that thin tub ledge. No worries about spilled shampoo in the tub.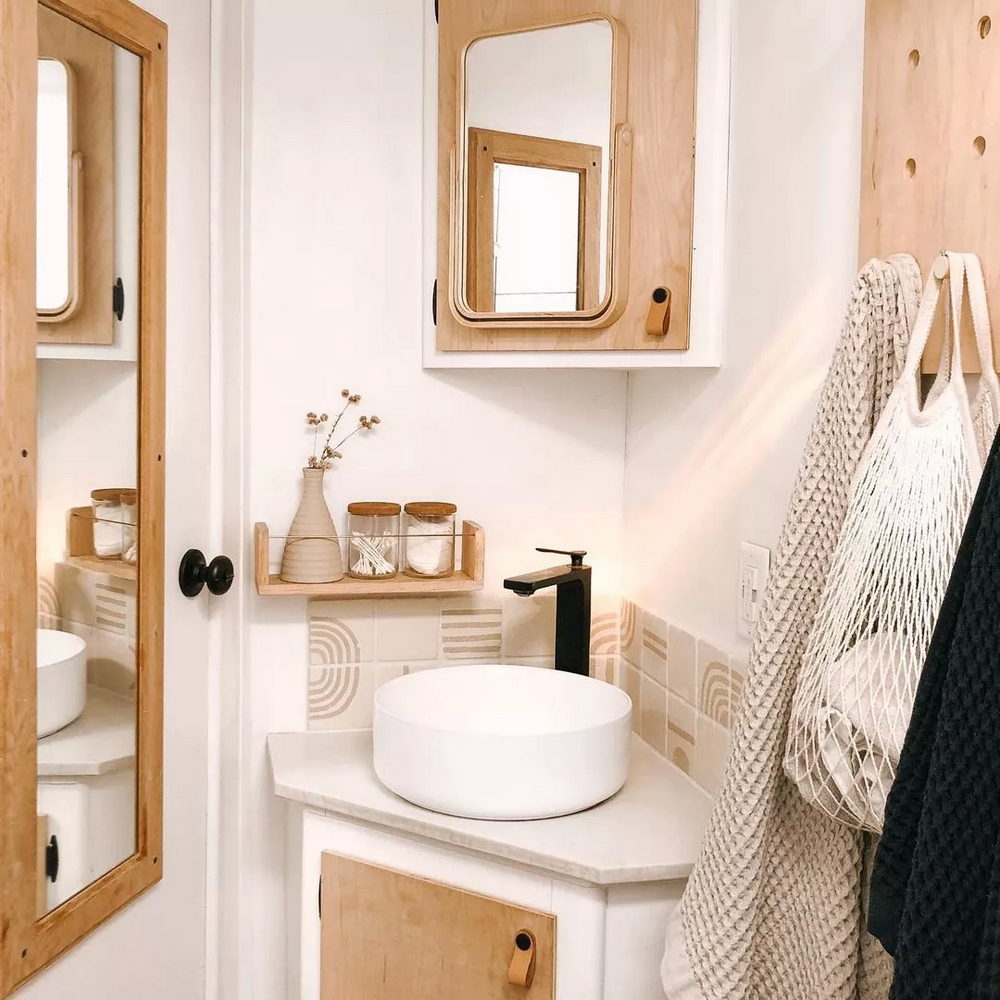 You can also find stainless steel shower baskets that are easy to install and can hold up to 20 lbs. Look for one with adhesive strips for use inside or outside your shower.
If your shower is really small, look for a corner shower caddy made of rust-proof material.
Corner Floor Storage Cabinet
Save space in your RV bathroom with a narrow storage cabinet that will hold several rolls of toilet paper, cleaners, and other essential bathroom items. Some models have an opening at the top that serves double duty as a toilet paper holder. You can paint it to match your bathroom decor.
Wall Mounted Toothbrush Holder
Keep your traveling family's toothbrushes off your RV's tiny sink counter with a wall-mounted toothbrush holder. Look for one with a protective cover to keep them free from germs and dirt. Put in a fresh toothbrush for each family member before your first trip of the year and throw them out at the end of the season.
Similarly, you can get a suction mount soap dish, shampoo dispenser, and razor caddy.
Toilet Brush and Holder
Keep your camper toilet clean and sanitized with a toilet brush and holder set. To save space, look for one that mounts to the wall. Find one with a head that bends to an angle for hard-to-reach places and soft brushes to keep your RV toilet safe from scratches.
Hair Drain Cover
A drain full of hair is a problem anywhere, but it's especially a headache in an RV. Without one, you may have a serious problem of hair buildup in your pipes down the road. Look for ones that will fit any size drain.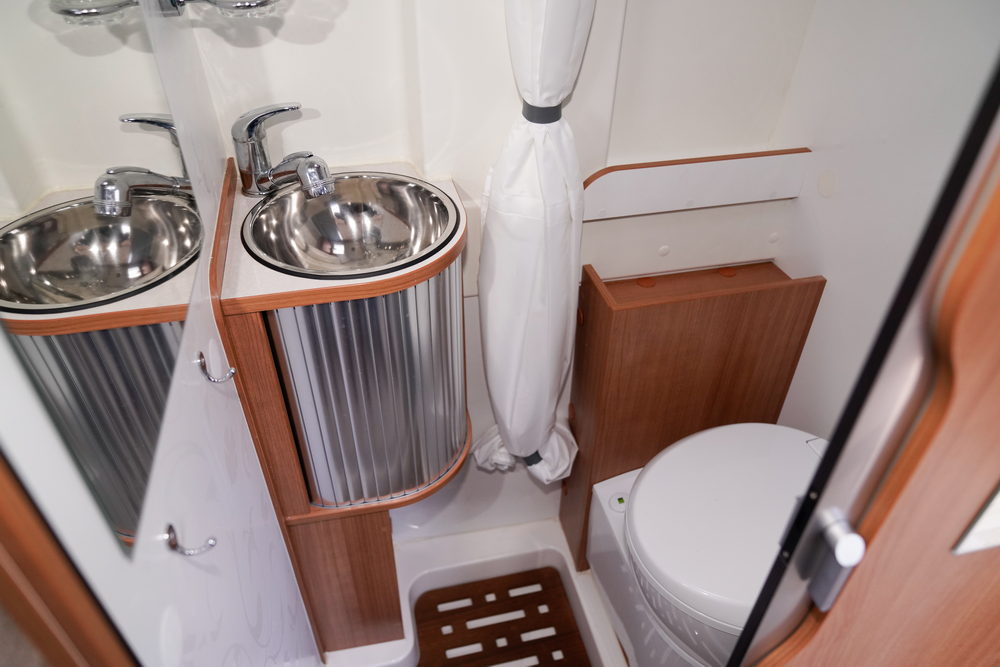 Motion Sensor Light
Avoid stumbling around in the dark when going to the bathroom at night with a sensor nightlight in your camper bathroom. And since RVs are smaller than a house, you're more likely to wake your camping companions by turning on a blinding overhead light. The softer lighting will also be less jarring and enable you to go back to sleep more easily. Choose an easy-to-install motion-sensing puck light or an in-toilet sensor light that lights the bowl and guides you to the toilet.