Test tubes are versatile tools. They are widely used in laboratory, science project or storage. While in these days, they are given a new duty – vase.
Placed in different frames, metal or wooden, these tube vase can be placed on table or hung on wall. The beauty in the test tube is that it holds one flower, so you don't have to worry about how you're going to arrange a bunch of different flowers. You simply put each flower in a separate tube. You'll be surprised of how the simplicity of the test tube vases makes an elaborate decorative piece.
There are many online tutorials show you how to make you own tube vases. But if you are looking for some ready ones, here are the collection we picked up for you.
Metal Stand Hinged Bud Test Tubes Vases
The size of the vase is 4.3*4.6in/11*11.6cm, which is very suitable for placing in the room and perfectly displaying your flowers. Decorative glass flower vase with metal stand with high quality gold painting, simple yet elegant. Bring an elegant and stylish vibe to your home furnishing.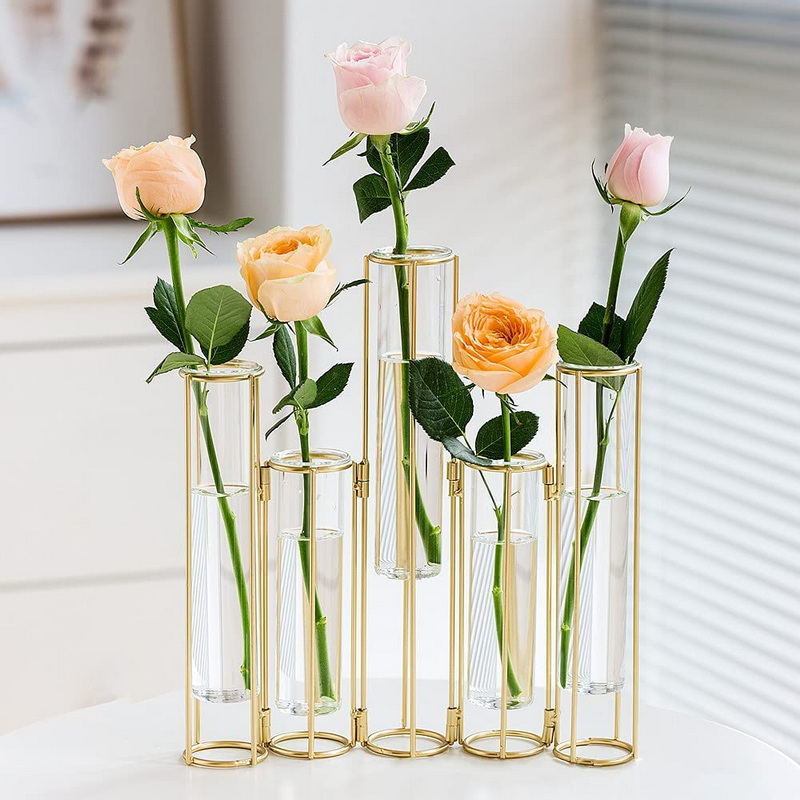 [buy on amazon]
Glass Flower Vase with Metal Stand
High quality transparent glass tube terrarium with modern simple trendy geometric design metal stand to make your plants look more beautiful. Minimalist decoration for your office and meeting room, to add greenery to your space; The glass vase is made of high boron glass, which makes the vase more transparent, sturdy and durable. The metal bracket is made of wrought iron and advanced electroplating technology to make the bracket more colorful and bright;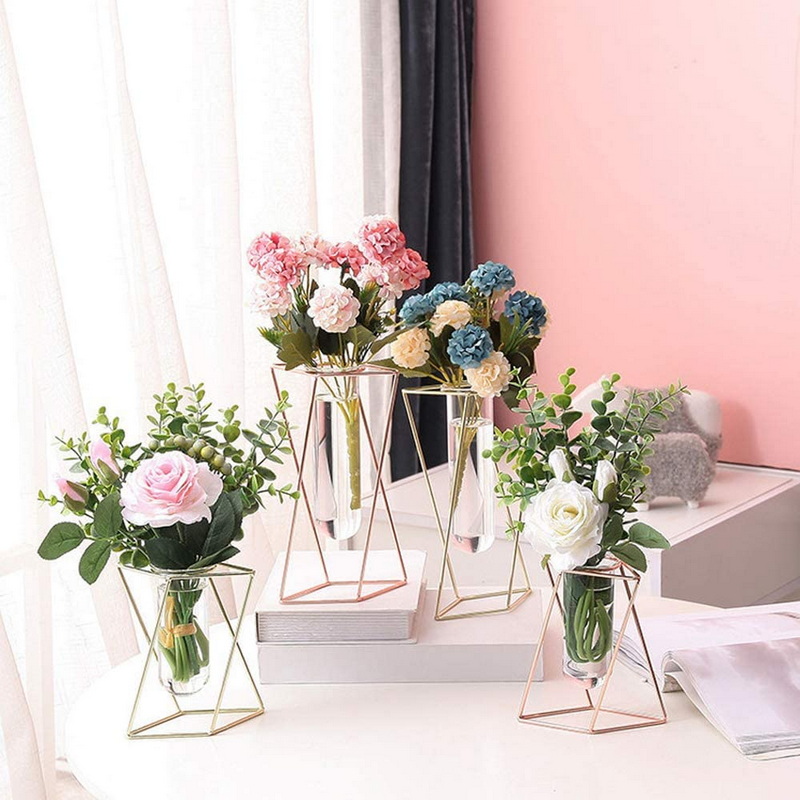 [buy on amazon]
2PC Gold Clear Glass Test Tube Vases
These gold vases are made of high-quality metal alloy and transparent test tube glass; Minimalist decorative vases, add greenery and spring to your space. Built-in crystal transparent test tube glass, you can take out the flower arrangement and change the water.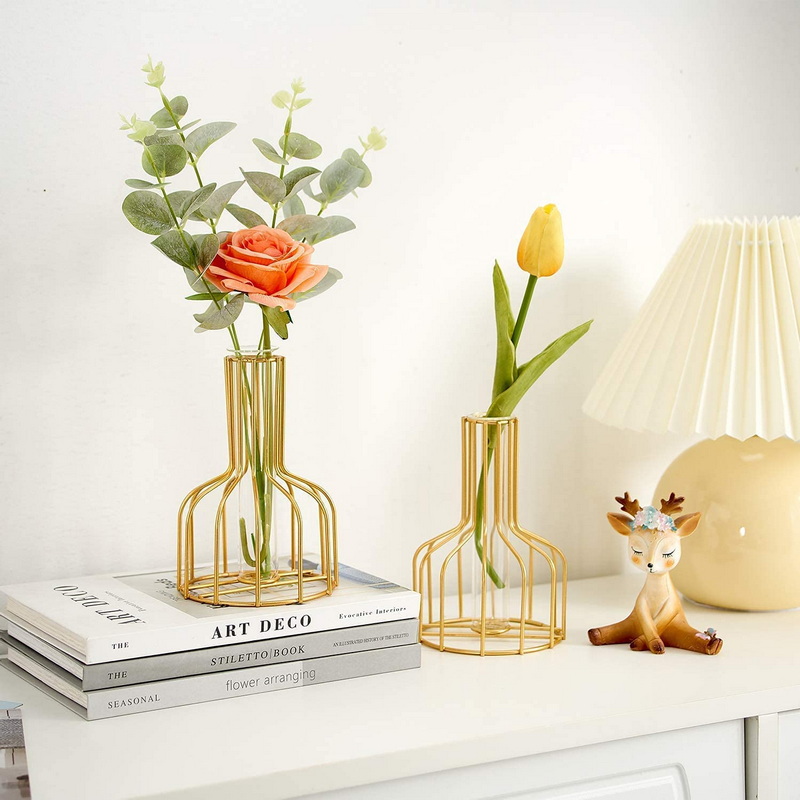 [buy on amazon]
Transparent Glass Vase Test Tube
Exquisite product design. High borosilicate glass test tube vase with walnut wood frame.
Suitable for cultivating aquatic plants; transparent design for observing growth condition.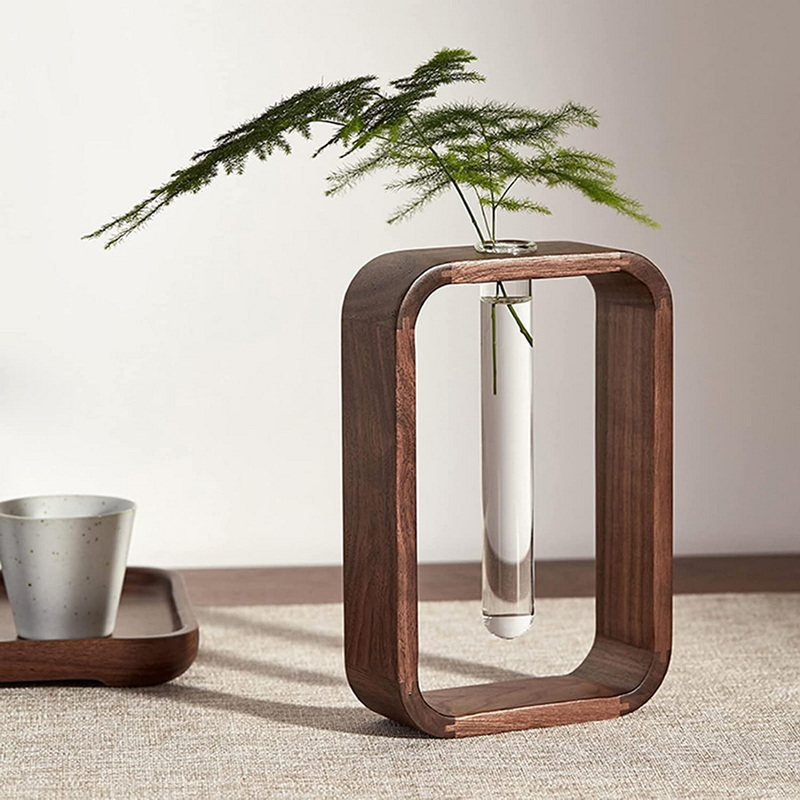 [buy on amazon]
Mini Test Tube Wall Hanging Flower Vases
The wooden frame is made of natural wood with a textured surface. The glass planter is made of excellent high boron silicon heat resistant glass, durable and sturdy. Safe packaged to prevent damage during transit. Minimalist look is suitable for most of water plants, fresh flowers, hydroponic, air plants, such as ivy plant, orchid plants.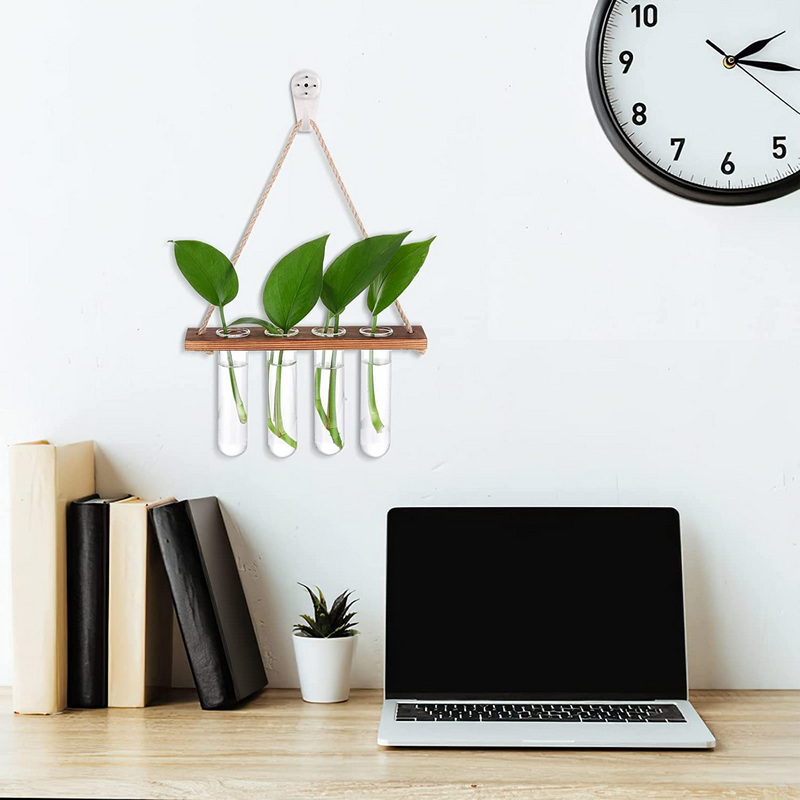 [buy on amazon]
Desktop Vase Test Tube Vase with Wooden Stand Terrarium
Glass vase inspired by tree holes. The stylish and simple design makes it possible to create an elegant and modern style in each area. Display planter or flower in the living room, bedroom, bathroom, dining room, kitchen or office, and small plants for home decoration.
Wooden Frame: 4.9″L×1.6″W×4.3″H; Test Tube: Diameter is 0.7″, Height is 4″.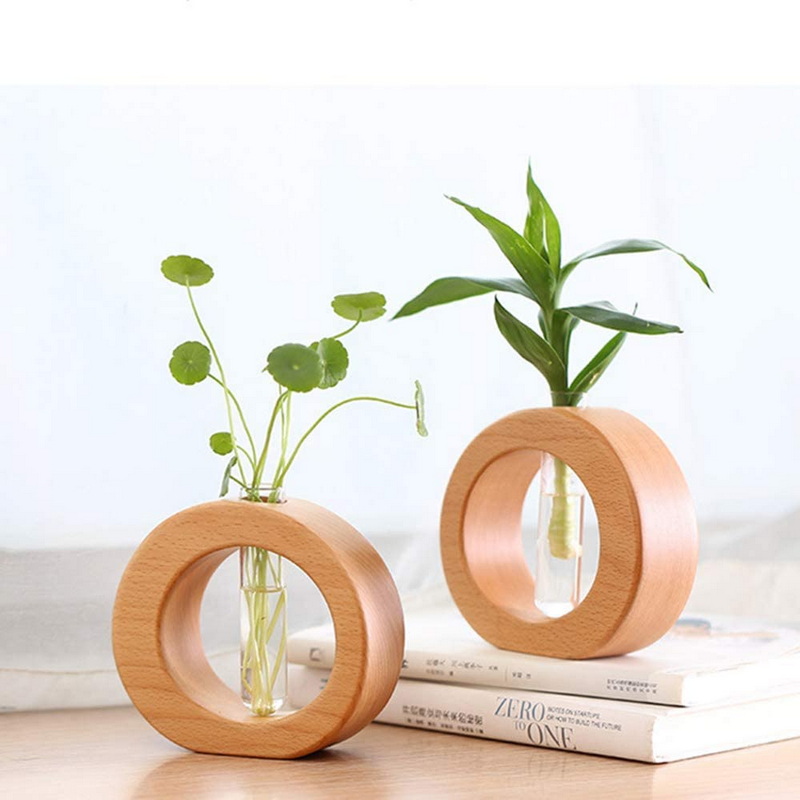 [buy on amazon]
Hydroponic Vase Transparent Test Tube Flower Hanging Bottle
Great for succulent, air plants (Tillandsia, Bromelaid family). More perfect if matched with white rocks, pebbles or acrylic. PACKAGE: 3 x Hanging Test Tube Vase; 3 x Iron Stents; 3 x Hanging Twine(3.3 ft at least); 3 x Seamless nail. Easy to hang up with rope ( included ).It helps beautify and purify your house or office, a good decoration for you.

[buy on amazon]
Ivolador Glass Propagation Glass Test Tube Plant Terrarium
Simply and elegant. Set of two symmetrical glass tube vases and wooden stands. Each measures 1.6 X 2 X 3.5 inches. Set stylishly in wooden holder, bring your flowers a beautifully designed display with 1 test tube vase. Younger plants, creepers, grass, shrubs, and miniature ferns or new marimo moss ballwould do nicely.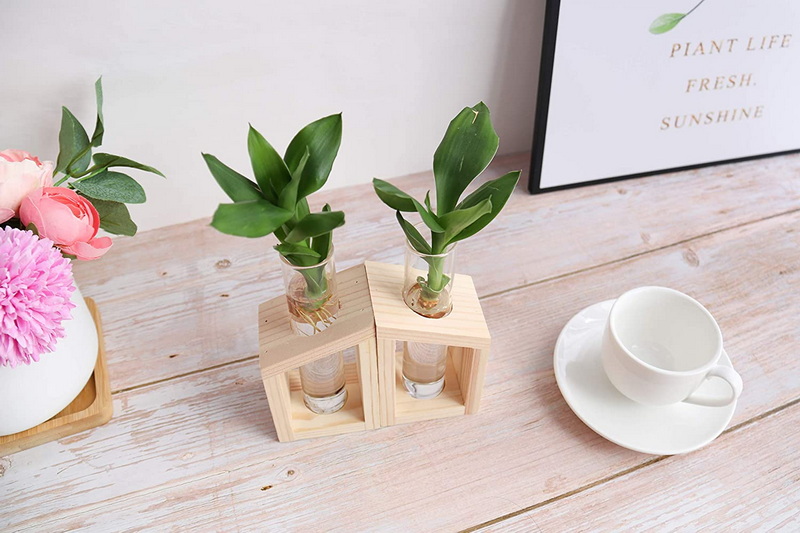 [buy on amazon]
Test Tube Vase for Flowers Decoration
The test tube vase size: Total height: 9.25″, diameter 3.35″. The lengthened tall bottle design is ideal for flowers or plants of various lengths. The tube of our test tube flower vases are thicker and stronger. The metal welded firmly that can be used for a long time. The mouth of the bottle is smooth and round, it does not hurt your hands.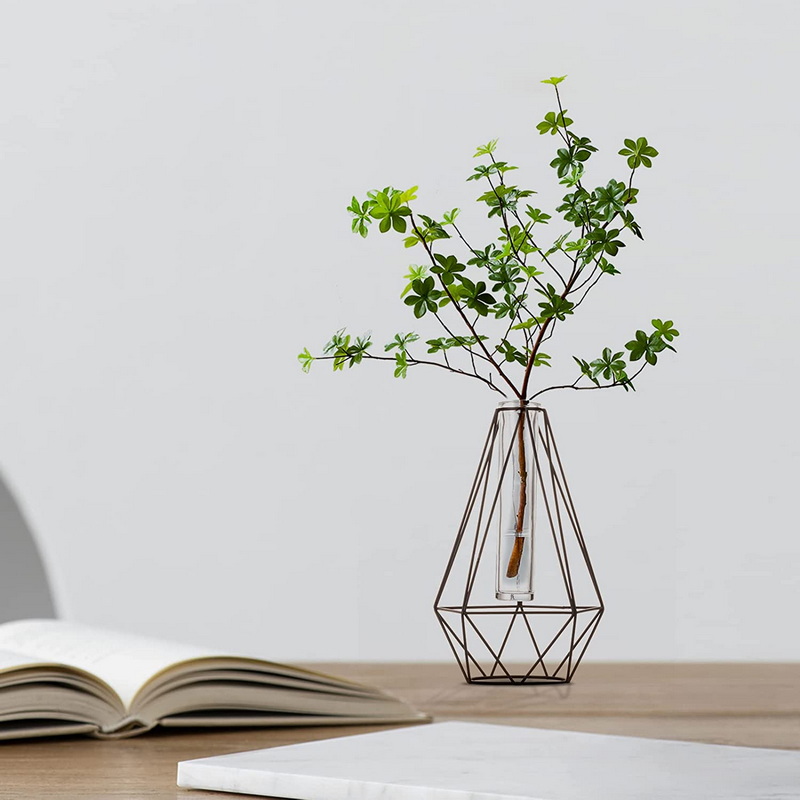 [buy on amazon]
Metal Geometric Flower Tube Vase
Including one large and one small vase, beautiful and environmental friendly, made of iron and glass, durable, the size is about 9.3*3.9*3.9inch (L*H*W of large vase stand), 6.3*3.9*3.9inch (L*H*W of small vase stand). Vase can not only be filled with flowers, branches, wheat and other plant decorations, but also filled with pearls, pebbles and other vase fillers.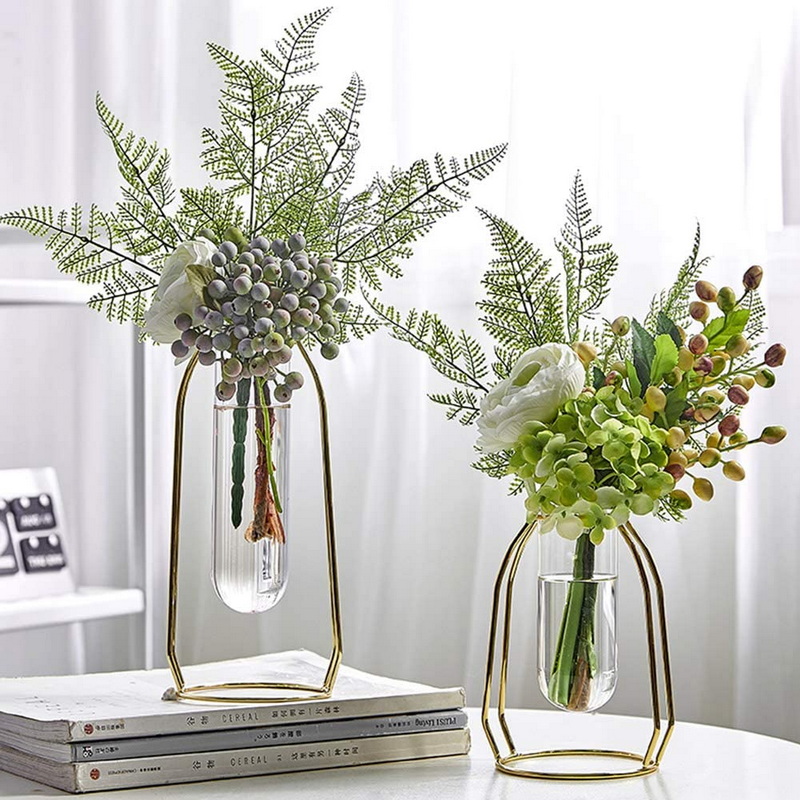 [buy on amazon]
Wall Hanging Flower Vase 4 Pcs Geometric Glass Test Tube Planter
These glass wall hanging vases are perfect for younger plants, creepers, grass, shrubs, and miniature ferns; Simply put the glass tube vase into the metal holder through the top opening hole, then pour water in one minute. Easy to put in or remove the glass container.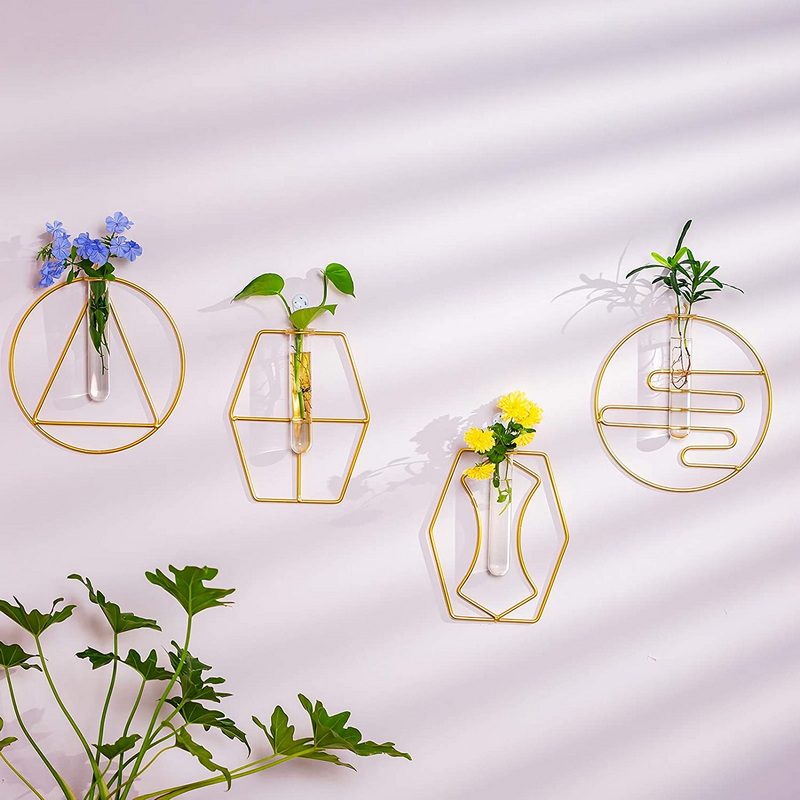 [buy on amazon]
Test Tube Glass House Bud Vase
4-glass set of test tube flower vases with rustic brown wood block base. Durable rustic brown wood block base complements a variety of decors and keeps the test tubes. Overall – 8.0 W x 1.5 D x 5.5 H; Wood Block – 8.0 W x 1.5 Dx 2.25 H; Vases – 4.25 H x 1.0 Diameter; Cleaning Brush (Overall) – 7.5 L x 1.0 W, Brush – 2.5 L x 1.0 W (in inches)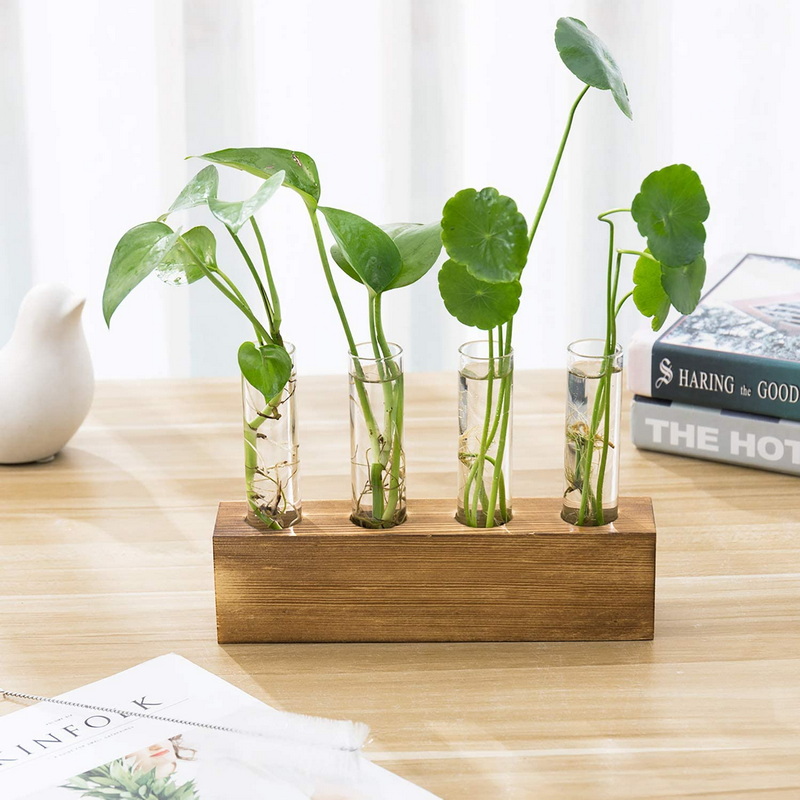 [buy on amazon]