Fire is one of the few forms of entertainment that is nearly ubiquitous. No matter what kind of music or movie you prefer, no matter if you enjoy the comfort of reading a book or the challenge of climbing a mountain, fire is something that most likely entertains you, and you are not alone in that. In today's post, we rounded up 11 Cool Outdoor Fire Pits, which helps trun your outdoor gathering places into works of art. Take a look and hope you enjoy.
We are a participant in the Amazon Services LLC Associates Program, an affiliate advertising program designed to provide a means for us to earn fees by linking to Amazon.com and affiliated sites.
1. Tee Pee Steel Fire Pit Gas Logs [woodlanddirect]
Add the charm and appeal of real wood logs with the convenience of natural or propane gas. The TimberCraft Metal Art Premium Tee Pee Steel Fire Pit Gas Logs – Lg adds a traditional wood burning feel with the ease of modern technology.
Features:
Made of 1/4" Reclaimed Steel
Easy to Install
Fits Fire Pits Between 27" and 36"
10-20 Min Full Heat-Up & Stays Hot for Hours
For use in Natural Gas or Propane Fire Pits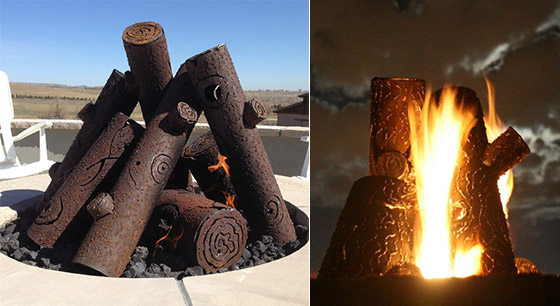 2. Up North round fireball [etsy]
The Up North round fireball is a unique sphere that features a Bull Moose, a family of deer with a doe, her fawn, and the buck nearby, and ducks flying over tamarack trees. Created as a wood burning sculptural firepit this globe can be converted to gas and is a beautiful addition to your backyard whether lit or unlit.
37″ Diameter
43″ Tall
1/4″ Thick American Made Steel
183 lbs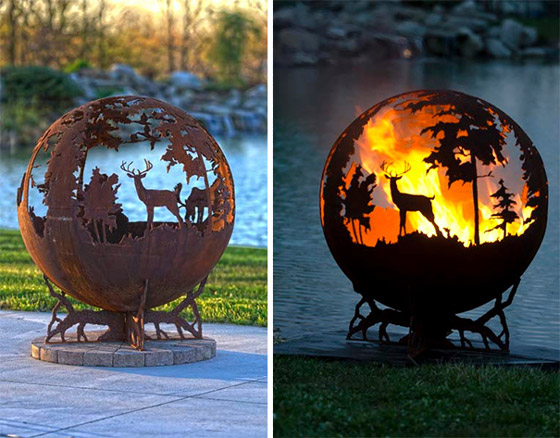 3. Kokopelli Fire Pit [buy on amazon]
The Kokopelli fire pit features a unique collection of Anasazi cave-art designs. A beautiful addition to any backyard or patio, The Kokopelli Fire Pit comes with a barbeque grill, essential for grilling with friends, so be ready for your next BBQ! Enliven your next outdoor gathering with the flicker and glow of a backyard fire pit. The hand-crafted Patina Products Fire Pit will warm you up when the sun goes down. With its convenient, portable design this fire pit is truly versatile. The included barbeque grill insert opens up a world of grilling and entertaining possibilities.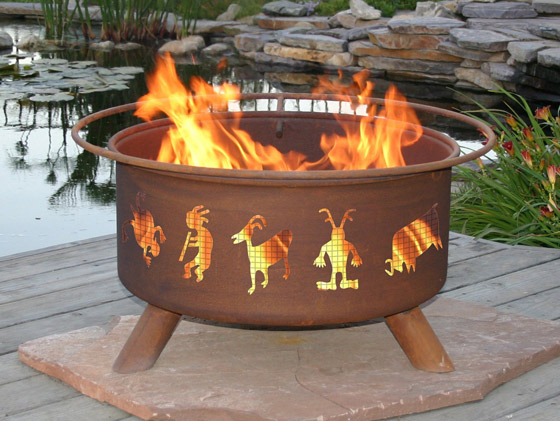 4. Fire Pit Art [buy on amazon]
Hand-crafted in the United States, Fire Pit Art fire pits are constructed with durability and creativity in mind. The bowl has the Native American god Kokopelli, geckos and sun cutouts around the sides and is constructed from heavy duty 1/4-inch thick carbon steel to make it one of the most durable steel fire pits on the market. The inner bowl is coated with a paint that is resistant to high temperatures, while the outer side has a maintenance-free, iron oxide patina that will darken over time. A drain in the middle allows rain to escape to prevent rusting. Each fire pit is unique and is individually numbered by the artist on a brass plaque, so you know you are getting a one-of-a-kind piece.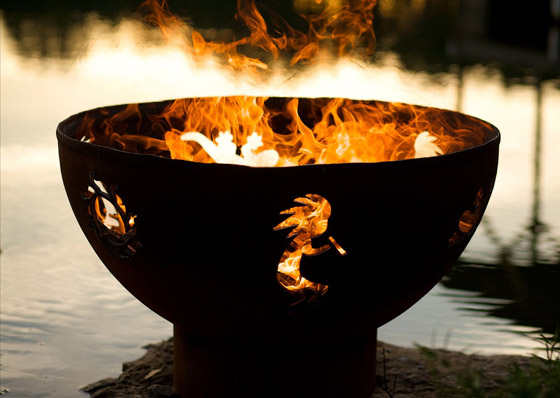 5. Greed For Quiet Fire pit [source]
Greed For Quiet is a fire pit and furniture all in one. The fire pit sits in a self enclosed unit surrounded by wood planks supporting 5 chairs. The design looks as if you're floating. Each of the "chair blades" can rotate around the fire pit to customize your conversational grouping.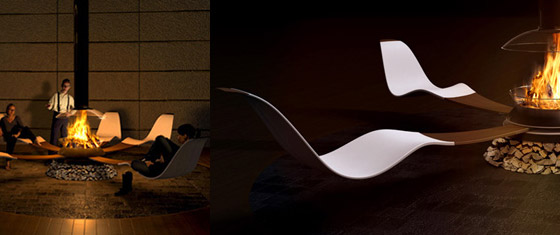 6. Third Rock Fire Pit [buy on amazon]
This globe-shaped fire pit is made from carbon steel with cutouts for each continent, letting the flames roar through the openings as you watch the world burn from the inside. The rain drain in the bottom of the globe keeps standing water out of your fire pit, and you won't need to do any maintenance to keep it in tip-top shape.
Made from .25-inch-thick carbon steel
Iron oxide finish/patina on the outside
Interior coated with heat-resistant paint
1.5-inch rain drain in the bottom
Overall dimensions: 36 diam. x 40H inches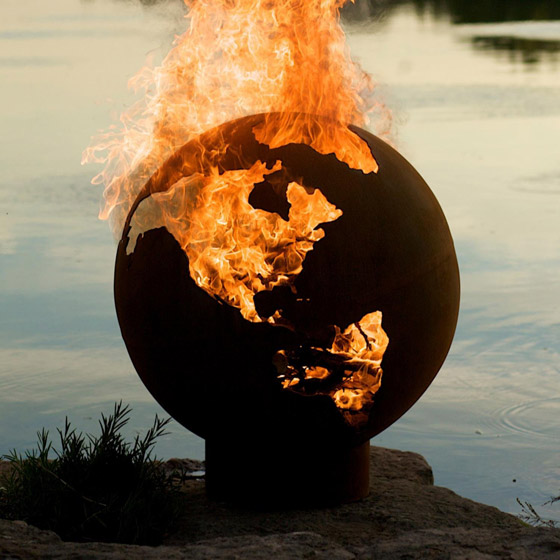 7. Folia Firepit [buy on amazon]
The perfect addition to any backyard, patio, sitting area, cottage or beach, the grand scale and unique form will add elegance and warmth to any space. Folia has been designed with slits along the blooming petals, allowing you to easily rest skewers, marshmallow sticks or even rotisserie spits.
The plate holding the fire is firmly secured to the petals which actually elevates the base off the ground. This has been designed to remove the bottom plate from making contact with the ground, once it reaches high temperatures.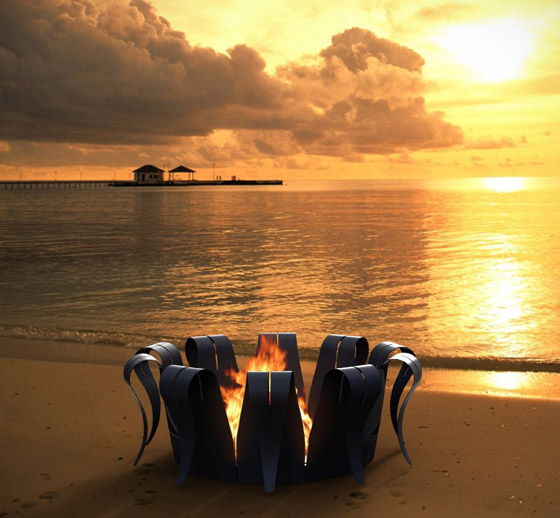 8. Astrofire Fire Pit by Modfire [source]
Manufactured from 14 gauge steel, and hand-rolled into a wide conical shape and attached to a ¼"plate steel base with sleek tapered legs. Astrofire measures 34" in diameter and 17" tall. It has a spacious 22" wide firebox for burning full size logs. Has a 125,000 BTU stainless star burner to keep you warm and toasty on even the coldest evenings.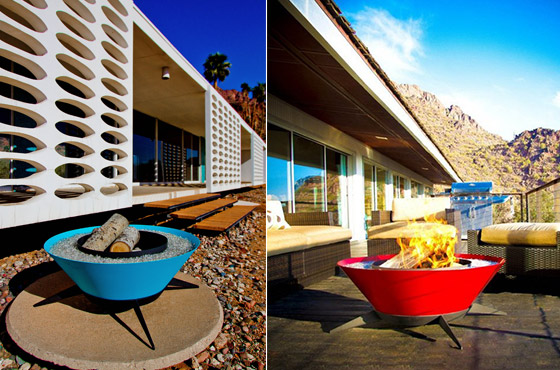 9. Full Moon Fire Pit [buy on amazon]
Full Moon Party Night FireDome offers a unique take on outdoor entertaining, marrying form and function in an object of art that will amuse, delight and add warm ambiance to any outdoor gathering. The intricately cut steel dome and copper finished steel basin are handcrafted of the finest materials with exacting workmanship to withstand the elements. Now even more unique, the FireDome features a built-in spark screen. Enjoy a captivating blaze in added safety. Complete set comes with dome, basin, stand and dome lifting rod.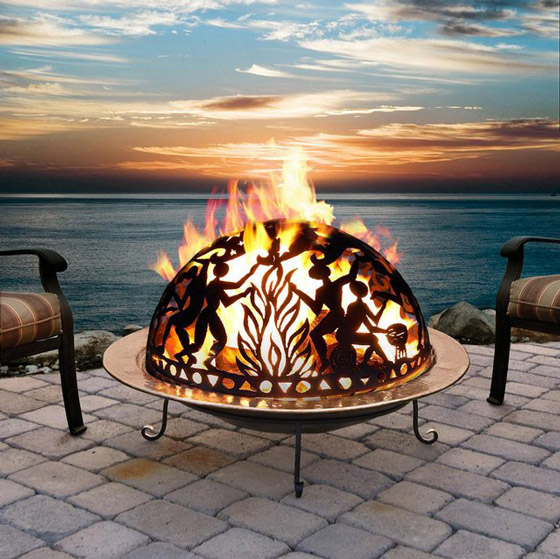 10. Fire Pit Bench [etsy]
This piece is constructed of a poured concrete top, with the same fireglass that the flames dance on being added to the concrete mix. The surface was then ground and honed to a semi polished finish. The edges were formed using a certain material that pulls the portland from the mix, leaving the aggregate exposed. This leads to a very nice contrast of rough exposed edges with a silky smooth top.
The piece measures 60″ long, 16″ wide, and 16″ tall.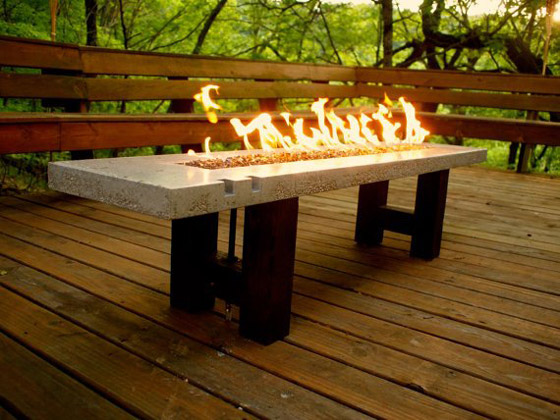 11. Zen Fire Pit [puremodern]
Maximize your outdoor space with this Zen Fire Pit. Create a special ambiance with fire using this sleek product. This modern feature will be an added bonus for any outdoor space, as a center piece to entertainment areas or relaxing retreats. Includes decorative lava rock, for a natural yet modern look or for added color the decorative fire beads are available. Made from cast concrete to create a smooth finish.