Crafting is a wonderful hobby that allows us to express our creativity and make something beautiful with our own hands. Whether you enjoy making diamond paintings, wreaths, doing needlepoint, or nearly any other craft, the finished projects can often be used as decorative pieces around your home. Let's look at a few ways to incorporate your craft projects into your home decor to create unique and personalized spaces.
Make Diamond Painting Wall Art
Diamond painting is a fun and easy craft that produces stunning results. Even if you've never tried this craft, you'll quickly discover how simple it makes creating beautiful works of art. Once you've completed a diamond painting project, you can turn it into gorgeous wall art. To do this, frame your diamond painting in a simple, neutral-colored frame to showcase the artwork. To make a statement, hang it on a prominent wall in your living room or bedroom.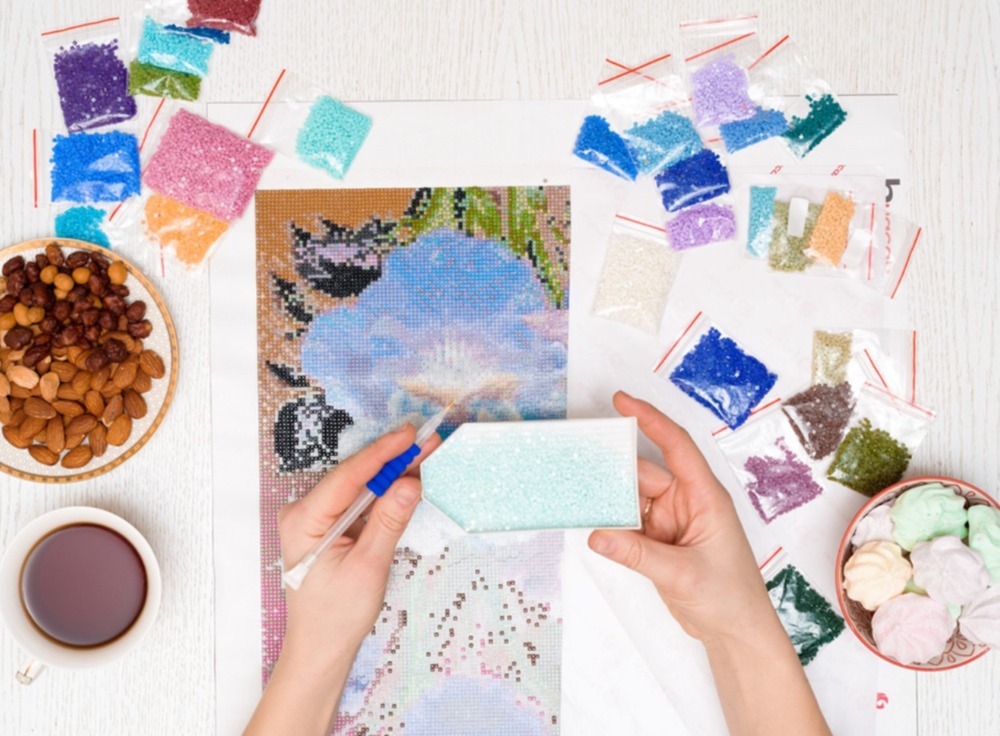 Source: taranova oxana/Shutterstock.com
Create a Gallery Wall
Gallery walls are a popular way to display a collection of art or photographs. Use your craft projects to create a unique and personalized gallery wall. Mix and match animal paintings and nature scenes to create a cohesive theme, orr group contrasting (not clashing) art to form a unique display. Use frames of varying sizes and shapes to create visual interest.
Use Your Crafts as Bookends
If you have a collection of books, try utilizing your craft projects as bookends. Sculptures, handmade candles, and dioramas all make lovely bookends. Make sure that whatever craft you choose for this application has enough weight to hold the books upright without sliding out of place.
Make DIY Coasters
Create DIY coasters using your craft projects. Turning art into coasters is a fun and functional way to incorporate your crafts into your home decor. Simply glue your drawing, small diamond painting, or another miniature piece of art onto a cork coaster and seal it with a clear coat of varnish. You'll be protecting your furniture and highlighting your creativity at the same time.
Create Personalized Pillows
Create personalized pillows using your crafts. If you enjoy fiber arts like needlepoint, cross stitch or embroidery, you can easily attach your finished designs to plain pillows. You can use an iron-on type of adhesive or sew your design onto the existing case. This is a great way to add a pop of color and texture to your living room or bedroom and show your completed projects off in a unique way.
Design DIY Wreaths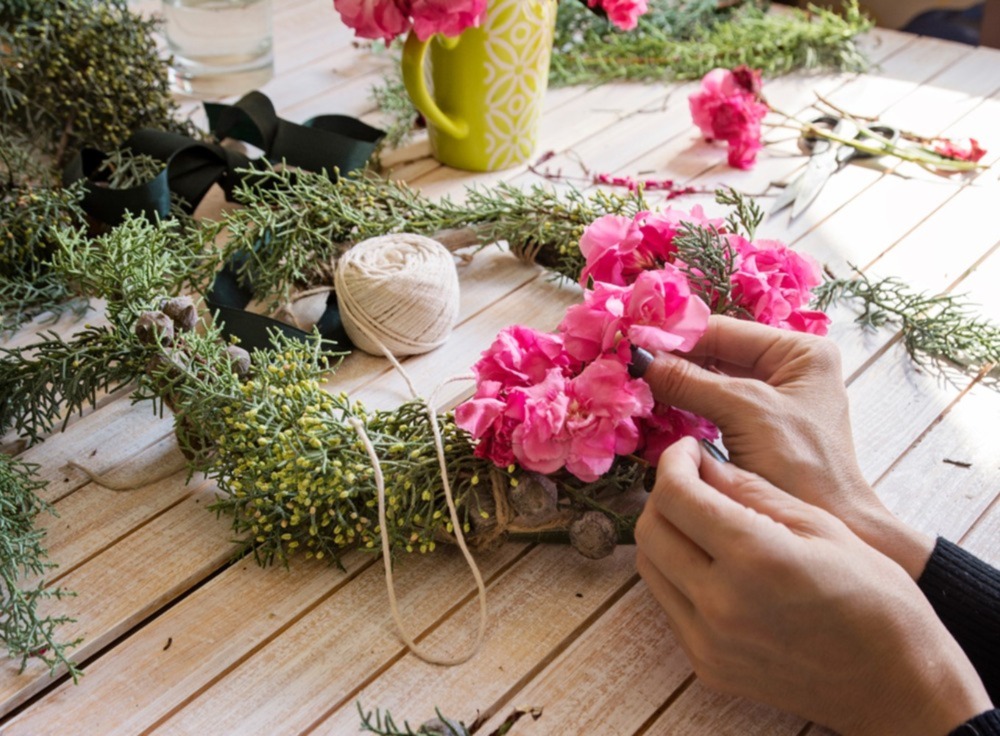 Source: SAQUIZETA/Shutterstock.com
Wreaths aren't just for Christmas! They're popular decor for every holiday and season and are easier to make than you think. With some basic craft supplies and creativity, you can make wreaths that are appropriate for every season and occasion. Display them on your front door, a wall inside your home, or anywhere else you can think of. DIY wreaths make wonderful gifts, too!
Make Customized Photo Frames
Why spend a fortune on picture frames when you can make your own using a few simple supplies? Create customized photo frames using craft supplies you have lying around the house. You can also use special mementos, like shells from your last trip to the beach, tickets from your last date night, or anything else that holds meaning to you. You could even decorate a frame using leftover drills from diamond painting kits. Use a glue gun to attach your chosen items to a plain photo frame. It's a great way to create unique frames for your favorite photographs, paintings, and more.
Create a Wall Mural
Want to try a craft that will significantly impact your space? Create a mural! Use a projector to project your design onto the wall, and use a pencil to trace the design. Once you have the outline, carefully fill it in with paint. Use painter's tape to mask each section as you work to ensure crisp paint lines. This project can be time-consuming, depending on the complexity of the design, but it's an excellent way to display your creativity and art skills in your home.
Design Decorative Storage Boxes
Use your craft projects to decorate plain storage boxes. Attach your project to the box to display your work in a way that's both functional and visually appealing. Projects with at least one flat side like diamond paintings and photos work best, but feel free to get creative. Just make sure to attach your artwork securely to the box, so you don't have to worry about it falling off.
Make DIY Wall Hangings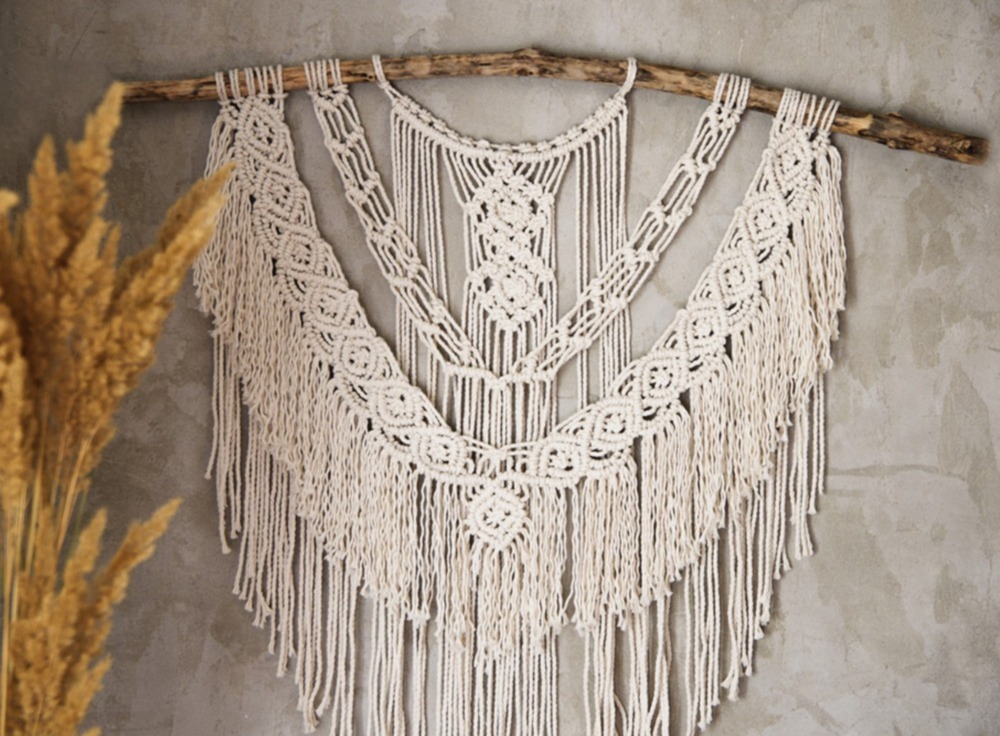 Source: Ozornina/Shutterstock.com
Wall hangings are on-trend right now, and what better way to decorate your home than by making your own? Start with a wooden dowel or a branch and attach yarn, macrame cord, beads, or other elements to create a one-of-a-kind design. Experiment with mixing and matching colors and textures to make a hanging piece with visual appeal. You can even make wall hangings that can display posters and artwork.
Decorate Your Furniture
Don't live with boring furniture or splurge on brand-new pieces when the ones you have are perfectly functional. Instead, get crafty! Give your old desk a fresh coat of paint or your sofa some fabulous new upholstery. Swap basic knobs and handles for unique ones that suit your style. Securecompleted pieces todrawers, or leave out on flat surfaces like dressers and side tables. There are many crafty ways to decorate your furniture without spending a fortune.
Enhance Your Home Decor with Personalized Crafts
Craft projects are a great way to add a special touch to your home decor. No matter what type of artistic pursuits you enjoy, there are many ways to incorporate your creations into your home. From wall art to functional items, the possibilities are endless. You can make a unique and personalized space that reflects your personality and style using your own artistry. So, grab your crafting supplies and start creating!