Drinking straws are such common things that we don't usually pay attention to it. However, due to the environment concern and reduce the usage of plastic need, more and more durable and reusable straws appear on the market. Plastic, bamboo, stainless steel or silicone, now you can find drinking straws in all kinds of material. But if you think that is all you can get from the straws innovation, you are wrong! In these days, straws can not only be made from various material, but also many creative/playful shapes to play a decorative role in a special occasion. Crazy loop, eyeglasses straw, whistle straw or straw building set, there are so much fun with straws!
This post may contain affiliate links. If you make a purchase, Design Swan may earn an affiliate commission. Please read our disclosure for more info.
Elephant Straw [buy on paladone]
These adorable elephant straw toppers are attached to reusable plastic straws, meaning you can do your bit for the environment whilst enjoying a tasty drink. Great for animal lovers, the Elephant Straws make a wonderful gift for birthdays and Christmas, and are ideal for your next office Secret Santa, or as a stocking filler for a loved one.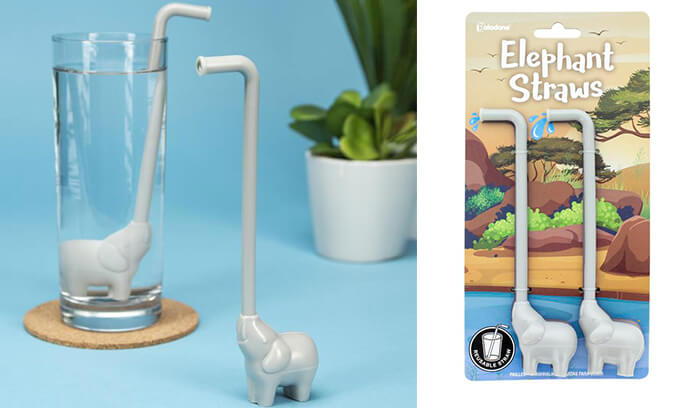 Gummy Worm Straws [buy on amazon]
Turn a gummy worm into a reusable straw? YESSS! Slinky Drinks are molded in bright translucent colors from food-safe silicone. They add some wacky fun to any meal time. You get three assorted food-safe wiggly silicone straws. In each set you get three assorted wiggly straws, enough for up to three friends to join into the fun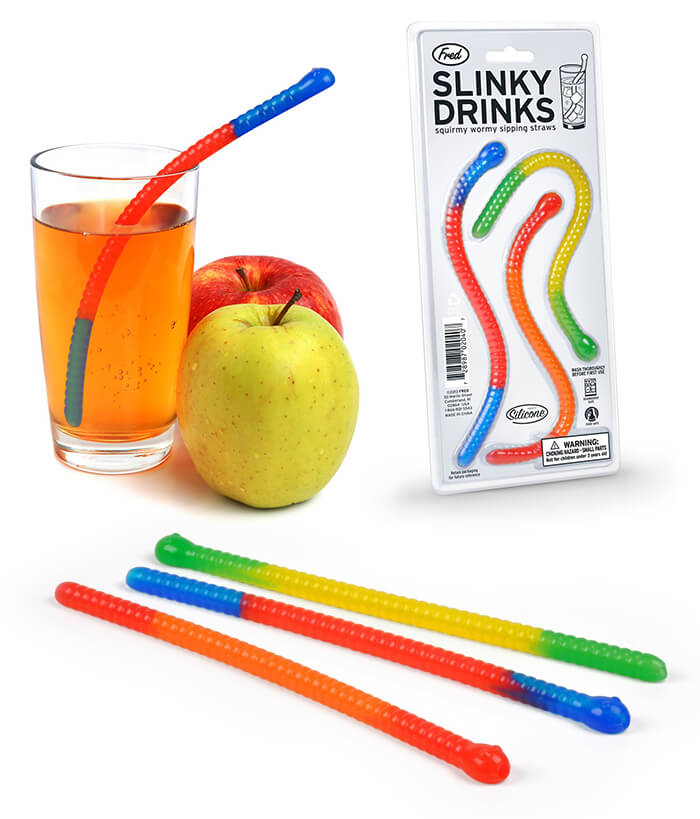 Drinking Straw Building Set [buy on amazon]
Help the kids (or adults) get a head start on creativity and be on the way to building something fabulous. Drink through these straws with any design you choose! Includes 194 Pieces – (100) bendable straws, (75) short straws, (19) connector pieces. Make your own silly straw – the best way to drink! Perfect for children ages 8+. Prior to use, wash all straws and connectors with warm soapy water.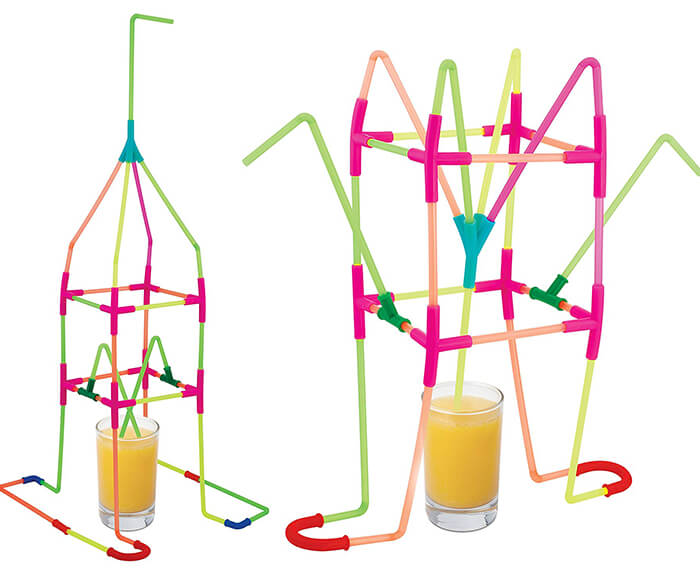 Whistle Straws [buy on amazon]
Everyone loves to blow bubbles with a drinking straw, but Fred and Friends wanted more! Now we've added a new, musical feature to the fun! WET MY WHISTLE is a straw that works like a whistle – just blow to hear your melodious tunes. To drink, just block the whistle hole with your finger when you're ready to sip. Food-safe plastic construction. Each package comes with 4 musical straws.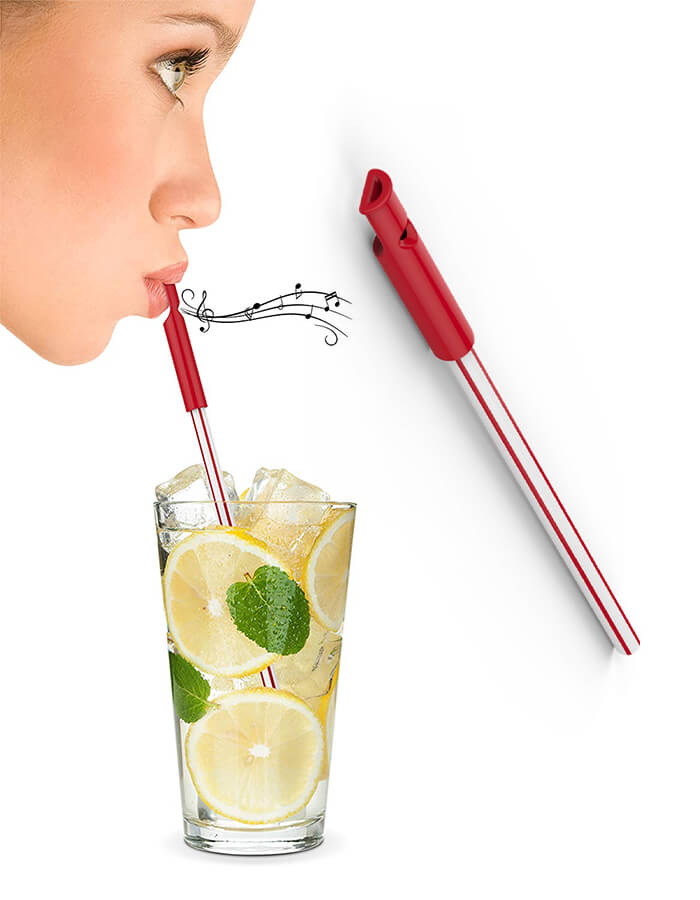 Fun Eyeglasses Straw [buy on amazon]
A funny eyeglasses that will change color. The color depends on what you drink, if you drink the watermelon, it will be red, if you drink orange juice, it will be orange.
Features:
Safe and non-toxic, safe to use.
The color of the glasses depends on what you drink.
A must thing for party!
Very suitable gift for kids.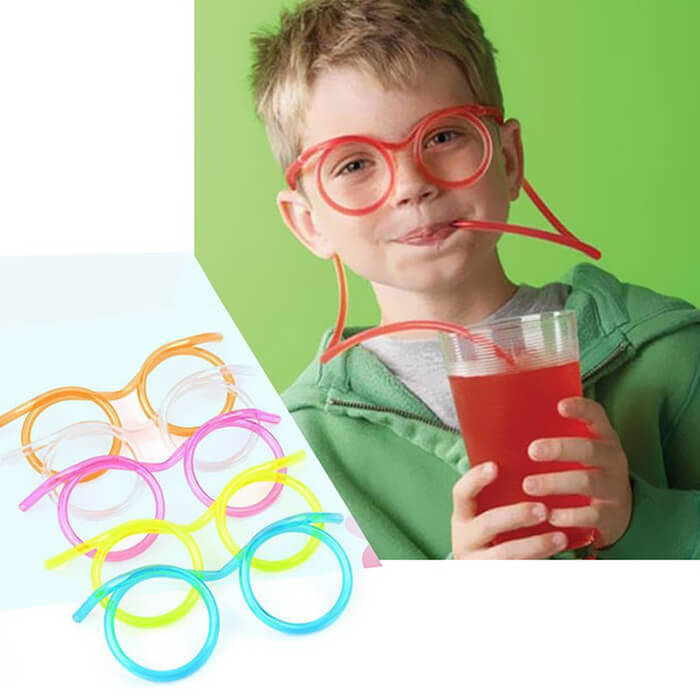 Red Heart Loop Straw [buy on amazon]
Package including: 24 PCS heart crazy straws.There is a heart decoration on each straw
The straw is 26cm/10″ in length, can be applied to a variety of drink cups
Diameter of the straw is 5 mm, suit to sip most kinds of drinks
These Valentine drinking straws are made of plastic, very durable. Use them as straws for Valentine's Day party, and also can play a decorative role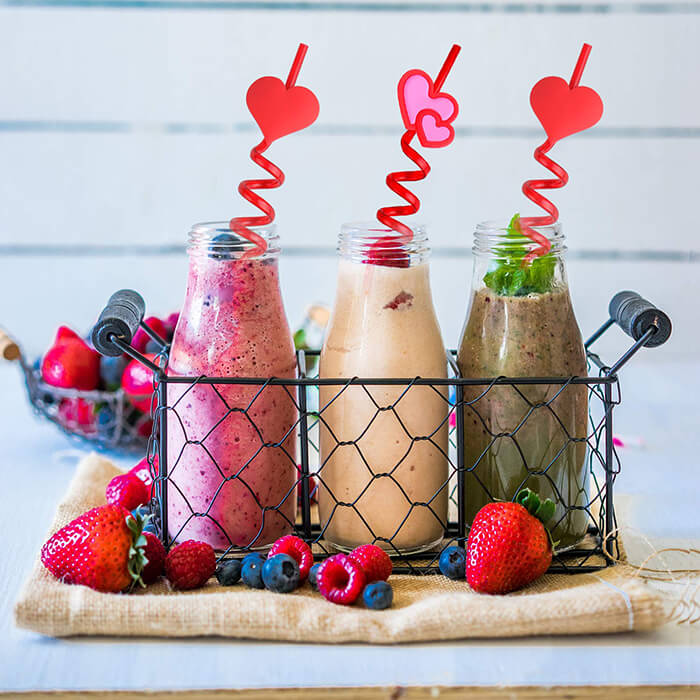 Crazy Loop Straws [buy on amazon]
BPA and PFOA free will let you rest easy when your child is sipping from our straws
size of 50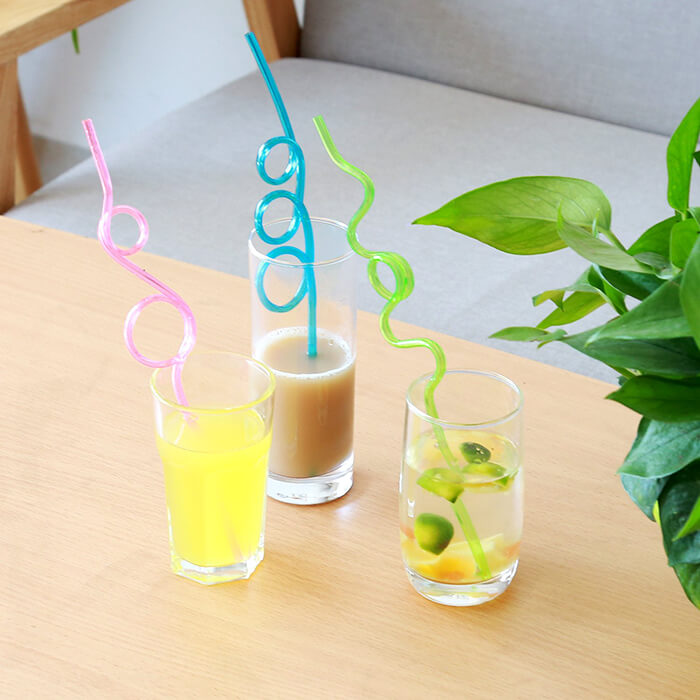 Collapsible Straw Reusable 304 Stainless Steel [buy on amazon]
The premium Eco Friendly straws is made form absolutely the best material, premium food-grade stainless steel and medical-grade TPE interior tube material, FDA-Approved, non-toxic, 100% BPA Free and lead free without metal taste, a perfect replacement for your plastic straws. The portable travel straw set includes stainless steel folding straw, cleaning brush, sturdy case and placed in a sturdy casing.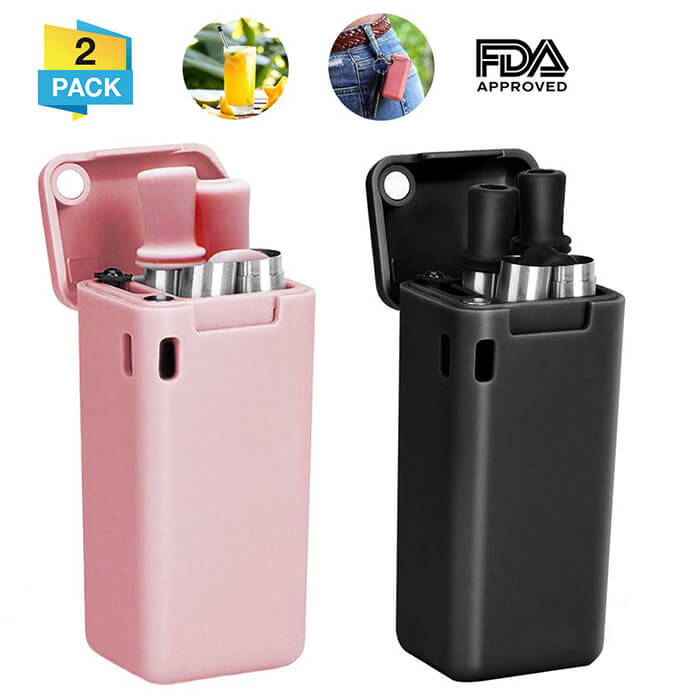 Natural & Handcrafted Bamboo Drinking Straws [buy on amazon]
These straws are harvested from 100% organic bamboo farms cared for by grassroots cooperative farmer families in the Philippines, making them a smart choice that supports fair trade and a sustainable loop. Compared to glass and metal straws, Karunaki bamboo drinking straws are the clear leader, with a low manufacturing carbon footprint. Karunaki's rigorous testing and handling practises ensure the delivery of a product that is durable, biodegradable, composable, and safe from microbial contaminant growth.
Reusable Stainless Steel Straws [buy on amazon]
Using 18/8 ​FDA-approved​ stainless steel, this ​2 set of straws ​promises ​unrivaled and long-lasting functionality​. Each ​utensil is also antibacterial, rustproof, break proof, and corrosion-resistant​ as well as easily washable​ (due to the accompanying cleaning brushes). Boasting impeccable quality, the Lime Skies environmentally-friendly beverage supplies ​are ​enjoyable​ and ​fun ​to drink with and promise not to leave a weird aftertaste. ​BPA-free and toxic-free,​ these ​tall, universal ​drinking straws are even ​safe ​for children to drink from. With packaging that is as equally ​attractive ​as it is ​convenient​ and​ compact​ – these​ s​straight metal straws with pouch​ is something you won't want to leave home without.
Skinny Reusable Silicone Straws [buy on amazon]
Adults and kids love to use them! They're stylish and help reduce your impact on the environment every day. Keep a set at home, in your car and at the office. Comes complete with a breathable pouch and cleaning brushes for when you're on the go.