Table, our 4 legs friend at home, in most case is plain and boring. However, the 11 tables presented in this post are anything instead of plain. Acutally each is a great example of functional design or even art that puts my poor, boring little desk to shame. From cat friendly table to gorgeous glass river embeded table, from multi-functional dining+pool table to artistic balloon up balloon table, hope you enjoy these brilliant and artistic table design which seemlessly fuses function and artistic together.
See more amazing table design, check our previous post "Table or Art? 8 Truly Artistic Table Designs".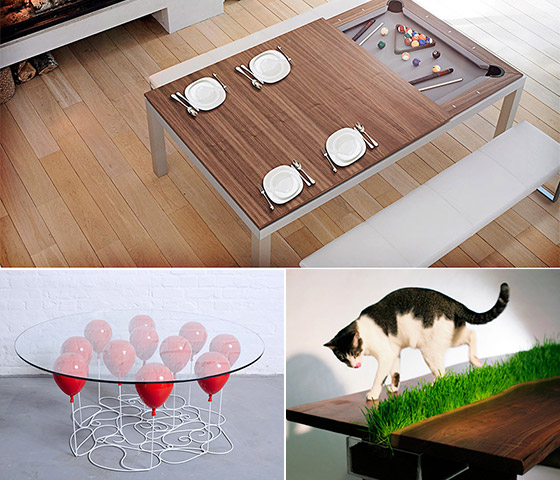 1. Up Balloon Coffee Table
This delightful table is constructed using toughened glass, metal resin composite, and toughened steel rods. Despite having the word "toughened" in the material description, this piece conveys a feeling of weightlessness. It's a testament to Duffy, not only as a designer, but as someone who can create wondrous, everyday illusions. The 2015 edition of the Up Balloon Coffee Table is limited to the production of 25. Prices start at around $8,300 US dollars for this unique piece of furniture.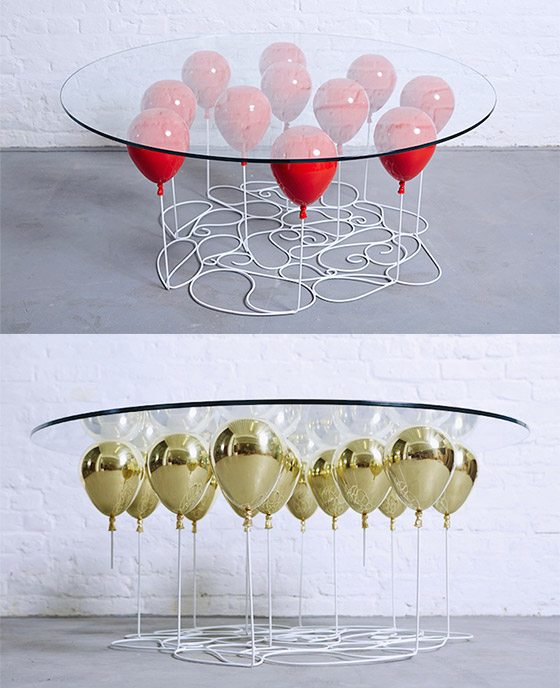 2. The Abyss Table
With multiple layers of stacked glass and wooden slices, duffy london has built 'the abyss table', replicating the dramatic depths of an indigo ocean. The design creates a geological cross-section of the sea, completing the table as a 3-dimensional model of a geological map.

3. CATable
The charming CATable was created by Ruan Hao from LYCS, an architecture firm based in Hangzhou and Hong Kong. Especially designed for cats to explore and sleep in, the project follows a worldwide trend: that of sharing your home with pets. The table features crannies and passageways, where your furry cat friend can happily roam stealthily. "Peopole who lives with cat always has those kind of experiences: 1. Putting away the cat from your lap top was like a sentimental ritual of temporary farewell. 2. A proper sized hole could be so irresistible to cats. Their curiosity would be greatly satisfied through repetitively exploring the unknown path behind the hole.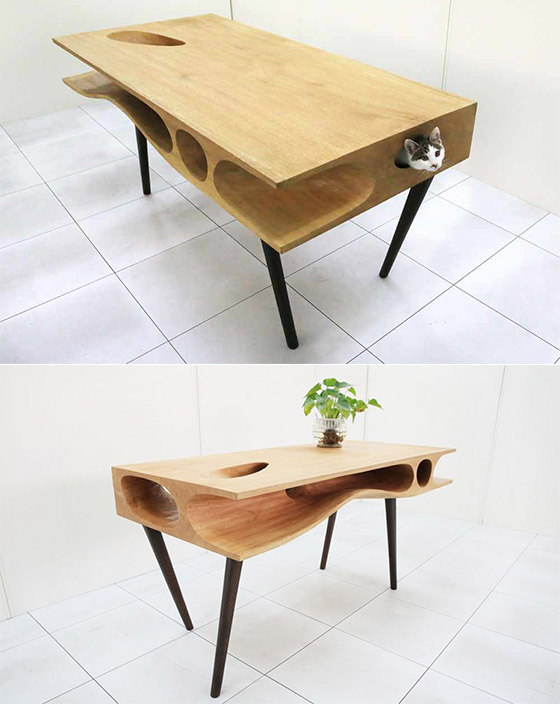 4. Wood Tables Embedded with Glass Rivers
Furniture maker Greg Klassen has designed unique collection of dining and coffee table. Each table features hand-cut glass pieces running through the center of the wood construction. Each piece of wood was used from discarded trees from construction sites, and dying trees that were just beginning to rot. The intricate glass process was designed to look like just like a body of water flowing through the middle of the table, and the pattern mimics the jagged shores of both lakes and rivers. Klassen says that his inspiration came from the beautiful surroundings of the Pacific Northwest.

5. Cupcake Stool and Biscuit Table
This playful set of furniture called "Sweeties" is designed by Boggy Chan in shape of enlarging sweets. Consisting of a enlarging cupcake stool and biscuit table, this lovely set of furniture will definitely spice up your tea time and give you immersively delicious experience. Besides the untra realistic looking, they are quite functional as well. The height of cupcake stool can be adjusted from 30cm to 50cm depending on the user or occasion.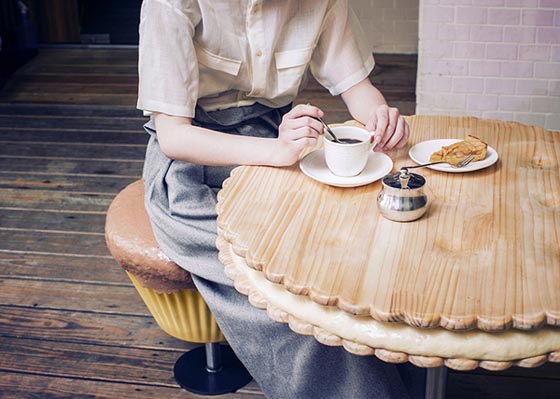 6. Ballet-Inspired Giselle Lounge Table
Russian designer Anna Neklesa under impression from the Russian ballet dancers has created the Giselle low lounge table. The table top is made of steel or powder-coated aluminum and the legs are made of painted oak wood. The low table also offers storage space for news papers, magazines and other small items in the storage tubes beneath the top.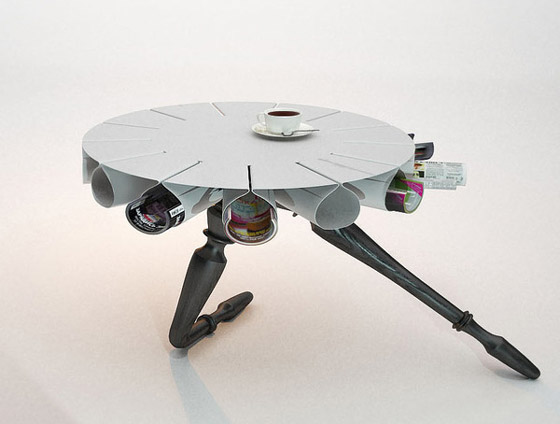 7. picNYC Table
The creative picNYC Table is a fun project by Dutch designer Haiko Cornelissen. "The picNYC table is fully made out of high-end light weight aluminum that is cut, folded, bolted and welded together by an American manufacturer specialized in aluminum products. Beside grass, other plants or materials can be installed.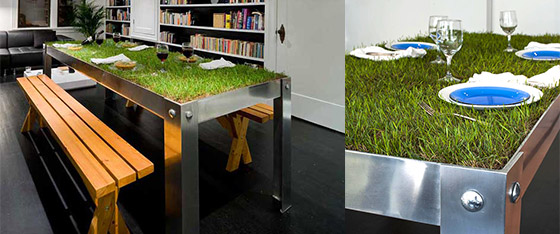 8. Branching Table
Part of table geometry was inspired by growing forces in trees and traditional Japanese joinery. Made from local walnut and bamboo with plex­i­glass inserts. Two materials were joined with wood lap joints with­out use of hardware. Hand­crafted in San Fran­cisco, Cal­i­for­nia. Dimen­sions: 44"L x 24"W x 20"H.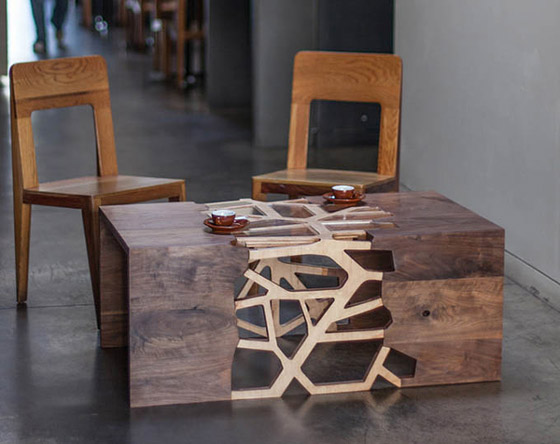 9. Cat Friendly Planter Table
This beautiful planter table is a project created by Emily Wettstein. The table is made from reclaimed walnut and steel with a removable planter that can hold a variety of plants, in this case wheat grass.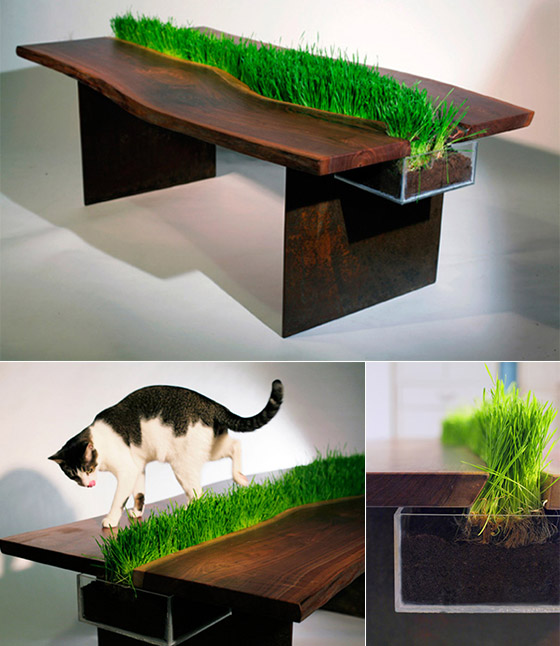 10. Sparkle Palace Cocktail Table
Minneapolis-based designer John Foster created a magnificent cocktail table, which will make your guests take out their cameras once they enter you living room. His one-of-a-kind "Sparkle Palace Cocktail Table" table is a magnificent fusion of glass and light reflection. A round glass tabletop is placed on a reversed pyramid of elegantly cut glass crystals, which divide the natural light into hundreds of rainbow reflections the walls.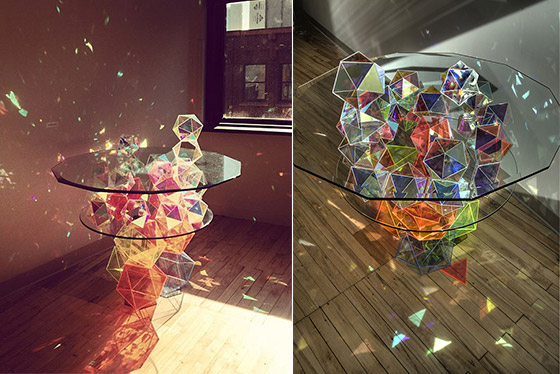 11. Fusion table
The Fusion table's sleek design uses a aluminium color powder coated rigid steel Space – Frame to accommodate the strength and stability required to hold the single piece slate playing surface in place. All of the pool accessories will fit on the table without anyone ever knowing what lies under the table leaves.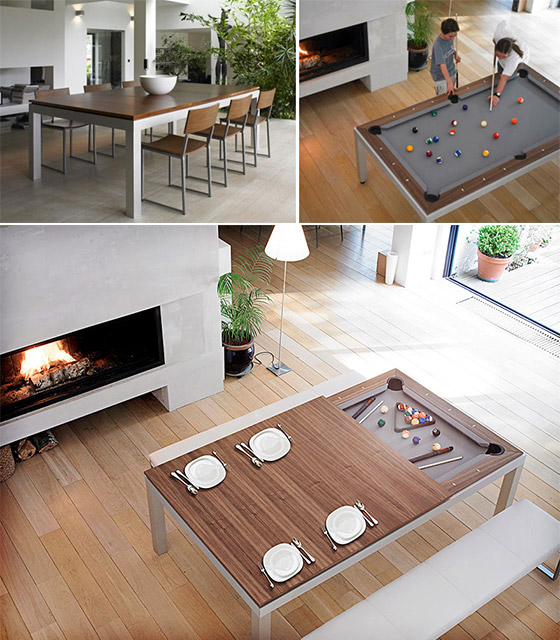 12. Hammock Table
Simple and elegant in form, the Hammock table is made of only three materials – rattan, glass and stainless steel. The beauty lies in the way the way the weaved rattan rests, right below the glass table top. Though you could display a number of items on the shelf, like magazines, decorations or books, the spot looks as if it's meant to be the perfect place for a feline friend. Just as the photos show, cats would seem perfectly at home right underneath the table.