Ring is one of the most ancient jewelry, and usually People give a rings as a love symbol, like engagement ring and wedding ring. While now, wearing unique ring can also be a way to express yourself. This collection consists of 12 Creative and Stylish Rings. You'll be surprised by imagination of theirs creators.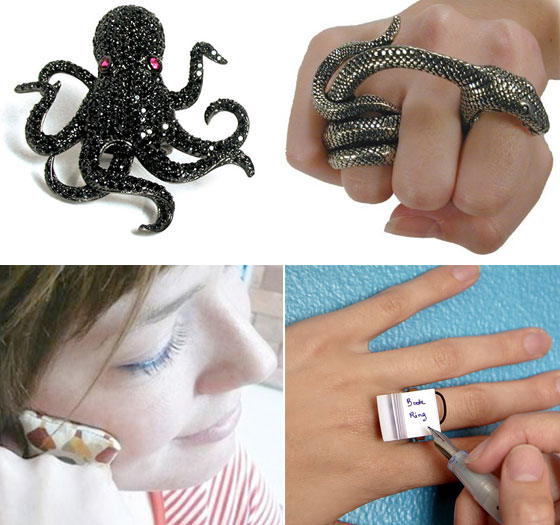 We are a participant in the Amazon Services LLC Associates Program, an affiliate advertising program designed to provide a means for us to earn fees by linking to Amazon.com and affiliated sites.
1. Growing Ring [DesignSwan]
Growing Ring is a redefinition of modern values. It is a clash of jewelry an gardening; couture and organism. The collection of this hand jewelry is designed for people in metropolitan cities and is an experiment in drawing nature toward man, as nature being the presupposition of life.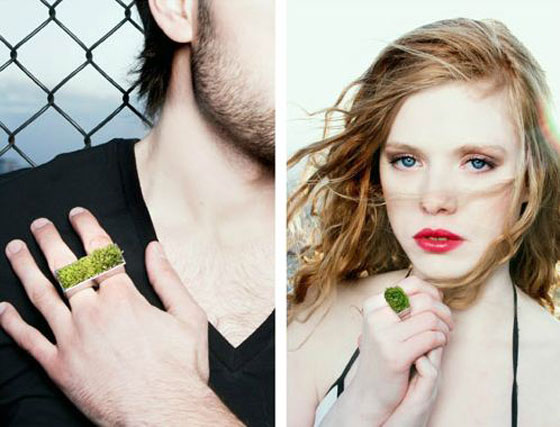 2. Ring-shaver: Shave with a Flick of a Finger [DesignSwan]
A repetitive action for many men is touching their chins – particularly when appreciating themselves in the mirror! Ring-shaver was inspired by this tendency. Ring-shaver is a small, tube-shaped shaver that slips over the finger. In comparison to traditional means of shaving, Ring-shaver allows a more flexible shaving action. A toggle switch activates the flywheel to provide the necessary driving force.

3. Food Decor Ring [link]
These delicious decor ring will keep you hungry all the time. It seems that minimized copies of Japanese meals were attached to the wearer's fingers, lovely and funny!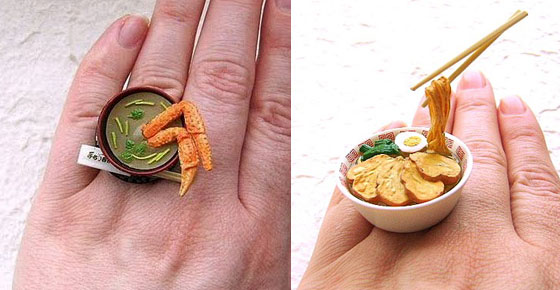 4. Nail File Ring [link]
Ripped nails can do many bad things, can cause many unwanted accidents. This nail-file, cleverly disguised as a ring has 'solution' written all over it. The ring was made of stainless steel, with a partial sapphire rasp coating.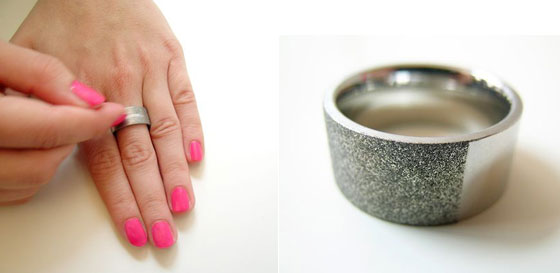 5. Adder Bite Alchemy Gothic Snake Ring (discontinued)
Gigantic, venomous serpent spanning two fingers to sink its teeth into the third. Generally worn on the ring finger, with the snake biting the forefinger. This massive Alchemy Gothic pewter ring cannot be ignored! 3″ across, 1 1/2″ wide.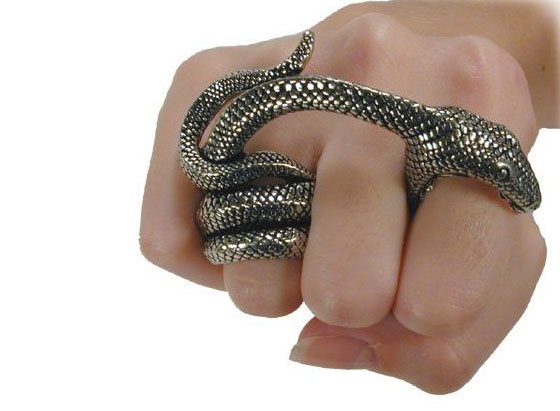 6. Book Ring [link]
Unusual ring design by Ana Cardim looks like a miniature book. If you want… you can make note on it…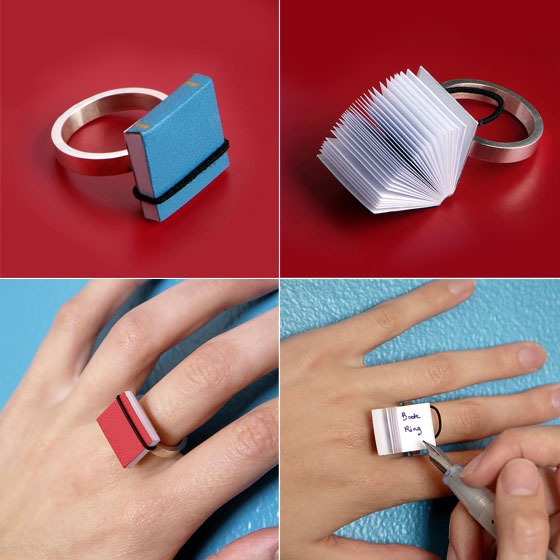 7. Remember Rings [link]
If you alway forget the big day – anniversary or her birthday, then it might be the ring for you. The Remember Rings is a wedding band that reminds you of your anniversary, before 24 hours the big day, it will warm to 120º F for approximately 10 seconds, and continue to warm up every hour, on the hour, all day long!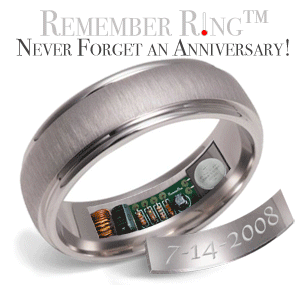 8. Cushion Ring [link]
Pilo-Pilo is a finger ring with a mini cushion attached to it. People have the tendency of resting their cheek on their fist when they are thinking, daydreaming… falling asleep; a fashionable yet portable cushion might just provide the companionship that you've long sought in those tedious boring hours in school, at work… or when you got stood up in a date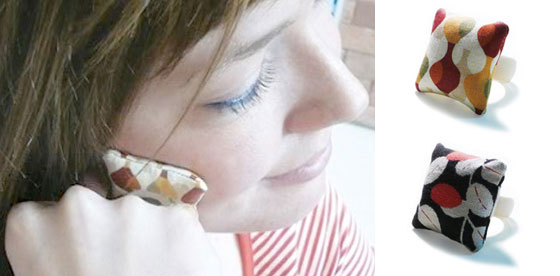 9. Dream House Rings [DesignSwan]
The 'Dream House' Rings are miniatures rings of actual buildings rendered in 18-karat gold and platinum. Cool rings!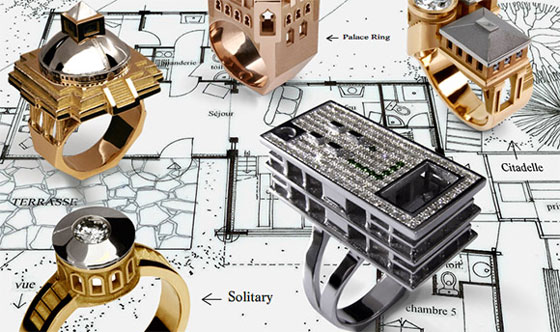 10. Gorgeous Architecture-Inspired Rings [link]
These beautiful architecture-inspired rings are made of stainless steel, silver, titanium, gold, Corian and precious stones.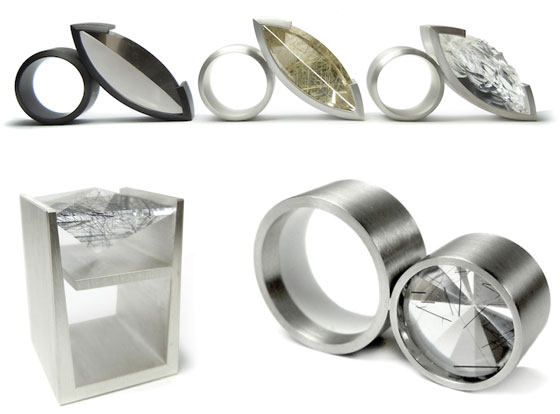 11. Pink Flowers and Fuchsia Resin Ring [link]
Beautifull ring made of high quality clear resin and beautiful, natural flowers.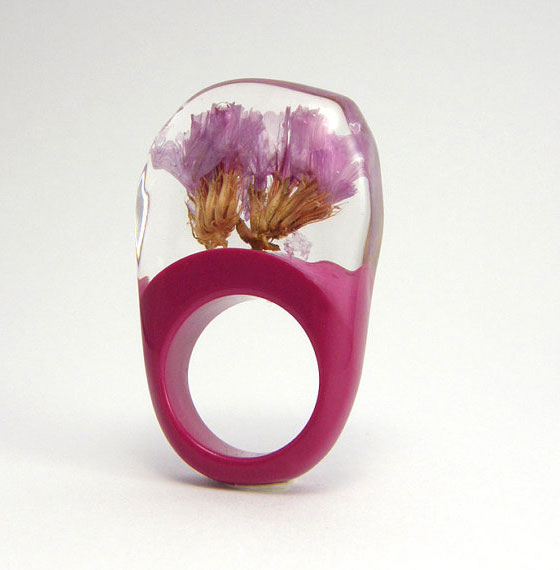 12. Sculpture Ring [link]
Beautiful and luxurious rings from nOir Jewelry. Go beyond the predictable with NOIR fashion jewelry that takes edgy street influences and redefines them for a fresh approach to glamor.