With the warm weather season finally upon us (sorry Australian and New Zealand readers), you're probably hoping to spend time relaxing and laying on the beach. But lets be honest, laying on the beach all day, can get a bit boring so therefore we created a list of the funniest beach gadgets.In this post, we rounded up 13 Creative and Useful gadget and designs for your time on beach. Those designs will definitely add some pleasure to your enjoyment on beach.
We are a participant in the Amazon Services LLC Associates Program, an affiliate advertising program designed to provide a means for us to earn fees by linking to Amazon.com and affiliated sites.
1. The Wackiest Bikini has a bottle opener built in [link]
Bottle Betty suits have a built in bottle opener on the top and on the bottom that replace the usual swimwear accent pieces, but have the added benefit of opening a bottle. Popping tops will never be the same!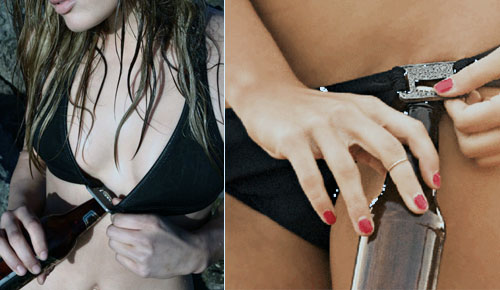 2. Wearable Towel [amazon]
The Wearable Towel has three arm openings placed along the side and does not employ the use of any fastener. The Wearable Towel is unisex and can be worn in either a tunic style or a toga style.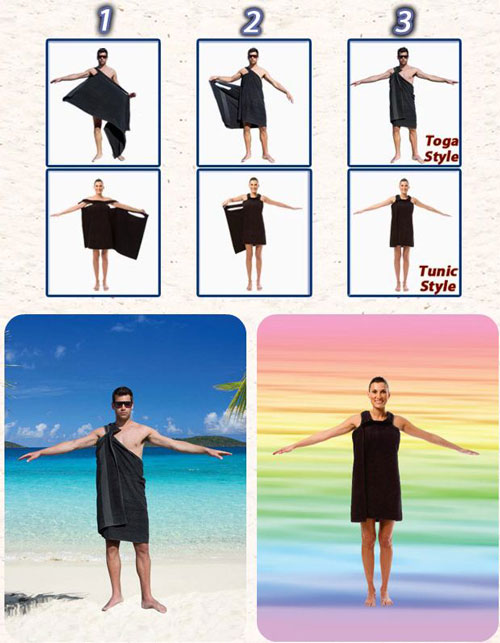 3. Oregon Scientific EB612 UV Monitor [amazon]
To avoid a burn you'll want the Oregon Scientific EB612 portable UVI monitor. The device measures the strength of the sun and recommends exposure time based on your complexion. Putting on the Banana Boat is up to you.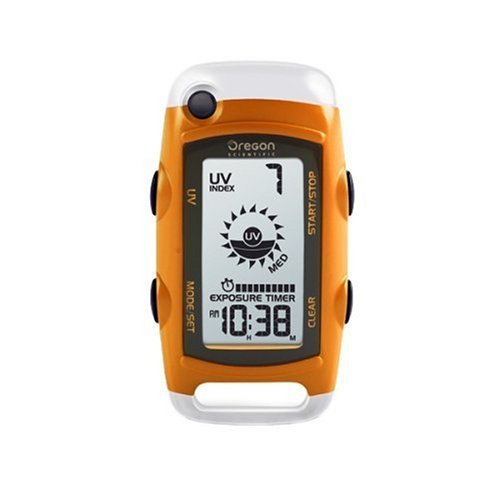 4. Solestrom SmartSwim UV Meter Bikini [link]
The Solestrom SmartSwim UV Meter Bikini is a great new swimsuit for ladies that includes a built in waterproof UV meter. The UV meter monitors the amount of sun rays you're exposed to and lets you konw when you've had enough sun. This Bikini is a great implementation of a UV meter and shows how technology embedded into clothing can make our lives better. By monitoring your exposure to harmful UV rays this bikini is helping prevent damaging skin effects such as sunburn and ultimately skin cancer.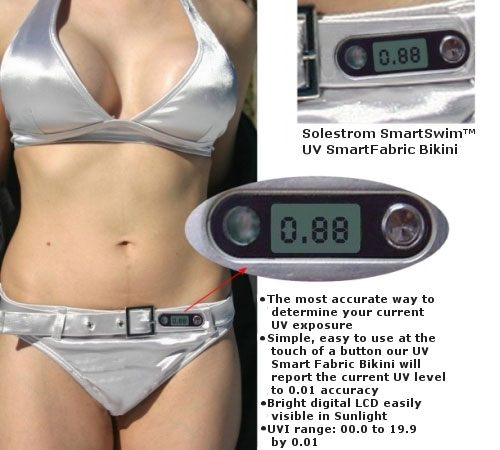 5. Portable Mesh Hammock [amazon]
Swing away your Saturdays in this Mesh Portable Hammock™. The breathable mesh bed ensures optimum airflow for constant comfort, and the inflatable pillow is a welcoming place to rest your head.
6. Detect Metal Objects with your sandals [link]
The metal detecting sandals will alert when it's detected a metal object that is within the 2-inch distance from you. It alerts you by flashing a light or you can also set it to gently vibrate or make a loud buzzing nose. These sandals require a 9V battery to keep it running. As shown in the picture, the users will need to have a little black box which is the metal detector to strap to the calf. This may look little stupid to some people. But it is helpful to detect any harmful or sharp metal objects that are likely to hurt your feet.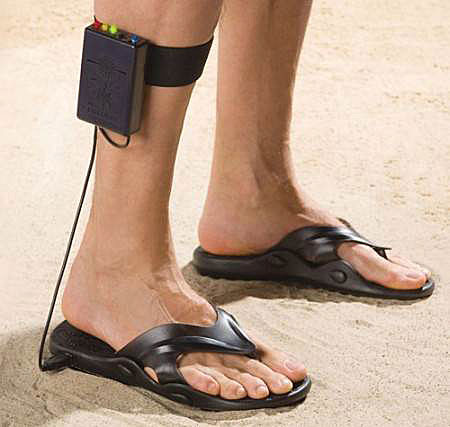 7. Wireless Floating Waterproof Speaker is good for beach [amazon]
With the warm weather season finally upon us (sorry Australian and New Zealand readers), you're probably hoping to spend lots of time in the pool this Summer. But just because you're floating around on an inflatable raft with a piña colada in hand doesn't mean you have to be separated from your digital music collection.
Audio Unlimited PoolPOD 900Mhz Wireless Floating Waterproof Speaker Audio Unlimited's PoolPod wireless floating speaker allows you to enjoy your music while relaxing in any other water environment. Just plug in your iPod, computer, stereo, MP3 player or any device that has a 3.5-millimeter or RCA output and enjoy high quality music without the hassle of running wires.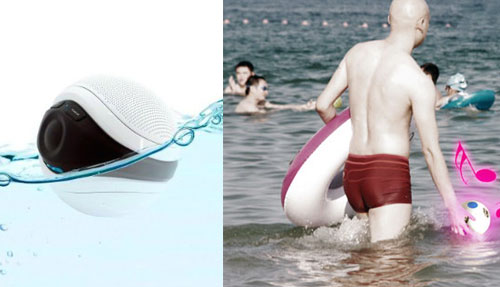 8. Kelsyus Inflatable Radio Pillow [amazon]
Innovative AM/ FM radio is touch-activated with patented conductive ink technology offering channel seeking and volume controls. Perfect for the beach and lake.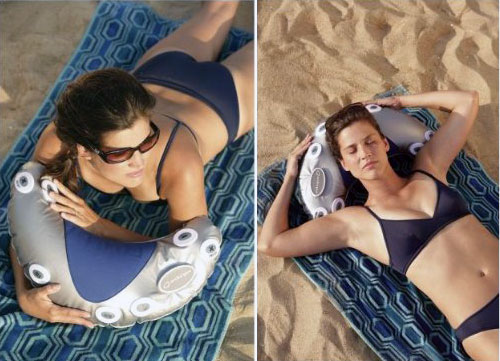 9. Unique Beach Leisure Chairs [link]
The beach leisure chairs are made of recycled materials, dehydration and epoxy resin coating. Because of the simple design, they're easy to carry. You can enjoy a more leisure time on the beach with it inserted into the soft ground.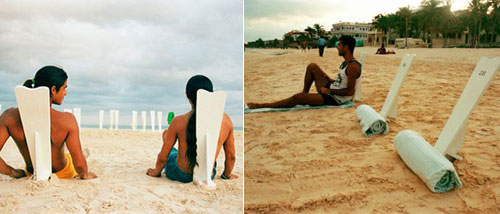 10. Waterproof Bag for your music and camera [amazon]
Taking on the challenge of creating an absolutely waterproof bag for lifeguard, fisherman, swimmer, urinator, etc, the new product features a robust sealing mechanism that keeps your iPhone, iPod Touch from water while still satisfies your basic needs of taking photos, answering calls and getting connected to earphones. If you're planning to spend the hot summer on beach, you wouldn't mind getting one such bag.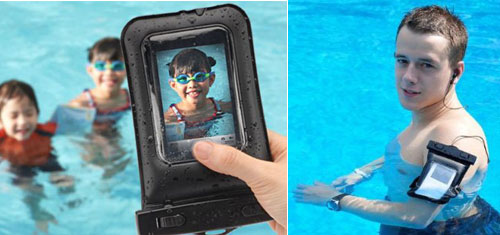 11. Reserved Beach Towel [amazon]
This unique towel has two core functions, one, its a very nice 100% cotton terry fabric beach towel, two, it has the word RESERVED written in big bold black letters on top of it. It also has a built-in pocket for included inflatable pillow.
So when you decide to take a dip in the water or you just need to leave behind your chair for a moment for any other reason, everyone will clearly know that it's taken.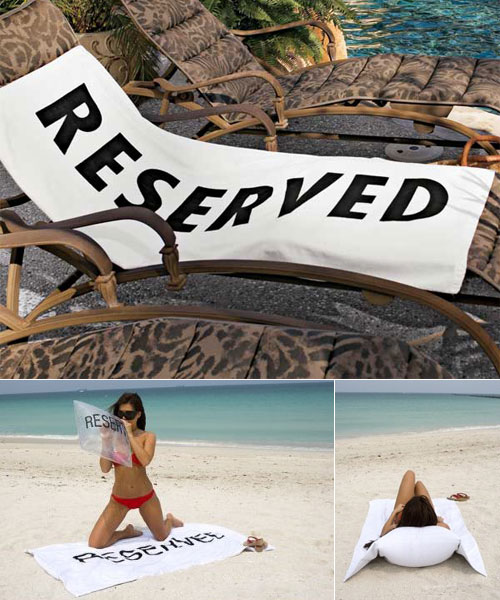 12. FreeLoader Solar Charger [amazon]
Usually, the sun is out when you're heading for the beach. And that's exactly the one thing this Freeloader needs. With this Freeloader, you can charge your iPod, iPhone or other devises by using the sunlight. Fold the Freeloader open, lay it in the sun and click your iPhone into the Freeloader. The sun is free and it can't get any easier. An iPod can be charged for 18 hours and a phone for 44 hours.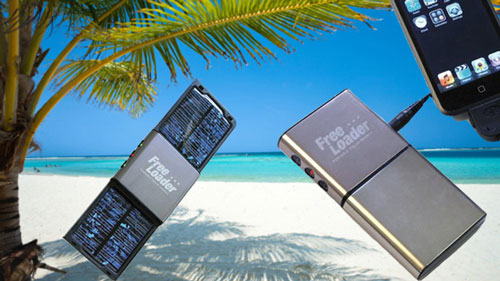 13. Ego iPod Waterproof Sound Case [amazon]
Swimming in the sea with your iPod on is a great way to relax. Listening to your music in the sea, it's all possible with the Ego iPod. This iPod Waterproof Sound Case is totally waterproof and it can take a hit. You can use the iPod by touching the rubber buttons on the case. The Ego iPod also contains build in speakers, so let the party begin.