iPad is so cool so we have to show off it anytime, anywhere… on road, in kitchen, at party. We need to protect it from scratching but also keep it in stylish… make sure it always has power and use it everywhere. I guess, that is the reason we have this post – 14 Useful and Interesting iPad accessories.
We are a participant in the Amazon Services LLC Associates Program, an affiliate advertising program designed to provide a means for us to earn fees by linking to Amazon.com and affiliated sites.
1. Tuff-Luv multi-view (TM) Saddleback Leather case cover for Apple iPad & 3G [amazon]
Elegant case handmade in high grade tuff genuine cow hidel leather. Patented Integrated multi-viewTM stand feature technology- 5 settings, 'Viewing angle 20 degrees – 70 degrees. Secure Tuff-flap to ensure ipad is safe when loaded into the pouch. Use with confidence!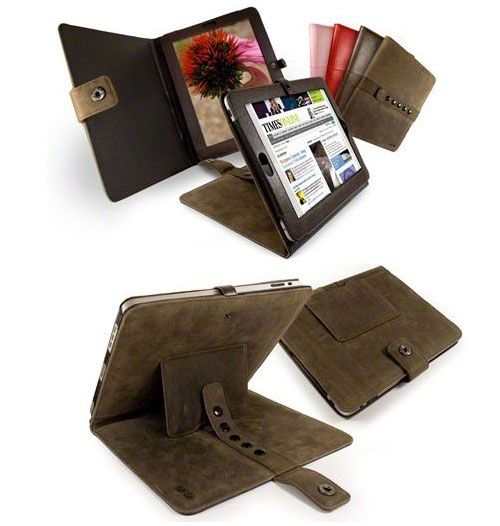 2. PowerJolt – Car charger for iPad [link]
For charging your iPad in the car, the PowerJolt low-profile 12V power adapter with its 2.1A charging circuit can power up your device quickly and safely. A green LED ring green indicates PowerJolt is connected properly and ready to charge. PowerJolt's built-in, self-resetting SmartFuse means no fuses to replace, ever. It's also compatible with iPhone and iPod.
3. Suits With Custom iPad Pockets
[
link
]
The suits, by Mohan Custom Tailors in New York, actually look pretty nice. And according to their photos, you can't really see the iPad tugging half the jacket down when its inside, which is surprising (and possibly a product of convenient positioning in the photos). But still, you'll be feeling that pound-and-a-half tablet flapping against your side all day as you walk, and that will get annoying fast.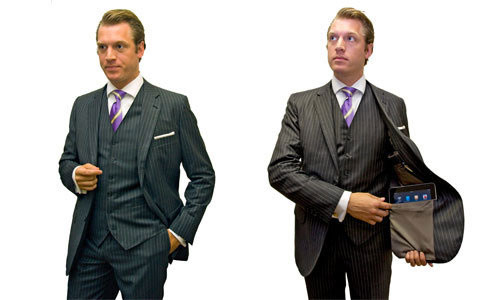 4. iGotaBigAssPocket Concept
[
link
]
A new concept trouser has been revealed with the "iGotaBigAssPocket" jeans designed for future iPad owners to tote their tablet around in. Reminiscent of the ridicule Sony's Vaio P series received in terms of pocket-ability, the "pants" are a bottom-half rival to the Scottevest's Travel Vest that boasts an iPad pocket.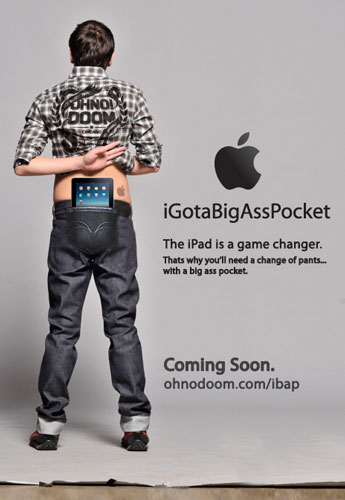 5. iTee and iDress
[link]
As the name, iTee is worn with the iPad in the pouch and iDress is a black, above the knee, short sleeved dress with a built in protected pouch to carry and store your iPad.
According to the seller, those iClothes are comfortable and stylish and keep your iPad virtually undetectable. I am doubting about it!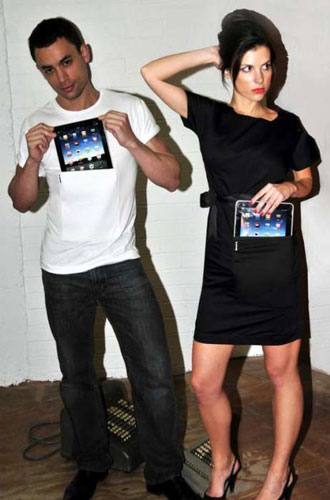 6. iPad in-car installation
[
amazon
]
This is actually pretty cool.
The iKit accessory for iPad can replace your car stereo with a ball joint mount, 30-pin dock connector and audio input where you can easily install an iPad – both in landscape and portrait orientation. Since the iPad 3G already has built-in GPS (with Google Maps), iPod and Youtube, you can easily use it as a high profile alternative to the built-in car stereo.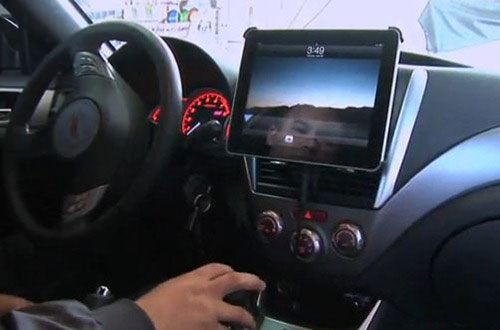 7. BookArc for iPad
[
amazon
]
BookArc for iPad gives you a choice of four different positions. In "work mode," iPad sits at an angle in both portrait and landscape positions, and provides access to the home button. In "storage mode" iPad sits upright in both portrait and landscape positions, perfect for charging and using your iPad as a stylish photo frame.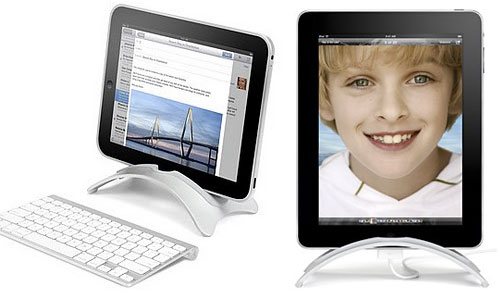 8. BOOK Hardcover for iPad
[
link
]
BOOK Case is hand-made to order, and can be customized with your own text on the cover, so it makes a very unique accessory. It features ever detail of a book, as you can see in the last picture, it's not very easy to spot among other books.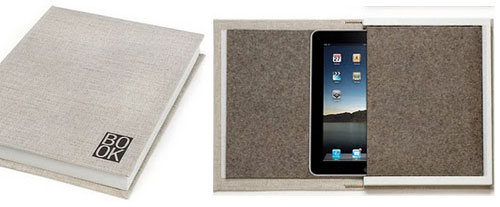 9. JOULE, iPad work stand
[
link
]
This one looks pretty apple-ish. Its stable solid base has a simple, clean, and elegant design that enhances your iPad and makes it easier to use. Unlike most stands, the Joule won't tip over when using the iPad's touch screen. Allowing you to better utilize your iPad on your deskop or kitchen counter top.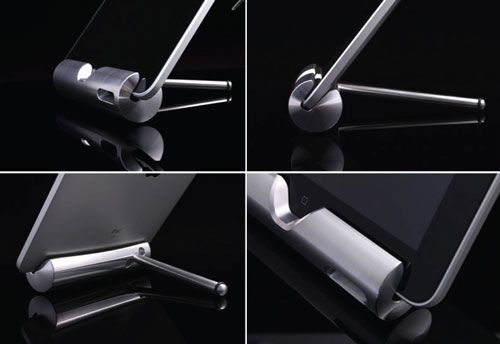 10. iBookend
[
link
]
This is an amusing design. According to designer, this is an accessory to transform the whizzbang iPad into a simple practical object that may be useful around the home, in this case a bookend.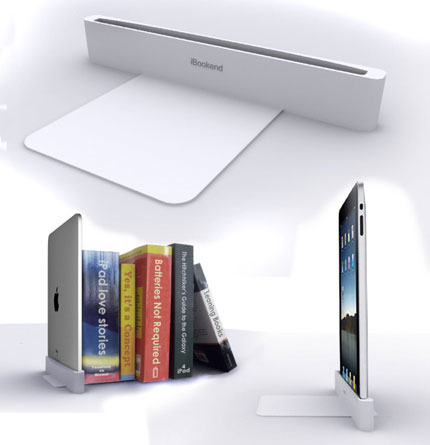 11. LUXA2 H4 Aluminum iPad Holder Stand
(discontinued)
LUXA2 H4, is an e-book holder made of solid aluminum with a sleek and chic design tailor-made for the Apple iPad and other e-book readers. With firm and strong bottom, 6 supporting arms with rubber pins, and silicone pad design, it is the best holder to read, browse and play with iPad.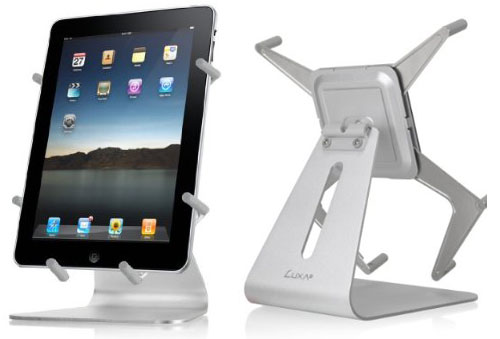 12. iPad Bacon-Case
[
link
]
The case look really lika a piece of bacon. You can feel the irregular and the illusion is perfect. Each case is different. There ist no seam, the whole case is seamless and felted in one piece.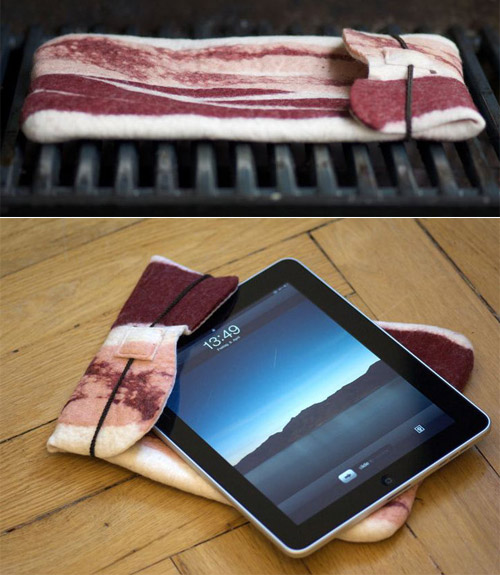 13. TrendyDigital WaterGuard Waterproof iPad Case
[
amazon
]
The WaterGuard Waterproof Case guards against any wet environment that iPad might be exposed to. It is a perfect companion when when you use your iPad at the beach, near the pool side, in the bathtub or at the kitchen table. It provides great protection when you get stuck in a rainstorm or accidentally drop you bag on a wet surface. When using the WaterGuard case, the iPad can be slipped directly into the WaterGuard pocket and the transparent surface provides easy interaction with the keyboard and navigation interface.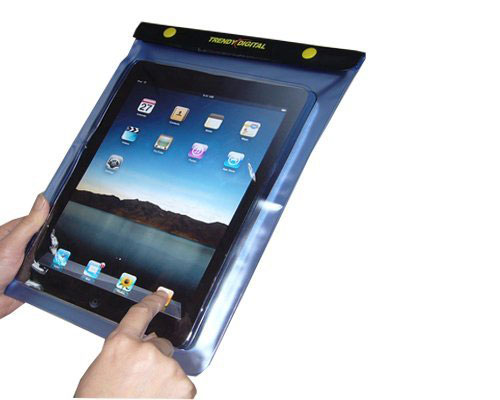 14. Colorware iPad
[
link
]
Colorware takes their colors to the iPad. Now you can paint the iPad's Body, Logo and Button each its own solid, metallic, or pearl color. You can pay $900 for a new one, or you send your own iPad to get a paint job for $400.
This looks a bit creepy to me… and unacceptable expensive….