When it comes to St. Patrick's Day, you can never have enough green! Many people wear an item of green clothing on the day and parties featuring Irish food and drinks that are dyed in green food color. It is also the time when children can indulge in sweets and adults can enjoy a "pint" of beer at a local pub.
If you are planing to celebrate the coming St. Patrick's Day, don't forgot the add some green to yourself. Below are some cool Shamrock Inspired Products you can add to your St. Patrick's Day supplies. They will for sure help to bring the luck of the Irish to everything they touch!
This post may contain affiliate links. If you make a purchase, Design Swan may earn an affiliate commission. Please read our disclosure for more info.
Shamrock necklace [buy here]
Unique gifts, Shamrock necklace, real clover, vintage necklace. The four-leaf clover is considered a lucky charm.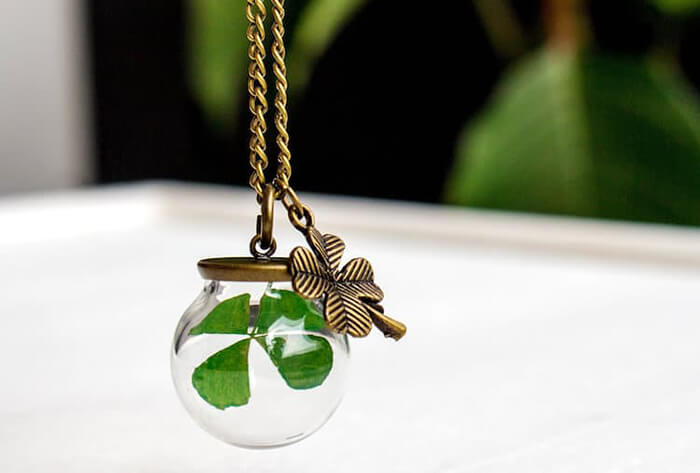 Shamrock Soap [buy here]
Celebrate your St Patricks Day with these adorable shamrock soaps. This all natural glycerin soap is all decked out in green topped with gold mica and scented in a fresh spring cucumber blend. Each soap measures 2.5″ x 2.5″ x 2″. Makes for an adorable little reminder in the soap dish that Spring is on it's way. And a perfect way to show off your Irish.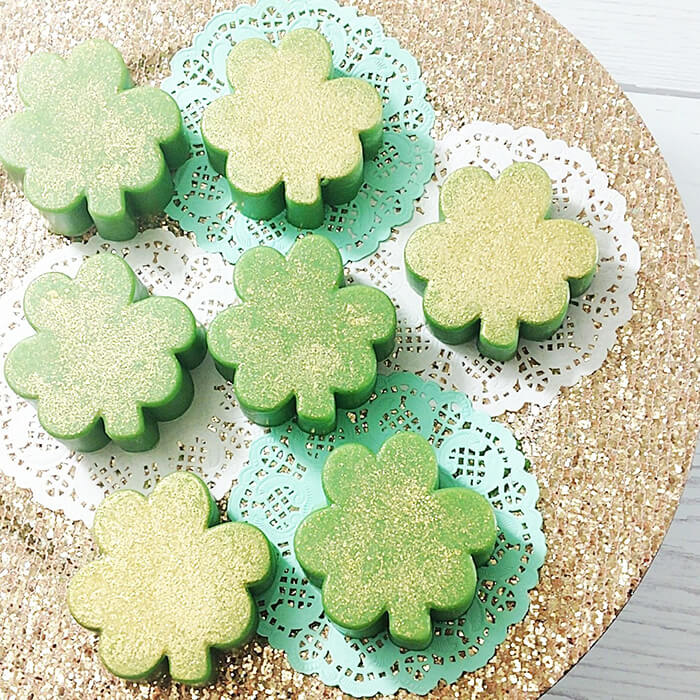 St. Patrick's Day Shamrock Stickers [buy here]
200 stickers per roll. 1 1/2″. 3 different kind of green colors: Forest green, Shamrock green, Lime green.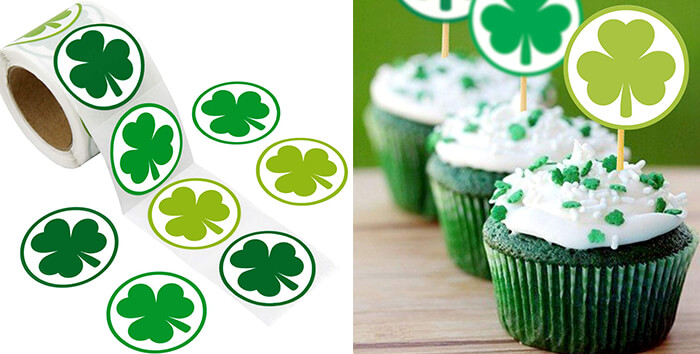 St. Patrick's Day Shamrocks String Lights Decor [buy here]
10 ft silver plated copper wire and 40 LEDs, the clover icon size is 3/4 x 1 inch. For indoor/covered outdoor use, easily set or wrap, safe and never go hot.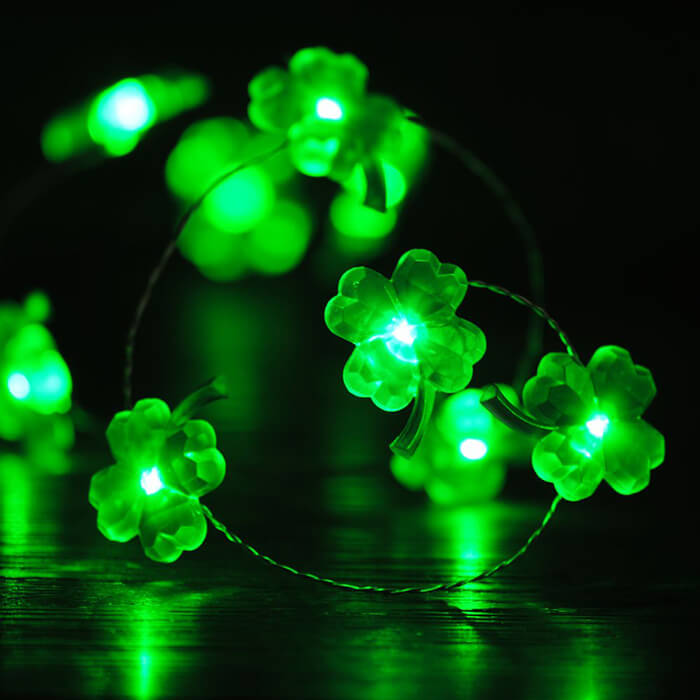 Irish Angel Suncatcher Stained Glass Ornament with Shamrock [buy here]
Irish Angel Stained Glass Suncatcher. A whimsical addition to any Irish collection. This angel holds a shamrock and is accented with green beads. Measures 3.5″ x 4″. Comes with a ribbon for hanging in a window or anywhere.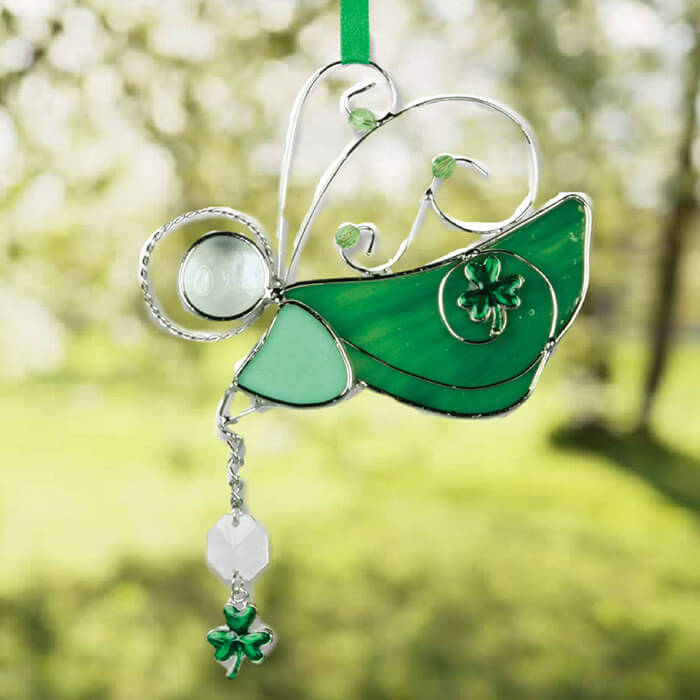 Shamrock Salt & Pepper Shakers [buy here]
This gorgeous four-leaf clover and three-leaf Shamrock salt and pepper shakers has the finest details and highest quality you will find anywhere! four-leaf clover and three-leaf Shamrock salt and pepper shakers is truly remarkable.
dimensions:
salt: H: 1.13 x W: 2.63 x d: 2.5;
pepper: H: 1.13 x W: 3 x d: 2.63 (inches)
crafted with: ceramic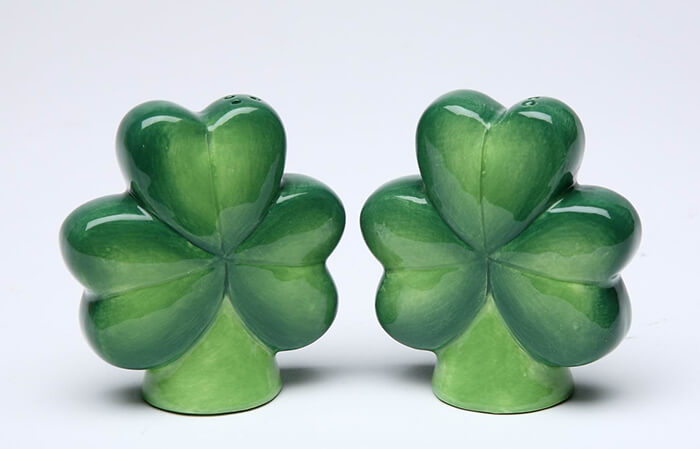 Shamrock Cookies [buy here]
Luck of the Irish! These are delicious cookies made with the finest ingredients. Organic butter, Madagascar vanilla bean, organic flour, sugar, eggs and baking powder.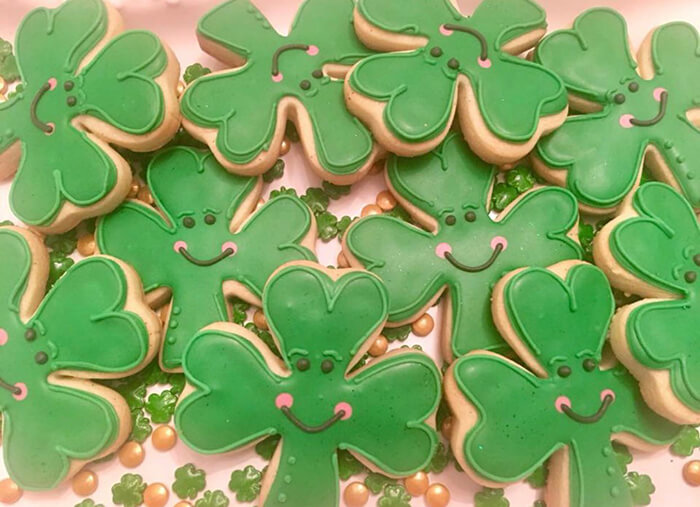 Green Glittery Shamrock Wire Wrapped Bangle [buy here]
This glittery shamrock bangle can be wrapped with gold, silver or rose gold plated copper wire.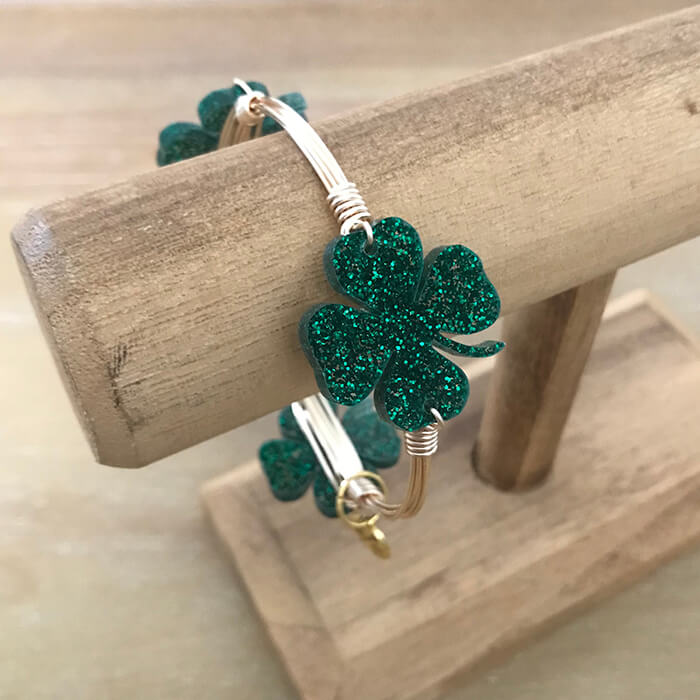 Saint Patrick's Day Wreath [buy here]
Beautiful dark green shimmery wreath that sparkles and shines! Hidden glittered clovers can be found throughout the wreath with matching Saint Patrick's Day shamrock ribbon. Wreath measures approximately 20 inches in diameter.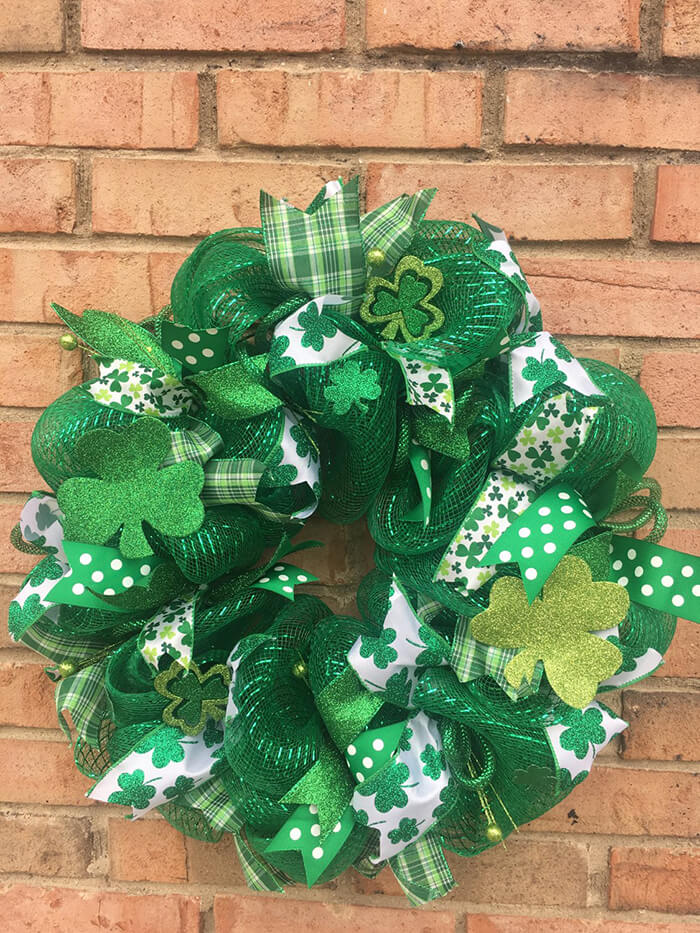 Shamrock Plate [buy here]
Shamrocks are the focus of this fused glass plate. It is the perfect dish for your St. Patricks Day table, or any other festivities. And also as a hostess gift, teachers gift, or for St. Patricks day.
The plate is approximately 8.5″ diameter and can be used as a salad plate, lunch plate, for desserts, or as a serving piece. All the dishes are both food and dishwasher safe.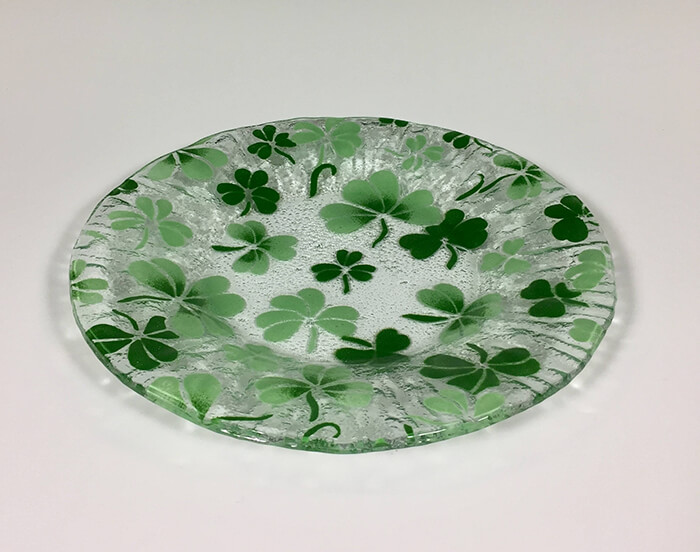 Shamrock Beer Cap Map [buy here]
Bring some luck and good beer to your home bar with this awesome Shamrock beer cap map. The perfect addition to any man cave or Irish pub inspired home bar, you have the option to stain it in a dark walnut finish to fit your existing decor.