No matter you are an annual spring cleaner or a daily duster, keeping the kitchen well organized is important as we spend quite a lot time cooking and eating there. Having a spacious kitchen is nice but it is not something anyone can have. Hence, rethinking the way you store your cookware and making better use of the storage space become increasily important.
Here are 15 approved kitchen storage ideas which can benefit both small and big kitchen.
Silverware Kitchen Drawer Organizer (7-9 slots)
Drawer organization that fits perfectly in almost all standard drawer sizes at 17.5" long and 2" deep. The width is 13" when utilizing 3 compartments and can expand up to 20" in width when utilizing all 5 compartments. Adjustable design with 7-9 compartments. Two expandable compartments with enough space for all your cutlery, flatware and silverware. Each compartment offers plenty of room to store longer utensils including serving spoons and tongs.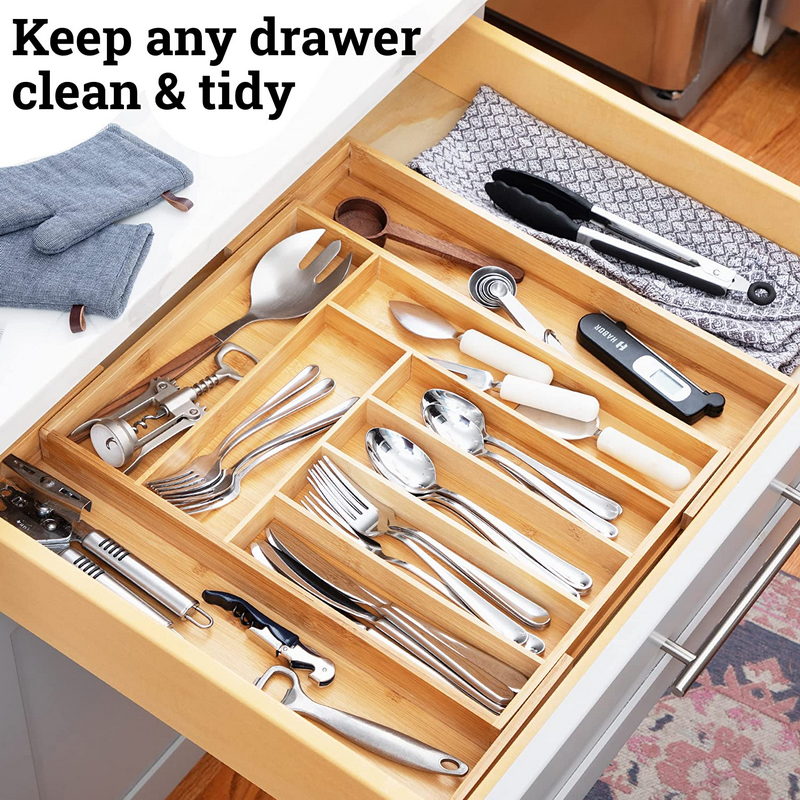 [buy on amazon]
Compact Cutlery Organizer Kitchen Drawer Tray
Storing your cutlery at an angle allows you to store a full set of cutlery in less than half the space of a conventional tray. This tray combines five angled compartments for storing cutlery with three compartments for holding utensils and gadgets. What's usually stored in two drawers can now be neatly organized into one. Suitable for drawers with a minimum height of 3.25 inches.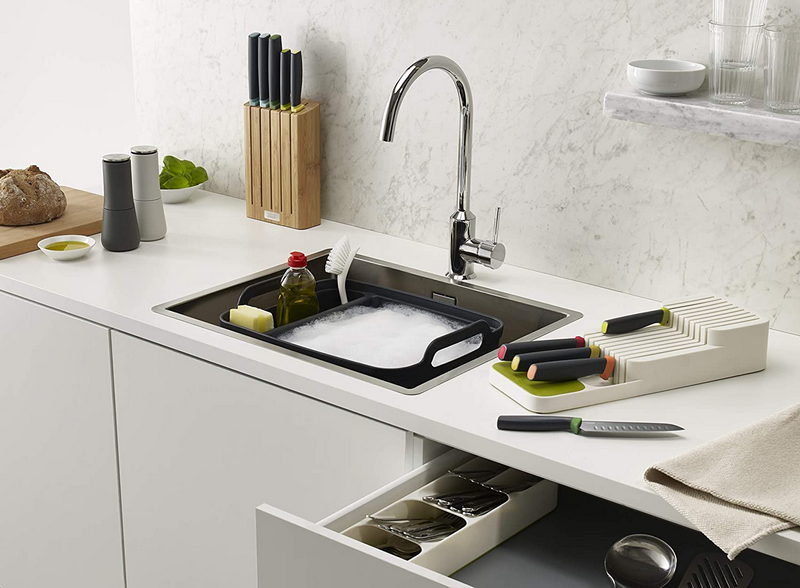 [buy on amazon]
Kitchen Utensil Hanger with 6 Hooks
Under cabinet utensil rack with 6 hooks, its enough and widely used for hanging various items, such as spoons, spatulas, cup, towels, keys, umbrellas, watch and so on, and keep the space tidy. No tools, no screws, no drilling holes. Easy to install and won't damage your walls and cabinet , just need a few seconds attach to clean smooth surface, and the wall utensil holder can be easily removed without surface damage and no residue.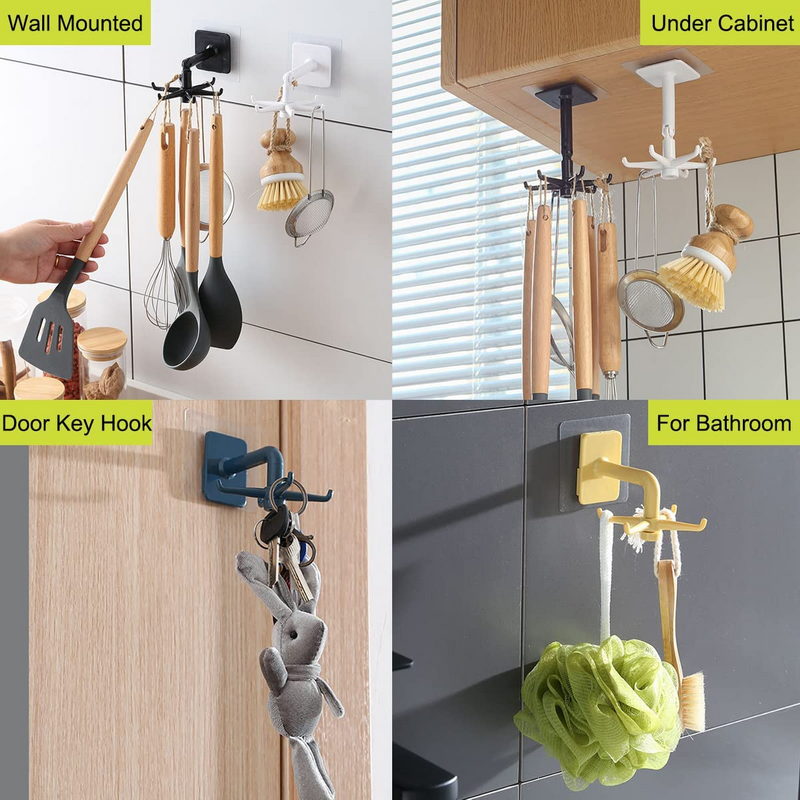 [buy on amazon]
Countertop Water Bottle Holder Stand Bin
Each rack holds up to 3 empty/reusable water bottles, water bottle containers, bottled beverages, or sports drinks for an organized kitchen; Keep counters, islands, tables, pantry, or cupboard clutter-free with this convenient organizer; Bottles are stored horizontally in individual compartments so they are always easy to grab; Stack these units to create vertical storage to help maximize your space; Place in the fridge for perfectly chilled drinks; Set of 2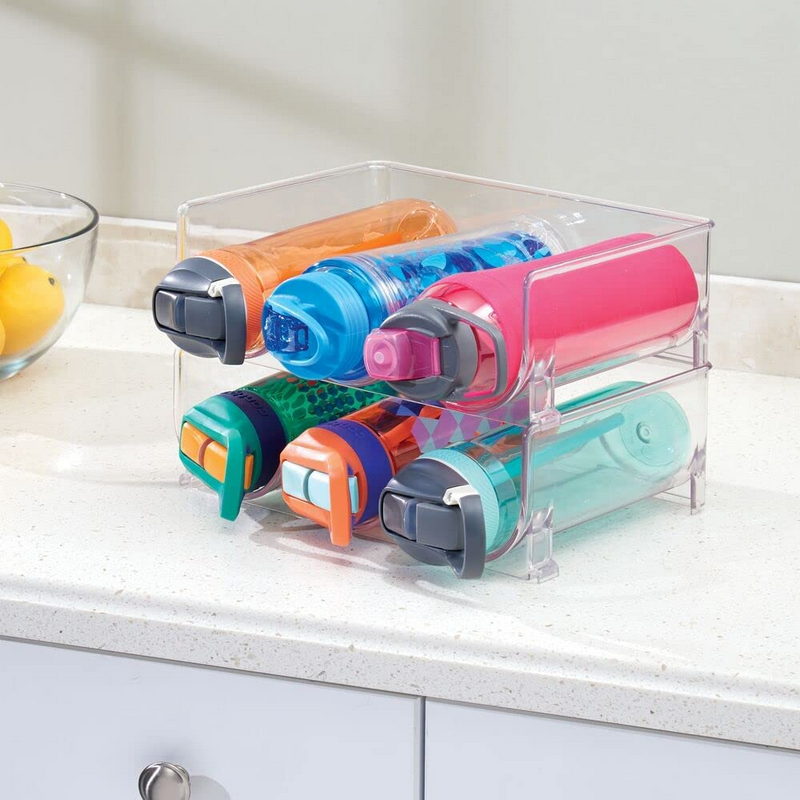 [buy on amazon]
Lid Organizer
Five adjustable dividers help you configure different spaces to keep food container lids upright and accessible. Built-in handles make it a cinch to grab and slide the whole organizer if you need to bring lids out for a closer look. The StoraLid Container Lid Organizer Large measures 10.4" deep, 13.2" wide and 3.3" tall to fit standard cabinets, pantry shelves, and deep drawers.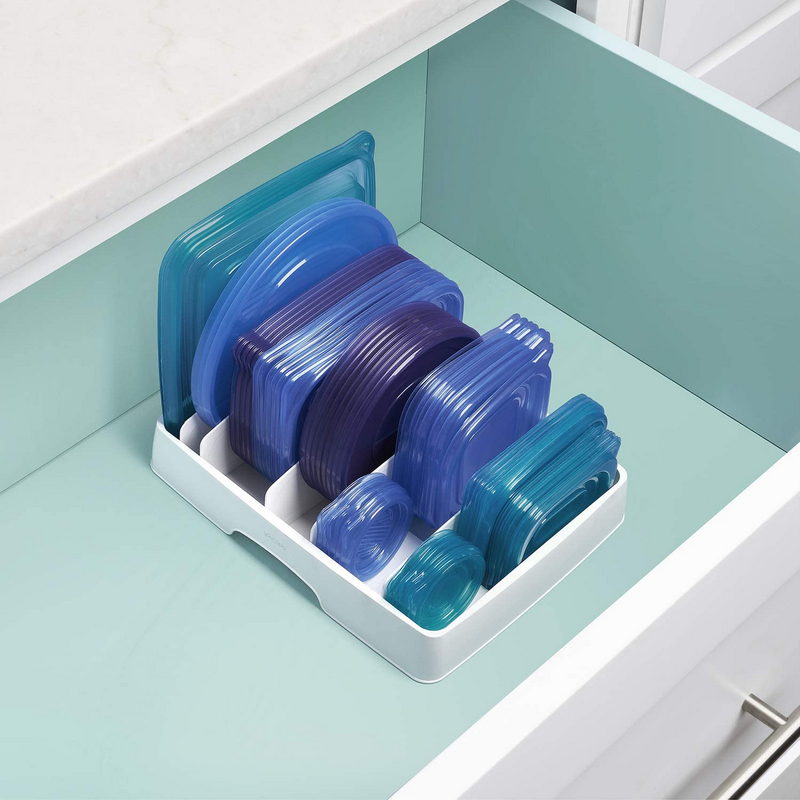 [buy on amazon]
Pan Organizer Rack
The sizes and direction of this pan organizer rack can be adjusted according to your needs; giving you more flexibility in organizing your pots and pans. Easy to Assemble in 3 Methods – Horizontal on one side; vertical on one side; vertical on both sides. The pot and pan organizer has 8 tiers; allowing you to store 8 and more stacked pots and pans; The compact design saves you a lot of space in your kitchen cabinets pantries and on your countertops.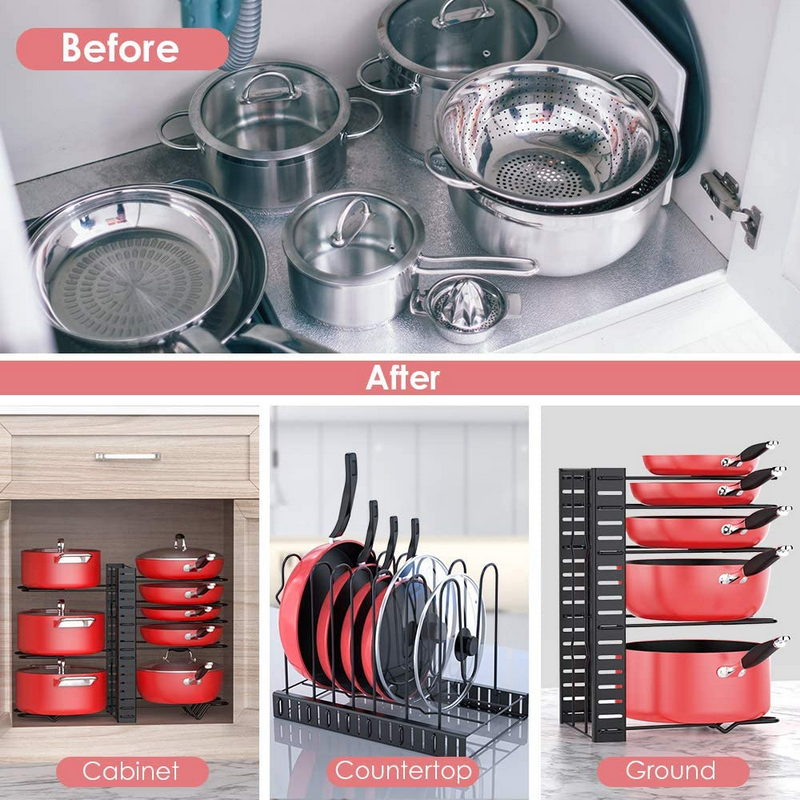 [buy on amazon]
Over The Cabinet Door Organizer Holder
Basket Dimension (Wall-mounted): 13.75" L x 9.5" H x 3.7" D; Over the Door Height: 18.3 inches. Great organizer for cutting board, bakeware pan, cookie sheet or plastic food wrap in the kitchen; or bathroom supplies in the bathroom.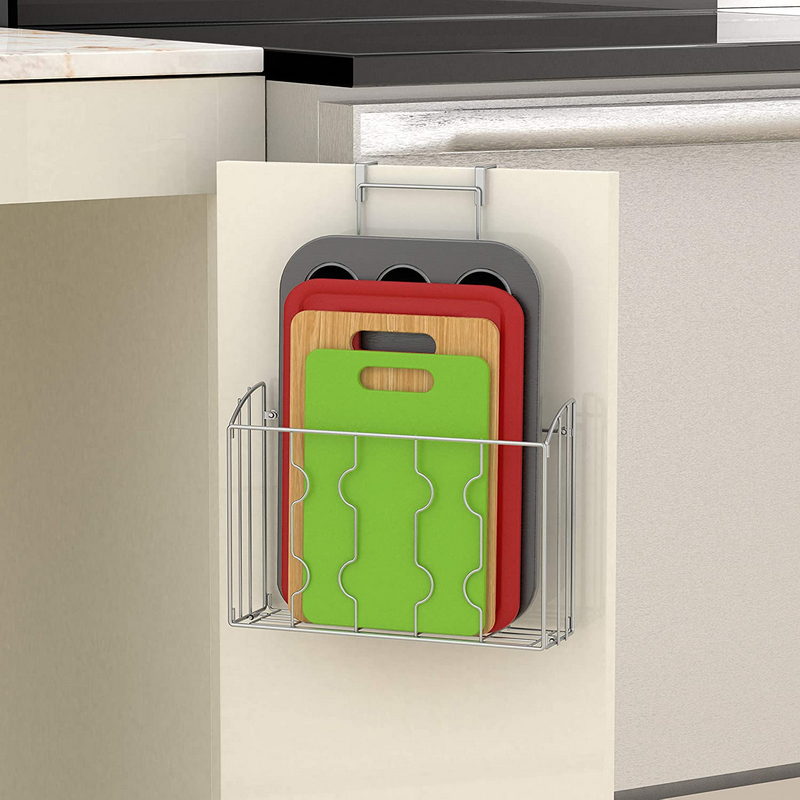 [buy on amazon]
Over The Sink Dish Drying Rack
Dish drying rack will keep all the cooking utensils and cups tidy, dry clean easily. The dish drainers for kitchen counter can store various sizes of utensils. Freely modify the width of the rack ( 25.6"-33.5") to suit for different families. The height of the faucet should be ≤ 16. 5 inches, the height between the cabinet bottom to the countertop should be ≥ 28 inches.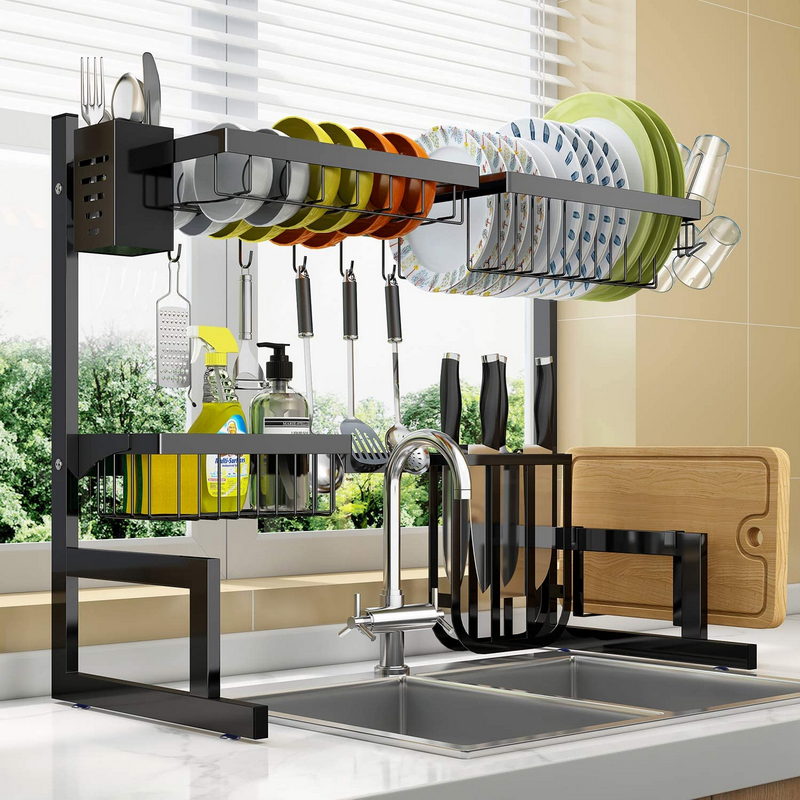 [buy on amazon]
Kitchen Countertop Corner Shelf Organizer
The 3-tier counter corner shelf can adjust the configuration to be the triangle or rectangle shape. Made of naturally renewable moso bamboo,which is durable and sturdy. Strong stainless metal,which won't get rusty. Plastic non-slip feet will much protect your counter top.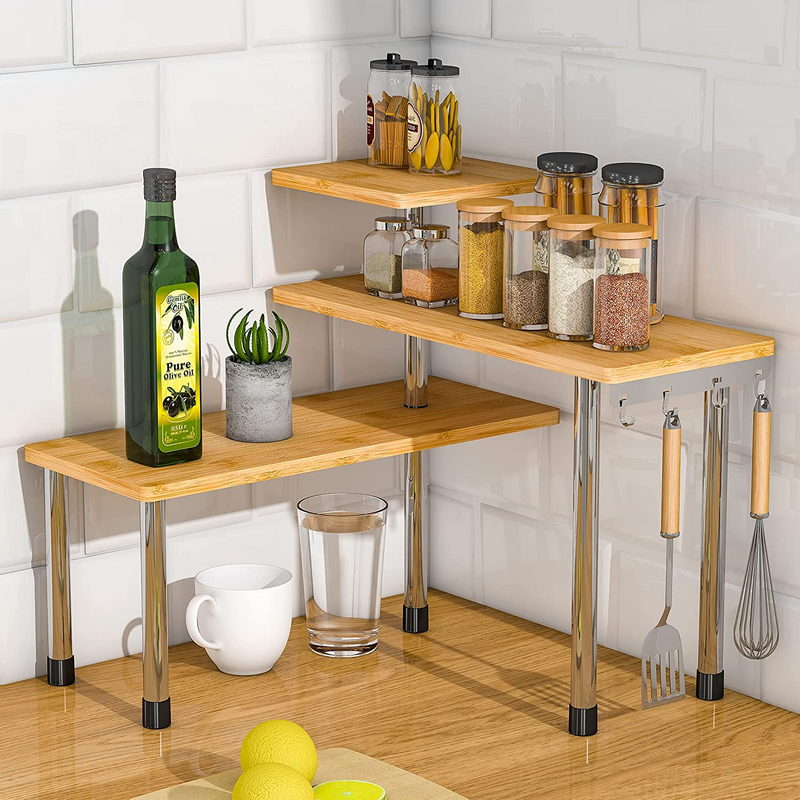 [buy on amazon]
Steel 4 Tier Drawer Spice Organizer
Spice Rack Tray Drawer Organizer makes organizing all your spices in your kitchen cabinet drawers easy. Our large capacity tray has 4 tiers to organize all your spices, essential oils, vitamins, nail polish, herbs, medicine, and more throughout your home. Organizes up to 32 standard size spice jars (jars not included). Elegant and stylish, and looks beautiful in kitchen drawers, on pantry shelves and kitchen countertops.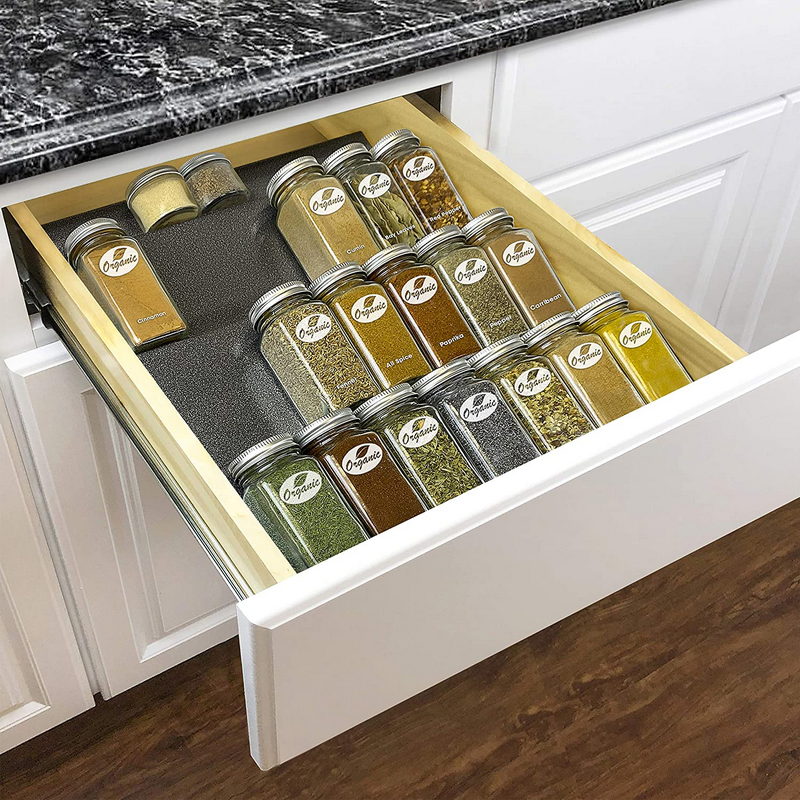 [buy on amazon]
Pull Out Spice Rack Organizer for Cabinet
Measuring 6 inches Wide this spice rack is great for utilizing tight spaces and narrow cabinets. Easily find all your spices in your cabinet without having to empty out half the contents. Accommodates various different size spices including both round and square sized containers. The bottom shelf offers a 6″ inch Height clearance for larger and taller spices, sauces, or any other bottles under 6″. Each shelf is 2 -1/8"H and requires at least 6.9" cabinet opening.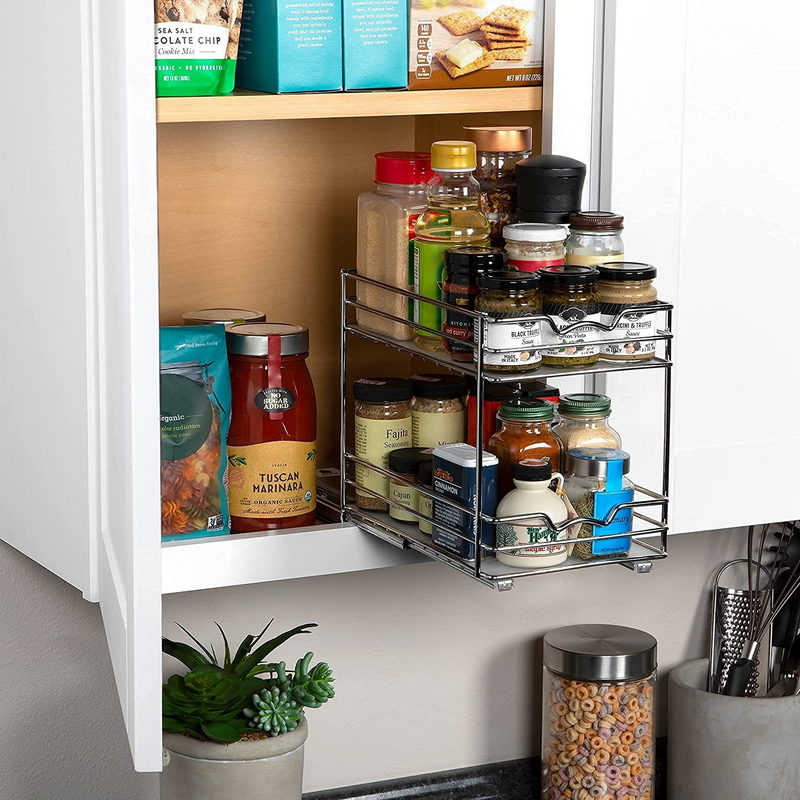 [buy on amazon]
5-Layer Kitchen Rotating Metal Basket
Multi-layer rotatable storage basket, large capacity storage space, easy to sort and organize. Simplify home storage and make your home cleaner and tidy. This is a rotatable storage basket, the universal wheels can be easily moved and the pulleys are fixed, freely adjustable. Added layer spacing guardrail protection on both sides to protect the goods from sliding.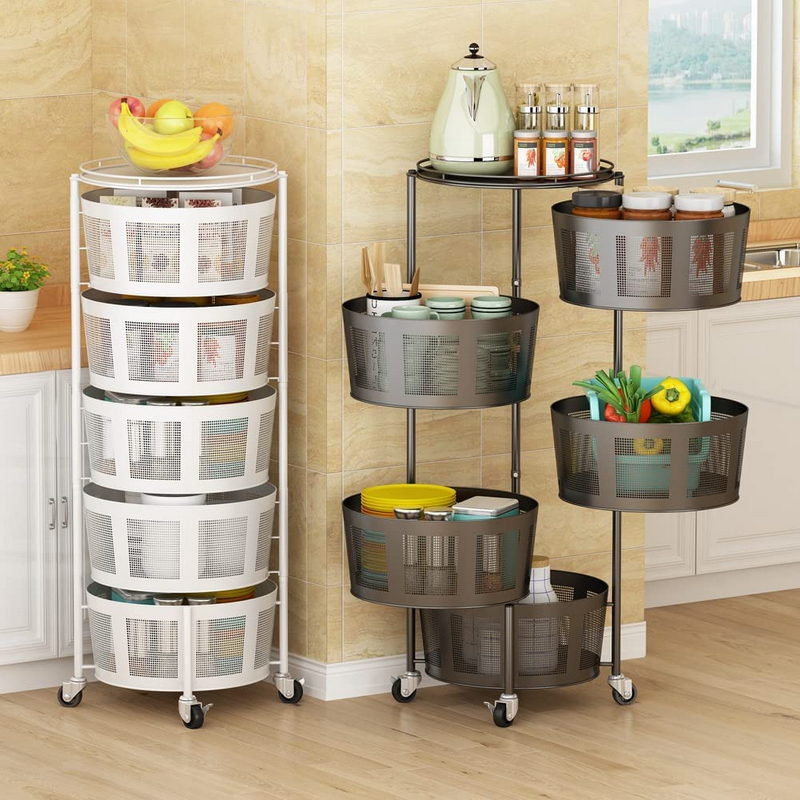 [buy on amazon]
Refrigerator Shelf Organizer
The fridge storage rack simply hangs over the top of your refrigerator so you can use it anywhere. Can stick easily to a refrigerator, easy storage for various bottles, spice jars, and other snacks. There are three quipped removable hooks used at the bottom of the wooden fridge rack, you can hang Spoons, scissors,handkerchiefs, etc.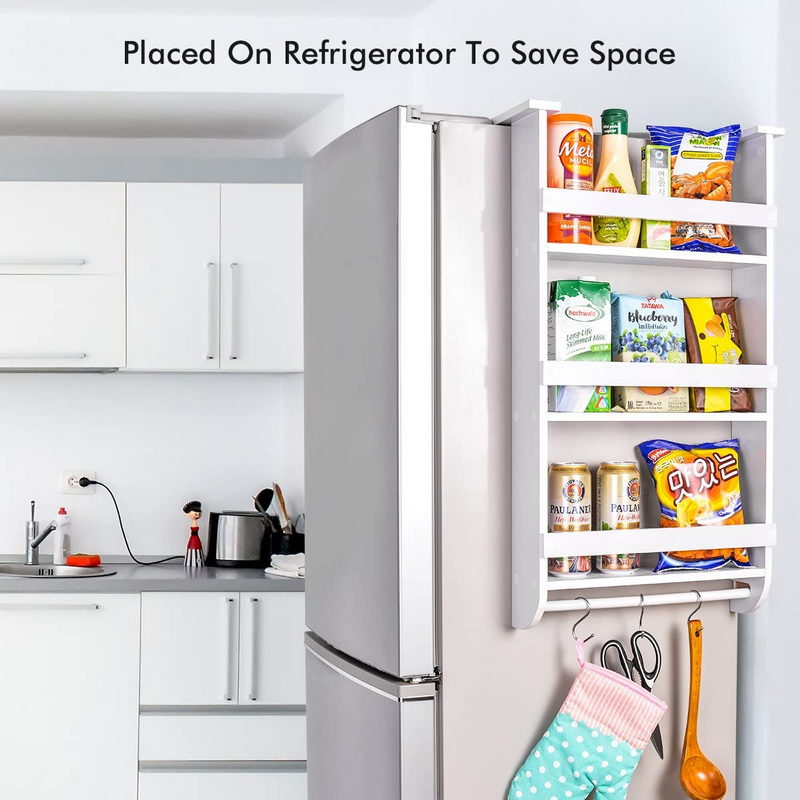 [buy on amazon]
Tower Rolling Slim Storage Cart
Use this rolling cart as the perfect organization option in the kitchen, bathroom, laundry room, or anywhere else in the house. Casters are on the base to make it easy to pull out for use and store when finished. This product is 18.7 x 5.1 x 31.7 inches. Available in black and white. Bottom shelf supports up to 6kg, middle shelf up to 3kg, top shelf up to 2kg, top board up to 1kg.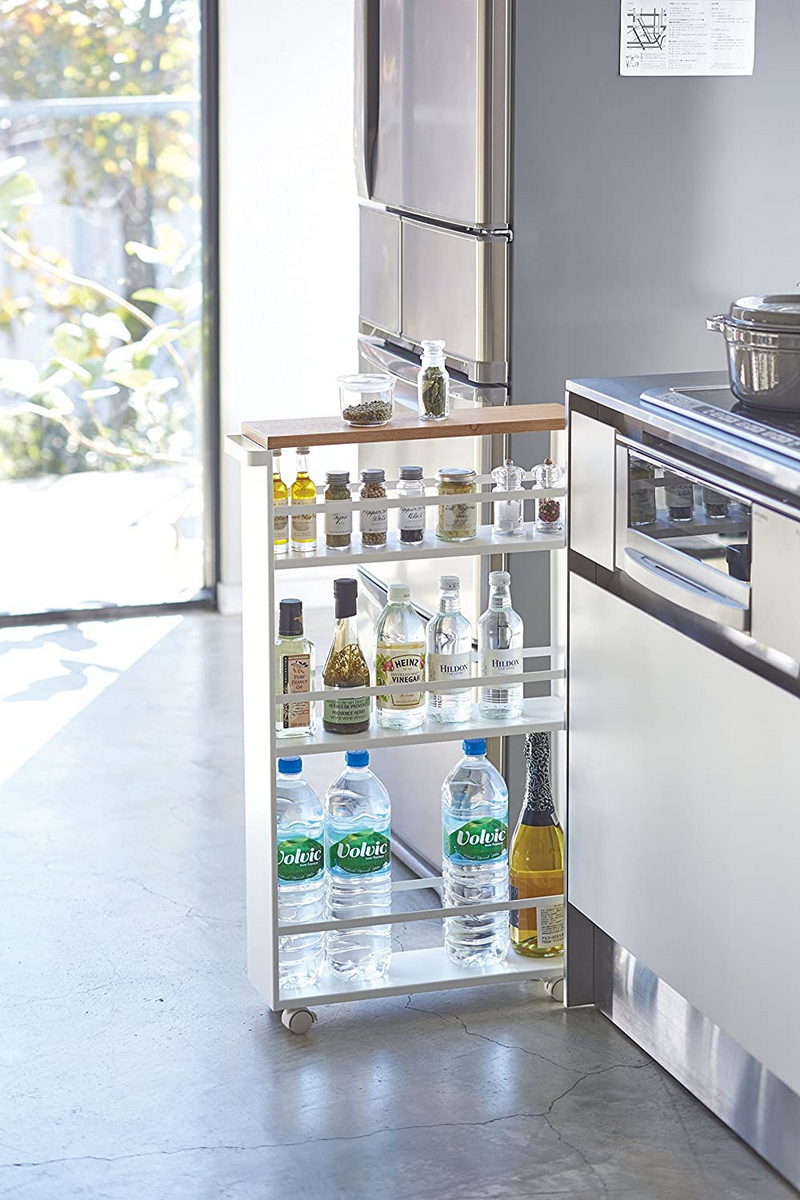 [buy on amazon]
Pot and Pan Rack for Ceiling with Hooks
Mounts on ceiling to store, organize, and display cookware collection in one compact space.
– Minimal assembly required with quick set-up
— Package includes grid rack with 2 hanging chains, 10 pot hooks, and mounting hardware
— Made of metal with powder-coated finish — Beautiful oval frame for stylish look
— Complements most light fixtures, appliances, cookware, and design interiors
— Measures approximately 31.50″ L X 16.50″ W X 21″ H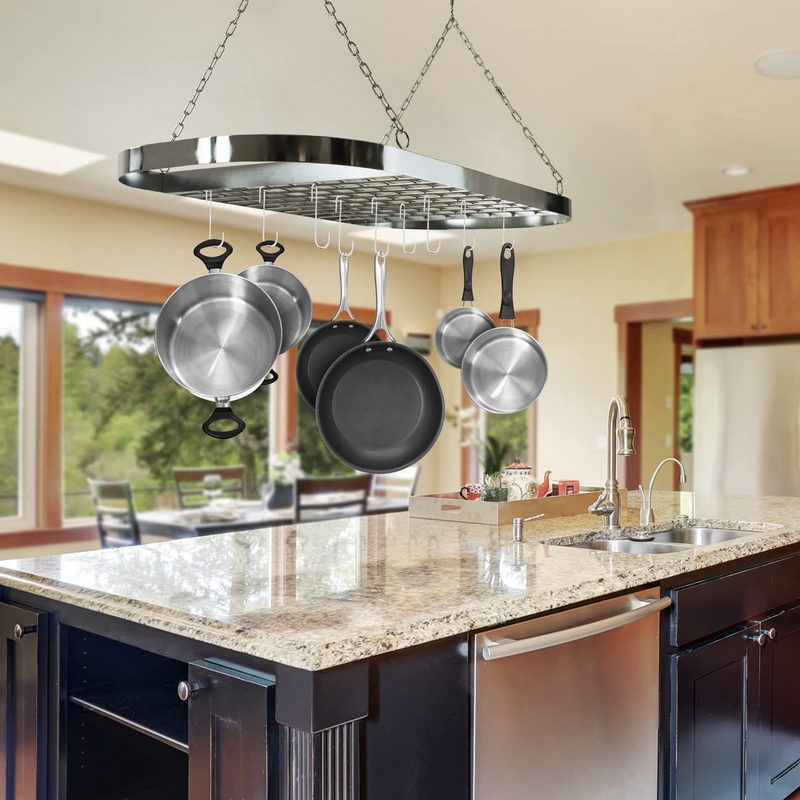 [buy on amazon]