Spoon is one of those common cutlery we used almost every day. There are lots of different spoons for various usage. While in today's post, we will introduce you with those 15 Cool and Innovative Spoons, which you can use them for food, entertainment, decoration or even just eat it as snack. Sounds interesting? Let's begin.
We are a participant in the Amazon Services LLC Associates Program, an affiliate advertising program designed to provide a means for us to earn fees by linking to Amazon.com and affiliated sites.
1. Fred Mix Stix spoons [buy on amazon]
* You can rock out when you're not stirring
* Solid wood
* Reusable
* Washable
* Unique slotted spoon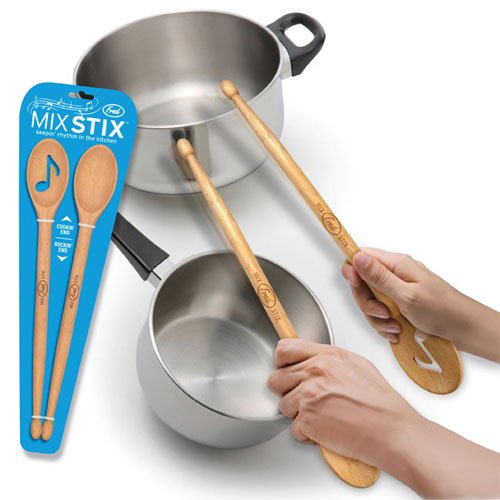 2. Dexas Salad Hands, Spoon and Spork Set [buy on amazon]
Dexas Salad Hands are ideal for tossing, scooping and serving salads, pasta and more. This set of two includes a spoon and spork with rubber grip handles to prevent them from sliding into the bowl. At 7-inch in length, these utensils are long enough to keep your hands clean and out of the food while tossing and serving. They are non-porous and non-absorbent, and, dishwasher safe!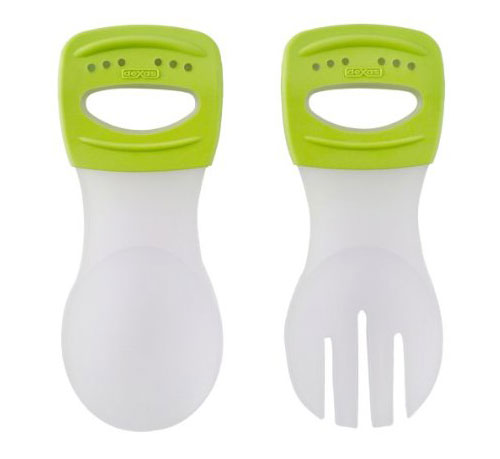 3. Boon Squirt Baby Food Dispensing Spoon
[
buy on amazon
]
* Dispense baby food one bite at a time
* Great for on-the-go
* Protective cover keeps spoon clean between feedings
* Large easy-to-clean bulb holds up to 3-ounces of baby food
* Convenient one-handed feeding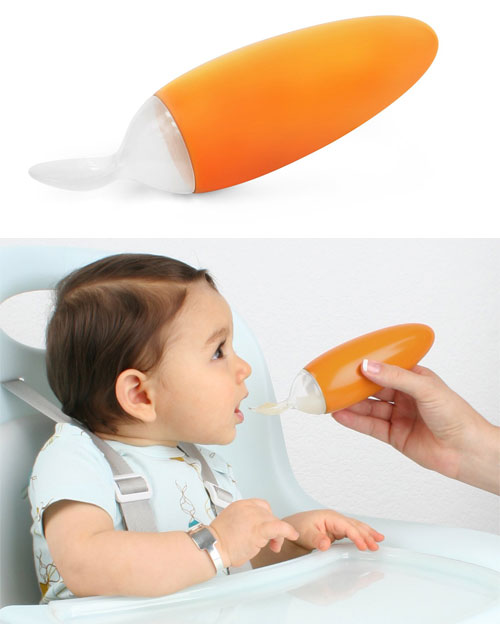 4. Magic Spoon
[link]
The Magic Spoon is a delightful set of spoons, knives and forks that have built-in clasps at the end. Yes, exactly the hairpin kind! You can cleverly cling it to your plate while clearing out the dishes, seal pouches or simply be this show-off with cool cutlery!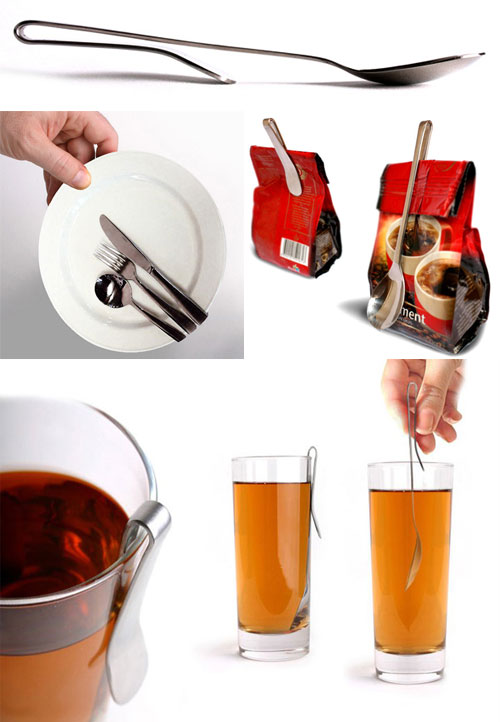 5. Admetior Stainless Digital Spoon Scale
[
buy on amazon
]
* Measures in Ounces (Ounce) and Grams (g)
* Two Detachable scoops (teaspoon and tablespoon) for easy cleaning
* One time measure up to 10-Ounce
* Accumulative measure up to 105-Ounce
* Hold and Tare function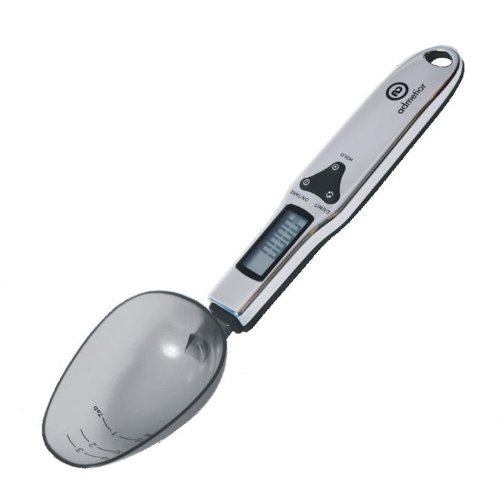 6. Cookie Spoon Delight!
[
link
]
Instead of wasteful plastic and wooden stirrers, why not use an ecookie? Dense enough to keep a satisfying crunch when stirring yet scrumptiously delicious as that extra little treat.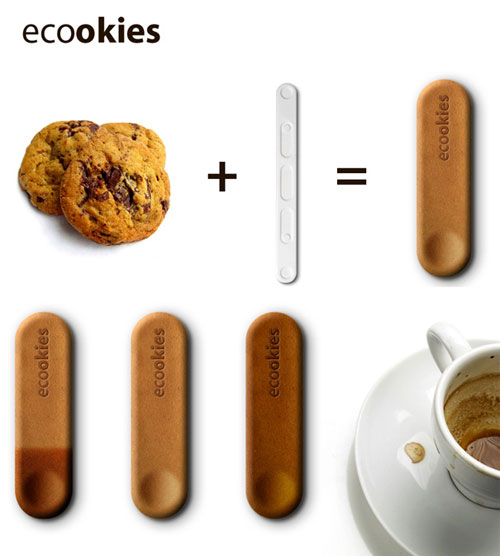 7. Chocolate Dipped Cookie Spoon
[discontinued]
* Unique spoon shaped cookie dipped in delicious dark chocolate
* Approx 95 spoons per case
* Individually wrapped for freshness
* Great for parties or catered events
* Kosher – Dairy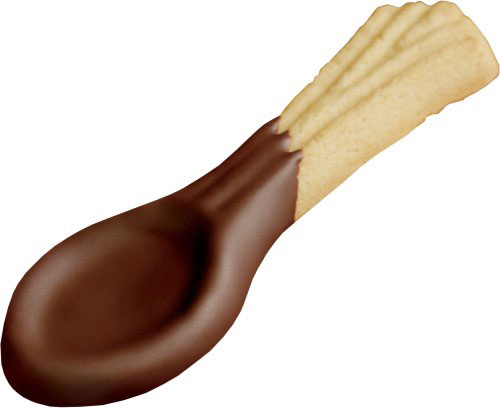 8. Clever Spoon
[link]
The Clever Spoon is a really handy and convenient kitchen tool to measure ingredients efficiently.
With a quick slide up and down the spoon it measures out different proportions accurately and without difficulty. The tool comes in different parts so that it can be disassembled for easy cleaning. Check out the video to see how the Clever Spoon works and consider picking one up for your own cooking.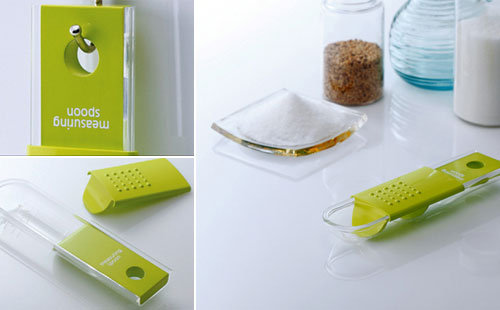 9. Forest Spoon by Nendo
[
link
]
Japanese designers Nendo have created these spoons with a bird profile on the branched handle, designed to resemble a forest when grouped together.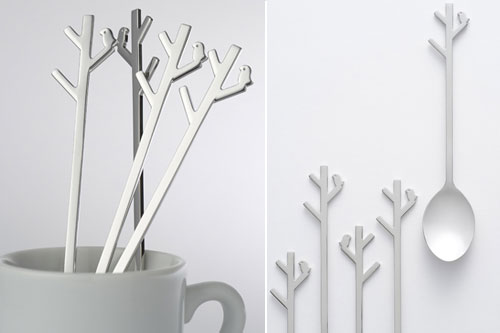 10. Chopoon or Spooncho?
[
link
]
What would you like to call this really neat cutlery? Nothing fancy about it, but simply a soup spoon with no handle, just two pig-nose-like holes (grunt!oink!) where you fit in wooden chopstick. The Chopsticks Plus One Project is more for the Asian market, where meals require different sets of cutlery to be used. It is a hybrid of chopsticks and spoon; however there is an ace up the sleeve with the Chopsticks Plus Two. It抯 a chopsticks & toothpicks combo! But Pick your teeth in private.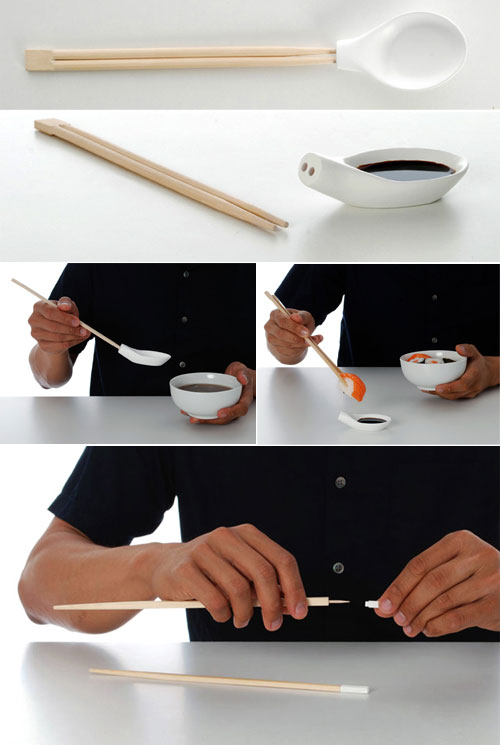 11. Zing Lunch Launching Catapult Spoon
[
buy on amazon
]
Lunch Launching Spoon from Fred & Friends Quantity One Spring Action Teaspoon…… FOOD FIGHT!…….. When the Dinner Discussion gets a little too heated…. Here is the answer! Just load up this spring handled spoon, Aim, Pull back and … Release! Standard teaspoon measures 5.75 inches long and 1.25 inch wide…Comes in Red, Purple, and Green handles. You are ordering ONE Zing, Lunch Launching Catapult Spoon. Yours will be selected from our in-stock supply. If you order more than one we will send a variety of colors.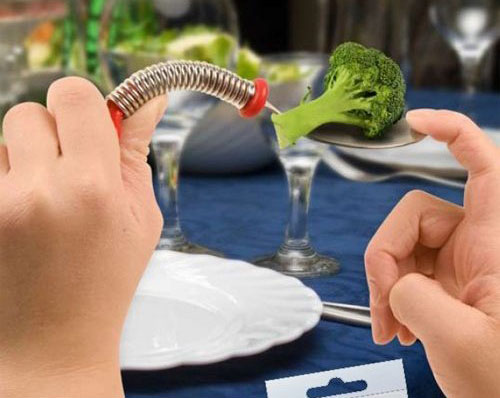 12. Fred and Friends Souper Action Figure
[
buy on amazon
]
Fred and Friends. Invite a super hero to your table and any meal becomes mighty fun. Souper has posable arms and legs, just like an action figure, so he can soar through the Spaghetti-Os at warp speed. His bulked up sonic-sealed body and stainless steel head are fully food safe and washable.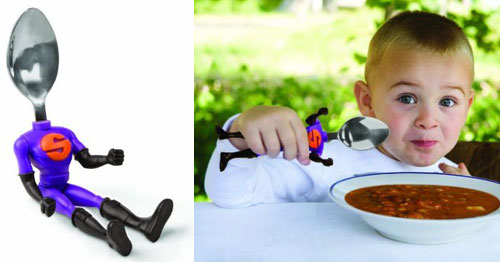 13. tate otama
[
link
]
The tate otama, which we can ascribe the simple translation of "stand-up ladel" to, is precisely that. The designer flattened the bottom, allowing for it to be easily stored, as well as easily accessible while in use. And yes, the inside remains rounded.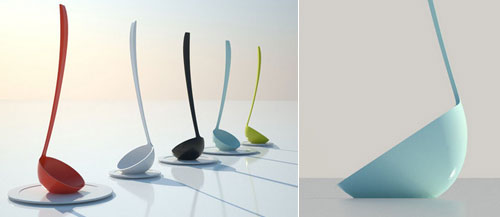 14. 5 Stainless-Steel Magnetic Measuring Spoons
[
buy on amazon
]
* Set of 5 stainless steel magnetic spoons: 1/4 tsp, 1/2 tsp, 1 tsp, 1/2 Tbls, 1 Tbls
* Magnets allow spoons to nest while stored
* Narrow end designed to fit most spice jars and round end is for liquids
* Flat base allows spoons to rest on counter without spilling contents
* Safe to use in the dishwasher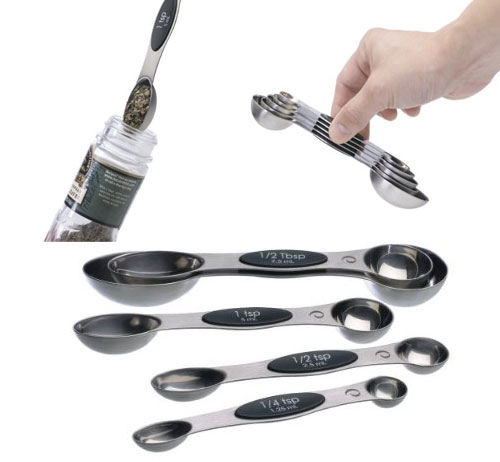 15. Lazy Spoon
[
buy on amazon
]
* Colorful lazy spoon and lazy ladle set from Rachael Ray; 2-piece set features comfy handle grips and a 1-inch deep ladle scoop
* High-grade silicone construction flexes for scraping out stockpot's corners without scratching cookware; sustains heats up to 500 degrees F
* Pre-installed notches on handles for perching set?s utensils on saucepan rims between usage to avoid drips and soiled countertops
* Safe for use in the dishwasher; made in China
* Spoon and ladle each measure 11 inches long by 2 inches wide but weigh 8 ounces collectively; limited lifetime warranty