Looking for something to keep your book neat as well as add some artistic/modern/funny sense to your home? You must try some brilliant bookendsSure. Sure any heavy object can keep your books, DVDs and other media in place, but few do it with this much style. In this post, we will give you 15 the most brilliant bookends for art appreciators and book lovers.
We are a participant in the Amazon Services LLC Associates Program, an affiliate advertising program designed to provide a means for us to earn fees by linking to Amazon.com and affiliated sites.
1. "Book End" Bookends [link]
Organise your favourite novels with our pair of handy metal "BOOK END" book ends!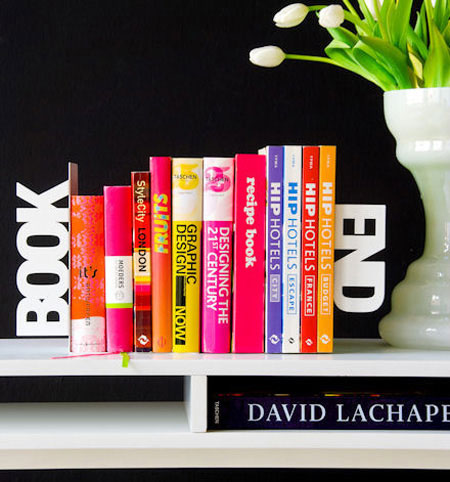 2. Dragon Bookends [link]
Intricately detailed, painted metal bookends in matte finish.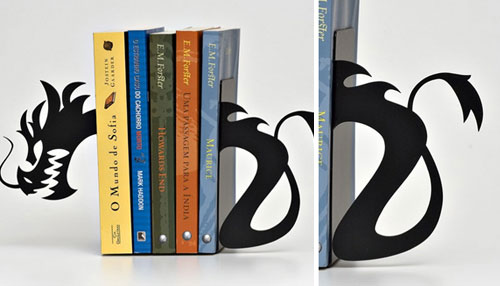 3. City Slickers Bookends [link]
Add an artistic touch and keep your books upright simultaneously with our City Slickers Bookends. These bookends feature three figurines dressed with blazers and caps, and the positioning of the figurines create the illusion that they are walking through the books. Comes as a 3-piece set.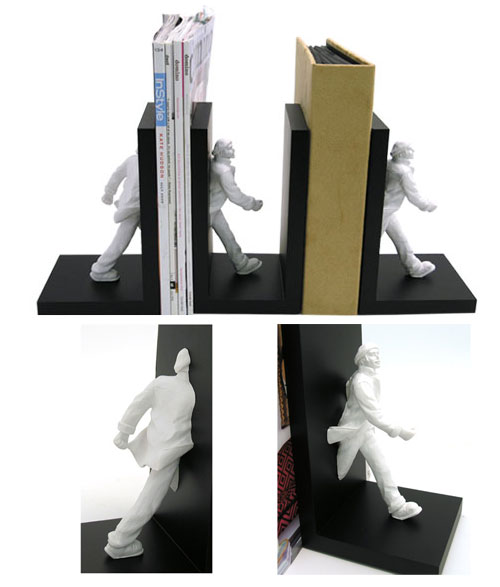 4. Bookend Men [link]
Keep your favorite books upright with this set of bookends by designer Chris Collicott. At the same time, these bookend men will help add an artistic touch to your den. Available in both "pushing" or "leaning" versions.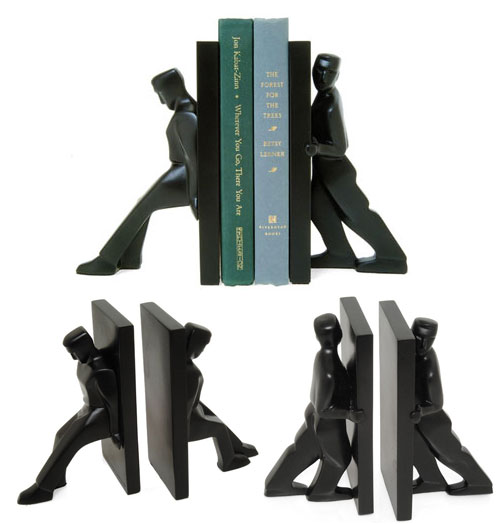 5. Matisse Style Bookends [link]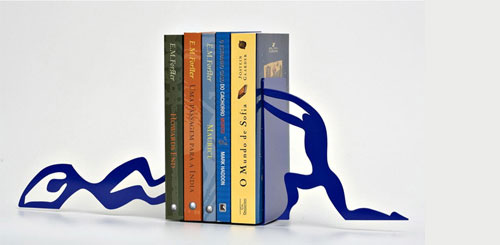 6. Fish Bowl Bookends [link]
These bookends are halves of fish bowls that can be used as aquariums or décor pieces. Fill it with pet fish, plants, sand, seashells, etc. Comes as a set of two bookends.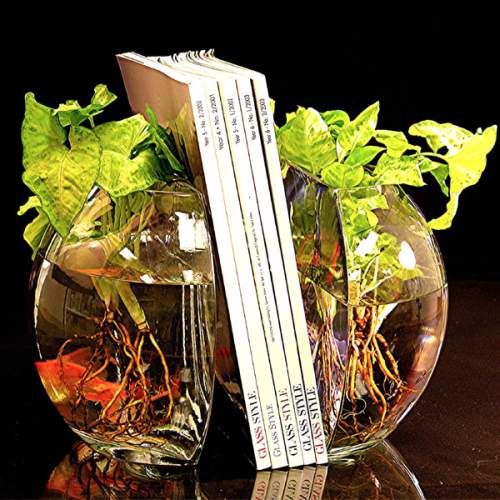 7. Alphabet Bookend [buy on Amazon]
Keep things organized with our Alphabet Bookends! These bookends feature the first and last letters of the alphabets. The A bookend features a male figurine that looks like he's looking up the stairs that are carved into the side of the "A." The Z bookend features a male figurine that looks like he's peering over the edge of the "Z." Available in A and Z. Each bookend sold separately. Made of poly resin.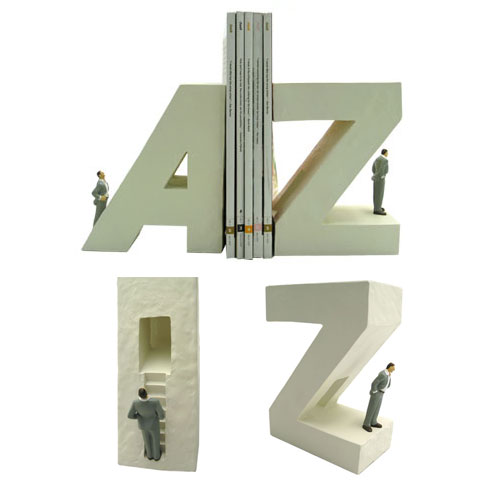 8. Buddha bookends [link]
Hold magazines and books with flair by using these flexible rubber Buddha bookends that are attached and expand the more you put in them. Functional and entertaining at the same time. This huge bellies will hold your books together in place.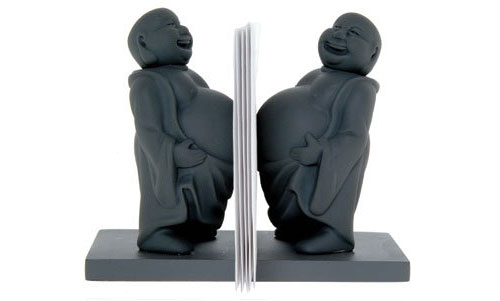 9. Squished Animal bookends [link]
This adorable Squished Animal bookends is made of poly resin and they come in three parts.Two ends are designed like clamps complete with tightening wheels to squeeze the middle piece, which features a farm animal getting squished between your massive book collection! It's fun and bizarre with a touch of stupid.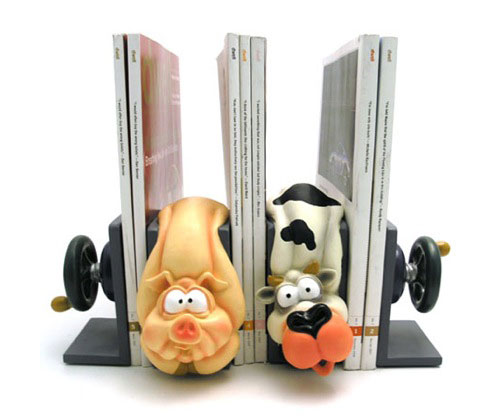 10. Elephant bookends [link]
The cutest bookends around. Made of leather, they are soft to the touch and adorable. Filled with steel shot, they hold the books well.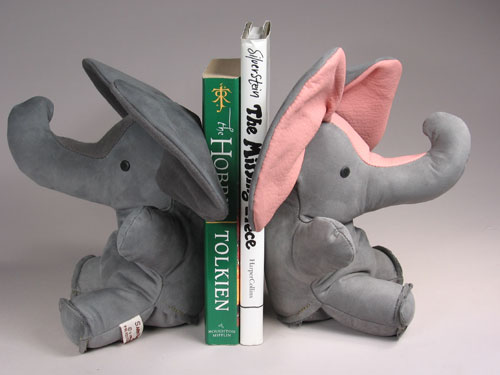 11. Asterisk Bookend [link]
By transferring the asterisk symbol usually found inside a book to the outside, the Asterisk Bookend creates a playful statement about typography. The bookend uses the asterisk, which is one of the characters of the Antitype.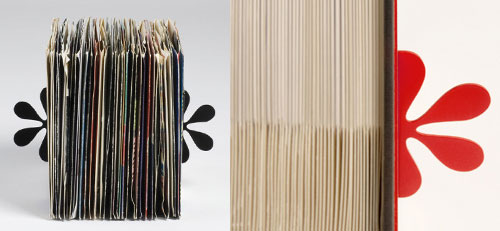 12. Vise Bookends [buy on Amazon]
Fun looking bookends when you don't want things to be taken so seriously. Exclusive for Restoration Hardware; these unique accents will be appreciated and enjoyed with the humor that was intended.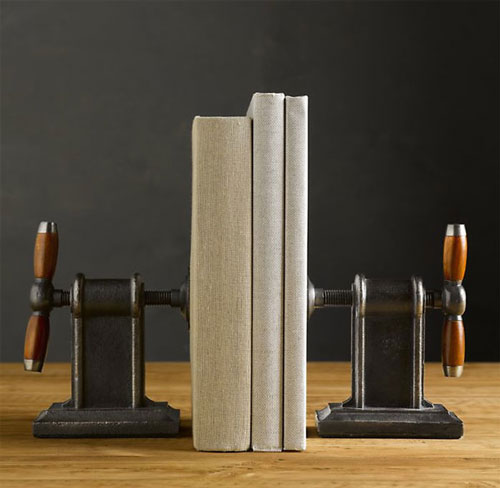 13.Pakhuis Oost Squirrel Bookend [link]
I like squirrels, especially when they are adorable and hold my books in place on a shelf. check out the Squirrel Bookend. Cute and colorful.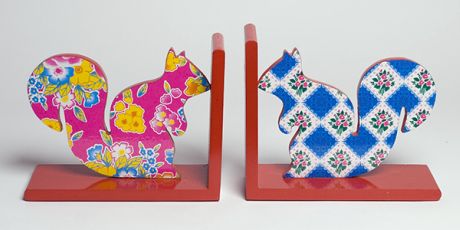 14. Falling Books Bookend [link]
Stop those books from falling over with this funky bookend. The heavy books appear to almost crush the handsome little man, but don't worry – the sturdy bookend will keep your books tidy and upright. Perfect for the bibliophiles amongst us.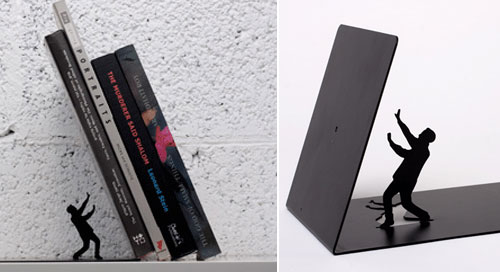 15. Bear Bookends Set [link]
Some people give teddy bears for Valentine's Day. But for the bibliophile these bears aren't just cute, they serve as laidback bookends. The two heavy cast metal bears recline on lounge chairs with books in their laps. A nice reminder that reading is one of the bear necessities. Okay, I deserve to be pinched for the bad bear pun but these are really adorable. They weigh nearly eight pounds each.