Nothing says "effortlessly glamorous" quite like the breezy bohemian look of macrame crafts. This aesthetic is more than just a retro throwback – savvy decorators have refined this classic craft with a new contemporary look. Here we rounded up 15 Macrame Crafts, from large-scale wall sculptures to creative plant holders, from beautiful shelves to Storage Baskets. Ready to embrace your inner bohemian with the gorgeous crafts below? Keep scrolling.
Mkono Macrame Wall Hanging
Elegant large wall art creates a sense of harmony and comfort for your room. This wall hanging is full of bohemian style, well addition to your space such as living space, Dorm, in a nursery, above your bed or anywhere where you'd like to bring some texture and interest to your walls.
The macrame part: 32.5″ Width x 42″ Height. Total size: 36″ Width x 42″ Height (Width: the size of wood dowel, Height: from top to the ends of longest fringe).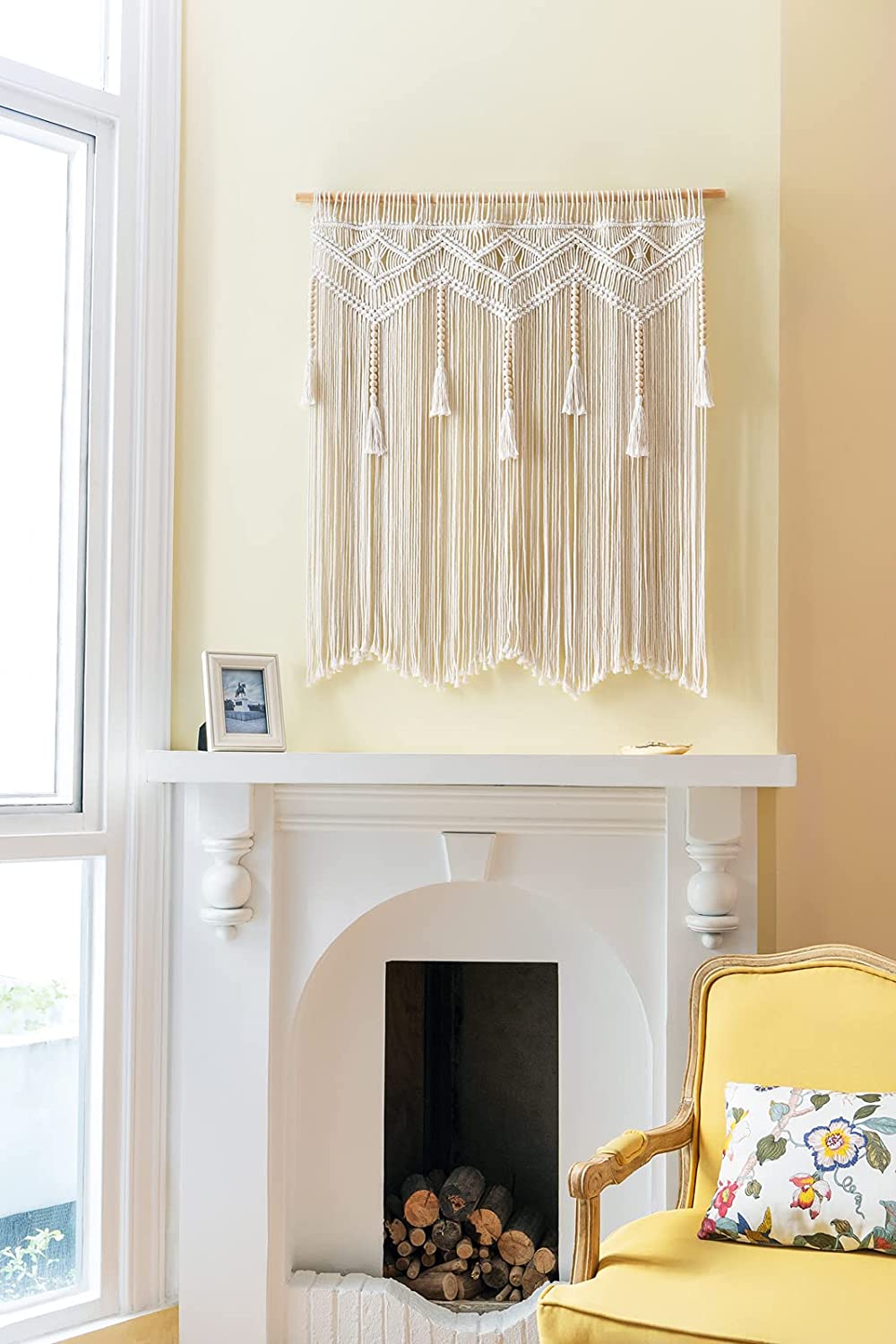 [buy on amazon]
Macrame Wall Hanging Plant Decor Shelf
The wood hanging shelf is crafted with natural cotton rope, hygienic and durable. It is sturdy and durable and can be wall mounted. This boho style wall hanging shelf is made with natural materials to give people a minimalist feeling and create a relaxing ambience indoors.
This wall hanging shelf is great for storing magazines, flower pots, bookshelves, thus perfecting your home decor.

[buy on amazon]
Macrame Plant Hanger Shelf
The multi-functional boho circle shelves with a handwoven macrame lampshade brightening any space. Easy to turn a blank corner into a unique display space to showcase your favorite accessories and memento. This Sturdy wood shelf is made from 4mm cotton rope and dia 11 inches, 3/5 inch thick solid wood in a natural clear-painted finish that is waterproof and easy to wipe clean. Enough storage space for display your potted plants, candles, photo frames, books, collectibles, or other small or
naments.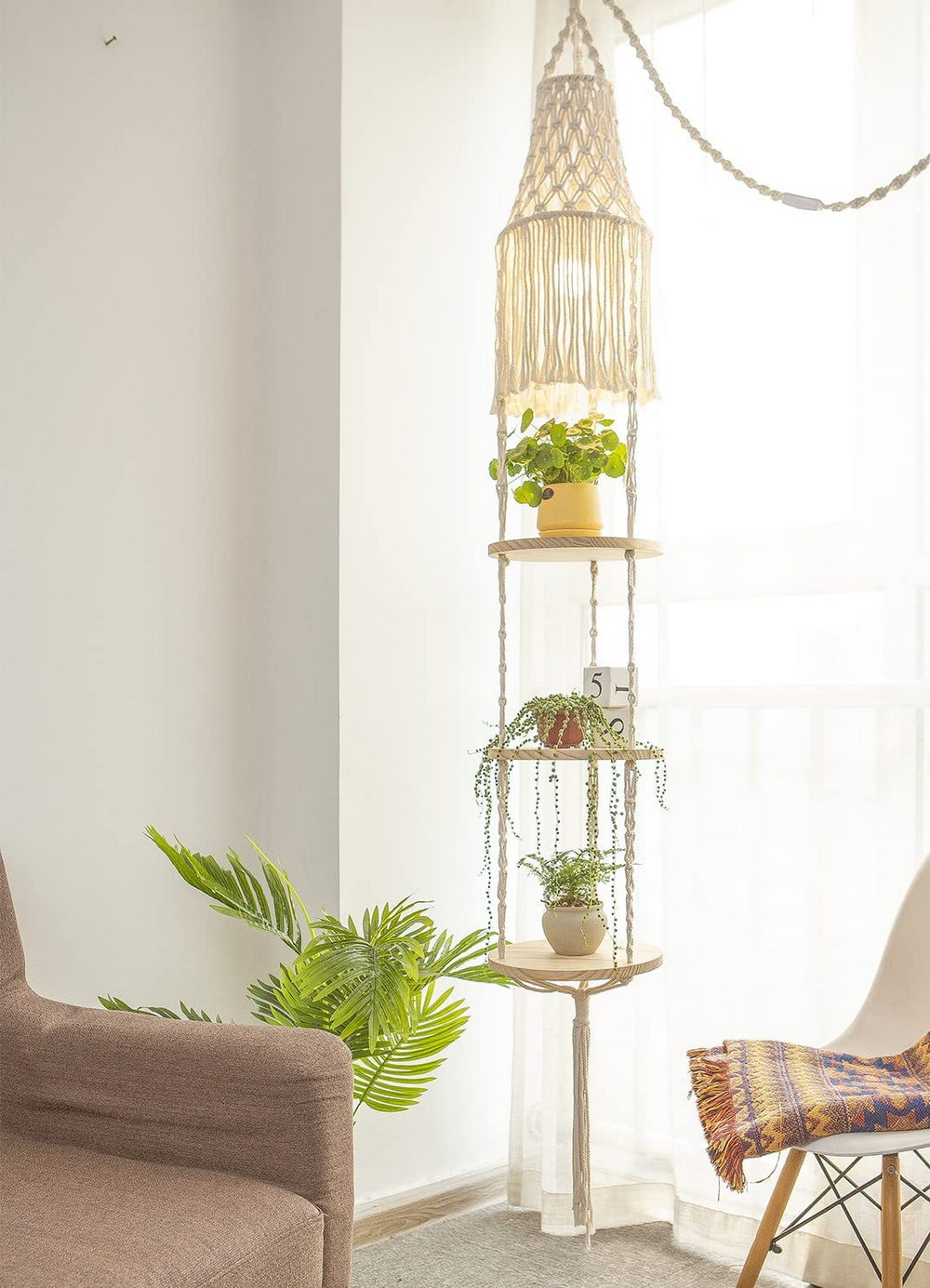 [buy on amazon]
Macrame Hanging Basket for Fruit and Vegetable Storage
This hanging fruit basket works perfect as a hanging storage and saves space on countertops. The veggie basket storage will be the best boho basket for a bohemian touch to your homes. The beautiful basket is 46 inches long including the tassels at the bottom and the string loop at the top. This large fruit hanging basket is the perfect size for indoor or outdoor use.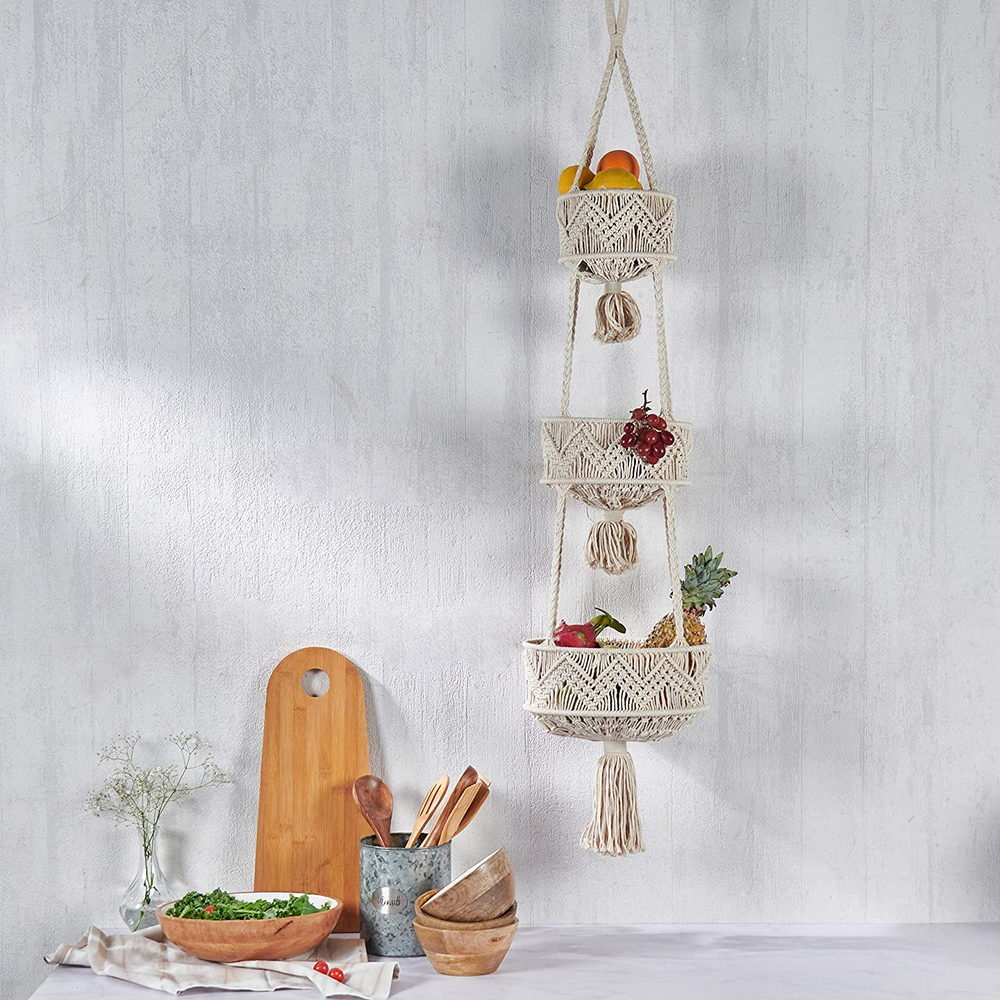 [buy on amazon]
2 Tier Macrame Wall Hanging Shelf
Perfect as a boho room décor, this macrame shelf, made of 100% cotton rope, is entwined with crochet macrame detailing and are available in 2 Tiers. The wooden shelves for wall are made in pure pine wood making it absolutely sturdy and can be used to place any decor and display items whether its plants or books or any shelf decor accent.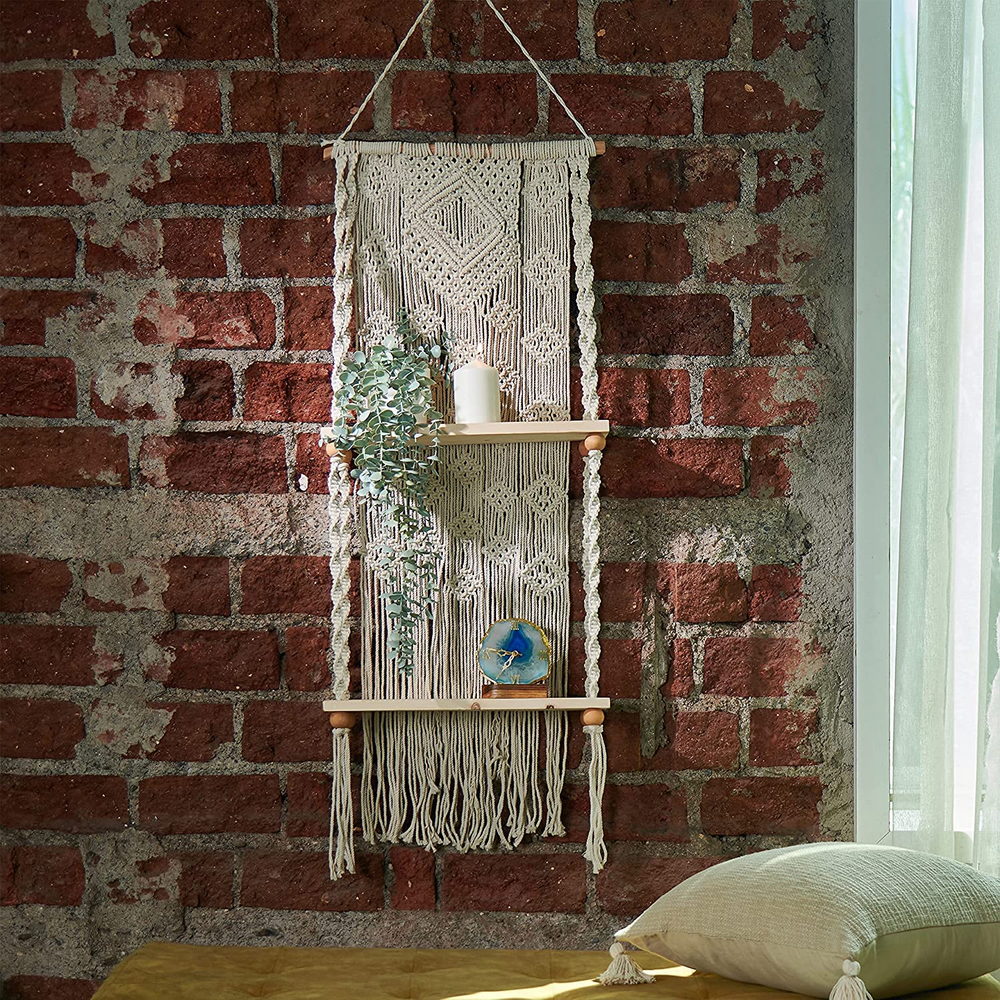 [buy on amazon]
Macrame Wall Mail Letters Storage Organizer
This macrame wall hanging can decorative your wall and also use it as a storage bag, you can hang this wall pouch right by your door, use the holder to store your letters, small size magazine, monthly bills, phone, tablet,keys, wallet, etc.Hold all your important mail in your entryway so you won't lose or forget about it.It,s a unique addition to your home.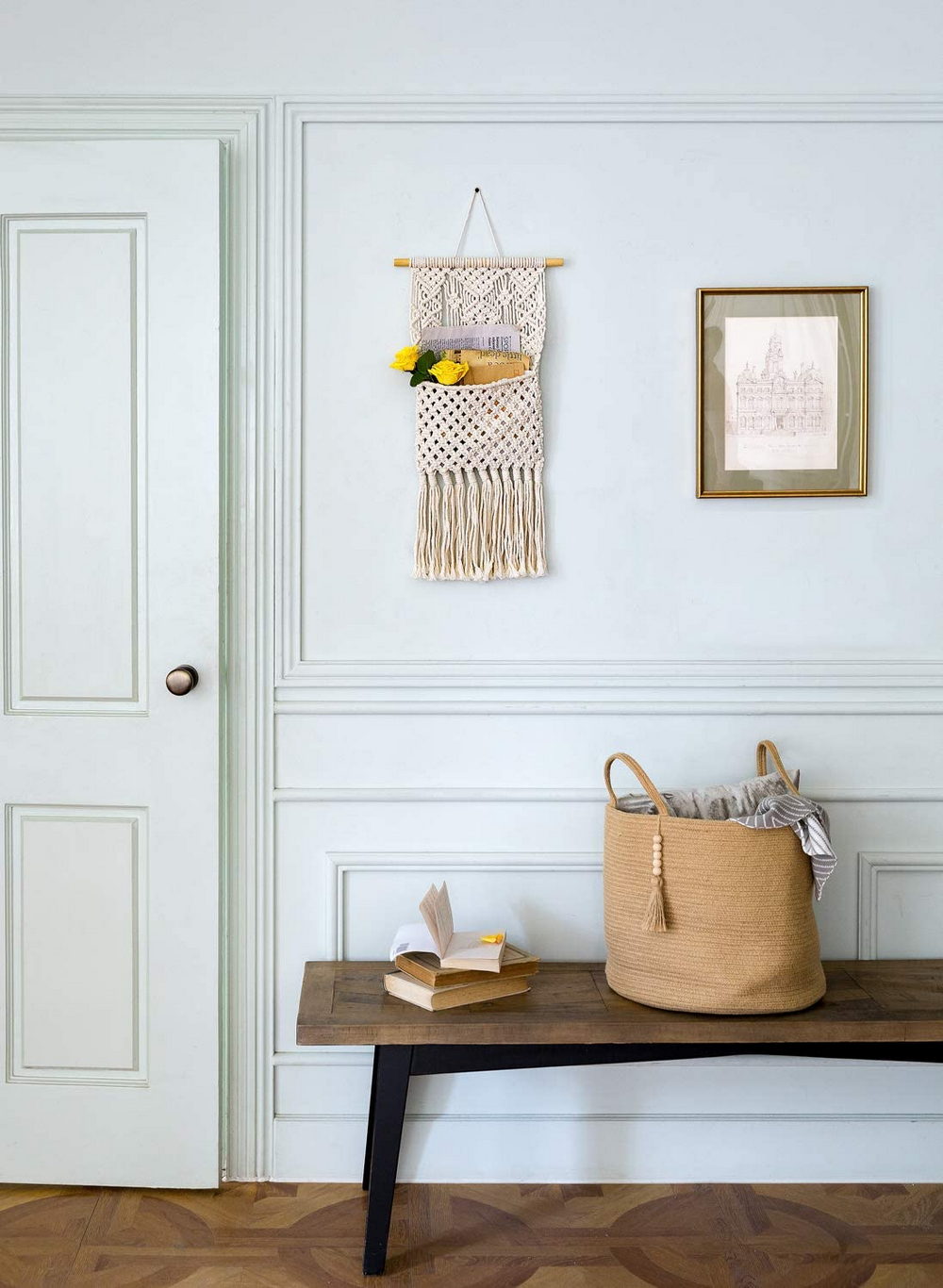 [buy on amazon]
Macrame Sofa Armrest Organizer
The cute handmade couch caddy will fit in the living room to store newspapers and magazines on the sofa or chair with a cushion. The sofa caddy can also be placed bedside in the bedroom and leave the most necessary things in it.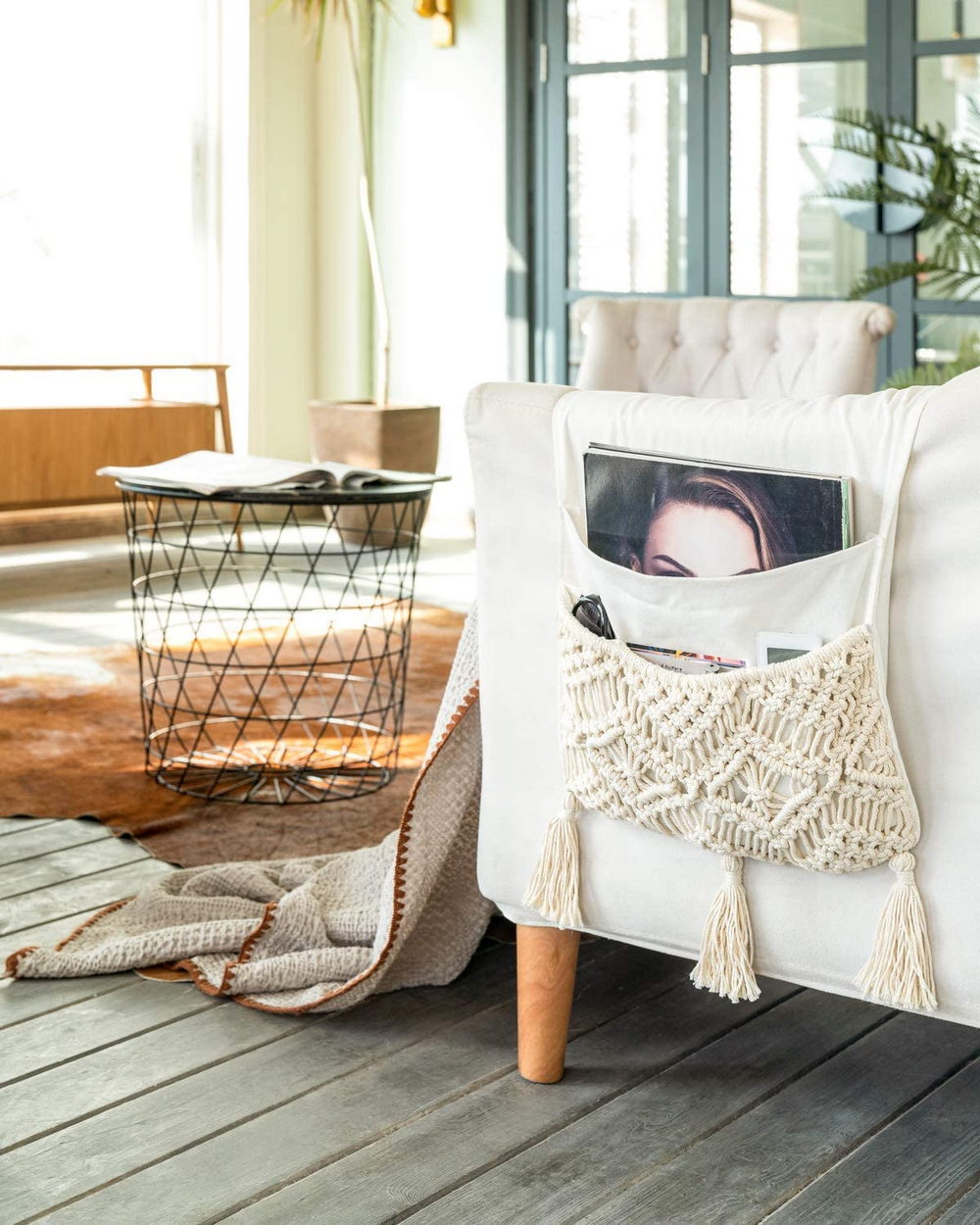 [buy on amazon]
Macrame Storage Baskets
These cute little baskets evoke a warm and classy taste that both works harmoniously and aesthetically. The neutral colors and sleek design means that it will fit perfectly into any home. Use it to decorate, organize and store items, keep the home clean and comfortable
The bigger is 13.5''L x 6.5''W x 4''H and the smaller is 12''L x 5.5'
'W x 4''H.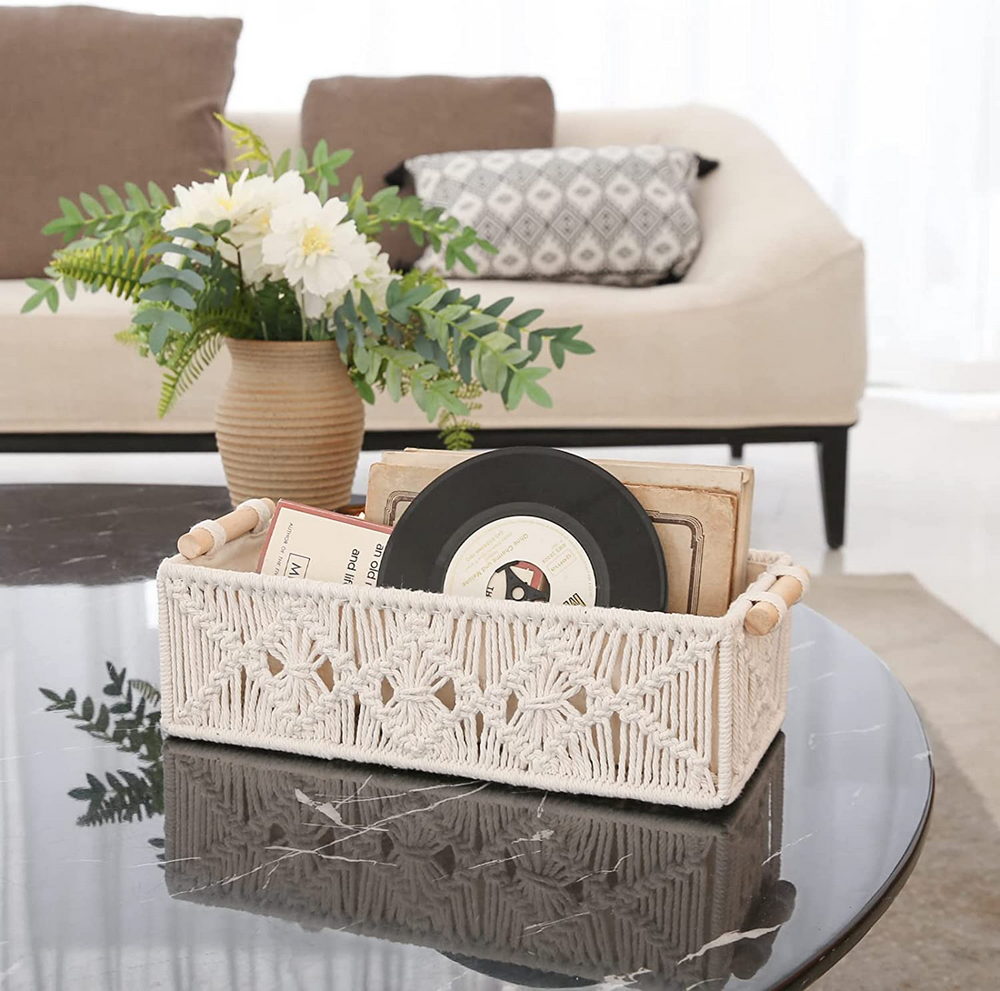 [buy on amazon]
Macrame Magazine Rack
The small macrame magazine rack is made of high quality cotton cord and wood material. It will fit in the living room to store newspapers and magazines next to the sofa. The tiny holder can be placed next to the bed in the bedroom and leave the most necessary things in it.
11.22″Length x 7.5″Width x 10"Height.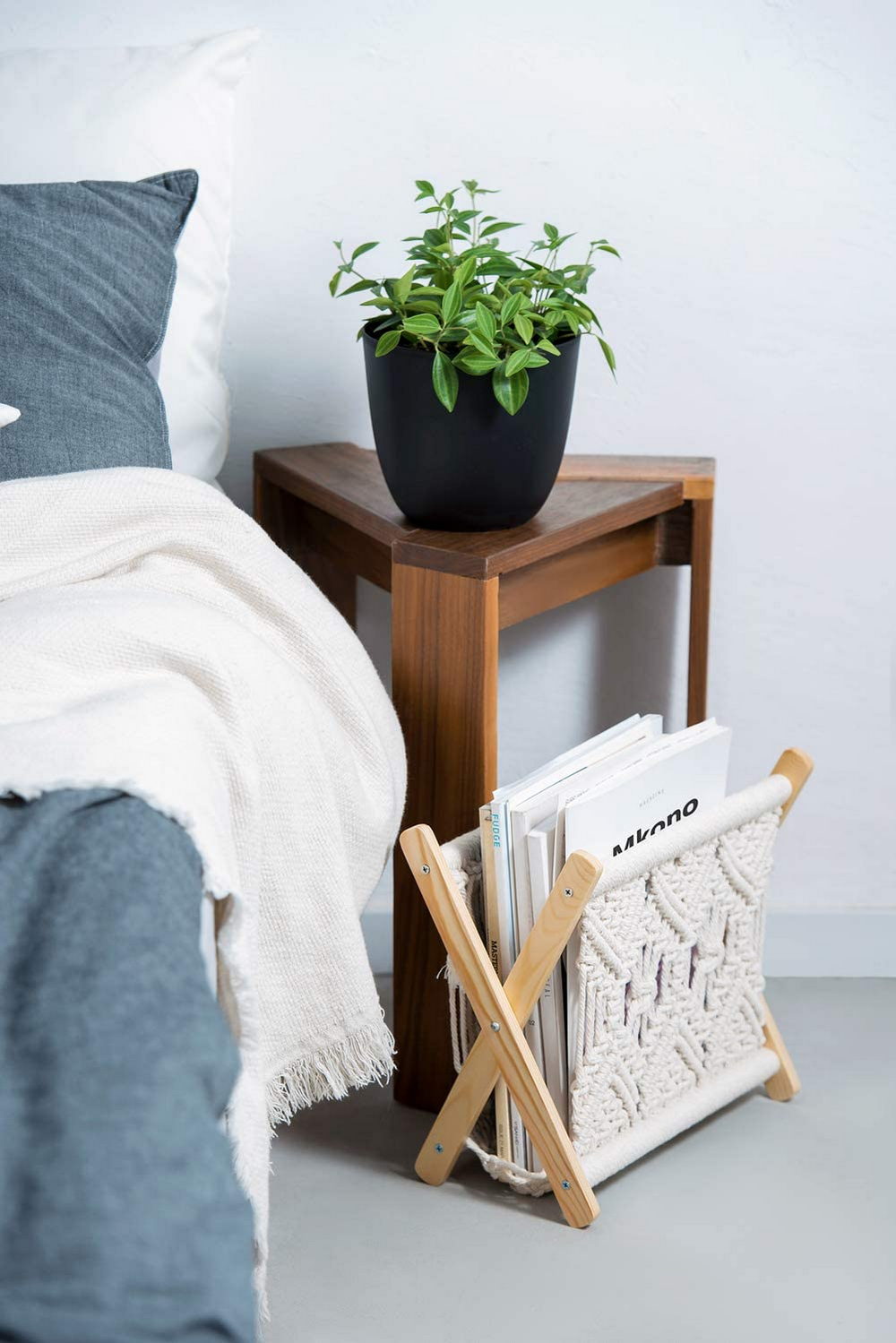 [buy on amazon]
Macrame Decorative Storage Bins
Mkono macrame decorative basket with tassel would be a great addition to anyone's home decor. Our decorative basket fits perfectly in any living room, bedroom, bathroom,baby nursery, etc. The size is: 15″ Length ×14″ Width, Made from eco-friendly and healthy material.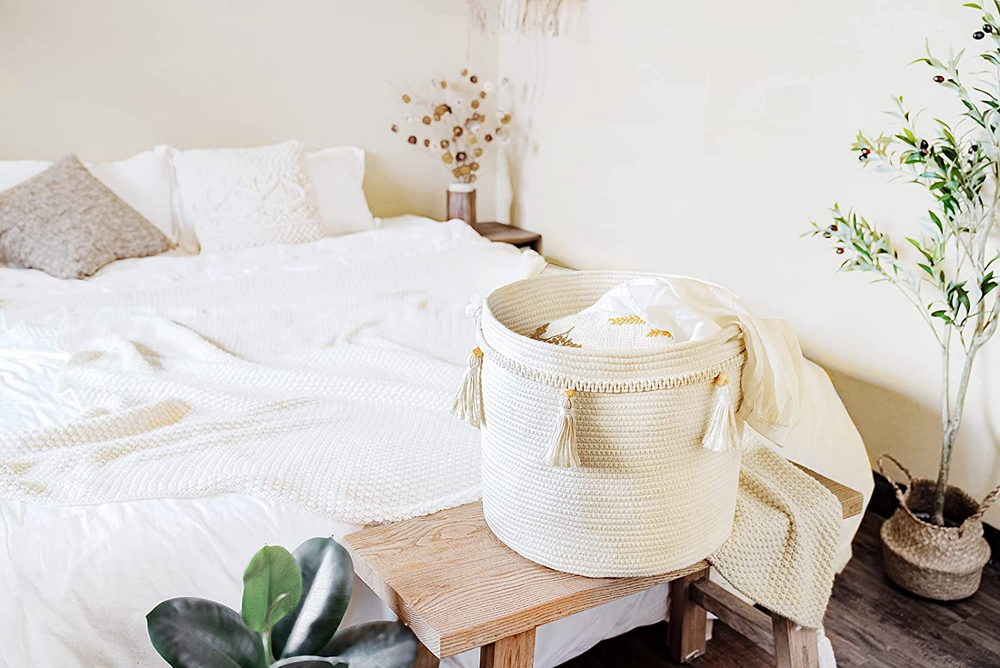 [buy on amazon]
Macrame Wall Hanging Large Round Hand-woven Tapestry
The 4mm Natural Cotton Thread Used for the Large Macrame Wall Hanging is Hand-knotted and Woven. Each Piece is Made of Environmentally Friendly Dyes. the Dyeing Part is Gradually Changed from Light to Dark. the Wavy Lines Are Inlaid with Natural Stone Beads to Make the Floating Appearance More Ornamental. a Great Way to Add Boho Style to Your Home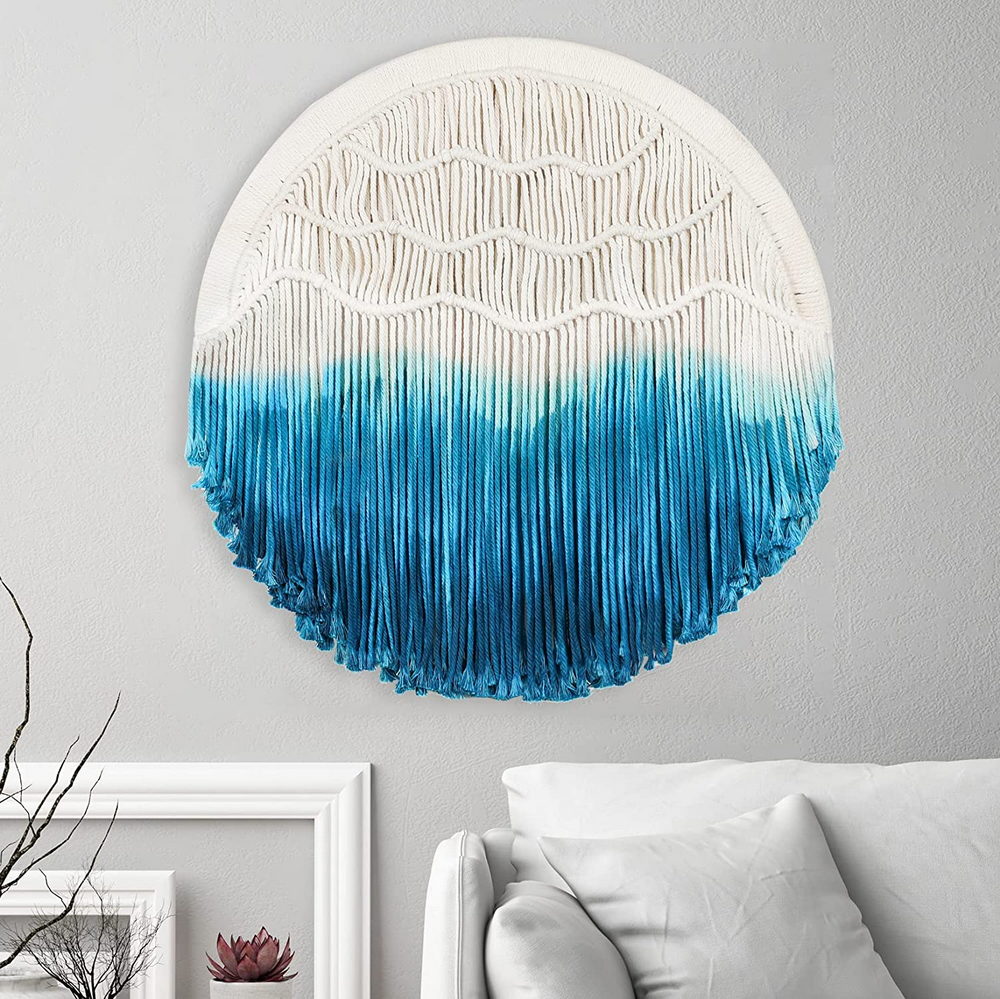 [buy on amazon]
Macrame Fringe Round Decorative Mirror
Unique artistry macrame mirror with feather pendant,drawing the eye and making your room elegant. It will add a sense of space to your room,bringing a bohemian folk and vintage to your home.
The total diameter with fringe is 13″(32cm), the diameter of the mirror is about 6″(16cm).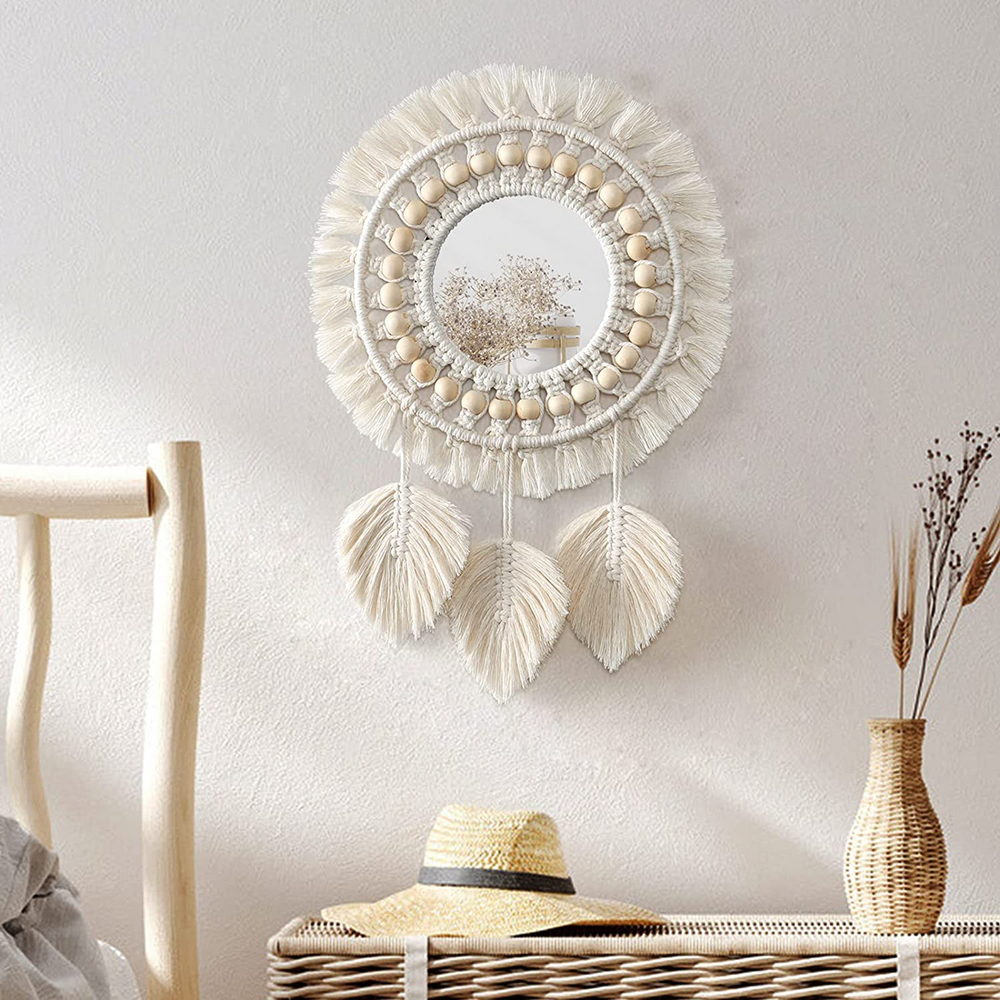 [buy on amazon]
Macrame Wall Hanging Leaf Woven Tapestry
The macrame wall art are made of 100% natural cotton with beautiful craftsmanship, free to DIY handcraft, mix and match as you like to create a one-of-a-kind wall decoration; The beautiful woven tapestry size 39 inches is a great fit for your wall.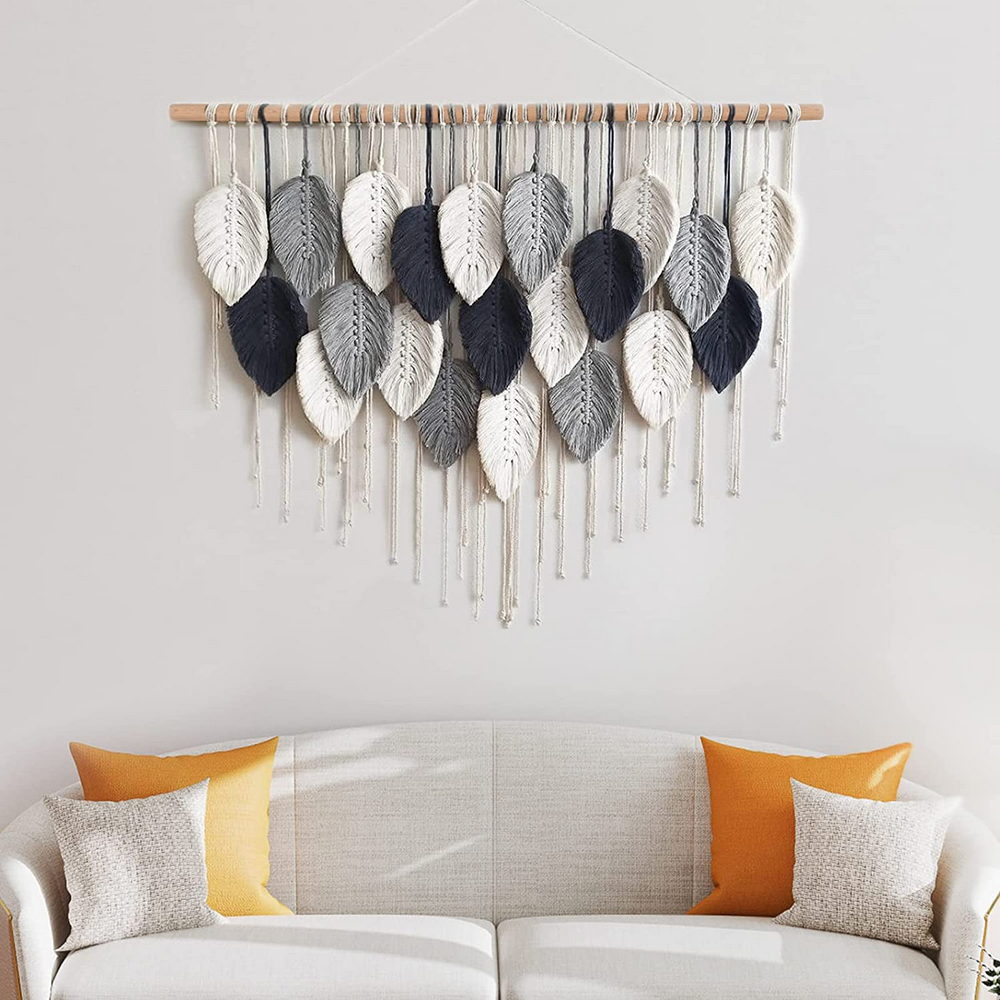 [buy on amazon]
Macrame Wall Hanging Wall Décor
100% Cotton macrame cord,With Eco-friendly organic dye. Size: Dimensions: 59"W*35"L-Large macrame yarn wall hanging. Tie-Dye macrame wall hanging geometric can invisible mounting brackets at the rear side or with wall hooks to install on the wall,That way it hangs stable and secured and will have a lovely 'floating' look.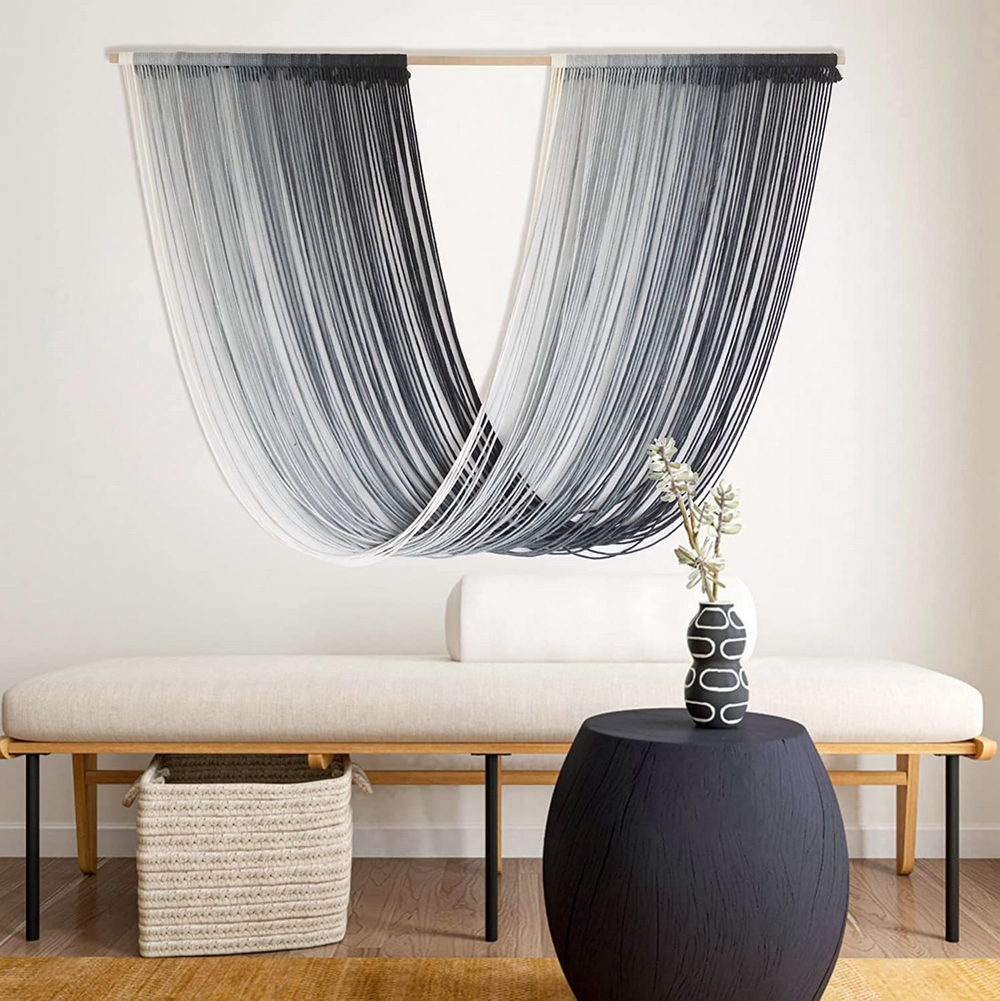 [buy on amazon]
Owl Macrame Wall Hanging Tapestry
This owl decors are lifelike,a gathering knot and tassels finish off this unique and lovely wall hanging. Fill your home with warmth, texture, whimsy, and dimension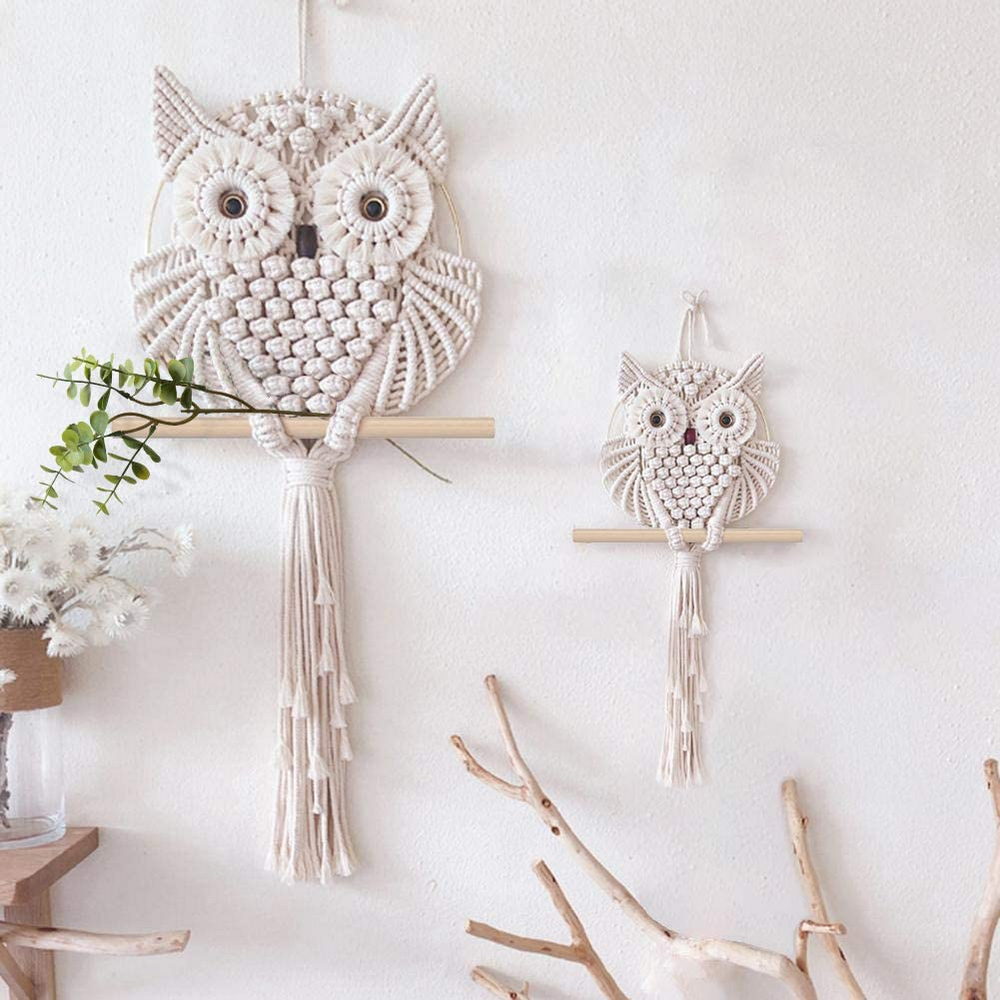 [buy on amazon]