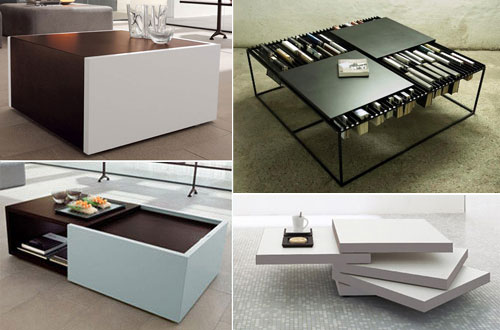 As one of those popular furniture at home, we have been seeing lots of creative designs of table. Today, new materials and design methods are injecting further creativity into modern tables – but are they having an identity crisis? These 16 table designs look like they are eager to transform.
1. Rotating squares table from Tom Cecil [link]
Rotating squares table is an really impressive design, which is an uxetic table based on the rotating squares method. It is made from birch plywood. he table can be opened up to 1.4 times its size (Closed dimensions 600 mm x 600 mm x 320 mm, open dimensions 848 mm x 848 mm x 320 mm)
It looks like we have an transformer table at home now.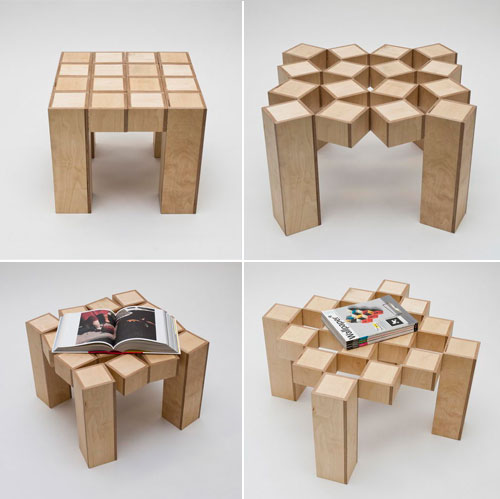 2. Stacking Nesting Table [link]
An expandable nesting table. The smaller tables which are contained in the bigger ones can work as additional surface, trays, drawers or stands to form a high table.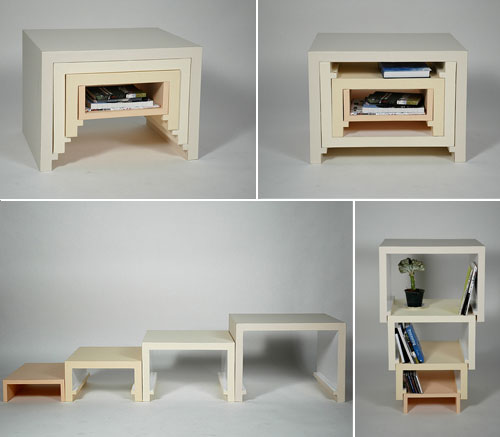 3. CUB8 Table
[
link
]
Low table that extends and changes its shape by doubling in size revealing generous storage for magazines, books, CD and DVD. Clean lines, functionality and diverse wood and lacquer finishes combination between wengé stained oak and white lacquer.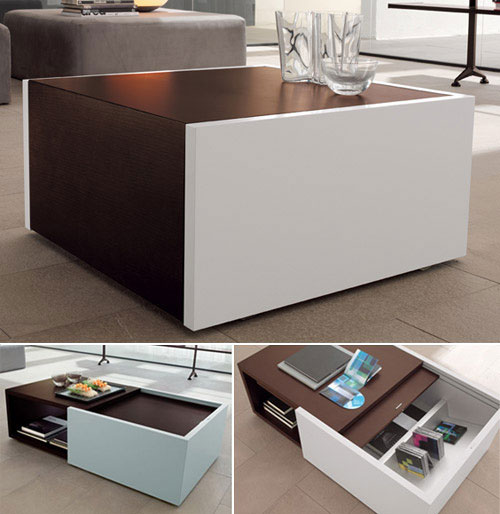 4. Jigsaw table
[
link
]
Made entirely from solid beech, the Jigsaw Puzzle Table consists of individual jigsaw shaped pieces that fit together to create a unique occasional table.
Available in two sizes, this clever and imaginative piece of furniture is great fun to put together and, once assembled, is both an attractive and unique table that fits comfortably within a wide range of room settings. The table can be used individually as a side table, or combined with other units to create larger tables.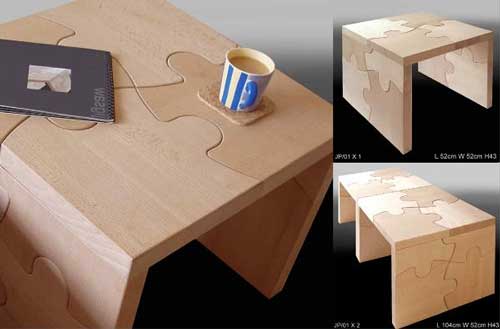 5.Bookshelf Coffee Table
[
link
]
Cool coffee table equipped with compartments to store your books and slid-able surface.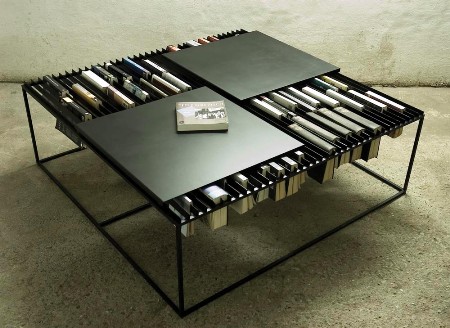 6. Table with Hexagonal Form and Round Shapes
[link]
When organic round shapes are compressed together they form a hexagon. A hexagonal structure uses the least material to create a lattice of cells with a given volume. FUKU/TTON is a reflection of those characteristics based on the reduced living space the target user inhabits. The FUKU/TTON is a streamlined table with a slide-out top. Once the top is open the user can reach into the tables' middle for four cushions, which can be used to transform the table into a footrest or ottoman, or be removed for Japanese-style floor seating.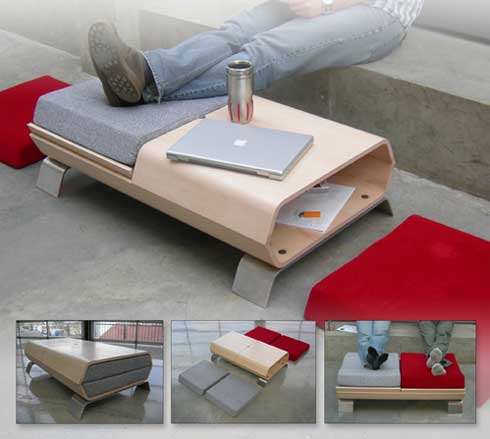 7. Coffee Table with Storage
[
link
]
This beautiful black coffee table can be also used to store something like some magazines, books, etc. The design is very flexible because you can pick the style and size of your coffee table and enhance it with legs of your choice. In conclusion you can create your unique coffee table.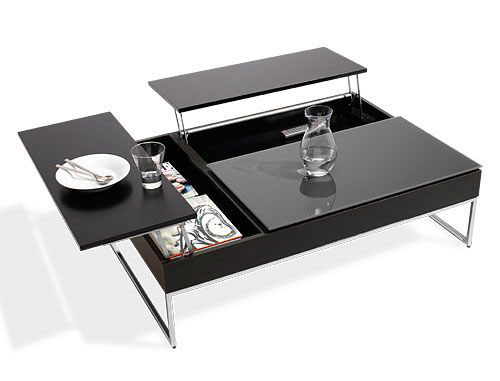 8. Gemelli Coffee Table
[
link
]
The Gemelli Coffee Table is designed stylishly combining the concept of two tables in one. The table is made of glass and steel, a combination which provides the living room an elegant look. The two tops look one when closed and are adhered with UV glue; and can swivel apart making some extra space for more people.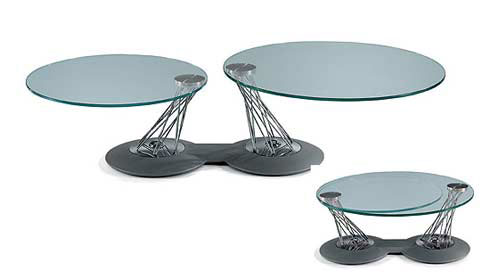 9. NES controller coffee table
[
link
]
This has got to be my favorite piece of furniture, ever. Not only does this coffee table look like a giant NES controller, it's actually fully functional! Lovingly constructed by Kyle Downes of Ultra Awesome, the table also offers ample storage for all of his other gaming systems.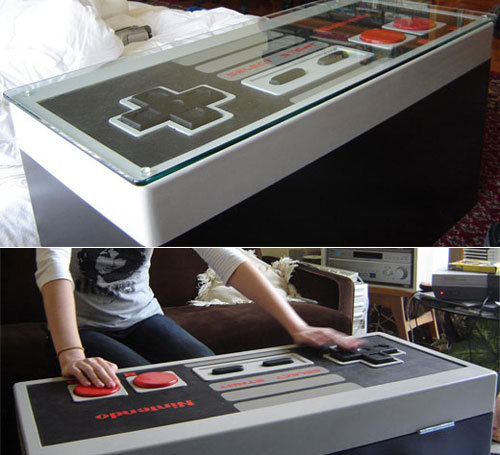 10. Rotor
[
link
]
Low table with rotating tops, for large or small areas. When closed, the table measures 63X63 cm. Upper and lower tops are fixed, three central ones rotate 360° for various configurations, this allows also to increase the dimension of the table.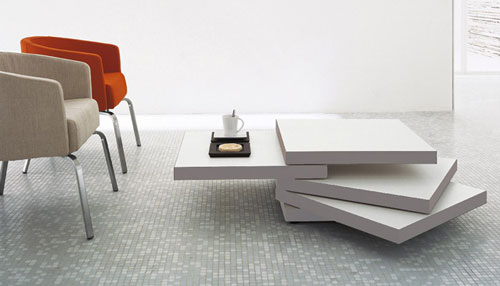 11. Loto coffee table
[link]
Very modern and cool, the Loto coffee table from Italian company Com.p.ar is a real space saver, ideal for compact city homes and urban lofts where spare room is hard to come by. The sleek style of this designer coffee table features a modern-looking base of aluminum finished in a bright-white lacquer. Topping it off is a circular black-glass tabletop with white serigraphy detail. But there's more to Loto than meets the eye. It blends fashion and function, designed with a fixed or opening tabletop with storage concealed beneath that allows you to keep even the smallest spaces trim and tidy.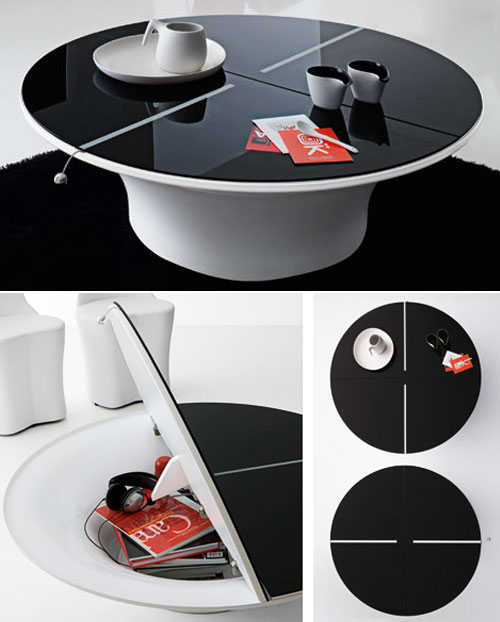 12. Extendable coffee table with sliding leaves
[
link
]
This is coffee table from Sculptures-jeux that offer ideal solution for those limit space on their dining room or living room. Every corner of this table you can exploit, you can brings six to eight of your buddies to enjoy a coffee together in this creative table.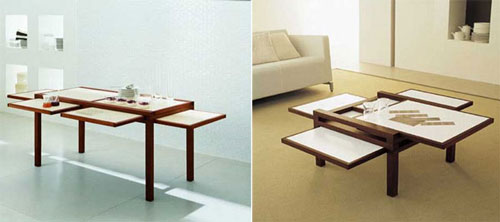 13. Concerto Table
[
link
]
And lastly, a table with a sense of real grandeur. The Concerto Table looks for all the world like a super-modern Grand Piano … until dinnertime, at which point drawers slide out to reveal your best silver cutlery. It's also designed to be a musical centerpiece, thanks to the built-in housing for an iPod. But, sadly, there are no ivories to tinkle.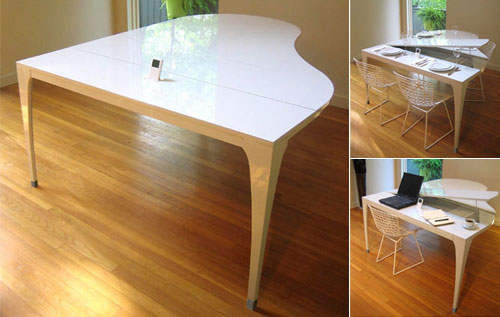 14. Safe Bedside
[
link
]
The 'Safe Bedside Table' has a removable leg that acts as a club and a top that doubles as a shield for self-defence. This is for people who are willing to take on an intruder, providing an extra sense of security whilst in bed.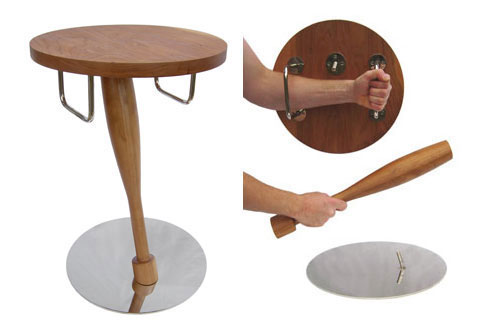 15. Tre Table
[
link
]
Tre Table created from one continuous sheet of wood. The unique design of contoured shape allows table to be put to use at home as a computer table, coffee table, end table, dinner tray or even a laptop stand and magazine rack. Based on modern design, the table adds dash of style to any room with its white walnut or natural black veneer beautifully blending with both traditional and modern decor.